United States Penitentiary Yazoo City is a high-security federal prison located in Yazoo City, Mississippi. It is also known as Yazoo City USP and Mississippi penitentiary. The facility houses male inmates.
If you or a loved one are incarcerated at USP Yazoo City, the Zoukis Consulting Group can help. Our experts have extensive experience preparing clients for prison, resolving in-prison matters, and securing an early release from custody.
Book a one-hour initial consultation today to learn how we can help you or your loved one. We look forward to hearing from you!
Yazoo City USP Contact Information
Facility Address & Contact Information
United States Penitentiary Yazoo City
2225 Haley Barbour Parkway
Yazoo City, MS 39194
Phone: 662-716-1241
Fax: 662-716-1255
Email: [email protected]
BOP Website: Bureau of Prisons Page
Wikipedia: Wikipedia Page
Inmate Correspondence Address
USP Yazoo City
Inmate Name and Registration Number
USP Yazoo City
United States Penitentiary
P.O. Box 5000
Yazoo City, MS 39194
How to Send Money
Funds cannot be sent directly to inmates. See our page on sending money to federal prisoners.
United States Penitentiary Yazoo City Inmate Information
Inmate Gender
Male Inmates
Prison Security Level
Facility Location
Yazoo City USP is located 36 miles north of Jackson, Mississippi, off Highway 49.
BOP Region
BOP Institution Code
YAP for USP Yazoo City
Medical Care Level
Level 1. See our page on Medical Care Levels and Procedures for more information.
Mental Health Care Level
Level 1.
Judicial District
Southern District of Mississippi
Population Number
USP Yazoo City houses approximately 580 inmates.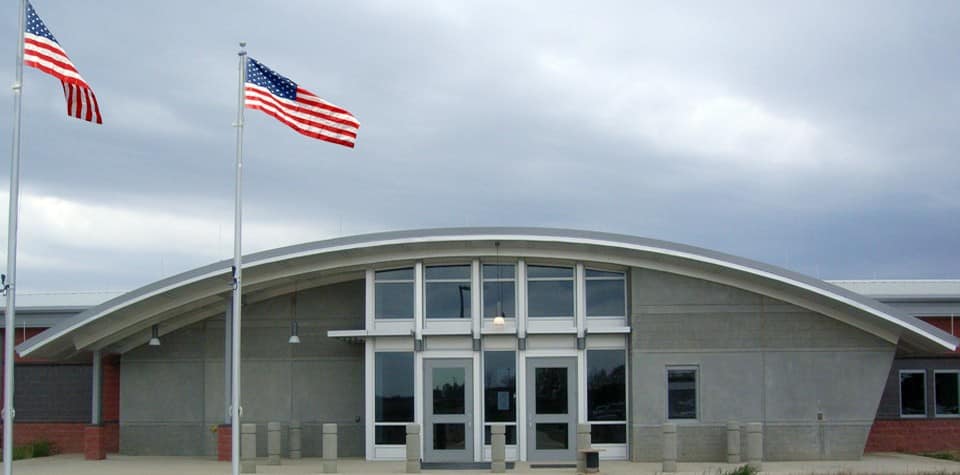 Yazoo City USP Prison Services Information
Background
United States Penitentiary Yazoo City is a high-security facility in Yazoo City, Mississippi. It is part of the Yazoo City Federal Correctional Complex and houses male inmates. It officially opened in 2014.
Media reports indicate that at least one guard has been indicted for smuggling contraband into the prison.
FCC Yazoo City consists of three institutions: Yazoo City USP, FCI Yazoo City Low, and Federal Correctional Institution Yazoo City Medium. The Federal Bureau of Prisons operates the facility. The Mississippi Department of Corrections is a separate agency that houses state prisoners, including those on death row.
USP Yazoo City only houses high-security prisoners. Those who drop in security are often housed at the medium-security FCI Yazoo City Medium.
Inmate Housing Units
Inmates live in one- and two-person cells.
Health Services
USP Yazoo City provides primary health care for many conditions. Primary care includes:
Diagnosis
Treatment
Education
Counseling
Physical Examinations
Dental Services
Pharmacy Services
Immunizations
Special Care Items (e.g., eyeglasses)
The medical staff includes physicians, physician assistants, nurses, dentists, pharmacists, and support staff. Most X-rays and MRIs are done onsite with the support of a radiologist. Medical professionals evaluate federal inmates and provide the following care:
Optometry
Surgery
Dermatology
Psychiatry
Ophthalmology
Internal Medicine
Dietician
Any additional care needs are provided in the local community or by a Federal Medical Center. Inmates must present their ID cards to receive any health services. Emergency medical services are available 24 hours a day.
Psychology Services
Psychology services include intake screening, crisis intervention, and individual and group counseling. Typical groups include anger management, stress management, criminal thinking, etc.
Residential Drug Abuse Program (RDAP)
Mississippi Penitentiary does not have the Residential Drug Abuse Program (RDAP). Inmates can be referred to an institution that does provide RDAP. A Drug Education Course, Non-Residential Drug Abuse Programs (NR-DAP), Alcoholics Anonymous (AA), and Narcotics Anonymous are available.
USP Yazoo City Educational, Library, and Recreation Offerings
Education Services
Yazoo City USP provides various educational programs, including:
Literacy
GED
English as a Second Language (ESL)
Adult Continuing Education (ACE)
Parenting
Special interest courses offered at this institution include:
Spanish
Real Estate
Assorted Business Courses
Release Preparation
High school diplomas and post-secondary degrees are available through paid correspondence programs.
Advanced Occupational Education
United States Penitentiary Yazoo City does not offer any advanced occupational education programs.
Vocational Training
USP Yazoo City offers no vocational training besides the Apprenticeship programs.
Apprenticeship
Mississippi Penitentiary offers apprenticeships in Custodial Maintenance, Teacher's Aide, Teacher's Assistant, and Welding.
Library Services
Leisure and law library services are available for Mississippi Penitentiary inmates. Inmates can check out newspapers, magazines, and books from the leisure library.
In the law library, inmates can use the TRULINCS Electronic Law Library, typewriters, and a copy machine.
UNICOR
Yazoo City USP UNICOR facility produces clothing and textiles.
Commissary
Inmates at the federal prison in Yazoo City may spend $360.00 monthly at the institutional commissary. Inmates are allowed to shop once a week on their shopping days.
Shopping days rotate quarterly, and the schedule is posted at the prison's commissary. Inmates can purchase a wide variety of items from the commissary.
Recreation Services
United States Penitentiary Yazoo City offers indoor and outdoor recreation activities. Leisure and social activities include:
Board Games (e.g., dominoes, chess, checkers, backgammon, and Scrabble)
Acrylic Painting
Bocce Ball
Horseshoes
Band Performances
Watercolor Painting
Art and Leathercraft
Pool Tables
Ping-Pong Tables
Bumper Pool
Television Viewing
The outdoor recreation area has a covered patio area for inmate use, as well as various other offerings, including:
Walking/Jogging Track
Stair-Steppers
Softball Field
Basketball Courts
Two Bocce Ball Courts
Two Horseshoe Pits
Pool Tables
Intramural programs are offered in basketball, softball, soccer, and volleyball.
Fitness and instructional programs include:
Aerobics
Racquetball
Handball
Music
Calisthenics Classes
Stationary Bikes
Walking Club
Cycling Club
Exercise Mats
Stair-Steppers
Abdominal benches
Visitation Information for USP Yazoo City
Visiting hours are from 8:00 a.m. to 3:00 p.m. Saturdays, Sundays, and federal holidays. See our page on prisoner visitation rules and how to visit the institution for more information.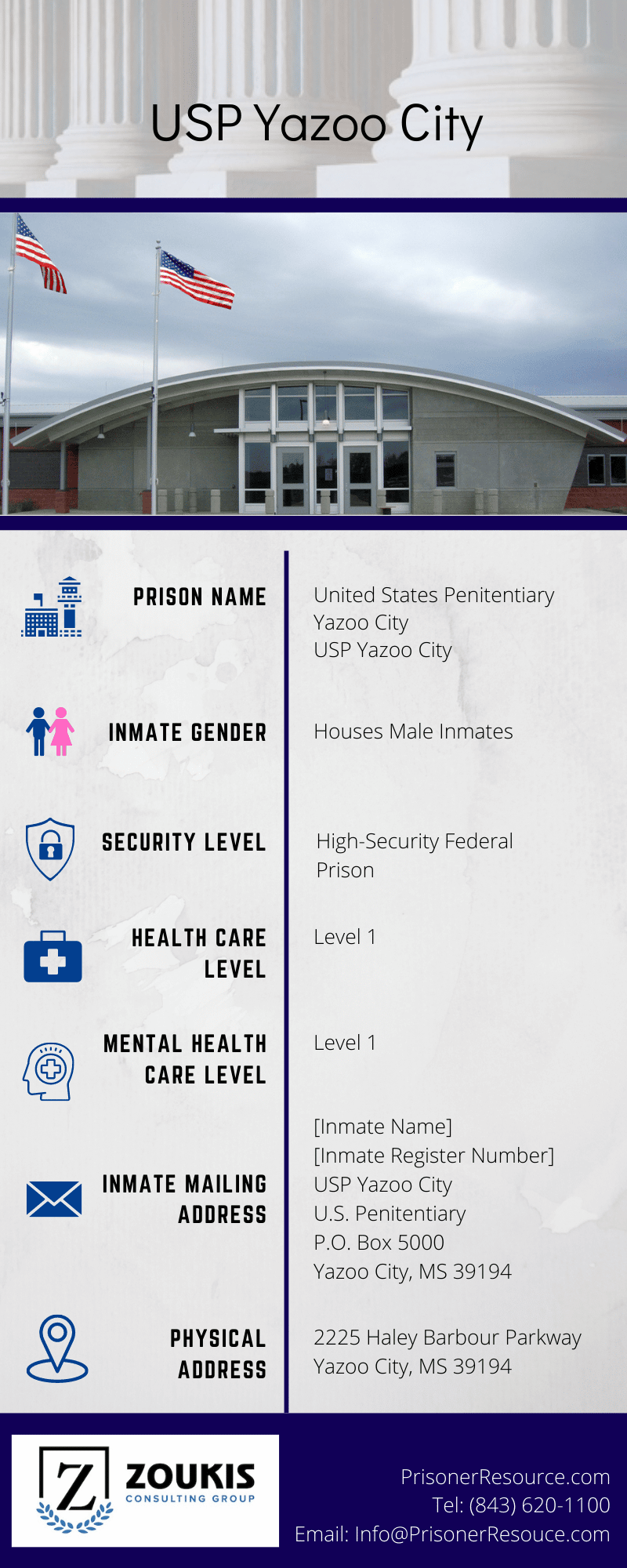 Yazoo City USP in the News
In October 2017, approximately 1,200 prisoners from MDC Guaynabo in Puerto Rico were expected to be sent to Federal Correctional Complex Yazoo City because of the difficult conditions caused by Hurricane Maria.
More Information About Mississippi Penitentiary
For a comprehensive look at life in federal prison, pick up a copy of Christopher Zoukis' Federal Prison Handbook: The Definitive Guide to Surviving the Federal Bureau of Prisons. For more detailed information about USP Yazoo City, please buy a copy of the Directory of Federal Prisons: The Unofficial Guide to Bureau of Prisons Institutions by Christopher Zoukis.
Your Yazoo City USP Experts
If you have a loved one incarcerated at USP Yazoo City, it is essential to contact the Zoukis Consulting Group. Our team of experts can answer your questions, help resolve in-prison matters, and evaluate your case to determine if you qualify for an early release from prison.
Book a one-hour initial consultation today to learn how we can help you or your loved one. We look forward to speaking with you soon!
Published Jun 3, 2018 by Christopher Zoukis, JD, MBA | Last Updated by Christopher Zoukis, JD, MBA on Jul 31, 2023 at 3:52 pm