Federal Medical Center Lexington is an administrative-security federal prison in Lexington, Kentucky. It is also known as FMC Lexington, Lexington Correctional Center, and the federal prison in Lexington, KY. The facility houses female inmates. FMC Lexington Camp is located adjacent to the main institution. Male inmates are housed at the camp.
FMC Lexington Contact Information
Facility Address & Contact Information
Federal Medical Center Lexington
3301 Leestown Road
Lexington, KY 40511
Phone: 859-255-6812
Fax: 859-253-8821
Email: [email protected]
BOP Website: Bureau of Prisons Page
Wikipedia: Wikipedia Page
Inmate Correspondence Address
FMC Lexington
Inmate Name and Registration Number
FMC Lexington
Federal Medical Center
P.O. Box 14500
Lexington, KY 40512
FMC Lexington Prison Camp
Inmate Name and Registration Number
FMC Lexington Camp
Satellite Prison Camp
P.O. Box 14525
Lexington, KY 40512
How to Send Money
Funds cannot be sent directly to Lexington Correctional Center inmates. See our page on sending money to federal prisoners.
Federal Medical Center Lexington Inmate Information
Inmate Gender
FMC: Female Inmates
Camp: Male Inmates
Prison Security Level
Facility Location
FMC Lexington is located seven miles north of Lexington on U.S. Highway 421.
BOP Region
BOP Institution Code
LEX for FMC Lexington
Medical Care Level
Level 4. See our page on Medical Care Levels and Procedures for more information.
Mental Health Care Level
Level 3.
Judicial District
Population Number
FMC Lexington houses approximately 1,030 inmates. The camp houses around 175 inmates.
FMC Lexington Prison Services Information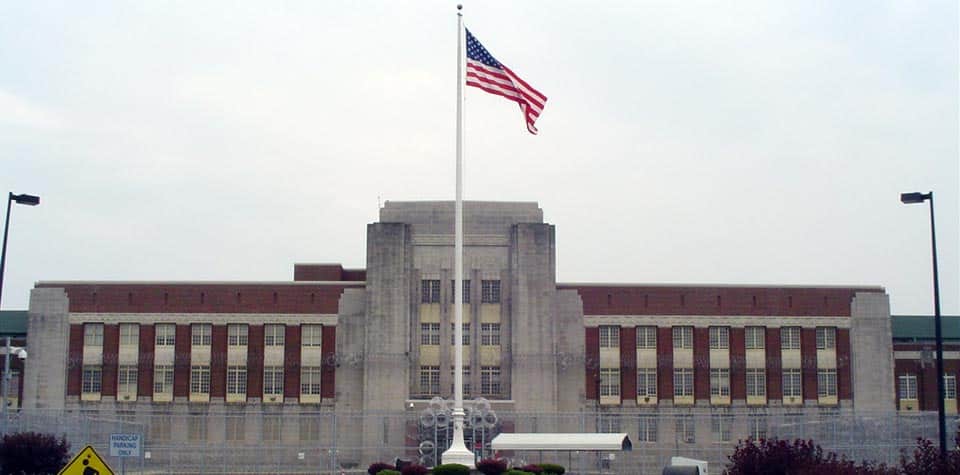 Background
Federal Medical Center Lexington is an administrative-security federal prison in Lexington, Kentucky, which houses male inmates. It was opened in 1974. Federal Medical Center Lexington KY Camp houses female inmates and is adjacent to the primary institution.
Opening in 1935, the site was initially named the United States Narcotic Farm but was subsequently renamed the United States Public Health Service Hospital. In 1967, the facility changed its name to the National Institute of Mental Health, Clinical Research Center. Its original purpose was to treat people voluntarily admitted with drug abuse problems using experimental methods — the first facility of its kind in the United States. In 1974, the institution became a federal prison but maintained its psychiatric hospital title until 1998, when the facility's psychiatric function was transferred to a new Federal Medical Center in Devens, Massachusetts.
Notable inmates include the leader of the Universal Divine Saviors religious cult Narseal Batiste (convicted of terrorism conspiracy); white supremacist Daniel Cowart (convicted of plotting to assassinate then-Presidential nominee Barack Obama); former Democratic campaign treasurer Kinde Durkee (convicted of mail fraud); and Leona Helmsley (served 18 months for tax fraud).
Media reports indicate that one inmate was federally indicted for assaulting another inmate, and at least two guards have been charged with accepting bribes and smuggling contraband into the facility. At the camp, at least two guards have been charged with sexually assaulting female prisoners.
Inmate Housing
Inmates at the Lexington, KY prison are housed in one-, two-, four-, six-, ten-, and twelve-person rooms. The camp houses inmates in dormitories divided into two-, four-, six-, eight-, and sixteen-person rooms.
Health Services
Sick calls, physical examinations, medications, and dental care are all provided to inmates at FMC Lexington. Additional services such as physical therapy, medical laboratory, radiology, nutritional services, and vaccinations are available. Sick call is held Monday, Tuesday, Wednesday, and Friday between 6:30 and 7:00 a.m. Pill and insulin lines are held during breakfast and dinner, with self-carry medication pick-up during lunch.
Psychology Services
Services such as crisis intervention, brief counseling, and individual psychotherapy are available at Lexington Correctional Center. Groups are offered in stress management, anger management, sexual abuse issues, and values clarification. Programs such as the Suicide Prevention Program, Hospice Volunteer and Compassion Program, and HIV/AIDS Education are offered. Furthermore, several housing units have particular missions, for example, Forensic Studies or Behavioral Medicine. In addition, the camp provides behavioral medicine programs (weight loss/control, chronic pain management, and biofeedback). The camp also houses the Resolve Program for inmates dealing with mental illness due to trauma.
Residential Drug Abuse Program (RDAP)
Lexington Prison offers a Residential Drug Abuse Program (RDAP). A Non-Residential Drug Abuse Program (NR-DAP), Drug Education class, Alcoholics Anonymous (AA), and Narcotics Anonymous (NA) are also available. The camp does not offer RDAP.
FMC Lexington Educational, Library, and Recreation Offerings
Education Services
FMC Lexington offers GED instruction and English as a Second Language (ESL). Classes are separated into pre-GED, Advanced GED, GED, and Special Learning Needs levels. A Career Resource Center and a guidance counselor are available to assist inmates in exploring and learning more about potential careers. Parenting and Adult Continuing Education (ACE) programs are available to inmates. Current ACE classes include Commercial Real Estate, Interviewing, Journaling, Small Business, and Spanish (1 & 2). High school diplomas and post-secondary degrees are available through paid correspondence programs. In addition to the above, the camp offers the following stand-alone classes: Dave Ramsey's Financial Peace, Money Smart, AARP Financial Planning, Parenting, Job Interviewing, Resume Writing, and Lean Sigma Six.
Advanced Occupational Education
Both federal prisons in Lexington, KY, offer advanced occupational education in Small Business Management.
Vocational Training
Lexington KY prison and the satellite camp offer vocational training in Carpentry, Culinary Arts VT, Greenhouse, Masonry, Residential Electrical, and Welding. The camp offers Computer Applications. Both facilities provide Horticulture.
Apprenticeship
FMC Lexington offers apprenticeships in the following areas:
Electromechanical Wire Harness Assembler
Building Maintenance Service and Repair
Carpentry
Construction Craft Laborer
Cook
Customer Service Representative
Electrician
Healthcare Sanitation
Heating & Air Conditioning Installer & Servicer
Horticulturist
Machinist
Maintenance Mechanic (any industry)
Material Coordinator
Office Manager/Administrative Services
Painter
Pipefitter-Steamfitter
Plumber
Power Plant Operator
Quality Assurance Inspector
Welder
The camp offers apprenticeships in:
Automobile Mechanic
Building Maintenance Service and Repair
Cook
Material Coordinator
Small-Engine Mechanic
Library Services
The Lexington Correctional Center Education Department maintains a leisure and law library. The leisure library has numerous books, magazines, and newspapers for circulation and reference. There are also NEO word processors, DVD movies, and an interlibrary loan program. The law library provides law books, policy statements, institution supplements, and other materials. Inmates also have access to typewriters in the law library, though there currently isn't a copy machine.
UNICOR
The FMC Lexington UNICOR facility houses an electronic cable factory, quality control department, business office, customer service center, and an accounts receivable operation. The camp does not have a UNICOR facility.
Commissary
Inmates at the federal prison in Lexington, KY, may withdraw funds for family support, legitimate debt payment, or to purchase personal items from the institution Commissary. Inmates have a monthly spending limitation of $360 for food, drinks, clothing, and other commissary items. This set dollar amount of purchases allowed is increased for November and December. A biweekly spending limit of $180 is also imposed. Inmates are assigned a specific shopping day when they can buy items in the Commissary. Inmates who work at UNICOR and Facilities can shop on weekdays between 6:15 and 7:30 a.m. Other inmates can shop on their assigned day at 7:30 a.m., 8:30 a.m., 11:30 a.m., and 1:30 p.m. At the camp, inmates can shop on Tuesday and Thursday between 7:00 a.m. and 2:00 p.m.
Recreation Services
Recreation at FMC Lexington includes structured fitness classes, such as:
Circuit Training
Step Aerobics
Yoga
Jump Rope
Spinning
Equipment, exercise books, a track, health education classes, and a health resource area are available. The Recreation Department also offers intramural sports leagues. Outdoor sports leagues include:
Basketball
Soccer
Flag Football
Softball
Handball
Volleyball
Bocce Ball
Indoor leagues include basketball, volleyball, and billiards. Hobbycraft programs include a unit Art Program, ceramics, painting, crochet, leather works, and t-shirt design. Movies on DVD are rented weekly. Inside, inmates can access handballs, tables, art rooms, TVs, foosball, ellipticals, weight machines, treadmills, and stationary bikes. Outside, inmates can access weights, a track, pull-up bars, and tables. Hours of operation are 6:00 a.m. to 8:30 p.m., excluding counts and meals.
Visitation Information for FMC Lexington
Visitation occurs at the federal prison in Lexington, KY, on Sunday and Saturday, between 8:30 a.m. and 3:00 p.m. On Thursday and Friday, visitation is held between 2:25 and 8:30 p.m. On federal holidays visitation is held between 8:30 a.m. and 3:00 p.m. See our page on prisoner visitation rules for more information.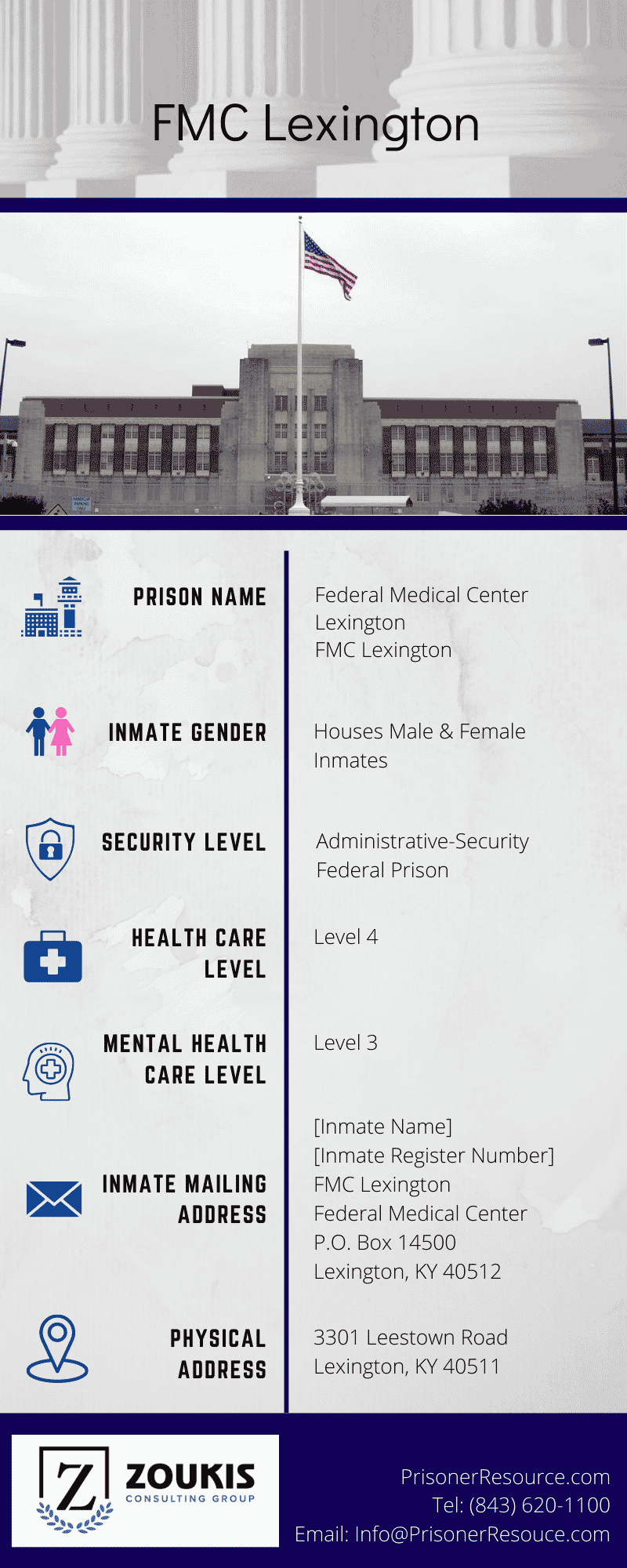 FMC Lexington Prison Culture Information
Prison Politics at Federal Medical Center Lexington
Lexington, KY, prison is not a political yard.
Level of Violence
There is virtually no violence at the federal prison in Lexington, KY. As explained by one inmate, "It is very safe here with hardly any violence."
Vulnerable Populations
Sex offenders, informants, and LGBT inmates are ok to say at the Lexington Correctional Center. According to one respondent, "The yard is open to anyone." Another inmate agreed, stating, "Sex offenders and gays can walk anywhere. There is also one trans person who doesn't seem to have any problems."
Good at FMC Lexington
"Staff really respectful, no politics, great medical, and good food." "It is very laid back here as if it were a Camp."
Bad at FMC Lexington
"Some buildings don't have air conditioning." "It is very unorganized, and nothing is consistent." "Medical is shut down a lot." "You can never get a straight answer from anyone." "It's a very old place with a lot of damage and outdated equipment." "The food sucks."
Other Inmate Comments
"Absolutely, try to go. Great place!" "There are a lot of Mental Health Care Level 3 and 4 people here. This can both be interesting and problematic due to the psych issues."
Lexington Prison Camp Culture Information
Prison Politics at Lexington Prison Camp
There are no politics at the Lexington Correctional Center.
Level of Violence
There is virtually no violence at the federal prison in Lexington, KY.
Vulnerable Populations
While sex offenders are precluded from Camp placement, informants and LGBT inmates can walk the yard.
Good at Lexington Prison Camp
"The living arrangements are good, as is the consideration given to the elderly (e.g., the elevator). There is also a pilot program where we can video chat with family for $6 for 25 minutes."
Bad at Lexington Prison Camp
"Lots of informants who don't mind being vocal about it." "This is not home."
Other Inmate Comments
"This is the best camp I've been to by far."
FMC Lexington in the News
In July 2018, Kevin Labracio Frazier, a prisoner at the Federal Medical Center in Lexington, was sentenced to an additional nine years and seven months in prison after being convicted of repeatedly punching another prisoner in the head and face.
In December 2017, Eric Brown, the man accused of kidnapping and murdering Ashanti Billie, was temporarily housed at FMC Lexington.
In July 2017, James Carrington, a guard at Federal Medical Center Lexington, KY, pleaded guilty to accepting bribes from a woman named Stephanie Dukes in exchange for smuggling contraband such as cigarettes and cell phones to Dukes' boyfriend, Lexington Correctional Center prisoner Keith Griffith.
In October 2015, Michael Hardin, an employee at FMC Lexington, was federally indicted for accepting $22,000 in bribes and supplying contraband to prisoners.
Lexington Prison Camp in the News
In January 2015, writer and peace activist Kathy Kelly was again sent to the women's satellite prison camp at Federal Medical Center Lexington, KY. Kelly was sentenced to a year in federal prison in 1988 for planting corn on nuclear missile sites and three months in 2014 for trying to deliver a loaf of bread to an Air Force base commander requesting that drone flights over Afghanistan be stopped. Her writing, which is critical of the prison industrial complex, has been featured in Huffington Post, Progressive.org, and ConsortiumNews.com.
In March 2005, Reginald Wilson, a guard at FMC Lexington Camp, was sentenced to probation for sexually assaulting a female prisoner.
In January 2005, Gregory Goins, a Federal Medical Center Lexington KY Camp guard, was sentenced to nine years for sexually abusing a prisoner and lying to a federal agent.
More Information About Federal Medical Center Lexington
For a comprehensive look at life in federal prison, pick up a copy of Christopher Zoukis' Federal Prison Handbook: The Definitive Guide to Surviving the Federal Bureau of Prisons. For more detailed information about FMC Lexington, please buy a copy of the Directory of Federal Prisons: The Unofficial Guide to Bureau of Prisons Institutions by Christopher Zoukis.
Published Apr 24, 2018 by Christopher Zoukis, JD, MBA | Last Updated by Christopher Zoukis, JD, MBA on Aug 4, 2023 at 4:57 pm