Taft Correctional Institution is a low-security federal prison located in Taft, California. It is also known as Taft prison and Taft federal prison. The minimum-security federal prison camp is located next to the central institution. Both prisons house male inmates.
Contact the Zoukis Consulting Group if you or a loved one are incarcerated at Taft Correctional Institution. Our prison experts can help resolve any in-prison matters and determine if you qualify for early release.
Book an initial consultation today with a Taft federal prison expert!
Taft Correctional Institution Contact Information
Facility Address & Contact Information
Correctional Institution Taft
1500 Cadet Road
Taft, CA 93268
Phone: 661-763-2510
Fax: 661-765-3034
Email: TAF/[email protected]
BOP Websites: Bureau of Prisons Facility Page
M&TC Website: M&TC Prison Profile
Wikipedia: Wikipedia Page
Inmate Correspondence Address
Correctional Institution Taft
Inmate Name and Registration Number
CI Taft
Correctional Institution
P.O. Box 7001
Taft, CA 93268
Taft Federal Prison Camp
Inmate Name and Registration Number
CI Taft
Satellite Prison Camp
P.O. Box 7001
Taft, CA 93268
How to Send Money
Inmates cannot receive funds directly. Funds can be deposited via U.S. Mail. To do so, send a money order with the inmate's name and registration number to the following address:
[Last Name, First Name]
[Inmate Registration Number]
P.O. Box 7001
Taft, CA 93268
Funds can also be sent via JPay or call 1-800-574-5729.
Taft Prison Inmate Information
Inmate Gender
Male Inmates
Prison Security Level
Facility Location
CI Taft is in Eastern California, 47 miles west of Bakersfield. The minimum- and low-security facilities are located in Taft, Kern County, California.
BOP Region
BOP Institution Code
TAF for Taft Correctional Institution
Judicial District
Eastern District of California
Medical Care Level
Information is not available. See our page on Medical Care Levels and Procedures for more information.
Mental Health Care Level
Information is not available.
Population Number
Taft prison houses approximately 2,000 federal inmates.
Taft Correctional Institution Prison Services Information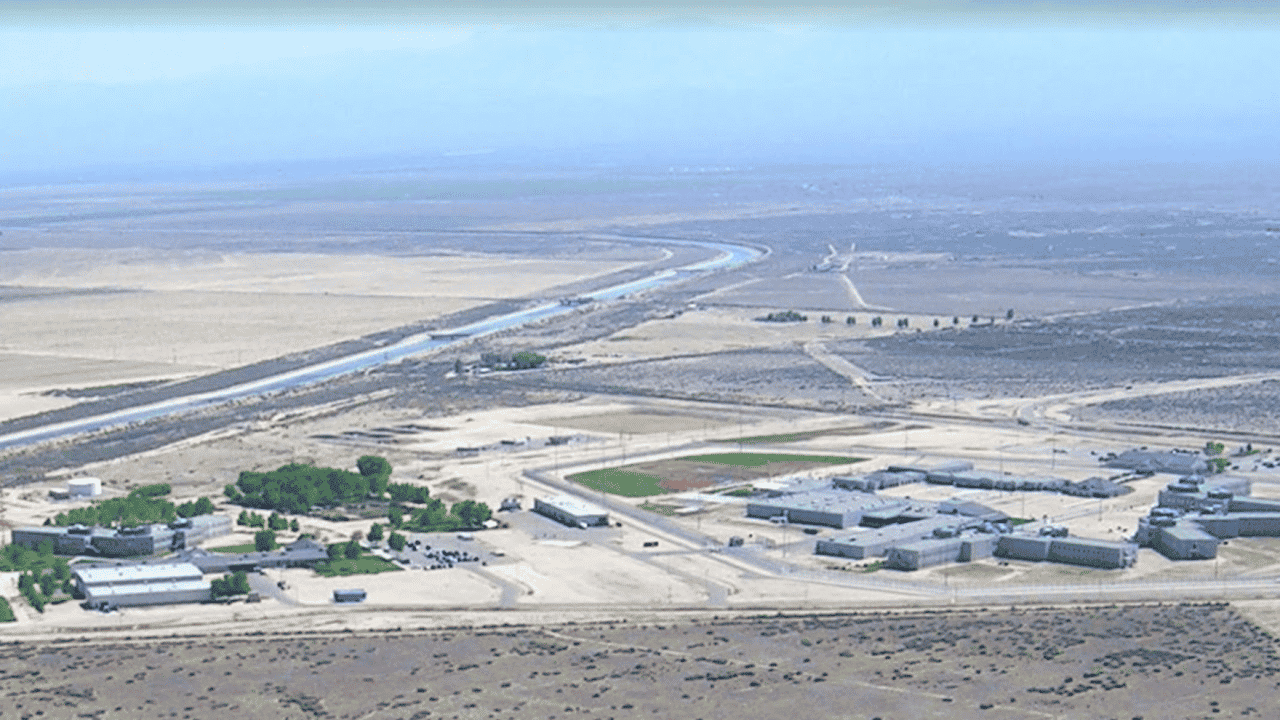 Background
Taft federal prison opened in 1997. It is a private prison owned and operated by the Management & Training Corporation. It has a prison contract with the Federal Bureau of Prisons to house federal offenders.
The main facility houses low-security male prisoners. Taft prison camp houses minimum-security male inmates. Offenders at the camp are eligible for community work assignments.
Inmate Housing
Inmates live in dormitories, which are divided into cubicles.
Health Services
Health Services at Correctional Institution Taft include routine medical, dental, and mental health services. Diagnostic physical and medical exams and dental evaluations are provided. Inmates must submit a sick call form to receive routine care. Emergency care is available 24 hours a day.
Psychology Services
Mental health services, including telepsychiatry, among other services, are available at CI Taft. Inmates can participate in treatment groups. Psychology Department staff also offer other specialized group therapies and counseling.
Current treatment group offerings include:
Anger Management
Breaking the Cycle
Cage Your Rage
Choice and Change
Freedom from Drugs
Man in the Mirror
Thinking for Good
Those Outspoken
Victim Impact
Residential Drug Abuse Program (RDAP)
Taft federal prison does not offer the Residential Drug Abuse Program (RDAP). However, the Non-Residential Drug Abuse Program (NR-DAP), Alcoholics Anonymous (AA), and Narcotics Anonymous (NA) are available. Foundations for a Drug-Free World and additional substance abuse programs are also available.
Taft Federal Prison Educational, Library, and Recreation Offerings
Education Services
CI Taft provides many educational programs to inmates, including:
GED
English-as-a-Second Language (ESL)
and Adult Basic Education (ABE)
INEA
VT Math
Parenting
Computer
Truck Driving
High school diplomas, career certificates, and college degrees are available through paid correspondence programs.
Advanced Occupational Education
Taft Correctional Institution offers a variety of programs.
Vocational Training
CI Taft offers vocational training in the following areas:
Culinary Arts
NCCER
Open Office Computer Apps
ServSafe, Truck Driving
Wheels for the World
Apprenticeship Training
Taft prison does not offer any apprenticeship programs
Library Services
Inmates at CI Taft have access to both leisure and law libraries. Prisoners can check out fiction and nonfiction books, newspapers, and magazines in the leisure library. Inmates can conduct legal research and litigate prison rights issues in state and federal courts in the law library.
UNICOR
Taft Correctional Institution does not house a UNICOR facility.
Commissary
Taft federal prison inmates have access to an inmate commissary where they can shop once a week on their designated shopping day. Inmates can purchase various items, such as food, snacks, drinks, clothing, and limited electronics. A monthly spending limit of $360.00 is imposed.
Recreational Services
Indoor and outdoor recreation opportunities are available at Taft Correctional Institution. Indoor leisure activities include hobby crafts, leather crafting, and other art and craft projects. Outdoor activities include a variety of individual exercise and group sporting activities.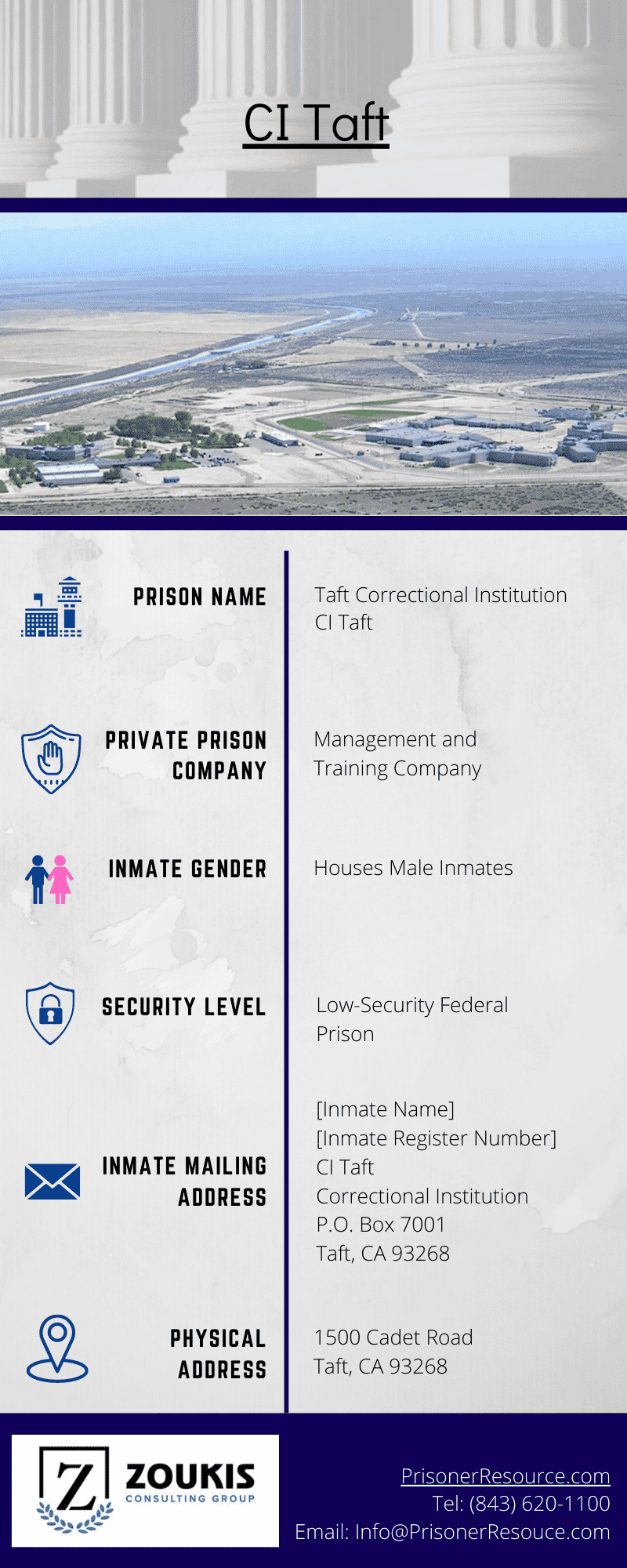 Visitation Information for Taft Correctional Institution
Taft Prison Visitation Information
Visitation is conducted Sunday, Monday, Thursday, and Saturday between 8:00 a.m. and 3:00 p.m.
Taft Federal Prison Camp Visitation Information
Visitation at FCI prison camp is between 8:00 a.m. and 3:00 p.m Sundays, Fridays, and Saturdays. On federal holidays visitation is held between 8:00 a.m. and 3:00 p.m.
Taft Correctional Institution in the News
On April 10, 2020, Congressman Kevin McCarthy and Senator Dianne Feinstein issued a letter to Taft prison officials regarding plans to transfer inmates. The prison initially decided to move hundreds of inmates and close the facility to conduct repairs. Congressman McCarthy and Senator Feinstein raised concerns that this decision was shortsighted considering the COVID-19 pandemic.
In March 2014, prison staff member Ramon Cano was indicted. He was charged with accepting bribes and possession and intent to distribute heroin and meth. The Department of Justice issued a press release stating Cano received a 30-month prison sentence for his crimes.
More Information About Taft Correctional Institution
For a comprehensive look at life in federal prison, pick up a copy of Christopher Zoukis' Federal Prison Handbook: The Definitive Guide to Surviving the Federal Bureau of Prisons. For more detailed information about Taft Correctional Institution, please buy a copy of the Directory of Federal Prisons: The Unofficial Guide to Bureau of Prisons Institutions by Christopher Zoukis.
Your Taft Federal Prison Experts
Please get in touch with the Zoukis Consulting Group if you or a loved one are housed at Taft Correctional Institution. We can answer any of your questions and see if you qualify for early release from prison.
Schedule an initial consultation with a Taft federal prison expert today!
Published Jun 3, 2018 by Christopher Zoukis, JD, MBA | Last Updated by Christopher Zoukis, JD, MBA on Jun 4, 2023 at 6:33 pm