Federal Medical Center Fort Worth is an administrative-security federal prison located in Fort Worth, Texas. It is also known as FMC Fort Worth. The facility houses male inmates.
FMC Fort Worth Contact Information
Facility Address & Contact Information
Federal Medical Center Fort Worth
3150 Horton Road
Fort Worth, TX 76119
Phone: 817-534-8400
Fax: 817-413-3350
Email: [email protected]
BOP Website: Bureau of Prisons Page
Wikipedia: Wikipedia Page
Inmate Correspondence Address
FMC Fort Worth
Inmate Name and Registration Number
FMC Fort Worth
Federal Medical Center
P.O. Box 15330
Fort Worth, TX 76119
How to Send Money
Funds cannot be sent directly to inmates. See our page on sending money to federal prisoners.
Federal Medical Center Fort Worth Inmate Information
Inmate Gender
Male Inmates
Prison Security Level
Administrative-Security Federal Prison
Facility Location
Located in north-central Texas, in southeast Fort Worth; north of I-20 and east of I-35.
BOP Region
BOP Institution Code
FTW for FMC Fort Worth
Medical Care Level
Level 3/4. See our page on Medical Care Levels and Procedures for more information.
Mental Health Care Level
Level 3.
Judicial District
Population Number
FMC Fort Worth houses approximately 1,340 inmates.
FMC Fort Worth Prison Services Information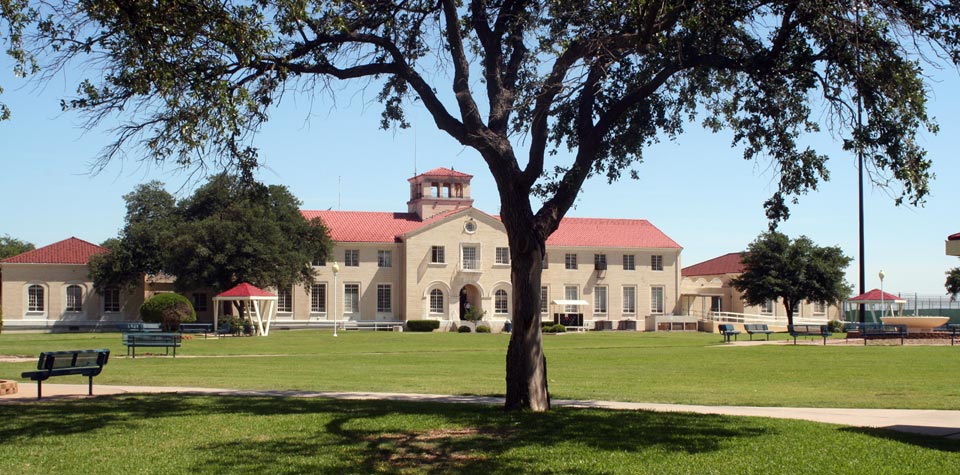 Background
Federal Medical Center Fort Worth is an administrative-security federal prison in Fort Worth, Texas, which houses male inmates. It opened in 1971
FMC Fort Worth was initially a low-security federal prison (FCI Fort Worth) but was converted to a Federal Medical Center in early 2017. Inmates at FMC Fort Worth have various security levels, as well as special medical and mental health needs.
Media reports indicate that at least three guards have been indicted for sexually assaulting inmates. Additionally, at least one guard has been convicted of smuggling drugs into the facility.
Inmate Housing
Inmates are housed in units that range from two-, three-, four-, six-, and eight-person cells to dormitories housing 20 to 30 inmates.
Health Services
Services at FMC Fort Worth include medical and dental triage, emergency medical services, medications, eyeglasses, physical examinations, and chronic care. Emergency medical services are available 24 hours a day. Inmates are assigned to a particular Mid-Level Practitioner, who serves as their primary point of contact with Health Services. Sick call is conducted on Monday, Tuesday, Thursday, and Friday at 7:00 a.m. Pill and insulin lines are held three times a day.
Psychology Services
The Psychology Department offers a broad spectrum of services including individual and group counseling, education, drug abuse treatment, a smoking cessation program, and psychological assessments. Emergency psychological services are available to inmates 24 hours a day, 365 days a year. The Psychology Department posts notices of upcoming offerings in inmate housing units. In order to request placement into particular programs, inmates must submit cop-outs. Hours of operation are 8:00 a.m. to 3:00 p.m.
Residential Drug Abuse Program (RDAP)
FMC Fort Worth has the Residential Drug Abuse Program (RDAP). FMC Fort Worth also provides inmates with the Drug Education class and the Non-Residential Drug Abuse Program (NR-DAP).
FMC Fort Worth Educational, Library, and Recreation Offerings
Education Services
FMC Fort Worth provides the Test of Adult Basic Education (TABE) to determine appropriate placement in the literacy, GED, and English-as-a-Second Language (ESL) programs. Adult Continuing Education (ACE) classes and a parenting program are also available. Current ACE offerings include World Religion, Used Car Sales, Astronomy, Stocks, Commodities, Greek and Roman Mythology, Creative Writing, Algebra 1 and 2, and Business Etiquette. Inmates can also participate in the Reading is Fundamental and Words Travel Programs. High school diplomas and post-secondary degrees are available through paid correspondence programs. Classes are also offered by Coastline and Lasson community colleges. The hours of operation are 7:00 to 10:00 a.m., 12:00 to 3:00 p.m., and 5:30 to 7:00 p.m. Monday through Friday.
Advanced Occupational Education
FMC Fort Worth offers advanced occupational education in Building Service Maintenance and Office Technology.
Vocational Training
No vocational training is available at FMC Fort Worth aside from the advanced occupational education programs.
Apprenticeship
An apprenticeship is offered in HVAC.
Library Services
The library at FMC Fort Worth has a collection of approximately 5,000 fiction and nonfiction books, which can be checked out by inmates. Newspapers, magazines, and reference books may be used only in the library. Inmates housed in the SHU have access to materials in the SHU inmate law library. Inmates also have access to the TRULINCS Electronic Law Library, where they can research federal case law, Bureau of Prisons Program Statements, and more. Typewriters and a copy machine are also available for inmate use.
UNICOR
FCI Fort Worth does not house a UNICOR facility.
Commissary
FMC Fort Worth inmates can spend up to $360.00 monthly on their specified shopping day. Shopping hours rotate on a quarterly basis and are posted in inmate housing units and the Commissary. Currently, shopping is conducted on Monday, Tuesday, and Wednesday between 6:00 to 7:00 a.m. and 11:00 a.m. to 1:00 p.m. Identification cards are mandatory for any purchases. Upon qualifying, inmates can open savings accounts at the Bureau of Prisons Federal Credit Union, which is located on the FMC Fort Worth grounds.
Recreation Services
The Recreation Department at FMC Fort Worth offers both indoor and outdoor facilities. The indoor facility houses a large hobby craft program (e.g., leather, painting, drawing, and card-making), fitness equipment, card tables, music rooms, televisions, and pool and ping-pong tables. The outdoor facility includes a running/walking track, multipurpose courts, handball/racquetball courts, softball fields, soccer/football fields, horseshoe pits, volleyball courts, and a weightlifting area. Inmates can also watch TV and check out DVDs.
Visitation Information for FMC Fort Worth
On Sunday, Monday, and Saturday visitation is held between 8:00 a.m. and 3:00 p.m. On federal holidays visitation is held between 8:00 a.m. and 3:00 p.m. See our page on prisoner visitation rules for more information.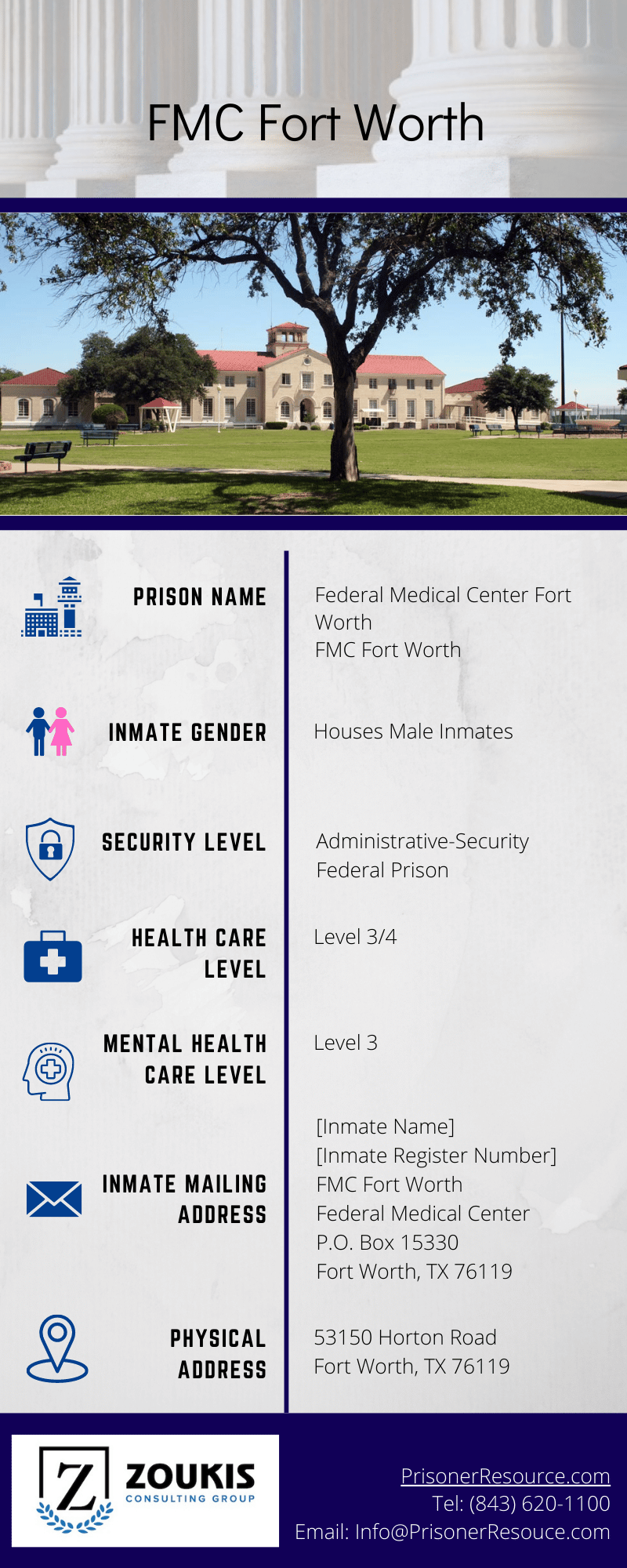 FMC Fort Worth Prison Culture Information
Prison Politics at Federal Medical Center Fort Worth
Respondents had mixed feelings about the level of politics at this facility. Some said that this prison is "semi-political, but is not really serious," while others felt that there are serious political overtones. All respondents stated that inmates are not required to be part of a car. Generally speaking, since it is a Federal Medical Center, the politics are not like what one would find at a harder medium or a softer high.
Level of Violence
There is a minimal level of violence at this prison. Inmates report a few minor fights and no stabbings in the past few years.
Vulnerable Populations
Sex offenders, informants, and LGBT inmates can walk the yard. All are allowed to use the weight pile and participate in sports. One respondent stated that "sex offenders are not allowed in the TV rooms."
Good at FMC Fort Worth
"Nothing is good." "Relatively safe."
Bad at FMC Fort Worth
"Bad food, bad medical policies, and lazy staff." "Unit teams and, in particular, unit managers are very bad."
Other Inmate Comments
"It's fairly laid back and most people get along with each other. Easy time."
FMC Fort Worth in the News
In October 2016, Yvonne Marrufo, a cook supervisor at Federal Medical Center Fort Worth, was sentenced to three years of probation for sexual abuse of a ward. At the time of her sentencing, the judge crossed out the condition of probation that she register as a sex offender.
In April 2016, Rudy Ramon, a guard at FMC Fort Worth, was sentenced to four years of probation for sex with a prisoner, which occurred in 2014. Ramon was not required to register as a sex offender.
In November 2007, Vincent Inametti, a Catholic priest, pleaded guilty to sexually assaulting female prisoners at FMC Fort Worth.
In July 1998, Benicio Hoyos, a cook employed at FMC Fort Worth, was sentenced to 46 months in prison, the lowest sentence allowed, for smuggling cocaine, heroin, marijuana, and liquor into the facility.
More Information About Federal Medical Center Fort Worth
For a comprehensive look at life in federal prison, pick up a copy of Christopher Zoukis' Federal Prison Handbook: The Definitive Guide to Surviving the Federal Bureau of Prisons. For more detailed information about FMC Fort Worth, please buy a copy of the Directory of Federal Prisons: The Unofficial Guide to Bureau of Prisons Institutions by Christopher Zoukis.
Published Jun 2, 2018 by Christopher Zoukis, JD, MBA | Last Updated by Christopher Zoukis, JD, MBA on Jun 4, 2023 at 5:28 pm