Federal Transfer Center Oklahoma City is an administrative-security federal prison located in Oklahoma City, in King County, Oklahoma. It is also known as FTC Oklahoma City. The facility houses male and female inmates.
Oklahoma City Contact Information
Facility Address & Contact Information
Federal Transfer Center Oklahoma City
7410 South Macarthur Boulevard
Oklahoma City, OK 73169
Phone: 405-682-4075
Fax: 405-680-4043
Email: [email protected]
BOP Website: Bureau of Prisons Page
Wikipedia: Wikipedia Page
Inmate Correspondence Address
FTC Oklahoma City
Inmate Name and Registration Number
FTC Oklahoma City
Federal Transfer Center
P.O. Box 898801
Oklahoma City, OK 73189
How to Send Money
Do not send money to inmates directly. See our page on sending money to federal prisoners.
Federal Transfer Center Oklahoma City Inmate Information
Inmate Gender
Male and Female Inmates
Prison Security Level
Administrative-Security Federal Prison
Facility Location
FTC Oklahoma City is located 3 miles west of I-44 and 4 miles south of I-40.
BOP Region
BOP Institution Code
OKL for FTC Oklahoma City
Medical Care Level
Level 2. See our page on Medical Care Levels and Procedures for more information.
Mental Health Care Level
Level 2.
Judicial District
Population Number
FTC Oklahoma City houses approximately 1,070 inmates.
FTC Oklahoma City Prison Services Information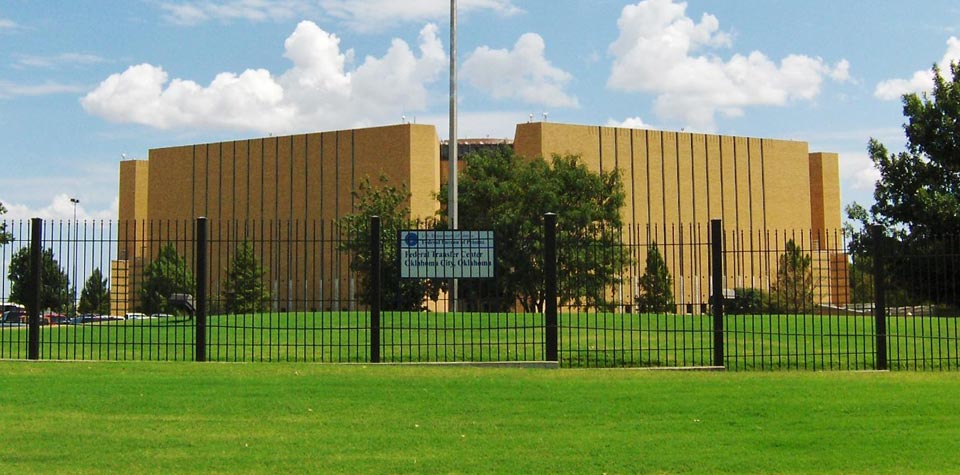 Background
Federal Transfer Center Oklahoma City is an administrative-security federal prison in Oklahoma City, Oklahoma, which houses both male and female federal inmates. It opened in 1995. New commitments, Inmate Cadre workers, In transit offenders and parole violators are housed at this site.
Oklahoma City is the Federal Bureau of Prisons' transfer hub for male and female inmates within the federal prison system. It serves as the main hub of the Department of Justice's Offenders and Alien Transportation System, popularly known as Con-Air. A cadre of low-security inmates is assigned to FTC Oklahoma City to perform food service and maintenance duties.
Piper Kerman, the author of the Netflix series Orange is the New Black, stated in 2005 that the women's section was "spotlessly clean" and "subdued."
Media reports indicate that at least one inmate has died at the facility, though the cause of death was not publicly reported.
Inmate Housing
Inmates are housed in one and two-tier housing units consisting of cells with bunk beds inside them.
Health Services
Medical services are provided by FTC Oklahoma City medical staff and community consultants. All new cadre inmates receive a preventive health screening that screens for viral hepatitis, HIV, TB, colon cancer, diabetes, and cholesterol.
Dental screenings are also given. Dental sick call is for emergency care only. To obtain routine dental treatment inmates must submit an inmate request to staff in the Dental Department. Medications are also provided. Medical services are available to inmates on a 24-hour basis through routine medical programs and urgent emergency care.
Psychology Services
Psychology staff members provide a full range of services on an as-needed basis. Brief assessments are completed on all newly committed cadre inmates. Brief counseling is available. Specialty programs like stress management, rational thinking, and dealing with grief, are periodically offered to cadre inmates. Psychologists are available 24 hours a day, year-round to respond to emergency mental health concerns.
Residential Drug Abuse Program (RDAP)
FTC Oklahoma City does not have the Residential Drug Abuse Program (RDAP), however, it does offer a Drug Education Class and the Non-Residential Drug Abuse Program (NR-DAP).
FTC Oklahoma City Educational, Library, and Recreation Offerings
Education Services
Oklahoma City provides literacy, GED, and English-as-a-Second Language (ESL) programs. Adult Continuing Education (ACE) classes and Release Preparation Program classes are also available. Release Preparation Classes focus on interview skills, resume writing, cultural diversity, locating jobs, and additional classes. High school diplomas and post-secondary degrees are available through paid correspondence programs.
Advanced Occupational Education
FTC Oklahoma City transit center does not offer any advanced occupational education programs.
Vocational Training
FTC Oklahoma City does not offer any vocational training programs.
Apprenticeship
FTC Oklahoma City does not offer any apprenticeship programs.
Library Services
An Electronic Law Library provides inmates with access to law library materials. Typewriters are available in the cadre unit for legal document preparation. A leisure library offers inmates fiction and nonfiction books, magazines, and newspapers.
UNICOR
Oklahoma City does not house a UNICOR facility.
Commissary
Cadre inmates can spend up to $360.00 per month and may shop at the commissary once per week. Commissary items include beverages, food, clothing, electronics, and others. Transferring inmates do not have access to commissary shopping while at FTC Oklahoma City.
Recreation Services
There are several hobby craft programs offered to FTC Oklahoma City cadre inmates. Cadre inmates may also participate in fitness programs and activities such as basketball, handball, unit walking, and utilizing fitness equipment. Fitness programming is also part of the Release Preparation Program. A bulletin board is located in the cadre unit to keep inmates informed of recreation programs. Transferring inmates have access to a small outdoor recreation area, which is connected to each housing unit.
Visitation Information for FTC Oklahoma City
On Sundays and Saturdays, visit hours are between 8:00 a.m. and 3:00 p.m. On federal holidays visiting hours are between 8:00 a.m. and 3:00 p.m. See our page on prisoner visitation rules for more information.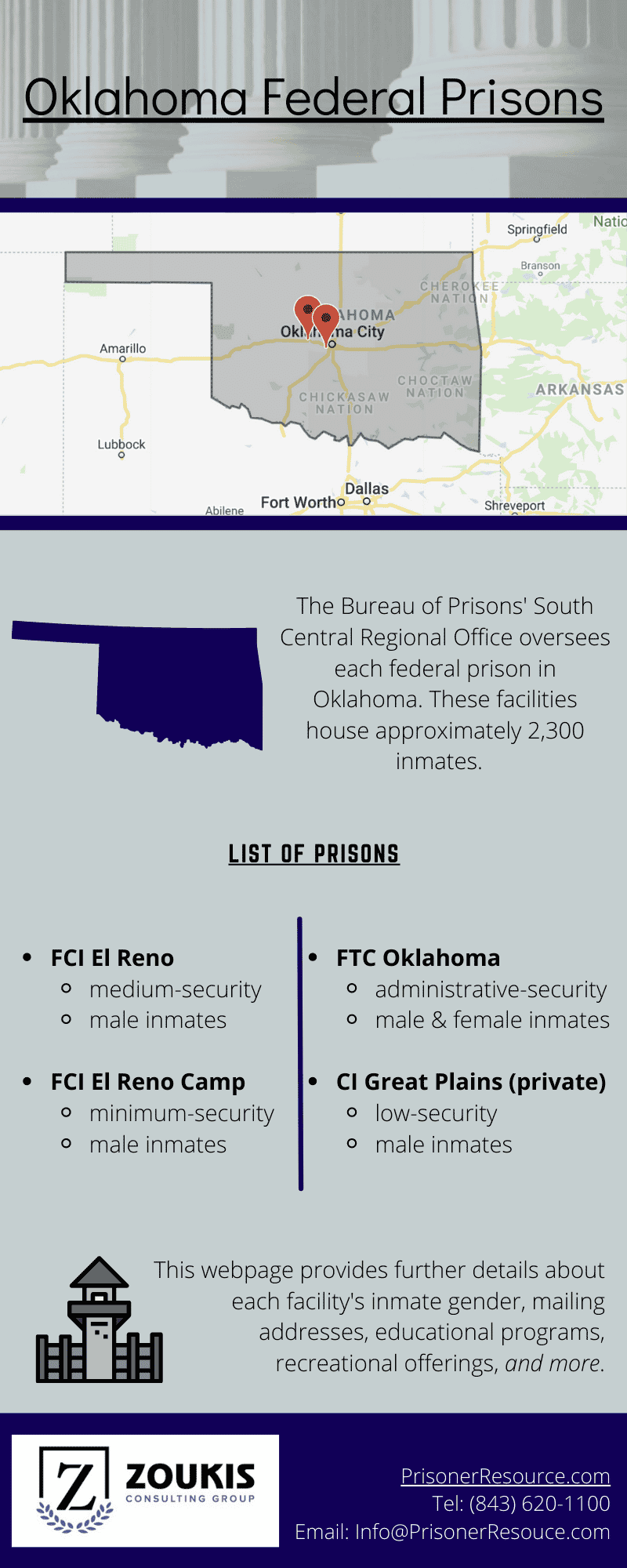 FTC Oklahoma City in the News
In October 2017, Darius Ghahary was found unresponsive in his cell at Federal Transfer Center Oklahoma City and was taken to the hospital where he was declared dead.
More Information About Federal Transfer Center Oklahoma City
For a comprehensive look at life in federal prison, pick up a copy of Christopher Zoukis' Federal Prison Handbook: The Definitive Guide to Surviving the Federal Bureau of Prisons. For more detailed information about FTC Oklahoma City, please buy a copy of the Directory of Federal Prisons: The Unofficial Guide to Bureau of Prisons Institutions by Christopher Zoukis.
Published Jun 3, 2018 by Christopher Zoukis, JD, MBA | Last Updated by Christopher Zoukis, JD, MBA on Jun 4, 2023 at 6:12 pm