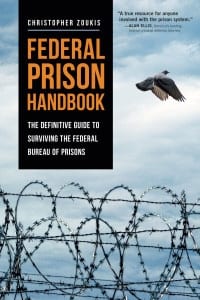 Christopher Zoukis's 2017 release, the Federal Prison Handbook, has received a top accolade from IndieReader, making the list of Best-Reviewed Non-Fiction Books of 2017.
""Federal Prison Handbook  is an invaluable resource for those incarcerated or with loved ones behind bars, as well as anyone curious about what life in a federal prison is like," states IndieReader founder Amy Edelman in a Huffington Post article listing the year's top non-fiction picks.
Zoukis's book received a five-star rating and was named a winner in the IndieReader Discovery Awards last year. Reviewer Catherine Langrehr lauded the book for its thoroughness, covering every aspect of prison life, and stated "the detail and length of the book does not make it difficult to read – its presentation, clarity, and carefully-organized structure make it simple for a person looking for information on any one particular aspect of prison life to find that information quickly."
Christopher Zoukis is an outspoken prisoner rights and correctional education advocate who is incarcerated at FCI Petersburg Medium in Virginia. He is an award-winning writer whose work has been published widely in major publications such as The Huffington Post, Prison Legal News, New York Daily News and various other print and online publications. Learn more about Christopher Zoukis at christopherzoukis.com and prisoneducation.com.

Published Jan 10, 2018 by Christopher Zoukis, JD, MBA | Last Updated by Christopher Zoukis, JD, MBA on May 5, 2022 at 9:59 pm