Federal Correctional Institution Beckley is a medium-security federal prison located in Beaver, West Virginia. It is also known as FCI Beckley, Beckley Correctional Center, and the Beckley WV federal prison. FCI Beckley Camp is next to the main institution. Both prisons house male inmates.
Get in touch with us if you have a loved one incarcerated at FCI Beckley. Our Beckley federal prison experts can answer all of your questions and determine if your loved one qualifies for early release.
Schedule a one-hour initial consultation with a Federal Correctional Institution Beckly expert today!
FCI Beckley Contact Information
Facility Address & Contact Information
Federal Correctional Institution Beckley
1600 Industrial Road
Beaver, WV 25813
Phone: 304-252-9758
Fax: 304-256-4956
Email: [email protected]
BOP Website: Bureau of Prisons Page
Wikipedia: Wikipedia Page
Inmate Correspondence Address
FCI Beckley
Inmate Name and Registration Number
FCI Beckley
Federal Correctional Institution
P.O. Box 350
Beaver, WV 25813
FCI Beckley Prison Camp
Inmate Name and Registration Number
FCI Beckley Camp
Satellite Prison Camp
P.O. Box 350
Beaver, WV 25813
How to Send Money
Funds cannot be sent directly to inmates. See our page on sending money to federal prisoners.
Federal Correctional Institution Beckley Inmate Information
Inmate Gender
Male Inmates
Prison Security Level
Facility Location
FCI Beckley is in Raleigh County, West Virginia, approximately 51 miles southeast of Charleston.
BOP Region
BOP Institution Code
BEC for FCI Beckley WV federal prison.
Medical Care Level
Level 2. See our page on Medical Care Levels and Procedures for more information.
Mental Health Care Level
Level 2.
Judicial District
Southern District West Virginia
Population Number
FCI Beckley houses approximately 1,500 inmates. The camp houses around 140 inmates.
FCI Beckley Prison Services Information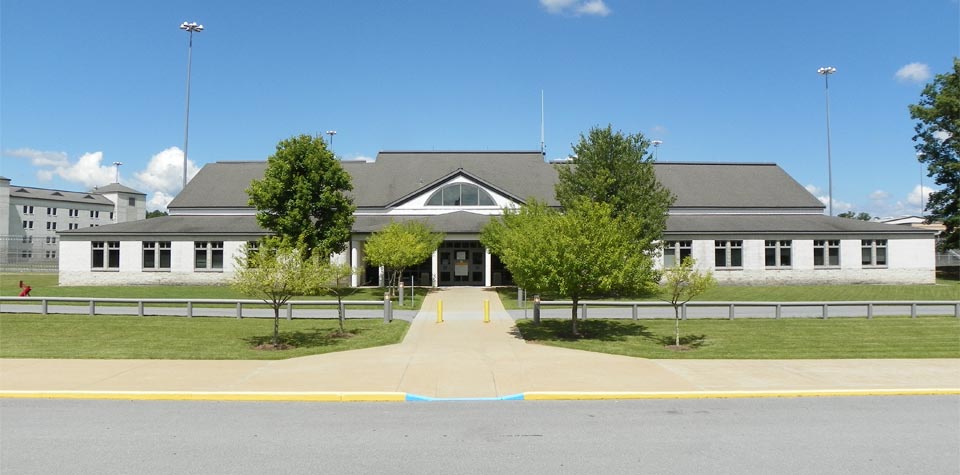 Background
Federal Correctional Institution Beckley is a medium-federal prison in Beaver, West Virginia that houses male inmates. It opened in 1974. Federal Correctional Institution Beckley Camp, which also houses male inmates, is adjacent to the primary institution.
This Beckley WV prison was established as the Beckley Work Release Center. It was reorganized in 1997 and renamed the Beckley Correctional Center. In March 2011, the center expanded into the Jackie Withrow Hospital to incorporate a Residential Substance Abuse Treatment Unit on the hospital's grounds.
Notable Incidents
Media reports indicate that at least five inmates have been charged with weapons possession in the past several years. One was indicted for drug possession, and a former inmate was indicted for threatening to blow up the prison.
News reports also indicate that one transgender inmate was subjected to ongoing harassment, sexual assaults by inmates and staff, threats, and other abuse while incarcerated.
Notable FCI Beckley Inmates
Beckley Correctional Center houses numerous notable inmates, including:
Steven Warshak, founder of Berkeley Nutraceuticals: served nine years for fraud and money laundering.
James Kopp: serving a life sentence for murder.
Eric DeWayne Boyd: serving an 18-year sentence for carjacking to elude law enforcement.
Inmate Housing
FCI Beckley is comprised of two-person cells. The camp consists of open-bay dorms with two-person cubicles.
Health Services
The Beckley WV prison offers inmates the following medical services:
Medical and Dental Sick Calls
Medications
Medical and Dental Open Houses
Routine Dental Care
Physical Examinations
Eyeglasses
Emergency Medical and Dental Care
Inmates must submit triage forms for non-emergency medical evaluation.
Psychology Services
Beckley federal prison offers the Bureau Rehabilitation and Values Enhancement Program (BRAVE Program), a self-improvement program for young offenders serving lengthy terms of incarceration. Other psychology programming groups for anger management and stress management are also available.
Residential Drug Abuse Program (RDAP)
FCI Beckley houses a Residential Drug Abuse Treatment Program (RDAP). Male inmates in the residential drug treatment program may be eligible for a sentence reduction upon program completion.
Additional services include a Drug and Substance Abuse Education Program and a Non-Residential Drug Abuse Treatment Program (NR-DAP). The camp does not offer RDAP.
FCI Beckley Educational, Library, and Recreation Offerings
Education Services
Beckley Correctional Center offers GED classes and English-as-a-Second Language (ESL) classes. Adult Continuing Education (ACE) courses and parenting programs are also available. High school diplomas and postsecondary education are available through paid correspondence programs.
Advanced Occupational Education
FCI Beckley offers the following advanced occupational education programs:
Business Retail Management
Customer Service
Appliance Repair & Refrigeration
Blueprint Reading
Carpentry
HVAC
Masonry
Residential Wiring
The camp offers Appliance Repair & Refrigeration, HVAC, and Welding. Advanced occupational college classes are available through New River Community and Technical College.
Vocational Training
There are no vocational training programs aside from their advanced occupational education programs.
Apprenticeship
There are no apprenticeship programs.
Library Services
The Beckley WV federal prison's Education Department offers a video library, where inmates may check- out videos to watch during scheduled times. Videos are educational and include a variety of topics related to health, wellness, leisure, athletics, and sports. Inmates may also check out various periodicals, magazines, literature, and other wellness and leisure reading materials.
The law library is located in the Education Department and contains various legal reference materials to prepare legal papers. Reference materials include:
United States Code Annotated
Federal Reporter
Supreme Court Reporter
Federal Bureau of Prisons Program Statements
Institutional Supplements
Indexes
Other legal materials
UNICOR
The Beckley Correctional Center UNICOR facility produces ergonomic chairs and office furniture. The FCI Beckley satellite camp does not have a UNICOR facility.
Commissary
Inmates can spend up to $360.00 each month on commissary purchases. They shop once a week on their assigned day. Inmates shop in the Commissary by turning in their slips and waiting for their orders to be filled.
Funds are withdrawn using a commissary card for personal spending in the institution commissary. Funds may also be removed from the account for family support, or other approved purposes, using Form BP-199. Inmates receive any accumulated institution earnings and other funds upon release. These funds can also be mailed home.
Recreation Services
Recreation programs at FCI Beckley include indoor and outdoor activities. This time is divided based on housing units and is only accessible through one-way moves. Musical instruments and classes are available for inmates.
The Recreation Department offers a variety of organized league sports, including:
Softball
Flag Football
Basketball
Soccer
Volleyball
Inmates have access to various health and wellness classes, including:
NFPT
Yoga
Calisthenics
Aerobics
Pre-Release Wellness
The Beckley WV federal prison Recreation Department provides a variety of hobby craft activities, including:
Drawing
Painting
Leather
Ceramics
Weekend movies, weekend pictures, musical lessons, group bands, and holiday tournaments and competitions are also available.
Visitation Information for FCI Beckley
Family members and friends can visit during visiting hours. Sunday, Monday, and Saturday, visitation is held between 8:00 a.m. and 3:00 p.m. On federal holidays visitation is held between 8:00 a.m. and 3:00 p.m. See our page on prisoner visitation rules for more information.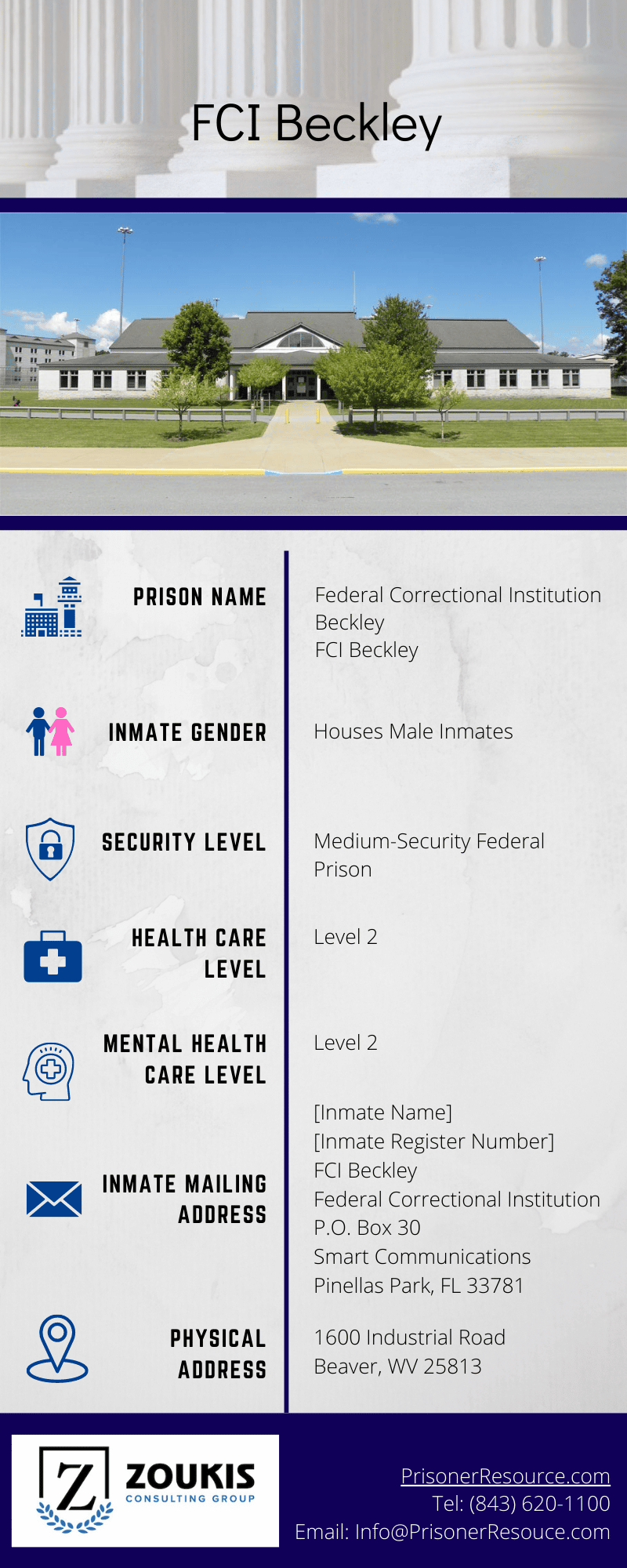 FCI Beckley Prison Culture Information
Prison Politics at Federal Correctional Institution Beckley
Beckley WV federal prison is a very political yard. This applies to all races. While not everyone must join a gang or car, most do. There are also some independents.
Level of Violence
According to inmate respondents, there are many fights, though not many stabbings at this facility. Another inmate stated that "it does tend to be fairly violent."
Vulnerable Populations
Sex offenders, informants, and LGBT inmates cannot walk the yard.
Good at FCI Beckley
"Good food."
Bad at FCI Beckley
"Lots of old, broken recreation equipment." "They recently changed rec to a split schedule where only certain units can rec at a time."
Other Inmate Comments
"Don't go there." "This is not a safe yard."
FCI Beckley in the News
In April 2018, two prisoners at the Federal Correctional Institution in Beckley were sentenced to 12 months of additional prison time for weapons possession.
In July 2017, Michael Camp, an inmate at Beckley WV prison, was caught with a sharpened toothbrush in his work boot.
In June 2017, Daqone Lance, a prisoner at FCI Beckley, was found with an improvised weapon– a sock tied to a combination lock — hidden in the waistband of his pants.
In December 2017, Beckley federal prison prisoners James Broadhurst and David Harsley were sentenced to additional time in prison. They had previously pleaded guilty to unlawful possession of a prohibited object (i.e., drugs). Broadhurst received five extra months, and Harsley received three additional months in prison.
In November 2016, Larry Antoine Smith, a prisoner at Beckley Correctional Center, was sentenced to 21 months for possessing a weapon in a federal institution — a combination lock attached to a belt.
In February 2016, Scotty Rose, a physician's assistant at FCI Beckley, was sentenced to two years in prison for unwittingly tampering with an FBI investigation. Rose had previously received reprimands for being too nice to the prisoners.
Notable Incidents at FCI Beckley
In 2015, Paris Leibelson, a transgender woman convicted of purse snatching in 2005 and imprisoned at Federal Correctional Institution Beckley, filed a lawsuit against the prison. Her lawsuit alleged that officials failed to protect her from assault, threats, and harassment. She asserted she had been subjected to this between late 2013 and early 2014.
According to the suit, prison gangs control most of the dining tables. These gang members demanded sexual favors in return for allowing her to eat, resulting in her going for days at a time without eating. The lawsuit also stated guard Christopher Cook performed an illegal strip search and digitally anally raped her when Leibelson was sent to the SHU.
In January 2018, Michael Leibelson, Leibelson's father, filed suit. This occurred after Leibelson was found dead of an apparent drug overdose at her family's home. William Bruce DelValle, who represented Paris and now her father, said she was in prison far too long for purse snatching. "She was not a menace to society," DelValle said. "She was not dangerous."
In October 2003, Roger Hager, a former Federal Correctional Institution at Beckley inmate, was indicted for threatening to blow up the prison.
More Information About Federal Correctional Institution Beckley
For a comprehensive look at life in federal prison, pick up a copy of Christopher Zoukis' Federal Prison Handbook: The Definitive Guide to Surviving the Federal Bureau of Prisons. For more detailed information about FCI Beckley, please buy a copy of the Directory of Federal Prisons: The Unofficial Guide to Bureau of Prisons Institutions by Christopher Zoukis.
Your FCI Beckley Federal Prison Experts
Get in touch with the Zoukis Consulting Group's Beckley Correctional Center experts if you or a loved one are incarcerated at this facility. Our team will answer your questions, help resolve issues, and see if you or your loved one qualifies for an early release.
Book an initial consultation with an FCI Beckley federal prison expert today!
Published Apr 24, 2018 by Christopher Zoukis, JD, MBA | Last Updated by Christopher Zoukis, JD, MBA on Jun 4, 2023 at 4:57 pm