USP Allenwood is a high-security federal prison located in White Deer, Pennsylvania. The facility houses male inmates. The institution is also known as Allenwood federal prison, Allenwood Penitentiary, and USP Allenwood federal prison.
The prison is part of FCC Allenwood, which includes FCI Allenwood Medium and FCI Allenwood Low.
USP Allenwood Contact Information
Facility Address & Contact Information
United States Penitentiary Allenwood
Route 15
Allenwood, PA 17810
Phone: 570-547-0963
Fax: 570-547-9201
Email: ALX/[email protected]
BOP Website: Bureau of Prisons Page
Wikipedia: Wikipedia Page
Inmate Correspondence Address
Inmate Name and Registration Number
USP Allenwood
U.S. Penitentiary
P.O. Box 3000
White Deer, PA 17887
Mail must be addressed to Allenwood penitentiary inmates at the above address.
How to Send Money to an Inmate
Federal inmates can not receive funds directly. Family and friends can send money through Western Union, Money Gram, and the National Lockbox. See our page on sending money to federal prisoners for more information about sending money to federal inmates.
Allenwood Federal Prison Inmate Information
Inmate Gender
Male Inmates
Prison Security Level
Facility Location
USP Allenwood is located 197 miles north of Washington, DC. The facility is also 11 miles south of Williamsport, PA, and 2 miles north of Allenwood, on U.S. Route 15. It is in Union County, Pennsylvania.
BOP Region
BOP Institution Code
ALP is the institution code for the USP Allenwood federal prison. ALX is the institutional designation for Allenwood Federal Correctional Complex.
Medical Care Level
Level 3. See our page on Medical Care Levels and Procedures for more information.
Mental Health Care Level
Level 3.
Judicial District
Middle District of Pennsylvania
Population Number
Allenwood penitentiary houses approximately 630 inmates.
USP Allenwood Prison Services Information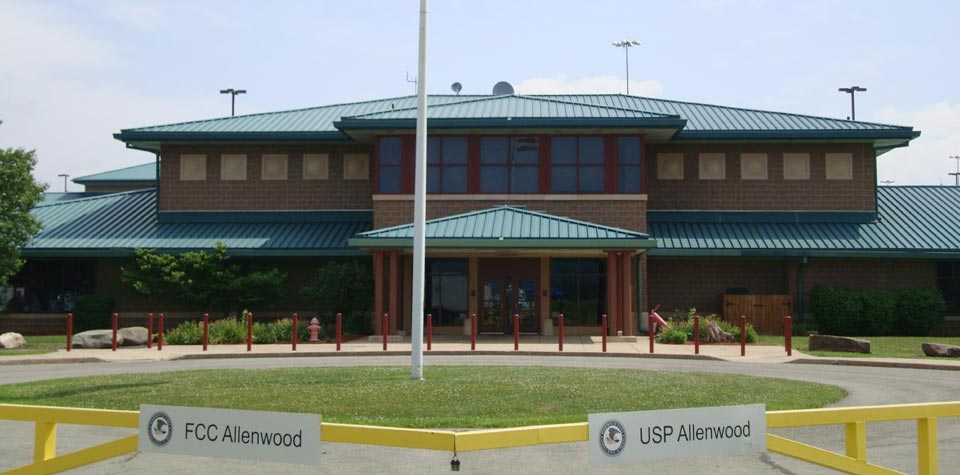 Background
USP Allenwood is a high-security federal prison in Allenwood, Pennsylvania, which houses male inmates. Opened in 1993, it is part of the Allenwood Federal Correctional Complex. The facility is operated by the Federal Bureau of Prisons. This is an agency under the purview of the Department of Justice.
The prison features a Special Management Unit (SMU). This program teaches self-discipline, pro-social values, and successful coexistence with members of other geographical, cultural, and religious backgrounds. SMUs are restrictive programs that house and control inmates who have shown to be management problems.
Allenwood penitentiary houses numerous notable inmates, including:
Howard Mason is serving a life sentence on racketeering charges. He ordered the murder of a New York City police officer.
Louis Daidone is the former acting boss of the Lucchese crime family. He is serving a life sentence for murder, murder conspiracy, racketeering, and loansharking.
Mahamud Salad Ali was a Somali pirate leader. He is serving a life sentence for hijacking a civilian yacht.
Jorge A. Martinez, a former physician serving a life sentence for health care fraud.
James Eagan Holmes, the 2012 Aurora, Colorado, theater shooter. He is serving 12 life terms in federal prison.
Media reports indicate inmates have been charged with weapons possession. At least two inmates have been charged with murder. News reports also suggest that at least one mass fight has occurred at USP Allenwood federal prison. Eight inmates were transported to a hospital for treatment of their injuries.
Inmate Housing
Inmates are housed in two-person cells. Those housed in the Special Housing Unit are housed in one- and two-person cells.
Health Services
All inmates entering USP Allenwood federal prison receive a mandatory, complete physical examination within 14 days of arrival. This examination may include laboratory studies, hearing and sight screening, dental examination, medical history, and physical examination. Sick call, dental sick call, physical examinations, annual immunizations/screenings, health promotion/disease prevention, and medications are provided to inmates. While emergency medical care is available 24 hours a day, inmates must submit a sick call form for non-emergency care.
Psychology Services
Allenwood federal prison provides psychological, psychoeducational, and consultative services to inmates. Psychologists conduct psychological assessments for new inmates and address their needs through crisis intervention services and other therapeutic approaches.
SMU inmates must participate in and complete a psychoeducational group on Social/ Communication Skills. Elective counseling groups are also available. These include Relapse Prevention, Emotion Management, Problem-Solving, Coping Skills, and related psychoeducational classes.
The Challenge Program is also available for inmates prone to substance abuse, mental illness, and violence.
Residential Drug Abuse Program (RDAP)
USP Allenwood federal prison does not have the Residential Drug Abuse Program (RDAP). However, the FCI Allenwood Medium facility offers RDAP.
USP Allenwood offers the Drug Abuse Education, Non-Residential Drug Abuse Program (NR-DAP), Alcoholics Anonymous (AA), and Narcotics Anonymous (NA) programs.
Allenwood Penitentiary Educational, Library, and Recreation Offerings
Education Services
Allenwood federal prison offers literacy, GED (in English and Spanish), and English-as-a-Second Language (ESL) programs. Prison officials separate classes into pre-GED, GED, and Special Learning Needs levels. A parenting program and Adult Continuing Education (ACE) classes are also available. High school diplomas, career certificates, and college degrees are available through paid correspondence programs.
Advanced Occupational Education
USP Allenwood does not offer any advanced occupational education programs.
Vocational Training
Allenwood penitentiary offers vocational training in Computer Word Processing and Computer Assisted Drafting. The IC3 Internet Computing Core Certification is also available.
Apprenticeship
USP Allenwood offers apprenticeships in Cook, Quality Control Technician, and Upholsterer.
Library Services
Law and leisure libraries are available to inmates at USP Allenwood federal prison. The TRULINCS Electronic Law Library provides extensive federal legislative and case law information, including the Federal Bureau of Prisons' Program Statements. Electric typewriters are available in the Library Research Center for inmate legal work.
Inmates must furnish the required materials to utilize the electric typewriters. These materials include a print wheel, typing ribbon, correction tape, and typewriter paper. The leisure library offers fiction and nonfiction books, newspapers, and magazines.
UNICOR
The USP Allenwood UNICOR facility produces office furniture.
Commissary
Allenwood penitentiary inmates can spend up to a specific dollar amount each month for regular purchases (currently $360.00). An additional amount for special purchase items is also available.
SMU inmates can only spend $50.00 per week, excluding postage stamps and sneakers. Each inmate is responsible for knowing the amount of money available in his account. Unit Managers can approve withdrawals from the trust fund account to send funds to dependents and other family members.
Recreation Services
Allenwood penitentiary's Recreation Department consists of both indoor and outdoor areas. Activities range from individualized arts and crafts programs to intramural team sports such as softball, basketball, and volleyball. Physical fitness and weight reduction programs are also available. Musical Instruments and Hobbycraft programs are available for inmates.
Inmates in the Special Management Unit (SMU) are permitted a minimum of five hours of recreation per week. The Recreation Department at USP Allenwood is responsible for supplying the SMU with recreation equipment, including games and fitness items.
Inside the unit, board games and playing cards, abdominal benches, and various exercise equipment are available. The outside recreation area consists of abdominal benches and other equipment for inmate recreation.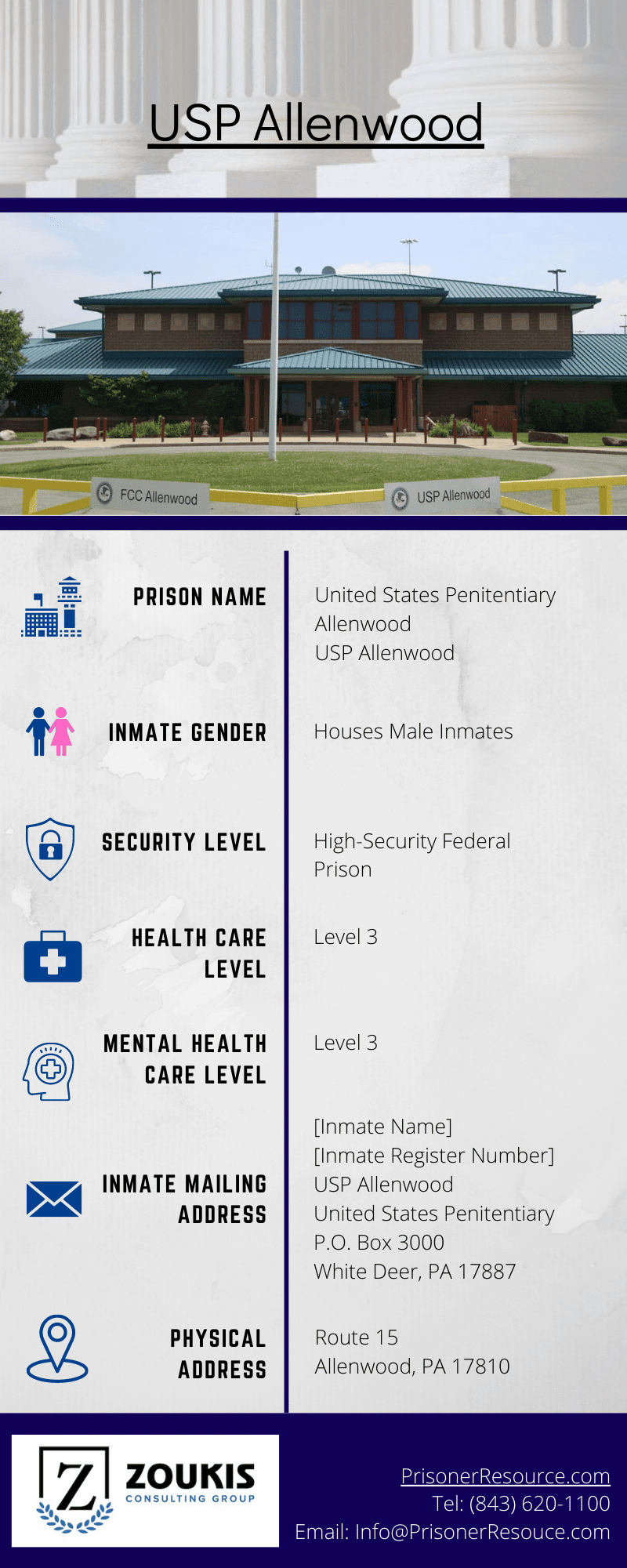 Visitation Information for USP Allenwood Federal Prison
Visiting hours are from 8:00 a.m. to 3:00 p.m., Sunday, Friday, and Saturday. On federal holidays, authorized visitors may visit the institution between 8:00 a.m. and 3:00 p.m. See our page on prisoner visitation rules for more information about visiting schedule procedures.
Directions to USP Allenwood
USP Allenwood Prison Culture Information
Prison Politics at USP Allenwood Federal Prison
This is a very political yard. Inmates are required to be part of an organized car to stay.
Level of Violence
There is a moderate level of violence at this facility. According to inmates, there is an average of one fight per week and a stabbing every few months.
Vulnerable Populations
Sex offenders, informants, and LGBT inmates are not allowed to stay at this prison.
Good at Allenwood Penitentiary
"None that I know of," explains one inmate.
Bad at Allenwood Federal Prison
"Very old and dirty," said one prisoner. "Significant politics."
Other Inmate Comments
One survey respondent explained, "If you have clean paperwork, go. For a USP, it's really not that bad."
USP Allenwood in the News
In February 2018, USP Allenwood prisoner Michael Moore was federally indicted for the possession of a weapon. Prison staff found a sharpened piece of plastic in his possession.
In 2012, James Holmes killed 12 and injured 70 in the theater shooting in Aurora, Colorado. He was subsequently incarcerated at USP Florence, where fellow inmates attacked him. He was secretly moved to USP Allenwood in response to this assault.
In 2008, Allenwood penitentiary inmates brawled, resulting in eight being hospitalized.
In September 2005, Ritz D. Williams and Shawn Cooya, inmates at USP Allenwood federal prison, stabbed and kicked fellow prisoner Alvin Allery repeatedly, killing him. Both were sentenced to life in prison for the murder in 2013.
More Information About Allenwood Federal Prison

For a comprehensive look at life in federal prison, pick up a copy of Christopher Zoukis' Federal Prison Handbook: The Definitive Guide to Surviving the Federal Bureau of Prisons. For more detailed information about USP Allenwood, please buy a copy of the Directory of Federal Prisons: The Unofficial Guide to Bureau of Prisons Institutions by Christopher Zoukis.
Published May 17, 2018 by Christopher Zoukis, JD, MBA | Last Updated by Christopher Zoukis, JD, MBA on Jun 4, 2023 at 4:50 pm