Federal Correctional Institution Ashland is a low-security federal prison in Ashland, Kentucky. The prison is also known as FCI Ashland. The facility houses male inmates. FCI Ashland Camp is located adjacent to the central institution. The camp also houses male inmates.
Contact us if you have a loved one at FCI Ashland. Our Ashland Kentucky prison experts team can answer your questions, resolve any issues, and review your case to determine if you qualify for early release from prison.
Schedule an initial consultation today!
FCI Ashland Contact Information
Facility Address & Contact Information
Federal Correctional Institution Ashland
State Route 716
Ashland, KY 41105
Phone: 606-928-6414
Fax: 606-929-4395
Email: ASH/[email protected]
BOP Website: Bureau of Prisons Page
Wikipedia: Wikipedia Page
Inmate Correspondence Address
FCI Ashland
Inmate Name and Registration Number
FCI Ashland
Federal Correctional Institution
P.O. Box 6001
Ashland, KY 41105
FCI Ashland Prison Camp
Inmate Name and Registration Number
FCI Ashland Camp
Satellite Camp
P.O. Box 6000
Ashland, KY 41105
How to Send Money
Inmates may not receive funds directly. See our page on sending money to federal prisoners. Family and friends can send money to an inmate via Western Union, MoneyGram, or the National Lockbox. U.S. Postal Money orders may be addressed to the processing center in Des Moines, Iowa.
Federal Correctional Institution Ashland Inmate Information
Inmate Gender
Male Inmates
Prison Security Level
Facility Location
Ashland federal prison is located five miles southwest of the city of Ashland in northeastern Kentucky.
BOP Region
BOP Institution Code
ASH for FCI Ashland
Medical Care Level
Level 2. See our page on Medical Care Levels and Procedures for more information.
Mental Health Care Level
Level 2.
Judicial District
Population Number
Federal Correctional Institution Ashland houses approximately 1,000 inmates. The camp houses around 200 inmates.
FCI Ashland Prison Services Information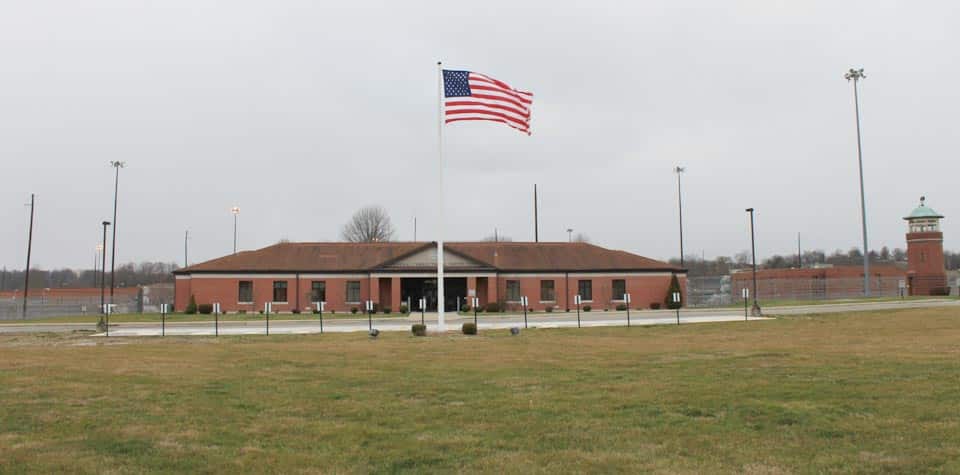 Background
Federal Correctional Institution Ashland is a low-security federal prison in Ashland, Kentucky. It opened in 1940. Ashland Federal Prison Camp opened in 1991. Both Ashland Kentucky federal prisons house male offenders.
FCI Ashland prison was initially designed for bootleggers and revenue violators. The facility now houses adult males and serves as a phasing down program for inmates nearing the end of their sentences in one of the regional penitentiaries.
Notable inmates include:
Former Luzerne County (PA) Judge Mark A. Ciavarella, Jr. is serving 28 years for racketeering, fraud, money laundering, extortion, bribery, and tax evasion in the infamous cash-for-kids scandal.
David Kernell, who was convicted of unauthorized access to a computer and obstruction of justice.
Azamat Tazhayakov was convicted of lying to federal investigators regarding the Boston Marathon bombing.
Spencer Reinhard, Eric Borsuk, and Warren Lipka, whose book heist was memorialized in the movie American Animals.
Media reports indicate that at least one guard has been charged with smuggling contraband into the institution. Additionally, at least one inmate has been charged with stabbing a fellow inmate.
In 2009, Forbes magazine ranked FCI Ashland Camp as one of America's ten cushiest federal prisons. It is one of the most sought-after United States Department of Justice prison placements.
Inmate Housing
Ashland Kentucky federal prison has two-person cells, two-person dorms, and two- to six-person rooms. There is also one unit of one-person rooms. There are 12 housing units, five of which house dorms. The camp at FCI Ashland has dormitory-style housing, which consists of two-person cubicles.
Health Services
Inmates at FCI Ashland complete an admission physical, which includes the following services:
A hands-on physical exam
Urinalysis
Serology
PPD skin test (Tuberculosis)
Tetanus Toxoid
Dental Examination
EKG (for inmates age 50 and older)
Hearing and Vision Screening
HIV Testing
Emergency medical care, medical and dental sick call, and medications are provided. Health Services hours of operation are 6:30 a.m. to 3:30 p.m. Inmates must place a triage form in the box outside the department at 7:30 a.m. for medical evaluation. Pill and insulin lines are conducted at 7:30 a.m. and 6:00 p.m. Emergency medical care is available 24 hours a day.
Psychology Services
Federal Correctional Institution Ashland offers assessment and treatment of mental health problems, individual and group counseling, psycho-educational classes, supportive services, and self-help and chronic care clinics for inmates with mental illnesses.
Current psychology group counseling offerings include:
Anger Management
Criminal Thinking
Basic Cognitive Skills
Smart Recovery
Emotional Regulation
Suicide Watch Companion
Residential Drug Abuse Program (RDAP)
FCI Ashland does not house the Residential Drug Abuse Treatment Program (RDAP). A Drug Abuse Education Course, the Non-Residential Drug Abuse Program (NR-DAP), Alcoholics Anonymous (AA), and Narcotics Anonymous (NA) are available. Some inmates are required to participate in the Drug Abuse Education Course. Others can opt-in to the program.
FCI Ashland Educational, Library, and Recreation Offerings
Education Services
FCI Ashland's Education Department is open Monday through Friday from 6:45 to 10:30 a.m., 11:45 a.m. to 3:30 p.m., and 4:30 to 8:30 p.m. The only exception is Friday nights when the Education Department is closed. The department is also open on Sundays from 6:05 to 9:30 a.m. and 10:30 a.m. to 3:30 p.m.
The department offers GED (in English and Spanish) and the English-as-a-Second Language (ESL) program. Classes are separated into pre-GED, Advanced GED, and Special Learning Needs levels. Incentive awards are provided to recognize inmates making satisfactory progress toward completing the literacy (i.e., GED and ESL) program. High school diplomas and post-secondary programs are available through paid correspondence programs.
Inmates may also receive incentives ($25.00) for completing the GED or ESL programs. Graduation ceremonies recognize GED, ESL, and Occupational Education completions. Adult Continuing Education (ACE) courses and a parenting program are also available.
Current ACE offerings include:
Arabic
Baseball
Grammar Refresher
Jazz
Japanese
Math Refresher
Math for Welders
Rock & Roll
Spanish
Advanced Occupational Education
Ashland Kentucky prison offers advanced occupational education in Autobody and Car Care. The camp provides a Gardener Program and Welding.
Vocational Training
Vocational training programs are not offered besides advanced occupational education and apprenticeship programs.
Apprenticeship
FCI Ashland offers apprenticeships in Baking, Cooking, Dental Assistant, Maintenance Electrician, and Welding. The camp offers apprenticeships in Baking and Cooking.
Library Services
The Ashland federal prison leisure library offers inmates a variety of reading materials, including periodicals, newspapers, fiction, nonfiction, and reference books. Also available is a DVD viewing room where inmates can watch educational movies. Both institutions participate in an interlibrary loan program with local, state, and college libraries and available bookmobile services.
The TRULINCS Electronic Law Library offers inmates access to legal materials, case law, and Bureau program statements. Resources, including typewriters, are available for inmates to prepare legal materials at the inmate's expense. A copying machine is available to reproduce materials needed for research.
UNICOR
FCI Ashland's UNICOR factory manufactures office furniture. In addition to Ashland Kentucky federal prison's furniture factory products, there are three support sections: Quality Assurance, Business Office, and Warehouse. The camp does not house a UNICOR factory.
Commissary
Inmates can spend up to $360.00 each month. Commissary and validation schedules are posted on the inmate bulletin boards. Inmates can shop Monday through Thursday on their housing unit's assigned day, which rotates quarterly. Hours of operation are 10:15 to 11:45 a.m. and 1:00 to 2:00 p.m. UNICOR inmates shop from 3:00 to 3:30 p.m.
Accounts are established for the inmate's committed name and register number. An Inmate Identification Card is issued to each inmate, which must be presented when shopping. Inmates can purchase food items, drink mixes, sodas, clothing, and other items.
Recreation Services
FCI Ashland's recreation offerings include physical fitness and leisure programs. The yard is open from 6:00 a.m. to 3:30 p.m. and 4:30 to 8:00 p.m.
Leisure activities include the following options:
Organized and Informal Games
Sports
Physical Fitness
Table Games
Hobby Crafts
Music Programs
Intramural Activities
Social and Cultural Organizations
Movies
Art activities include paintings and sketches using traditional methods (e.g., oils, pastels, crayons, pencils, inks, and charcoal).
The recreation yard offers many exercises and sports activities:
Softball
Basketball
Flag Football
Soccer
Tennis
Ultimate Frisbee
Volleyball
Bocce Ball
Cornhole
Horseshoes
Handball
Weight Pile
Track
Indoors, inmates can participate in yoga, spin classes, over-40 cardio, chess, and guitar. The gym has pool tables, board games, basketball, handball, cardio equipment, and TVs.
Inmates may also participate in many hobby craft activities, including:
Ceramics
Leatherwork
Models
Clay
Mosaics
Crochet
Knitting
Sculptures
Airbrushing
Woodworking
The Recreation Department also has a library with a broad selection of books. It is available to inmates from 12:00 to 3:00 p.m. Recreation offerings include three pool tables, cable television, and exercise equipment in the camp. Cable televisions and card tables for playing board games are available in each housing unit.
Visitation Information for FCI Ashland
Visiting hours at Ashland federal prison is on Sunday, Monday, and Saturday between 8:00 a.m. and 3:00 p.m. It is also held on federal holidays between 8:00 a.m. and 3:00 p.m. See our page on prisoner visitation rules for more information.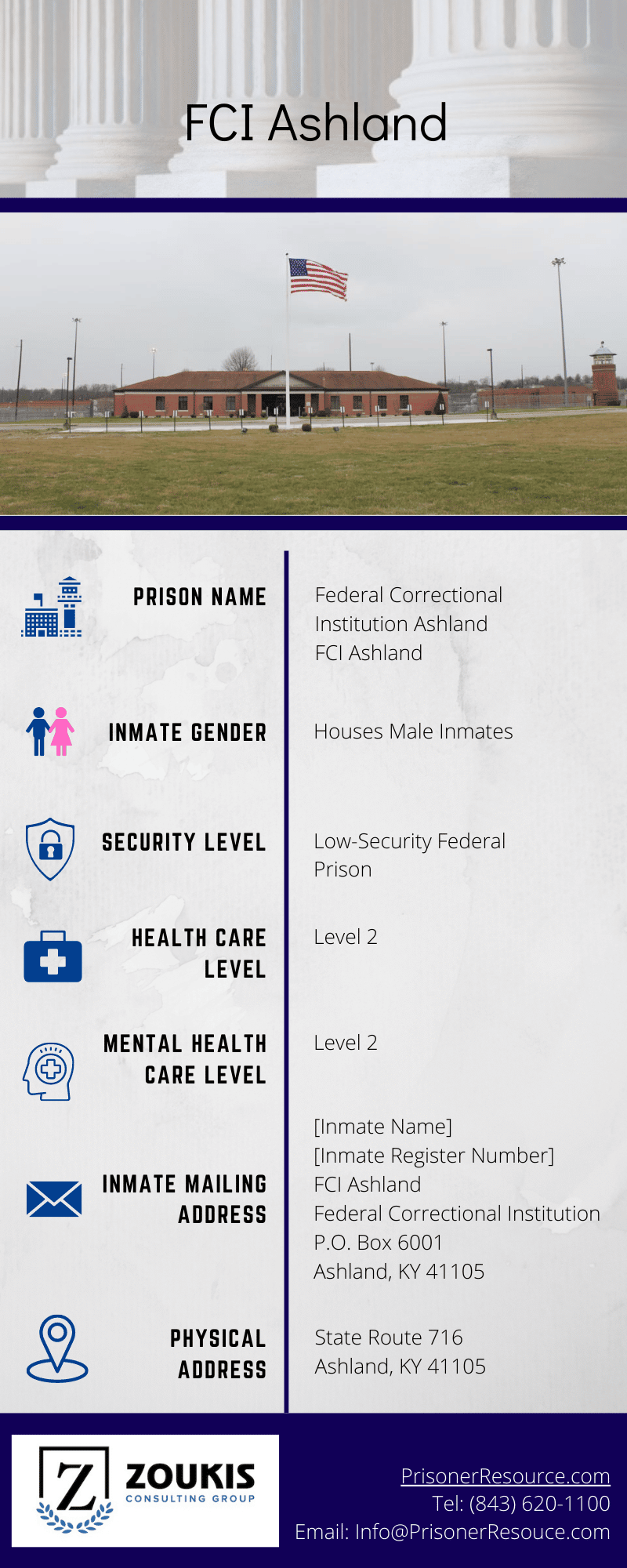 FCI Ashland Prison Culture Information
Prison Politics at Federal Correctional Institution Ashland
There is a very low level of prison politics at this facility. One inmate explained, "The yard is not political." Another explained, "Not many politics here."
Level of Violence
Minimal violence, which, according to inmate respondents, usually involves the TV. One respondent stated that the prison is "very safe" and that of the few fights he had witnessed, "they were over quickly and usually only involving two people."
Another inmate explained, "There is almost zero violence here. There has been one stabbing in the last decade and one rape. Otherwise, a few fights occur on occasion. Generally, this is a very safe compound."
Vulnerable Populations
Sex offenders, informants, and LGBT inmates can walk this yard. One inmate noted that "certain staff targets sex offenders."
Another inmate explained, "While I am a sex offender, I have zero problems here. I am only restricted from the white TV room in the unit." Another respondent stated, "Sex offenders are the majority here. So, no issues on the yard; even the weight pile is open to them."
Good at FCI Ashland
"There really isn't anything good about this place." "The good things are the safety and the yard. The library is extremely well-stocked."
"The commissary is ok but does seem to be getting better." "They took out the metal detectors, so that is good."
Bad at FCI Ashland
"The harassment from certain COs; petty shots." "The prison is poorly organized." "Extremely petty guards."
"No air conditioning, and it's over 105 degrees as I write this." "They took away our pillows." "The food is terrible but better than transit or most county jails." "It's a dump."
Other Inmate Comments
"If you have a choice to go anywhere, I would not come here unless FCI Ashland gets you closer to home." "It's very safe here, but the guards can be very disrespectful and sometimes denigrating towards inmates."
FCI Ashland in the News
In July 2018, Ashland Community and Technical College hired Beverly Sharp as the criminal justice program coordinator. She is a former guard and employee trainer at Federal Correctional Institution Ashland.
In April 2016, former Luzerne County Judge Mark A. Ciavarella, Jr., sentenced to 28 years for racketeering, money laundering, and fraud in the infamous kids-for-cash scandal, was transferred to the low-security Ashland federal prison.
In 2014, Azamat Tazhayakov, friend and roommate of the man known as the Boston Bomber, was found guilty of obstructing a terrorism investigation by disposing of the bomber's backpack full of fireworks. He was designated to FCI Ashland to serve his three-and-a-half-year sentence.
In 2013, James Lewis, a guard at Ashland Kentucky prison, was accused of working with a prisoner, Gary Musick, and the prisoner's girlfriend, Cindy Gates, to smuggle contraband into the facility, which included marijuana, pornography, and cell phones.
In August 2010, there was an incident when two unnamed prisoners assaulted each other. Staff transported one inmate to a local hospital for treatment.
In June 2006, Spencer Reinhard, Eric Borsuk, and Warren Lipka — whose rare-book heist was made into the 2018 movie American Animals — were sent to Federal Correctional Institution Ashland to serve their sentences.
More Information About Federal Correctional Institution Ashland
For a comprehensive look at life in federal prison, pick up a copy of Christopher Zoukis' Federal Prison Handbook: The Definitive Guide to Surviving the Federal Bureau of Prisons. For more detailed information about FCI Ashland, please buy a copy of the Directory of Federal Prisons: The Unofficial Guide to Bureau of Prisons Institutions by Christopher Zoukis.
Your FCI Ashland Experts
Contact the Zoukis Consulting Group if you have a loved one incarcerated at FCI Ashland. Our team can resolve any prison problems and review your case to see if you qualify for early release.
Book an initial consultation with a Federal Correctional Institution Ashland expert today!
Published Apr 24, 2018 by Christopher Zoukis, JD, MBA | Last Updated by Christopher Zoukis, JD, MBA on Jul 20, 2023 at 12:54 pm