Federal Correctional Institution Danbury is a low-security federal prison located in Danbury, Connecticut. It is also known as FCI Danbury, Danbury federal prison, and Danbury Correctional Facility. Federal Satellite Low Danbury is also a low-security federal prison. FCI Danbury Camp is adjacent to the leading institution. FSL Danbury and the camp house female inmates, while FCI Danbury houses male inmates.
Know a prisoner at FCI Danbury? The team at the Zoukis Consulting Group regularly assists clients in resolving prison problems and seeking early release from federal prison.
Schedule an initial consultation today to speak with a Danbury federal prison expert.
FCI Danbury Contact Information
Facility Address & Contact Information
Federal Correctional Institution Danbury
33 1/2 Pembroke Station
Route 37
Danbury, CT 06811
Phone: 203-743-6471
Fax: 203-312-5110
Email: [email protected]
BOP Website: Bureau of Prisons Page
Wikipedia: Wikipedia Page
Inmate Correspondence Address
FCI Danbury
Inmate Name and Registration Number
FCI Danbury
Federal Correctional Institution
Route 37
Danbury, CT 06811
FSL Danbury
Inmate Name and Registration Number
FSL Danbury
Federal Satellite Low
Route 37
Danbury, CT 06811
FCI Danbury Prison Camp
Inmate Name and Registration Number
FCI Danbury Camp
Satellite Prison Camp
Route 37
Danbury, CT 06811
How to Send Money
Danbury federal prison inmates may not receive funds directly. See our page on sending money to federal prisoners.
Federal Correctional Institution Danbury Inmate Information
Inmate Gender
FCI Danbury: Male Inmates
FSL Danbury: Female Inmates
Danbury Camp: Female Inmates
Prison Security Level
Facility Location
Danbury federal prison is in southwestern Connecticut, 70 miles from New York City, three miles north of Danbury, on State Route 37.
BOP Region
BOP Institution Code
DAN for FCI Danbury
Medical Care Level
Level 2. See our page on Medical Care Levels and Procedures for more information.
Mental Health Care Level
Level 3.
Judicial District
Population Number
FCI Danbury houses approximately 880 inmates. FSL Danbury houses around 120 female inmates. The camp houses around 80 inmates.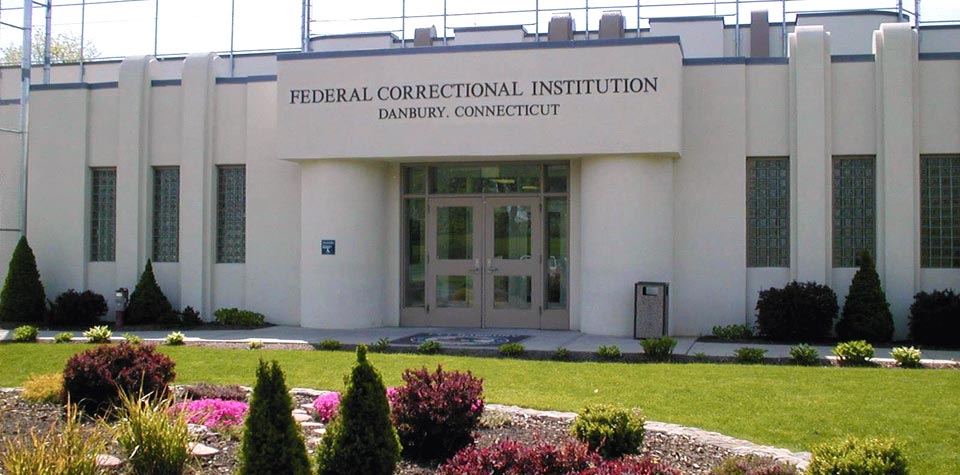 FCI Danbury Prison Services Information
Background
Federal Correctional Institution Danbury is a low-security federal prison located in Danbury, Conn., housing male inmates. It opened in 1940. Federal Satellite Low Danbury is a low-security federal prison that houses female inmates. Federal Correctional Institution Danbury Camp, which also houses female inmates, was opened in 1982 and is located adjacent to the central institution.
Danbury federal prison is one of the top women's facilities in the United States.
FCI Danbury was intended for both male and female prisoners. From 1993 to 2013, it was exclusively for female prisoners. It has transitioned to an exclusively male prison, with female inmates housed at the satellite camp and the federal satellite low.
Notable Danbury Federal Prison Inmates
Danbury CT federal prison has housed many notable inmates, including:
Leading real estate investor Leona Helmsley: served 21 months in 1993 and 1994 for tax evasion.
Leader of the Unification Church Sun Myung Moon: served 11 months for tax evasion.
Piper Kerman: served 13 months for drug conspiracy.
Grammy-award-winning singer Lauryn Hill: Served three months for intentionally failing to file tax returns.
Bravo television star Teresa Giudice: served 12 months for bankruptcy and mail fraud.
Watergate burglars G. Gordon Liddy and Howard Hunt. Piper Kerman authored Orange Is the New Black: My Year in a Women's Prison about her time at Danbury Correctional Facility, the basis for the hit Netflix series Orange Is the New Black.
Media reports indicate that guards have sexually assaulted at least nine inmates. In addition, guards have also been indicted for smuggling contraband into the institution and accepting bribes. At least two inmates have also been charged with weapons possession.
Inmate Housing
Danbury, CT, federal prison inmates live in one of 13 housing units. While most housing units consist of cubicles with bunk beds, some housing units have cells.
I Unit houses the Skills Program, L Unit houses RDAP, and M Unit is a general population unit, though it consists of cells. Currently, A, B, and K Units are closed. Inmates at the camp are housed in dormitories.
Health Services
Routine medical and dental care are offered within the Health Services Department at FCI Danbury.
Health services include:
Health Promotion
Disease Prevention
Annual Immunizations/Screening
Treatment for On-the-Job Injuries
Sick Call
Dental Sick Call
Physical Examinations
Preventive Health Care
Emergency Medical Treatment
Medications
Inmates are assigned to a specific health care provider who treats them for the duration of their stay. Pill and insulin lines are conducted at 6:00 a.m., 12:00 p.m., and 5:00 p.m.
Psychology Services
The Psychology Services Department offers basic mental health care to inmates. This care may include:
Screening, assessment, and treatment of mental health or drug abuse problems.
Individual and group counseling
Psycho-Educational Classes
Self-Help Libraries
Supportive Services
Referral to Health Services for medical treatment of a mental illness.
Typical psychology treatment groups include anger management, Smart Recovery, and others. Inmates are notified of upcoming groups and other Psychology Department offerings through posted notices.
The Resolve Program is available to inmates dealing with mental illness due to trauma. The Skills Program is also available for inmates with intellectual disabilities and social deficiencies.
Residential Drug Abuse Program (RDAP)
FCI Danbury offers the Residential Drug Abuse Program (RDAP). The camp does not have the Residential Drug Abuse Program (RDAP). A Drug Abuse Education Course and the Non-Residential Drug Abuse Program (NR-DAP), Alcoholics Anonymous (AA), and Narcotics Anonymous (NA) are available.
FCI Danbury Educational, Library, and Recreation Offerings
Education Services
Danbury federal prison provides literacy, GED, and English-as-a-Second Language (ESL) programs.
Incentive awards recognize inmates making satisfactory progress and completing the literacy program. Inmates may also receive incentives for progressing to various levels in the GED or ESL Programs. Graduation ceremonies recognize GED, ESL, and Occupational Education completions.
Adult Continuing Education (ACE) classes and a parenting program are also offered. High school diplomas and post-secondary degrees are available through paid correspondence programs.
Learn more about education in federal prison here.
Advanced Occupational Education
FCI Danbury does not offer any advanced occupational education programs.
Vocational Training
Danbury Correctional Facility offers vocational training in Culinary Arts and Horticulture. The camp provides Puppies Behind Bars.
Apprenticeship
FCI Danbury and the satellite facilities offer apprenticeships in:
Baker
Carpenter
Chaplain Service Support
Cook
Dental Assistant
Education and Training
Electrician
Horticulturist
Housekeeper (Commercial, Residential, or Industrial)
Landscape Management Technician
Legal Secretary
Material Coordinator
Office Manager/ Administrative Services
Painter
Plumber
Quality Control Inspector
Recreation Assistant
Teacher Aide
Tool Machine Set-Up Operator
Danbury, CT, federal prison also offers HVAC, Meat Cutter, Peer Specialist, and Stationary Engineer apprenticeships.
The camp offers Animal Trainer, Baker, Career Development Technician, and Undercar Specialist.
Library Services
The leisure libraries at FCI Danbury and the adjacent facilities offer inmates a variety of reading materials, including periodicals, newspapers, fiction, nonfiction, and reference books. The institutions also participate in an interlibrary loan program.
Inmates are provided access to legal materials and an opportunity to prepare legal documents through the TRULINCS Electronic Law Library. A copy machine is available to reproduce materials needed for research. Typewriters are also available.
UNICOR
Danbury federal prison does have a UNICOR facility, but it is not currently in operation. The camp does not house a UNICOR facility.
Commissary
Inmates at FCI Danbury may use funds in their account to:
Purchase items at the institution commissary.
Place funds on their inmate phone account.
Purchase TRU-Units for their TRULINCS account.
Send funds out of the institution using Form BP-199.
Commissary and validation schedules are posted on the TRULINCS bulletin board. Based on the weekly unit inspection, each unit shops on a designated shopping day once per week.
Commissary is open Monday through Thursday from 6:00 to 7:45 a.m. Monday through Wednesday from 5:00 to 6:30 p.m.
Funds are withdrawn after identification by commissary card or fingerprint identification. The inmate's responsibility is to know the amount of money available in their account. Inmates must have their commissary card in their possession for identification purposes.
Recreation Services
The Danbury Correctional Facility Recreation Department consists of indoor and outdoor areas, including leisure, wellness, sports, and music programs.
Structured classes include a wide variety of hobby crafts and music programs.
Non-structured leisure activities include:
Puzzles
Dominos
Cards
Board Games
Billiard Equipment
Federal inmates may participate in various art activities, including:
Oils
Pastels
Crayons
Pencils
Inks
Charcoal
Danbury CT federal prison also offers hobby craft classes are available to inmates, including
Art
Plastic Canvas
Origami
Crochet
Knitting
Wellness programs include circuit training, aerobics, over 50 fitness, nutrition, yoga, and others.
An annual Health Fair provides services and information to the inmate population. Indoor and outdoor intramural sports leagues are offered year-round.
Various sports leagues are offered to Danbury Correctional Facility inmates based on the season. These include:
Basketball
Softball
Volleyball
Soccer
Handball
Racquetball
Music programs such as music theory concepts and how to play an instrument are available.
Visitation Information for FCI Danbury
Visiting hours are from 8:30 a.m. and 3:00 p.m. Sundays, Mondays, Fridays, and Saturdays. On federal holidays visitation is held between 8:30 a.m. and 3:00 p.m. See our page on prisoner visitation rules for more information.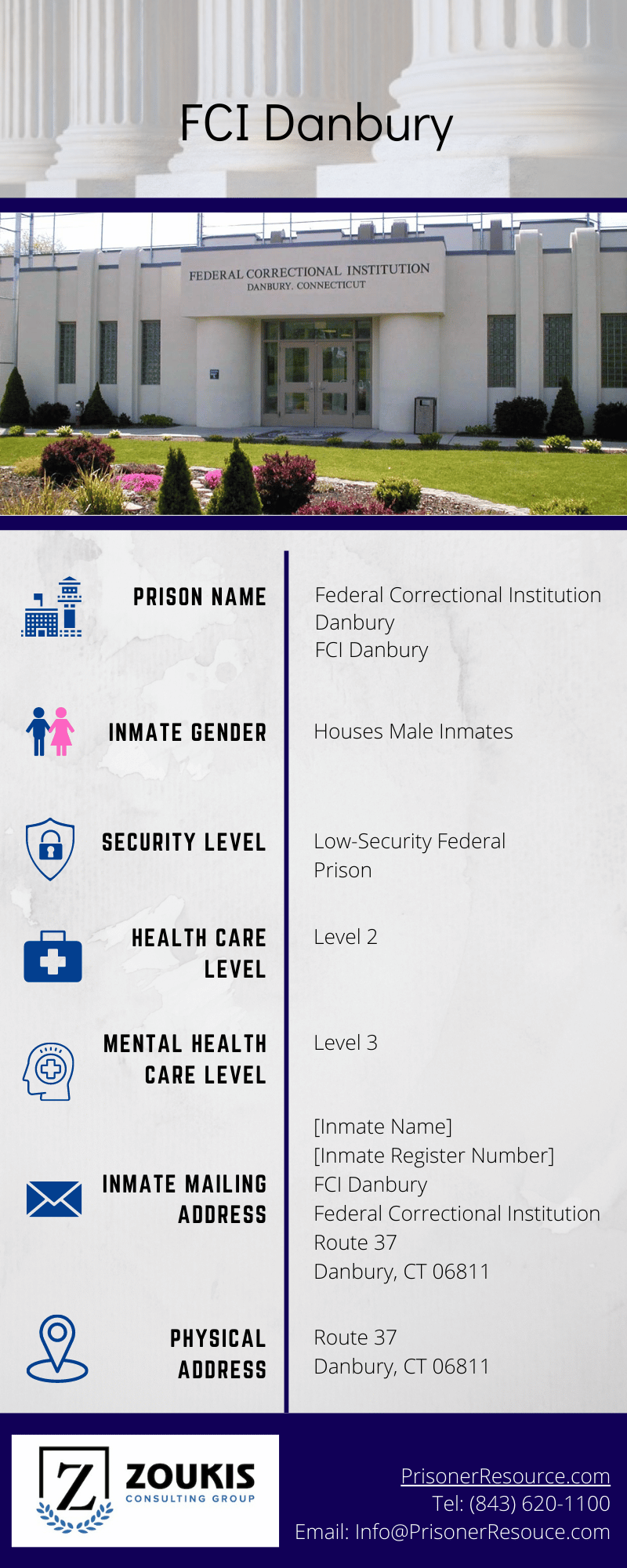 FCI Danbury Prison Culture Information
Prison Politics at Federal Correctional Institution Danbury
There is a very low level of politics at this prison.
Level of Violence
Inmates report a low level of violence, though a progressively increasing amount in late 2018.
Vulnerable Populations
Sex offenders, informants, and LGBT inmates can walk the yard. One respondent stated that "there is a huge population of sex offenders here." One inmate did note that sex offenders do not have a TV that they can control and that they must sit at one of four tables in the chow hall.
Bad at FCI Danbury
"The medical care is HORRIBLE!" "There are frequent lockdowns due to lack of staffing." "Ten-minute moves are enforced; no open compound."
"No air conditioning in the housing units." "No bathrooms in either the leisure or law libraries, so inmates must wait until the activities move to use them elsewhere."
FCI Danbury in the News
In July 2018, John Faucher, a prisoner at the Federal Correctional Institution at Danbury who is serving just under five years for robbery, pleaded guilty to possessing a weapon while in federal custody. He faces up to five additional years in prison.
Also, in July 2018, FCI Danbury CT federal prison food service employee Eric Williams was charged with smuggling cell phones and other contraband into the prison.
In May 2018, John Durham, a prisoner at Danbury, CT federal prison, was indicted of weapons possession.
In January 2017, female prisoners returned to Danbury Correctional Facility after being moved to Metropolitan Detention Center Brooklyn in 2013, when the prison was converted into a men's facility.
In July 2015, Kisha Perkins, a case manager at the Danbury prison, was sentenced to a year in prison for accepting bribes from prisoners under her supervision.
In March 2014, Steven Wolff, a repair foreman at FCI Danbury, was sentenced to five months in prison for having sexual relations with a prisoner and paying a lookout with contraband.
In June 2004, Gregory Webb, a correctional officer at Danbury federal prison, was sentenced to probation and community service for having oral sex with a female prisoner and lying to investigators.
In August 2003, Anthony Tortorella, an FCI Danbury guard, was sentenced to ten months in prison for having sex with six female prisoners between 1998 and 2001 and harboring an illegal alien. Tortorella's sentence was particularly lenient because he agreed to testify against prison guard Richard Vasquez, who was also having sex with female prisoners at Danbury Correctional Facility.
On July 7, 1977, a fire broke out at Danbury prison, killing five prisoners and injuring another 86 prisoners, staff, and firefighters. Following the incident, investigators examined conditions, and the public called for enhanced fire safety activities.
More Information About Federal Correctional Institution Danbury
For a comprehensive look at life in federal prison, pick up a copy of Christopher Zoukis' Federal Prison Handbook: The Definitive Guide to Surviving the Federal Bureau of Prisons. For more detailed information about FCI Danbury, CT federal prison, please buy a copy of the Directory of Federal Prisons: The Unofficial Guide to Bureau of Prisons Institutions by Christopher Zoukis.
Your FCI Danbury Federal Prison Experts
Are you or a loved one having an issue at FCI Danbury federal prison? If so, please contact us at the Zoukis Consulting Group. Our federal prison experts can help you resolve in-prison problems and see if you qualify for early release from federal prison.
Book an initial consultation with an FCI Danbury federal prison expert today!
Published May 17, 2018 by Christopher Zoukis, JD, MBA | Last Updated by Christopher Zoukis, JD, MBA on Jun 4, 2023 at 5:15 pm