Federal Correctional Institution Englewood is a low-security federal prison located in Littleton, Colorado. It is also known as FCI Englewood. The facility houses male inmates. Federal Detention Center Englewood and Englewood Prison Camp are adjacent to the central institution. Male inmates are also housed at these facilities.
Being sentenced to federal prison is a frightening experience. But with the assistance of our team of expert prison advisors, you can plan for what lies ahead and handle any concerns you might have.
Our team can help you prepare, resolve any in-prison issues, and determine if you qualify for early release from federal prison.
Book an initial consultation with an FCI Englewood federal prison expert today!
FCI Englewood Contact Information
Facility Address & Contact Information
Federal Correctional Institution Englewood
9595 West Quincy Avenue
Littleton, CO 80123
Phone: 303-763-4300
Fax: 303-763-2553
Email: [email protected]
BOP Website: Bureau of Prisons Page
Wikipedia: Wikipedia Page
Inmate Correspondence Address
FCI Englewood
Inmate Name and Registration Number
FCI Englewood
Federal Correctional Institution
9595 West Quincy Avenue
Littleton, CO 80123
FCI Englewood Prison Camp
Inmate Name and Registration Number
FCI Englewood Camp
Satellite Prison Camp
9595 West Quincy Avenue
Littleton, CO 80123
How to Send Money
Funds cannot be sent directly to inmates. See our page on sending money to federal prisoners. Family and friends can send money to inmates via Western Union, Money Gram, and the National Lockbox in Des Moines, Iowa.
Federal Correctional Institution Englewood Inmate Information
Inmate Gender
Male Inmates
Prison Security Level
Facility Location
FCI Englewood is located 15 miles southwest of Denver, off Interstate 285.
BOP Region
BOP Institution Code
ENG for FCI Englewood
Medical Care Level
Level 2. See our page on Medical Care Levels and Procedures for more information.
Mental Health Care Level
Level 2.
Judicial District
Population Number
FCI Englewood houses approximately 900 inmates. The camp houses around 130 inmates.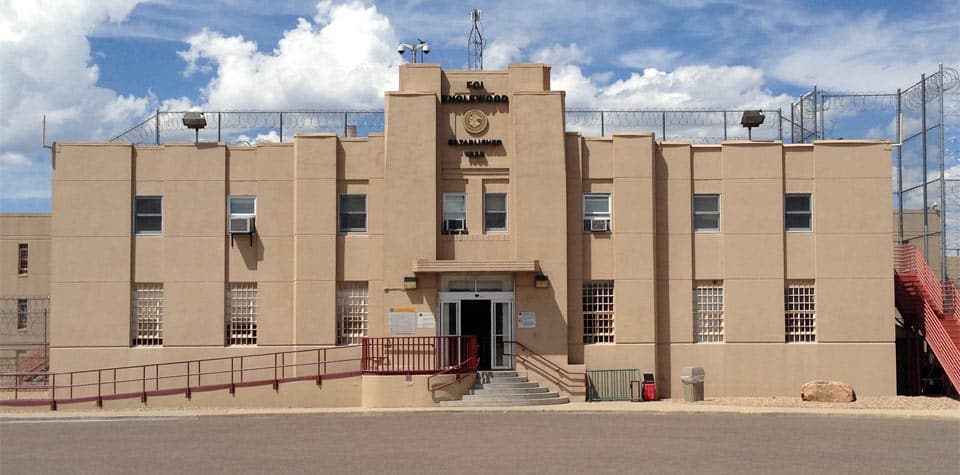 FCI Englewood Prison Services Information
Background
Federal Correctional Institution Englewood is a low-security federal prison in Littleton, Colorado. The facility opened in 1940 and only houses male federal inmates.
Federal Correctional Institution Englewood Camp opened in 1990. It is located adjacent to the primary institution and also incarcerates male federal prisoners. An adjacent detention center houses federal pre-trial and pre-sentence detainees.
FCI Englewood is a Sex Offender Management Program (SOMP) facility. As such, approximately 40 percent of the inmate population has either a current or past sexual offense.
Notable inmates include:
Former governor of Illinois Rod Blagojevich: serving a 14-year sentence for wire fraud, bribery, and extortion.
Former Subway spokesperson Jared Fogle: serving 15 years for child pornography offenses.
Former CIA officer Jeffrey Sterling
Former University of Southern California professor Walter Lee Williams: served five years for illicit sexual conduct.
Media reports indicate that at least one inmate was attacked due to having a notorious sexual offense case. Another inmate filed suit against the prison, calling the medical staff "unresponsive and dismissive."
In 2005, The Kansas City Star named FCI Englewood Camp one of the five best federal prisons for white-collar offenders.
Inmate Housing Units
Inmates live in four-person cubicles and two-person cells. In the detention center, inmates live in two-person cells. The camp houses inmates in two dormitories of four-person rooms.
Health Services
The Englewood Federal Correctional Institution's Health Services Department conducts an intake screening examination upon arrival at the institution. Inmates receive a complete physical examination within 14 days of arrival.
Routine sick call and dental sick call, emergency care, preventive health screening, and medications are provided. While emergency care is available 24 hours a day, inmates must submit a triage form for routine care needs.
Learn more about medical care in federal prison on our inmate health services page.
Psychology Services
The Psychology Services Department provides mental health services to the Englewood Colorado prison inmate population. These psychology services include:
Initial Screenings
Suicide Prevention
Crisis Intervention
Psychiatric Medication Referrals
Psycho-Educational Groups
Self-Help Materials
Individual Counseling
FCI Englewood also offers a Non-Residential Sex Offender Treatment Program (SOTP-NR). Learn more about surviving prison as a sex offender here.
Residential Drug Abuse Program (RDAP)
FCI Englewood offers the Residential Drug Abuse Program (RDAP) and a Drug Education Program. The main facility also provides a Non-Residential Drug Program (NR-DAP). The camp offers Alcoholics Anonymous (AA) and Narcotics Anonymous (NA).
FCI Englewood Educational, Library, and Recreation Offerings
Education Services
Englewood Federal Correctional Institution and the satellite camp provide GED, English-as-a-Second Language (ESL), and parenting programs. Adult Continuing Education (ACE) and Release Preparation Program classes are also available. High school diplomas and post-secondary degrees are available through paid correspondence programs.
Learn more about prison education programs in federal prisons here.
Advanced Occupational Education
Federal Correctional Institution Englewood inmates have access to advanced occupational education courses in Customer Service and General Business.
Vocational Training
There is no vocational training at Englewood Colorado prison aside from its advanced occupational education programs.
Apprenticeship
FCI Englewood does not offer any apprenticeship programs.
Library Services
Leisure and law libraries are available at both Englewood Colorado prison facilities. The TRULINCS Electronic Law Library is maintained and coordinated by the Education Department and is located in the Education Building adjacent to the leisure library.
The leisure library has fiction and nonfiction books, a video collection, newspapers, and magazines for inmates to read and view. The library also has various tapes and video courses in finance, budgeting, psychology, self-help, and job searches.
The Education Department also provides the opportunity for inmates to obtain leisure library materials not otherwise available at FCI Englewood through the Jefferson County Public Library Interlibrary Loan System.
UNICOR
The UNICOR facility at Englewood Federal Correctional Institution produces clothing and textiles.
Commissary
Federal Correctional Institution Englewood inmates can spend $360.00 per month on a variety of commissary items. Popular items include snacks, ice cream, food, over-the-counter medications, and clothing. Radios and MP3 players can also be purchased.
Recreation Services
FCI Englewood has the following inmate recreation offerings:
Recreation Yard
Gymnasium
Weight Room
Hobby Shop
Music Room
Wellness Center
The Arts and Crafts Program includes leather, fine arts, pottery, painting, beading, and ceramics.
The camp has many recreation options, including:
Walking Track
Fitness Trail
Softball Field
Soccer Field
Volleyball Court
Horseshoe Pit
Basketball Court
Bocce Ball Court
Weight Room
Hobby Shop
Special events, tournaments, and entertainment are sponsored by the Recreation Department on each holiday at both Englewood Colorado prisons.
Visitation Information for FCI Englewood
Family and friends may visit inmates from 8:30 a.m. to 3:30 p.m. Sundays and Saturdays. On Monday and Friday, visiting hours are between 5:00 and 9:00 p.m. On federal holidays visitation is held between 8:30 a.m. and 3:00 p.m. See our page on prisoner visitation rules for more information.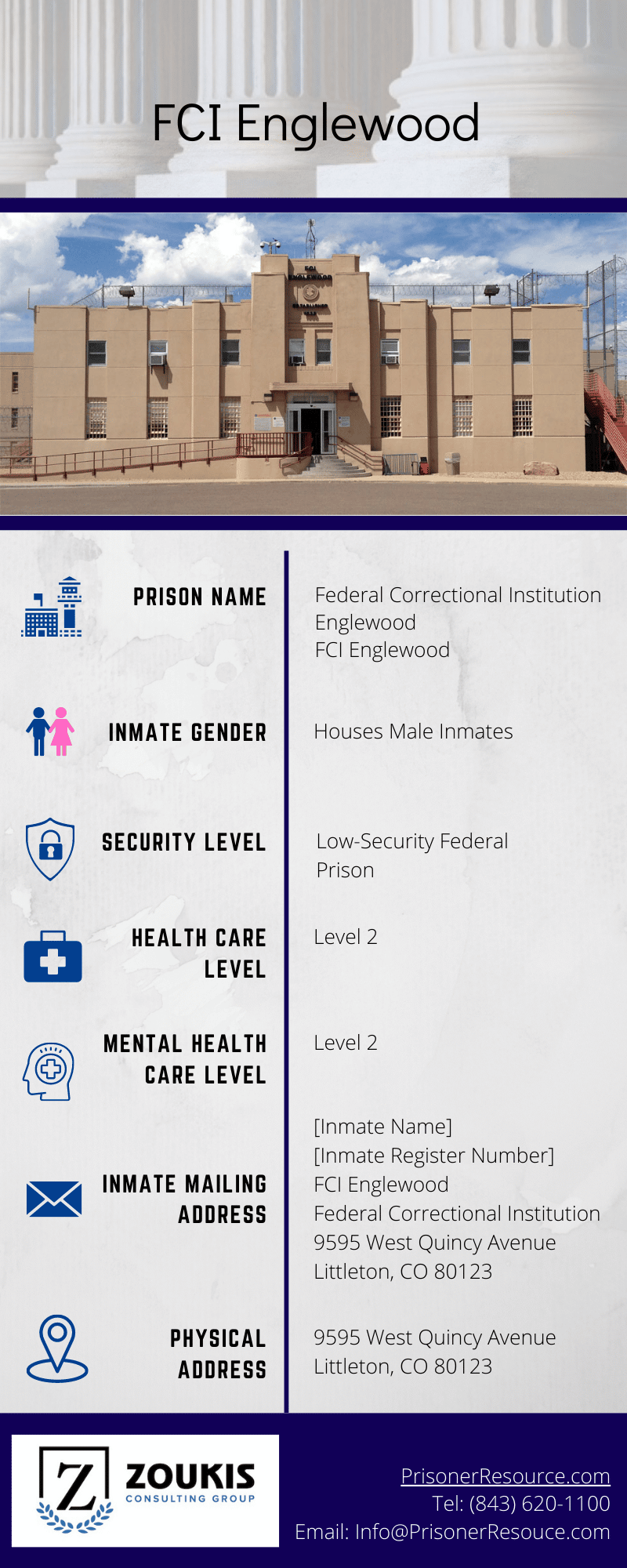 FCI Englewood in the News
In December 2015, Jared Fogle, the former face of Subway television ads, began serving his 16-year sentence at Federal Correctional Institution Englewood for child pornography. In January 2016, he was attacked by a fellow inmate. His injuries were non-life-threatening.
In 2015, former CIA officer and whistleblower Jeffrey Sterling was sentenced to three years in federal prison and sent to Englewood, Colorado prison. Sterling filed a complaint in August 2016 accusing the medical personnel at the prison of being "unresponsive and dismissive."
In March 2012, former Illinois Governor Rod Blagojevich turned himself into FCI Englewood to begin serving his 14-year prison sentence for corruption.
More Information About Federal Correctional Institution Englewood
For a comprehensive look at life in federal prison, pick up a copy of Christopher Zoukis' Federal Prison Handbook: The Definitive Guide to Surviving the Federal Bureau of Prisons. For more detailed information about FCI Englewood, please buy a copy of the Directory of Federal Prisons: The Unofficial Guide to Bureau of Prisons Institutions by Christopher Zoukis.
Published Apr 26, 2018 by Christopher Zoukis, JD, MBA | Last Updated by Christopher Zoukis, JD, MBA on Jul 21, 2023 at 10:49 pm