FPC Alderson is a minimum-security federal prison in Alderson, West Virginia that houses female inmates. It is also known as Alderson Federal Prison Camp and Camp Cupcake.
It became known as Camp Cupcake after Martha Stewart's incarceration at the facility. The facility is one of the nicest women's federal prisons. This page profiles Alderson Federal Prison Camp's physical address, inmate correspondence address, security level, inmate housing structure, and more.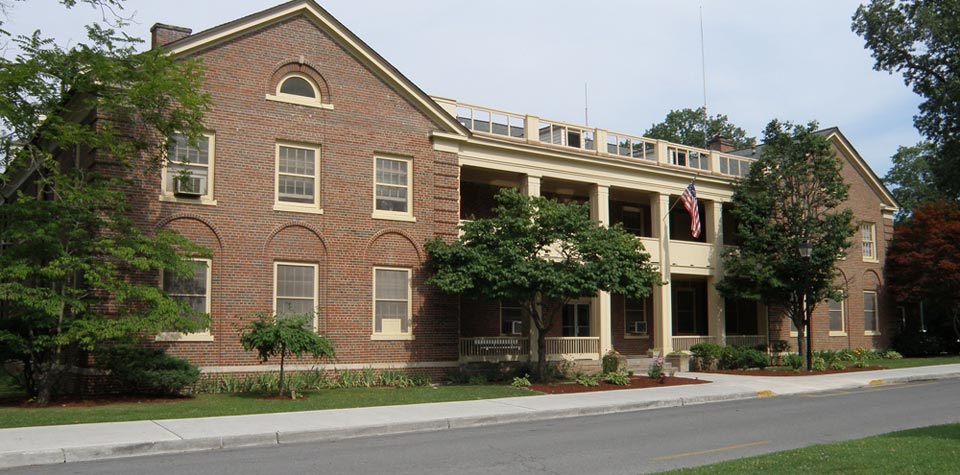 FPC Alderson Contact Information
Facility Address & Contact Information
Federal Prison Camp Alderson
Glen Ray Road, Box A
Alderson, WV 24910
Phone: 304-445-3300
Fax: 304-445-3320
Email: ALD/[email protected]
BOP Website: Bureau of Prisons Page
Wikipedia: Wikipedia Page
Inmate Correspondence Address
Inmate Name and Registration Number
FPC Alderson
Federal Prison Camp
Glen Ray Road, Box A
Alderson, WV 24910
How to Send Money to an Inmate
Family members cannot mail funds directly to federal inmates. Friends can deposit funds via Western Union, Money Gram, and the Bureau's National Lockbox in Des Moines, Iowa. See our page on sending money to federal prisoners for more information.
Alderson Federal Prison Camp Inmate Information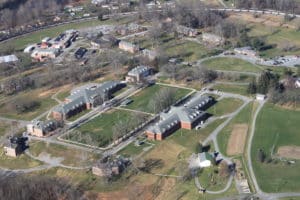 Inmate Gender
Female Inmates
Prison Security Level
Minimum-Security Federal Prison Camp
Facility Location
FPC Alderson is in the city of Alderson, West Virginia. The institution is in the southeastern part of the state.
BOP Region
BOP Institution Code
ALD for Alderson Federal Prison Camp
Medical Care Level
Level 2. See our page on Medical Care Levels and Procedures for more information.
Mental Health Care Level
Level 2.
Judicial District
Southern District of West Virginia
Population Number
FPC Alderson houses approximately 650 inmates.
FPC Alderson Prison Services Information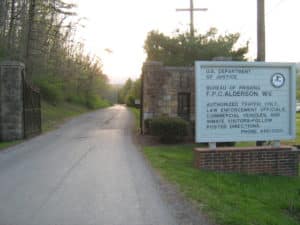 Background
Federal Prison Camp Alderson is a minimum-security facility in Alderson, West Virginia. Opened in 1928, it houses female inmates.
Formerly known as the Federal Reformatory for Women, FPC Alderson was the first federal prison exclusively for women. At the time, the facility served as a model for prison reform. The institution is styled after a boarding school and offers an education with no armed guards. It originally consisted of cottages built in a horseshoe pattern.
The facility does not have razor or barbed wire on the camp's fence. Inmates have designated schedules, and each must work if medically able. Most of the inmates at FPC Alderson are non-violent or white-collar crimes. News media members nicknamed the prison "Camp Cupcake" when Martha Stewart served her time there.
Alderson Federal Prison Camp is one of six federal and state prisons participating in the Paws4People service dog training program. This program offers college-level classes and instruction in raising and training dogs. Dog training is an in-demand occupation in the community.
Disabled, active duty, and veteran military service members receive these dogs. This program also benefits adolescents with physiological, developmental, and other challenges. This program works as a re-entry program for female inmates.
Media reports state that numerous guards, including a former captain, have been charged with sexually assaulting female inmates at the institution.
Notable Camp Cupcake Inmates
The facility has housed numerous notable women prisoners:
Billie Holliday
Manson family member Lynette "Squeaky" Fromme. She attempted the assassination of President Gerald Ford.
Chicago Alderman Sandi Jackson was incarcerated for public corruption.
Detroit Councilwoman Monica Conyers
Michigan Supreme Court Justice Diane Hathaway was incarcerated for mortgage fraud.
Esther Reed was incarcerated for fraud and identity theft.
Chicago Public Schools CEO Barbara Byrd-Bennett was incarcerated as part of a bribery scandal.
Martha Stewart served five months at Alderson Federal Prison Camp in 2004 for obstruction of justice in connection with insider trading. She told Katie Couric it was "a horrible experience. Nothing is good about [FPC Alderson]. Nothing." The facility became known as Camp Cupcake following her incarceration.
Nicest Women's Federal Prison
In 2017, Insider Monkey named FPC Alderson one of the ten easiest federal prisons to do time. In 2012, CNBC named the institution one of the 12 best federal prisons to serve time. And in 2009, Forbes Magazine named the facility one of the ten cushiest prisons in America.
Camp Cupcake is regularly featured on America's best prisons, country club prisons, nicest federal prisons, and best prisons lists. The facility is widely considered the best women's federal prison. It is under the supervision of the Bureau of Prisons Central Office in Washington, DC. The prison incarcerates offenders convicted of violations of United States federal criminal law.
Inmate Housing
Inmates are housed in dormitories. Each dormitory is divided into two-person cubicles with bunk beds. There is a total of eight housing units.
Health Services
FPC Alderson inmates are provided an intake screening complete with TB testing upon admission. Inmates are assigned a medical provider and associated support staff based on their inmate register number.
Clinical appointments, call-outs, emergency services, and dental examinations are available to inmates. They can also receive eyeglasses, contact lenses, physical examinations, and medications. The insulin line is conducted during breakfast and dinner. The pill line is run from 7:00 to 7:30 a.m. and 2:00 to 2:30 p.m.
Learn more about medical care in federal prison here.
Psychology Services
Alderson Federal Prison Camp provides individual counseling, group counseling, and intake evaluations. You can learn more about psychology services in federal prisons here.
The Resolve Program offers workshops and processing groups for physical and sexual abuse survivors and is available to interested inmates.
FCP Alderson also provides several groups and courses, including the following:
Individual Crisis Counseling
Psychology of Achievement
Positive Mental Attitude
Pre-Release Syndrome
Anger Management
Dissolving Stress
Domestic Violence
Progressive Meditation
Problem-Solving
Self-Relaxation
Stress Relief
Self-Image
Residential Drug Abuse Program (RDAP)
FPC Alderson houses a Residential Drug Abuse Program (RDAP). Other substance abuse programs are also available, including:
Drug Education Class
Non-Residential Drug Abuse Program (NR-DAP)
Alcoholics Anonymous (AA)
Narcotics Anonymous (NA)
Gamblers Anonymous (GA)
Alderson Federal Prison Camp Educational, Library, and Recreation Offerings
Education Services
Alderson prison offers literacy, GED, and English-as-a-Second Language (ESL) programs. Additionally, high school diplomas, career certificates, and college degree programs are available through paid correspondence programs.
Read our prison education page for a complete list of educational offerings in federal prisons.
Advanced Occupational Education
Camp Cupcake offers advanced occupational education in the following areas:
Cosmetology
Customer Service Representative
Horticulture, Library Clerk
Medical Office Clerk
Receptionist
Vocational Training
FPC Alderson offers no vocational training besides its advanced occupational education and apprenticeship programs.
Apprenticeship
Alderson Federal Prison Camp offers apprenticeships in these disciplines:
Air Conditioning/Refrigeration
Cooking
Electrician
Plumbing
Powerhouse
Teacher's Assistant
Welding
Library Services
The FPC Alderson Law Library provides typewriters for legal use, and a copying machine is available at a cost. The leisure library collection includes fiction, nonfiction, basic legal reference materials, and literary works in Spanish. Likewise, current magazines, major newspapers, medical reference materials, and audio/video cassettes are available to inmates.
UNICOR
Alderson prison houses UNICOR factories that provide data services, warehousing, distribution and fulfillment, assistance and help desk, and custom printing.
Commissary
Every inmate is issued a Trust Fund account in their committed name and register number. Camp Cupcake inmates may spend up to $360.00 each month. They may shop once a week on their housing unit's designated shopping day.
Inmates receive an Inmate Identification Card upon arrival. This card is used when shopping at Camp Cupcake's prison commissary. Inmates must submit their orders several days before their shopping day. They may purchase food items, drink mixes, sodas, clothing, and other items.
Recreation Services
Inmate recreation programs range from individualized arts and crafts programs to intramural team sports (basketball, softball, and volleyball).
Recreation activities include:
Arts and Crafts Classes
Aerobics
Step Aerobics
Country Line Aerobics
Pilates
Camp Cupcake prisoners can also participate in the following:
Sweating to the Oldies
Fusion
Low Impact Spinning
Volleyball (indoor/outdoor)
Billiards
Inmates may also participate in basketball, ping pong, jogging, and brisk walking. Other inmate activities include:
Softball
Roller Skating
Table Games
Bingo
Bocce Ball
Game Shows
Progressive Relaxation
Talent Shows
Inmates may participate in tournaments. Tournament winners receive various prizes.
The prison also has a yarn project. This volunteer project permits inmates to crochet hats, sweaters, scarves, mittens, and lap afghans. Local needy children and women's resource centers receive these products.
Visitation Information for FPC Alderson
Authorized visitors can visit inmates from 8:15 a.m. to 3:15 p.m. Sundays, Mondays, and Saturdays. Also, visiting hours are between 11:30 a.m. and 6:30 p.m. on Fridays. Inmate visitation is from 8:15 a.m. to 3:15 p.m. on federal holidays. See our page on prisoner visitation rules for more information.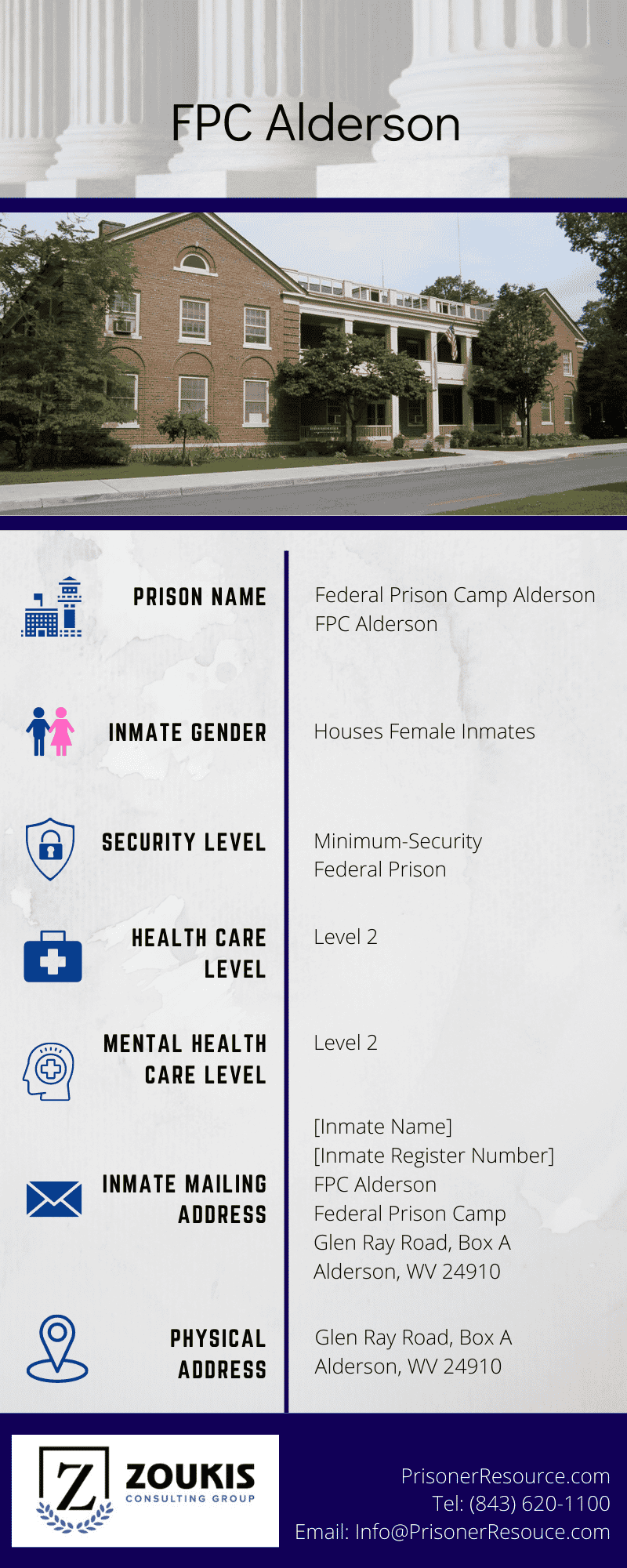 FPC Alderson Prison Culture Information
Prison Politics at Alderson Federal Prison Camp
Because FPC Alderson is a camp, there are virtually no prison politics. The nickname Camp Cupcake is indicative of the low level of politics at this institution.
Level of Violence
There is virtually no violence. Anyone caught engaging in violence is typically sent to a higher-security institution.
Vulnerable Populations
Sex offenders aren't designated to camps due to Bureau policy precluding such placement. Inmates report that both informants and LGBT inmates can remain at the facility.
Good at Camp Cupcake
When surveyed regarding what was good about the institution, one inmate exclaimed, "The land is beautiful."
Bad at Alderson Prison
Surveyed inmates did not mention bad aspects of the facility.
Other Inmate Comments
Interviewed fellow inmates did not mention other aspects of the institution.
FPC Alderson in the News
In June 2018, Captain Jarred Grimes, who was in charge of all security and correctional functions at Alderson Federal Prison Camp, pleaded guilty to having sex with four female prisoners and abusive sexual contact with two others between November 2016 and December 2017. Grimes resigned from his position in 2017 and faces up to 10 years in prison.
In August 2017, Chicago Public Schools CEO Barbara Byrd-Bennett reported to FPC Alderson to begin her 4.5-year sentence. She was incarcerated for her involvement in a bribery scandal.
In November 2016, Christina Kimble was sentenced to a year in prison for escape. She had walked away from Camp Cupcake without authorization in November 2015.
In 2014, Alderson Federal Prison Camp work supervisor Jeffrey S. Walton received ten months of incarceration for touching the breasts of a female prisoner.
In June 2013, Michigan Supreme Court Justice Diane Hathaway was incarcerated at Federal Prison Camp Alderson. She pleaded guilty to federal mortgage fraud. Her sentencing judge recommended FPC Alderson placement.
More Information About Alderson Federal Prison Camp
For a comprehensive look at life in federal prison, pick up a copy of Christopher Zoukis' Federal Prison Handbook: The Definitive Guide to Surviving the Federal Bureau of Prisons. For more detailed information about Alderson Federal Prison Camp, please buy a copy of the Directory of Federal Prisons: The Unofficial Guide to Bureau of Prisons Institutions by Christopher Zoukis.
Published Feb 14, 2023 by Christopher Zoukis, JD, MBA | Last Updated by Christopher Zoukis, JD, MBA on Oct 5, 2023 at 11:42 pm