Reeves Detention Center is a low-security federal prison located in Pecos, Texas. The prison is also known as Reeves County Detention Center, DC Reeves, and the Reeves County Detention Complex. The facility houses male inmates.
Please contact us at the Zoukis Consulting Group if you or a loved one are experiencing problems at the Reeves County Detention Complex. Our team of experienced prison consultants can help in your time of need.
Our team can also evaluate whether you or your loved one qualify for early release from federal custody.
Book a one-hour initial consultation today to speak with a consultant.
Reeves Detention Center Contact Information
Facility Address and Contact Information
Reeves Detention Center
100 County Road #204
Pecos, TX 79772
Phone: 432-447-2926
Fax: 432-447-9224
Email: REE/[email protected]
BOP Website: Bureau of Prisons Facility Profile
GEO Group Website: GEO Group Prison Page
Wikipedia: Wikipedia Page
Inmate Correspondence Address
Inmate Name and Registration Number
Detention Complex Reeves
P.O Box 2038
Pecos, TX 79772
How to Send Money
Federal inmates cannot receive funds directly. Family members can call 1-866-345-1884 to deposit funds via telephone or online via Access Corrections.
Reeves County Detention Center Inmate Information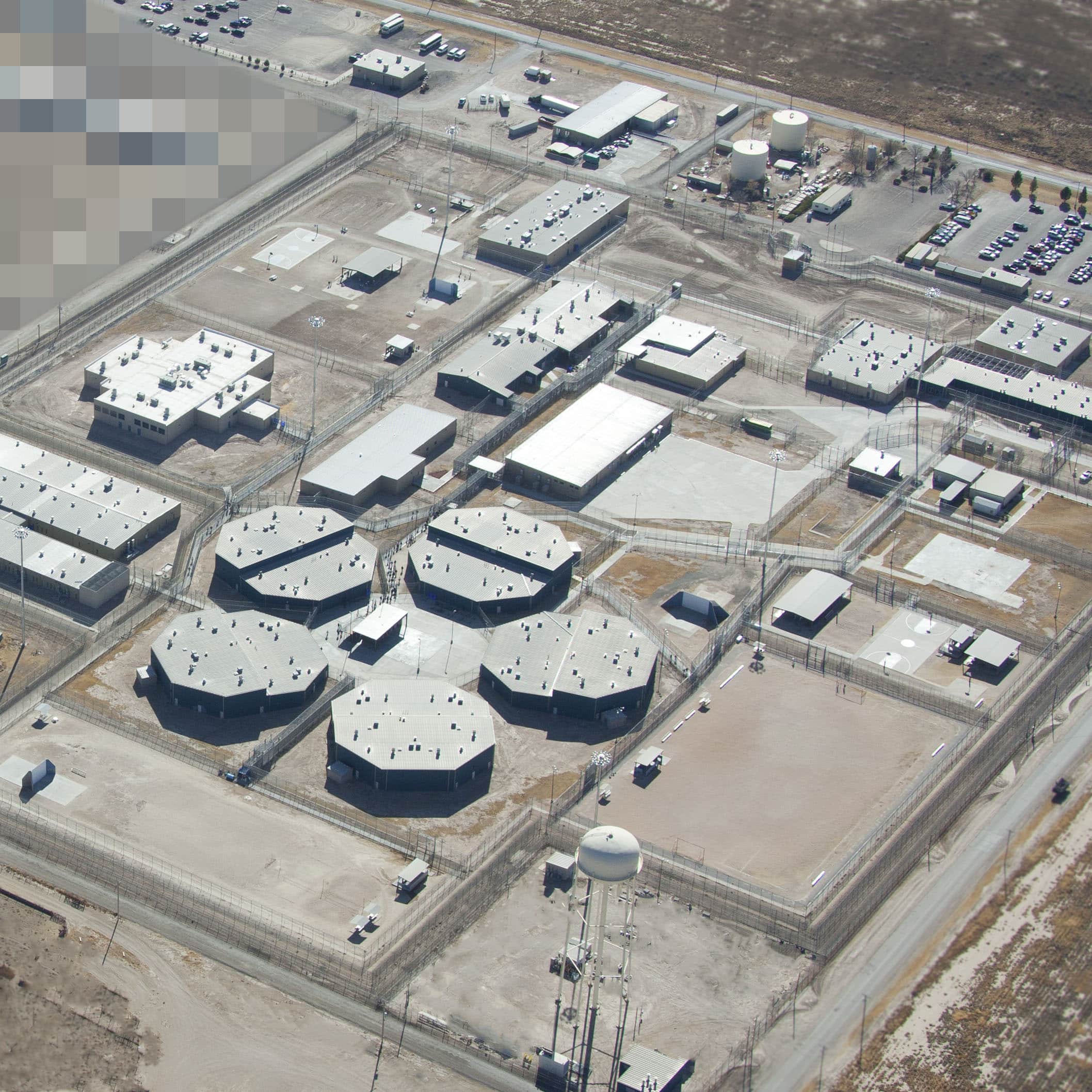 Inmate Gender
Male Inmates
Prison Security Level
Facility Location
Reeves Detention Center is located in Southwest Texas, approximately 210 miles southwest of Lubbock, Texas. It is three miles from the Pecos Municipal Airport and 150 miles from the Mexican border.
BOP Region
BOP Institution Code
RVS for Reeves DC
Judicial District
Medical Care Level
Information is not available. See our page on Medical Care Levels and Procedures for more information.
Mental Health Care Level
Information is not available.
Population Number
Reeves County Detention Center houses approximately 1,150 federal inmates.
DC Reeves Prison Services Information
Background
Reeves Detention Center is a private prison owned and operated by the GEO Group. The facility is now referred to as the Reeves County Detention Complex. Most prisoners at the complex are low-security criminal aliens, serving sentences of one to five years for drug offenses or immigration violations.
The R-3 compound is a separate facility with three housing units. This facility contains support buildings for centralized programs, food service, laundry, infirmary, and indoor/outdoor recreation. The facility is also known as the Reeves Correctional Institution.
Inmate Housing
Inmates at Correctional Institution Reeves are housed in a dormitory-style setting.
The facility has three general housing units: Unit A, Unit B, and Unit C. Additionally, the correctional institution also has a Restricted Housing Unit.
Housing Units A, B, and C each consist of 12 dormitories. Six of the housing units consist of two tiers with 48 beds. The other six inmate housing units are single-floor with 42 bunk beds. One prisoner dormitory is utilized for COVID-19 pandemic quarantine.
Each inmate housing unit offers inmates these amenities:
Tables
Seats
Televisions
Microwaves
The Restricted Housing Unit consists of two wings: administrative and disciplinary. The administrative wing consists of 24 double-bunked cells. Inmates in the disciplinary wing are primarily housed in 21 double-bunked cells. Additionally, the disciplinary branch has two negative pressure single-person cells.
Health Services
DC Reeves provides inmates with routine and emergency dental and health care. Inmates can obtain emergency health care 24 hours a day by approaching any staff member and requesting assistance. Inmates must submit a sick call form and wait for an appointment to obtain routine health care.
Psychology Services
The prison offers several group-based therapeutic programs. While offerings rotate, these focus on substance abuse counseling, life skills, stress management, anger management, and others. Crisis intervention is available 24 hours a day.
Residential Drug Abuse Program (RDAP)
The Reeves County Detention Complex does not offer the Residential Drug Abuse Program (RDAP). However, programs such as Alcoholics Anonymous (AA) and Narcotics Anonymous (NA) are provided.
Reeves County Detention Center Educational, Library, and Recreation Offerings
Education Services
Reeves County Detention Center provides literacy, GED, English-as-a-Second Language (ESL), and Special Education programs. High school diplomas, career certificates, and college degrees are available through paid correspondence programs.
Learn more about prison education programs here.
Advanced Occupational Education
The institution offers advanced occupational education classes to inmates, including:
Dynamic Grouping
Individual Education Plans
Smart Board Technology
Technology-Based Learning
Vocational Training
Detention Complex Reeves offers the following vocational training programs:
Auto Mechanics
Barbering
Building Trades
Carpentry
Computer Repair
Culinary Arts
Custodial Maintenance
Electrical
Heating, Ventilation, and Air Conditioning (HVAC)
Horticulture
Masonry
Plumbing
Small Engine Repair
Upholstery
Weaving
Welding
Apprenticeship Training
Reeves Detention Center does not offer any apprenticeship programs to inmates.
Library Services
Inmates have access to a law library and leisure library. They can check out fiction and nonfiction books, newspapers, and magazines in the leisure library. Prisoners can conduct legal research and prepare legal filings in the law library. A copy machine and typewriters are available to the inmate population.
UNICOR
Detention Complex Reeves does not house a UNICOR facility.
Commissary
Inmates can shop once per week at the institution's commissary. The commissary sells shoes, radios, food, drinks, snacks, candy, and electronics.
Recreational Services
Indoor and outdoor recreation opportunities are available at Reeves County Detention Center. These include organized sports, individual exercise, board and card games, and arts and crafts projects.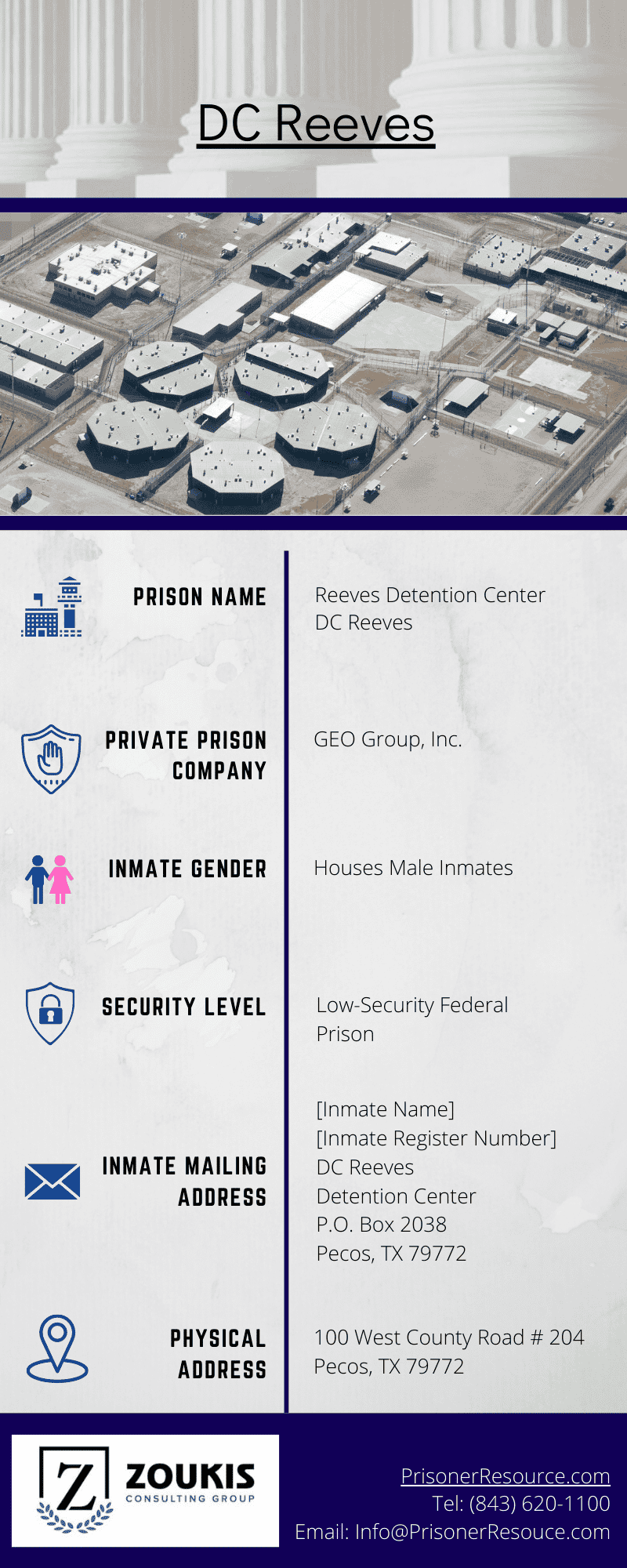 Visitation Information for Reeves County Detention Center
Families can visit from 8:00 a.m. to 3:30 p.m on Sundays and Saturdays. On federal holidays visitation is held between 8:30 a.m. and 3:00 p.m.
More Information About Reeves Detention Center
For a comprehensive look at life in federal prison, pick up a copy of Christopher Zoukis' Federal Prison Handbook: The Definitive Guide to Surviving the Federal Bureau of Prisons. For more detailed information about DC Reeves, please buy a copy of the Directory of Federal Prisons: The Unofficial Guide to Bureau of Prisons Institutions by Christopher Zoukis.
Your Reeves Detention Center Experts
If you or a loved one are incarcerated at DC Reeves, our team can help. The Zoukis Consulting Group can answer your questions, help resolve prison problems, and evaluate your case to determine if you qualify for early release.
Book an initial consultation with a DC Reeves expert today!
Published Jun 3, 2018 by Christopher Zoukis, JD, MBA | Last Updated by Christopher Zoukis, JD, MBA on Jun 4, 2023 at 6:24 pm