Federal Correctional Institution Lompoc is a low-security federal prison in Lompoc, California. It is also known as FCI Lompoc and Lompoc CA prison. The facility houses male inmates.
If you have a loved one incarcerated at FCI Lompoc, the Zoukis Consulting Group can help. Our team of federal prison experts has helped clients resolve in-prison matters and secure an early release from prison.
We offer initial consultations to learn more about your case and determine how we can best assist you. Contact us to speak with a federal prison expert today.
FCI Lompoc Contact Information
Facility Address & Contact Information
Federal Correctional Institution Lompoc
3600 Guard Road
Lompoc, CA 93436
Phone: 805-736-4154
Fax: 805-736-1292
Email: [email protected]
BOP Website: Bureau of Prisons Page
Wikipedia: Wikipedia Page
Inmate Correspondence Address
FCI Lompoc
Inmate Name and Registration Number
FCI Lompoc
Federal Correctional Institution
3600 Guard Road
Lompoc, CA 93436
How to Send Money
Inmates may not receive funds directly. See our page on sending money to an inmate in federal prison.
Federal Correctional Institution Lompoc Inmate Information
Inmate Gender
Male Inmates
Prison Security Level
Facility Location
FCI Lompoc is 175 miles northwest of Los Angeles, adjacent to Vandenberg Air Force Base.
BOP Region
BOP Institution Code
LOF is FCI Lompoc, LOX for Lompoc Federal Correctional Complex
Medical Care Level
Level 2. See our page on Medical Care Levels and Procedures for more information.
Mental Health Care Level
Level 2.
Judicial District
Central District of California
Population Number
FCI Lompoc houses approximately 910 inmates.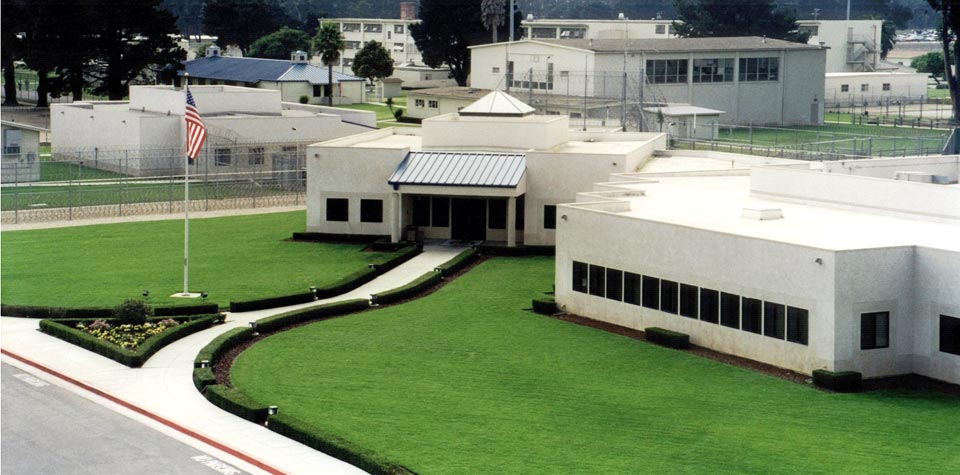 FCI Lompoc Prison Services Information
Background
Federal Correctional Institution Lompoc is a low-security federal prison in Lompoc, California, housing male inmates. It opened in 1970 and is part of the Lompoc Federal Correctional Complex.
FCI Lompoc originally opened as Federal Prison Camp Lompoc. In 1990, it converted into the low-security federal prison it is today. Other FCC Lompoc also includes the medium-security USP Lompoc. While called the United States Penitentiary Lompoc, it is a medium-security prison.
Notable inmates include:
Former record company executive Henry Uliomereyon Jones: serving 20 years for mail, wire, and securities fraud.
Former Boeing engineer Chi Mak: serving a 24-year sentence for conspiracy to commit economic espionage.
Former IRS agent Steven Martinez: serving a 24-year sentence for mail fraud, identity theft, money laundering, and murder-for-hire.
Media reports indicate that nine prisoners and three guards had to be transported to a local hospital following a brawl in 2017. Two other prisoners required immediate medical attention following severe assaults, one using a pipe as a weapon.
News reports also indicate that one guard was indicted for second-degree murder for shooting and killing another guard while off-duty. The two guards were allegedly under the influence of illegal drugs.
Inmate Housing
Lompoc federal prison inmates live in both open dormitories, containing 76 inmates in the old dorms and 250 inmates in the new dorms and a limited number of eight-person rooms. There is a total of nine dormitories.
Health Services
FCI Lompoc offers various medical services to inmates, including:
Sick Call
Chronic Care
Medications
Routine Dental Care
Medical and Dental Emergency Care
Eye Care
Age-Appropriate Preventive Care
Restorative Care
Long-Term Care
End-of-Life Care
Medical and dental sick call is held Monday, Tuesday, Thursday, and Friday between 6:00 and 7:00 a.m. Pill and insulin lines are conducted at 6:00 a.m., and 6:00 p.m. Emergency medical care is available 24 hours a day.
Psychology Services
Lompoc prison inmates have access to the following psychology services:
Intake Screening
Drug Abuse Assessment
Mental Health Treatment
Individual Counseling
Group Counseling
Self-Help Libraries
Supportive Services
Current psycho-educational classes include anger management and victim impact. Notices are posted in inmate housing units of upcoming treatment groups. There is also a self-help library with books and DVDs. Inmates must submit a cop-out to request program placement.
Residential Drug Abuse Program (RDAP)
FCI Lompoc offers the Residential Drug Abuse Program (RDAP). Drug abuse programs, a Drug Abuse Education Course, and a Non-Residential Drug Abuse Treatment Program (NR-DAP) are also available.
FCI Lompoc Educational, Library, and Recreation Offerings
Education Services
FCI Lompoc offers various inmate education programs, including:
Literacy
GED
English-as-a-Second Language (ESL)
Incentive awards are provided to recognize inmates progressing and completing the literacy (i.e., GED and ESL) program. Inmates may also receive incentives for progressing to various levels in the GED or ESL programs. Graduation ceremonies recognize GED, ESL, and Occupational Education completions.
Adult Continuing Education (ACE) and parenting programs are also available. Current ACE offerings include:
Basic Electronics
Geography
World History
Business
Solar Electric
Landscape Design
Real Estate
Money Smart
CDL
High school diplomas and post-secondary degrees are available through paid correspondence courses. Coastline Community College offers six free associate's degrees via correspondence. Allan Hancock College provides three on-site associate's degrees.
Hours of operation are 8:00 a.m. to 8:00 p.m. on weekdays and 8:00 a.m. to 3:00 p.m. on Fridays and Saturdays, excluding counts and meals.
Advanced Occupational Education
Lompoc, CA, prison offers no advanced occupational education programs.
Vocational Training
FCI Lompoc offers vocational training in Landscape Tech.
Apprenticeship
Federal Correctional Institution Lompoc does not offer any apprenticeship programs.
Library Services
The Lompoc, CA, prison's leisure library offers inmates a variety of reading materials, including periodicals, newspapers, magazines, fiction, nonfiction, and reference books. An interlibrary loan program is also available. Inmates have access to educational DVDs and NEO word processors.
The TRULINCS Electronic Law Library provides inmates access to legal materials and an opportunity to prepare legal documents. The FCI Lompoc law library also has a copy machine and typewriters for inmate use.
UNICOR
Lompoc federal prison does not have a UNICOR factory.
Commissary
Inmates can spend up to $360.00 monthly in the Lompoc, CA, prison institutional commissary. This is further partitioned into $180 every two weeks.
Inmates can purchase various items, including food, drinks, radios, MP3 players, clothing, shoes, and more. Prisoners can shop Monday through Friday at 5:00 p.m.
Inmates may only shop once a week on their designated shopping day. When shopping, inmates enter the commissary, turn in their order forms, and wait for their purchases.
Recreation Services
The FCI Lompoc Recreation Department offers both indoor and outdoor activities. Inside, inmates can engage in a variety of arts and crafts activities, including
Card-Making
Beading
Drawing
Painting
Leatherwork
A music program offers inmates access to guitars, basses, and accordions. And the indoor gym offers the following recreation options:
Ellipticals
Stationary Bikes
Stair Steppers
Ping Pong
Card Tables
Table Games
Outside, inmates can play these sports:
Tennis
Horseshoes
Bocce Ball
Soccer
Flag Football
Basketball
Softball
Volleyball
Handball
Racquetball
A track and a large weight pile are also available. Hours of operation are 6:00 a.m. to 8:00 p.m., excluding counts and meals.
Visitation Information for FCI Lompoc
Visiting hours are from 8:30 a.m. and 3:00 p.m., Sundays and Saturdays. Visitation is between 8:30 a.m. and 3:00 p.m. on federal holidays. See our page on prisoner visitation rules for more information.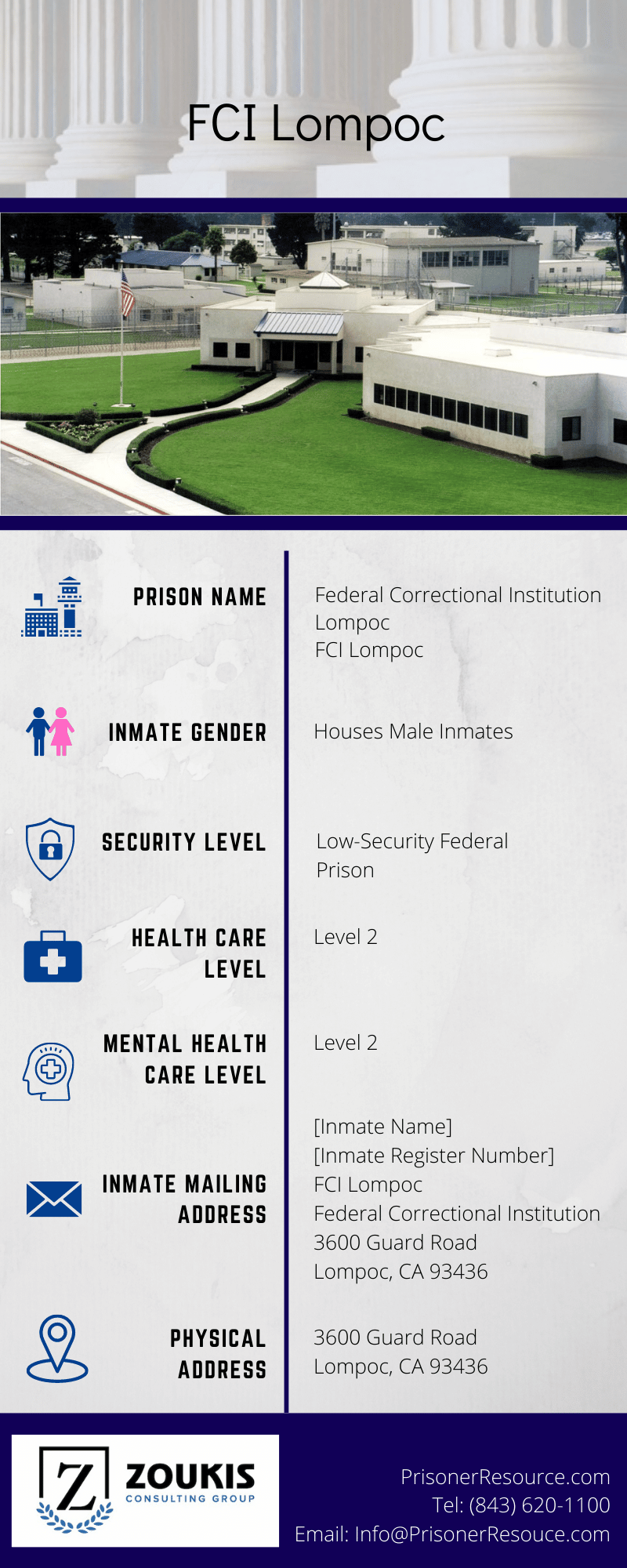 FCI Lompoc Prison Culture Information
Prison Politics at Federal Correctional Institution Lompoc
There is a significant level of politics at the Lompoc, CA prison. Inmates must be in a car, generally organized along racial lines.
One inmate reports, "They told me on my first day that I wasn't allowed to speak to anyone who wasn't white. Within a day, the car came in with knives to tell me to produce my paperwork."
Others report that the chow hall and even work assignments are segregated. One inmate stated that things have "calmed down" since the June 2017 riot. Another inmate said that "The Mexicans pretty much run the place."
Level of Violence
There is a low level of violence at FCI Lompoc federal prison. Inmates report few fights but a significant amount of intimidation and political posturing.
One respondent stated that it is "basically very safe." Other inmates indicated it is "seldom violent" and "violence is low but does happen."
Vulnerable Populations
Some Lompoc, CA prison inmates report that sex offenders, informants, and LGBT inmates can't remain in the yard. Others say that all three groups can stay, have their tables in the chow hall, and may access the weight pile.
One respondent stated that sex offenders are typically driven out of two dorms, are not allowed in the TV rooms, and cannot use the pool hall. Another respondent stated that sex offenders are "subjected to constant verbal attacks, threats, and are not allowed to sit at most chow hall tables."
One Lompoc prison inmate advised there is a "large gay community here which is safe." Another respondent stated that sex offenders "roam free unbothered but are barred from TVs and the good jobs." One respondent said that there is one transgender inmate who doesn't appear to be harassed.
Good at FCI Lompoc
"I like the buildings because everything is in the same building (e.g., commissary, chow hall, theater, housing units, etc.). You don't have to go outside if you don't want to."
"It's safe. The food is mostly decent. Recreation is plentiful. And the dorms are mostly quiet."
"The yard is large and has tables. There are many nice communities (gamers, musicians, students, etc.) that can make time easier." "The food is ok, and the weather is windy but, for the most part, quite mild."
"Ok weather, weight pile, decent yard." "Get to watch rocket launches from Vandenberg Air Force Base." "The food is mostly edible. Nice weather. Part of the visiting room is outdoors."
Bad at FCI Lompoc
"Staff and politics. Abysmal selection in the Library." "Chaotic, enclosed prison atmosphere, confining, horrible staff who lie and are disrespectful." "While it didn't use to be this way, now there are controlled movements."
"There is almost no job training, so inmates lack viable skills when they get out." "The gangs run this place. The staff seems to allow, if not support, this." "Medical care is worse than third world countries, although a few staff do try." "The best jobs are given to very select groups."
"Many guards have an attitude and are disrespectful. No TV for sex offenders. More controlled moves than needed."
"Most staff are assholes and lie to, harass, and steal from inmates. There are individual moves for each housing unit."
"No microwaves." "Complete disrespect from most staff and common belittling and insults." "The water and medical care are horrible." "Overcrowded." "Medical doctor is a quack."
Other Inmate Comments
"If you're a sex offender, homosexual, or rat, don't come here. If you're a stand-up guy with straight paperwork, you'll be fine and might even appreciate the culture." "I would not recommend it for sex offenders."
"This is the highest security Low I've ever been in. It has the most restrictive mailroom operations, recreation, and education movements, and getting responses from inmate staff request forms." "Could be worse places."
"There are many Spanish inmates at this prison." "Overall, it's ok here. There are just too many Spanish inmates and the politics that come with them."
"Poor management; hostile, aggressive, and untrained staff." "There is major corruption here amongst the staff."
FCI Lompoc in the News
 In June 2017, Federal Correctional Institution Lompoc was locked down following a brawl in which nine prisoners and three staff members were injured. Four ambulances were called to transport the wounded to local hospitals.
In January 2015, Victor L. Curry, a prisoner at FCI Lompoc, was assaulted by fellow prisoner Kenyan Payne, resulting in a broken jaw and blindness in his left eye. Curry later sued the Lompoc, CA prison's warden and medical director for medical neglect after he was thrown into solitary confinement while still bleeding from his ears, eye, nose, and mouth as well as internally instead of being immediately treated.
In May 2004, David Sablan, a prisoner at Lompoc federal prison, was indicted for attacking another prisoner with a pipe. The incident occurred in April 2003. He subsequently pleaded guilty in federal court.
In March 2002, FCI Lompoc prison employee Timothy McNally shot and killed Federal Correctional Complex Victorville federal prison guard Gary Bent in a hotel room where they attended joint training at the Lompoc CA prison. An investigation revealed that they may have been using illegal drugs and were "playing" with a 9mm pistol. McNally was charged with second-degree murder.
More Information About Federal Correctional Institution Lompoc
For a comprehensive look at life in federal prison, pick up a copy of Christopher Zoukis' Federal Prison Handbook: The Definitive Guide to Surviving the Federal Bureau of Prisons. For more detailed information about Federal Correctional Institution Lompoc, please buy a copy of the Directory of Federal Prisons: The Unofficial Guide to Bureau of Prisons Institutions by Christopher Zoukis.
Your FCI Lompoc Federal Prison Experts
If you or a loved one are at FCI Lompoc, the Zoukis Consulting Group can help. Our team of federal prison experts can assist with in-prison matters and help secure an early release from federal prison.
Book an initial consultation today to learn how we can help you or your loved one. We look forward to speaking with you soon.
Published Jun 3, 2018 by Christopher Zoukis, JD, MBA | Last Updated by Christopher Zoukis, JD, MBA on Aug 7, 2023 at 6:04 pm