Federal Correctional Institution Memphis is a medium-security federal prison located in Memphis, Tennessee. It is also known as FCI Memphis and the federal prison in Memphis, TN. FCI Memphis Detention Center and Memphis Prison Camp are next to the primary institution. All Memphis federal prisons house male inmates.
FCI Memphis Contact Information
Facility Address & Contact Information
Federal Correctional Institution Memphis
1101 John A. Denie Road
Memphis, TN 38134
Phone: 901-372-2269
Fax: 901-384-5462
Email: [email protected]
BOP Website: Bureau of Prisons Page
Wikipedia: Wikipedia Page
Inmate Correspondence Address
FCI Memphis
Inmate Name and Registration Number
FCI Memphis
Federal Correctional Institution
P.O. Box 34550
Memphis, TN 38184
FCI Memphis Prison Camp
Inmate Name and Registration Number
FCI Memphis Camp
Satellite Prison Camp
P.O. Box 2000
Millington, TN 38083
How to Send Money
The Federal Bureau of Prisons does not permit inmates to receive funds directly. Instead, money must be sent through an approved provider, such as Western Union, Money Gram, or the National Lockbox in Des Moines, Iowa.
Each provider has its own process for sending money to a federal inmate, so it is essential to research the options before choosing a method. For example, Western Union offers a variety of ways to send money, including online, by phone, and in-person at a Western Union agent location.
On the other hand, the National Lockbox only accepts money orders and cashier's checks. Once funds are received, they are deposited into the inmate's trust fund account and can be used to purchase items from the commissary or pay for phone calls.
Federal Correctional Institution Memphis Inmate Information
Inmate Gender
Male Inmates
Prison Security Level
Facility Location
FCI Memphis is in the northeast section of Memphis, Tennessee.
BOP Region
BOP Institution Code
MEM for FCI Memphis
Medical Care Level
Level 2. See our page on Medical Care Levels and Procedures for more information.
Mental Health Care Level
Level 2.
Judicial District
Population Number
FCI Memphis houses approximately 1,125 inmates. The camp houses around 90 inmates.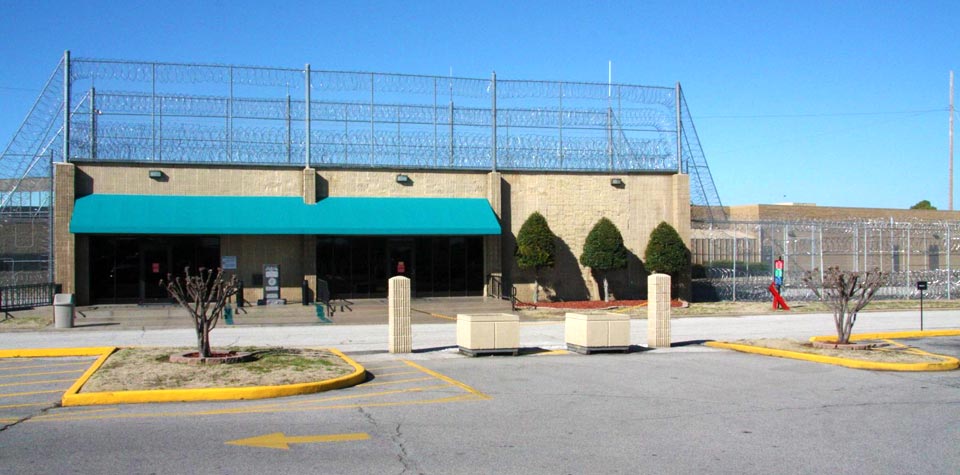 FCI Memphis Prison Services Information
Background
Federal Correctional Institution Memphis is a medium-security federal prison located in Memphis, Tennessee. It opened in 1977. FCI Memphis Camp is next to the central institution. Both federal prisons incarcerate male federal inmates.
In addition to housing medium-security federal prisoners, FCI Memphis also contains a unit designated for the housing of pre-trial and pre-sentence federal detainees. In 2012, a joint investigation conducted by the FBI, the Bureau of Prisons, and the Department of Justice Inspector General exposed a drug distribution ring run by several inmates with the assistance of corrupt prison staff members.
Media reports indicate that at least 11 prisoners have been transported to local area hospitals following brawls at the prison. At least three prisoners have escaped from the camp in the past several years.
In 2009, Forbes magazine named FCI Memphis one of America's ten cushiest federal prisons.
Inmate Housing
Inmates live in two-person cells within the five housing units. There are dormitories of two-and four-person cubicles within the four housing units in the camp.
Health Services
The FCI Memphis Health Services Department offers a wide variety of services. It is staffed by physicians, mid-level practitioners, nurses, pharmacists, dentists, and administrative staff.
All inmates are assigned a primary care provider (PCP) and may not change PCPs. Emergency care is available 24 hours a day. Health services include:
Initial Screening
Sick Call
Periodic Health Examinations
Eyeglasses
Dental Services
Medications
Emergency Medical Services
Diagnosis and Treatment of Chronic Infectious Diseases
Psychology Services
Every inmate at the federal prison in Memphis, TN, must complete a Psychology Services Inmate Questionnaire within 14 days of his arrival. Inmates who are experiencing major psychological symptoms such as depression or anxiety and those with significant interpersonal difficulties are encouraged to seek services.
Available psychology services to inmates include individual counseling and crisis intervention, simple advice concerning personal issues, psychological testing (only by proper referral), and specialty groups such as anger management and stress management.
Residential Drug Abuse Program (RDAP)
FCI Memphis has the Residential Drug Abuse Program (RDAP). It also offers Alcoholics Anonymous (AA), Narcotics Anonymous (NA), a Drug Education class, and the Non-Residential Drug Abuse Program (NR-DAP). The camp screens inmates for the Residential Drug Abuse Program (RDAP) but does not have an RDAP facility.
FCI Memphis Educational, Library, and Recreation Offerings
Education Services
FCI Memphis federal prison offers inmates various prison education programs, including:
Literacy
Pre-GED
GED
Spanish GED
English-as-a-Second Language (ESL)
Parenting Programs
Career counseling, educational advisement, Adult Continuing Education (ACE) courses, and a Pre-Release Program are also available to inmates. High school diplomas and post-secondary degrees are available through paid correspondence programs.
Advanced Occupational Education
Both federal prisons in Memphis, TN, offer advanced occupational education in Logistics/Transportation Management and Quality Assurance and Supervision. Federal Correctional Institution Memphis also offers occupational education in Building Trades.
Vocational Training
Inmates at FCI Memphis do not have access to vocational training.
Apprenticeship
Both facilities offer apprenticeships in:
Career Development Technician
Carpenter (Maintenance)
Cook (Hotel and Restaurant)
Dental Assistant
Electrician
HVAC
Landscape Gardener
Teacher Aide
The main facility offers apprenticeships in:
Drafter (Architectural)
Electronics Tester
Machinist
Maintenance Electrician
Painter
Plumber
Purchasing Agent
Quality Control Technician
The camp offers Engraver, Golf Course Management, Printer-Slotter and Operator, and Welder (Combination) apprenticeships.
Library Services
A leisure and law library is available to FCI Memphis inmates. An Interlibrary Loan Program associated with the Memphis/Shelby County Library is also available.
In the leisure library, inmates can check out books, magazines, and newspapers. A DVD movie program is also available. In the law library, inmates can use the TRULINCS Electronic Law Library, a copy machine, and typewriters.
UNICOR
The federal prison in Memphis, TN, houses a UNICOR factory producing and servicing electronic cable assemblies and a printing operation.
Commissary
Inmates may withdraw money for personal spending in the institution's commissary, family support, or other approved purposes. Inmates are permitted to spend up to $360.00 per month on shoes, food, drinks, clothing, electronics, and other items. Copy cards, postage stamps, and over-the-counter medications do not count against the spending limitation. Inmates may only shop once a week on their designated shopping day.
Recreation Services
The FCI Memphis Recreation Department offers intramural sports where inmates can participate in:
Softball
Basketball
Soccer
Volleyball
Handball
Flag Football
The Wellness Program offers instruction on various health/fitness topics. Activities available include structured classes, exercise programs, and fitness clubs. Participants can receive certificates for program completion.
A variety of activities are available on the recreation yard, softball field, and in the gymnasium for "off-duty" inmates, including:
Bocce Ball
Volleyball
Handball
Racquetball
Basketball
Soccer
Shuffleboard
Horseshoes
Stationary Bikes
Football
There is a jogging and walking track which is approximately 1/3 mile in length and an activity room available for ping pong. Recreation also offers a music room for individual practice and for use by groups. The Hobbycraft Program provides tools, a workroom, and instruction in various crafts including leather craft, woodworking, painting, and beading. The recreation yard also has a weight pile.
Visitation Information for FCI Memphis
On Sunday, Monday, and Saturday, visiting hours are from 8:00 a.m. to 3:00 p.m. On federal holidays visitation is held between 8:00 a.m. and 3:00 p.m. See our page on prisoner visitation rules for more information.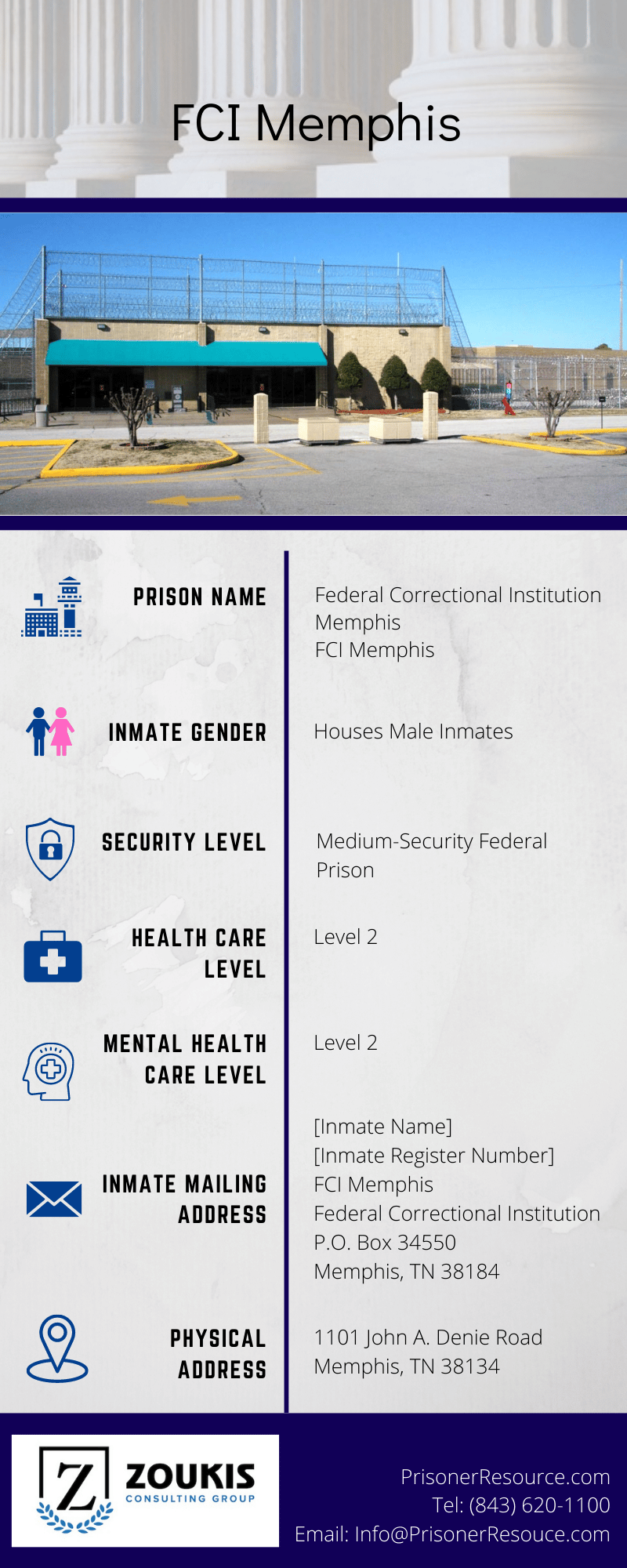 FCI Memphis Prison Culture Information
Prison Politics at Federal Correctional Institution Memphis
There is some level of politics at the federal prison in Memphis, TN, but not much. Somewhat racially divided, but not genuinely political.
Level of Violence
There is a low level of violence at this facility.
Vulnerable Populations
Most respondents stated that sex offenders, informants, and LGBT inmates could stay, though they may be ostracized. One respondent, in particular, said that "sex offenders are not generally allowed and are typically run off."
Good at FCI Memphis Prison
"The recreation offerings are really good. The art program is outstanding. There is also air conditioning in the buildings."
Bad at FCI Memphis Federal Prison
"There is a large Hispanic population which tries to run the yard." "The drug problem is horrible."
Other Inmate Comments
"It's a good place." "Nice yard." "Food Services is ok, but not great."
FCI Memphis in the News
In April 2018, a brawl in the recreation yard at Federal Correctional Institution Memphis resulted in eleven prisoners being transported to an outside medical facility for treatment.
Memphis Prison Camp
In March 2018, three prisoners at Federal Correctional Institution Memphis Camp escaped and were recaptured the next day, making it the third escape from the prison camp since 2013.
In November 2017, Travon Gardner, a prisoner at FCI Memphis Camp, walked away from the camp without authorization. He was subsequently taken back into custody.
More Information About Federal Correctional Institution Memphis
For a comprehensive look at life in United States federal prison, pick up a copy of Christopher Zoukis' Federal Prison Handbook: The Definitive Guide to Surviving the Federal Bureau of Prisons. For more detailed information about FCI Memphis, please buy a copy of the Directory of Federal Prisons: The Unofficial Guide to Bureau of Prisons Institutions by Christopher Zoukis.
Published Apr 26, 2018 by Christopher Zoukis, JD, MBA | Last Updated by Christopher Zoukis, JD, MBA on May 12, 2023 at 12:04 pm