Terminal Island Federal Correctional Institution is a low-security federal prison located in San Pedro, California. It is also known as FCI Terminal Island. The facility houses male inmates.
FCI Terminal Island Contact Information
Facility Address & Contact Information
Federal Correctional Institution Terminal Island
1299 Seaside Avenue
San Pedro, CA 90731
Phone: 310-831-8961
Fax: 310-732-5325
Email: [email protected]
BOP Website: Bureau of Prisons Page
Wikipedia: Wikipedia Page
Inmate Correspondence Address
FCI Terminal Island
Inmate Name and Registration Number
FCI Terminal Island
Federal Correctional Institution
P.O. Box 3007
San Pedro, CA 90733
How to Send Money to An Inmate
Several options are available if you need to send money to a Terminal Island federal prison inmate. One of the most popular methods is to use a money transfer service such as Western Union or Money Gram. This can be done at any agent location, and you will need the inmate's name, ID number, and the institution's address.
Another option is to use the National Lockbox in Des Moines, Iowa, where the Federal Bureau of Prisons operates. You will need to send a check or money order by mail to do this.
Various methods are available, including credit and debit cards, money orders, and cashier's checks. Whichever option you choose, ensure to include the inmate's name and ID number to ensure that the funds reach the correct inmate.
To learn more, go to our page on sending cash to federal prisoners.
Federal Correctional Institution Terminal Island Inmate Information
Inmate Gender
Male Federal Inmates
Prison Security Level
Facility Location
FCI Terminal Island is located in Los Angeles Harbor, between San Pedro and Long Beach, off Harbor Freeway (110 South) at the Terminal Island exit.
BOP Region
BOP Institution Code
TRM for FCI Terminal Island
Medical Care Level
Level 2/3. See our page on Medical Care Levels and Procedures for more information.
Mental Health Care Level
Level 3.
Judicial District
Central District of California
Population Number
FCI Terminal Island houses approximately 820 inmates.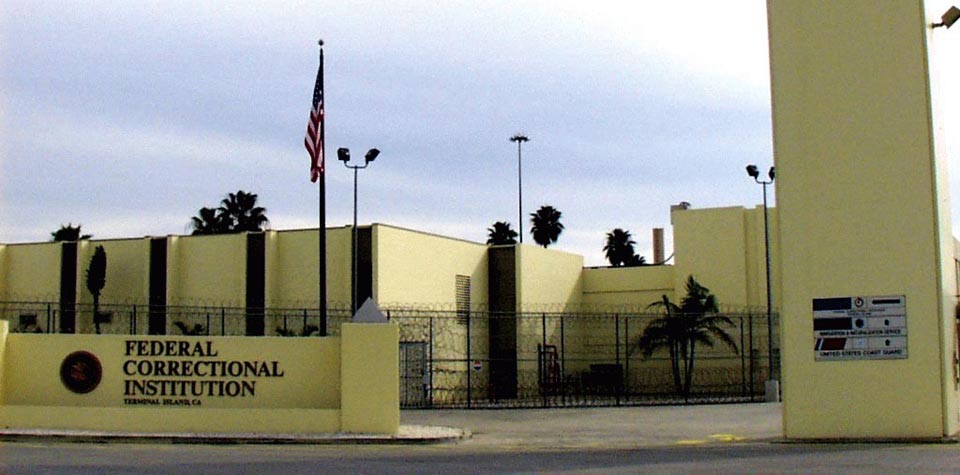 FCI Terminal Island Prison Services Information
Background
Federal Correctional Institution Terminal Island is a low-security federal prison in San Pedro, California. It opened in 1938 and houses male inmates.
FCI Terminal Island served as the Naval Disciplinary Barracks from 1942 to 1950. It was also a medical facility for the California Department of Corrections for a period. In 1995, it was converted into the low-security federal prison it is today. Terminal Island prison serves as a medical facility for the Federal Bureau of Prisons.
Notable inmates include:
Internet music entrepreneur Mouli Cohen (serving 22 years for wire fraud, money laundering, and tax evasion)
Earth Liberation Front member Eric McDavid (served ten years for conspiracy to destroy a dam, a lab, and other targets)
Former stockbroker Anthony Elgindy (served eight years for racketeering conspiracy, wire fraud, securities fraud, and extortion)
Admiral Robert Gilbeau (served 18 months for lying to investigators)
Former LAPD detective Randy Adair (convicted of bank robbery)
Media reports indicate that at least one guard has been indicted for smuggling contraband into the prison.
Inmate Housing
Inmates live in various housing structures ranging from dormitories to one- and two-person cells. E, F, and J Units have two-person cells (E and J Units also have toilets in the cell). A, B, C, D, and K Units are open dormitories (only K Unit has air conditioning).
Health Services
FCI Terminal Island offers inmates the following health care services:
On-Site Emergency Medical Care
Sick Calls
Dental Care
Medications
Emergency care is available 24 hours a day. Sick call is conducted at 6:30 a.m. on Monday, Tuesday, and Thursday.
Psychology Services
FCI Terminal Island offers various psychology treatment services, including:
Screening, Assessment, and Treatment of Mental Health and Drug Abuse Problems
Individual and Group Counseling
Psycho-Educational Classes
Self-Help and Supportive Services
Health Services Unit Referrals for Medical Treatment of Mental Illness
Notices of upcoming treatment programs are posted in inmate housing units. Inmates must submit a cop-out requesting program placement.
Residential Drug Abuse Program (RDAP)
FCI Terminal Island offers the Residential Drug Abuse Program (RDAP). The facility also provides drug education classes and a Non-Residential Drug Abuse Program (NR-DAP).
FCI Terminal Island Educational, Library, and Recreation Offerings
Education Services
FCI Terminal Island offers inmates literacy, GED, and English-as-a-Second Language (ESL) programs. Incentive awards recognize inmates making progress toward and completing the literacy (i.e., GED and ESL) program. Inmates may also receive incentives for progressing to various levels in the GED or ESL programs. Graduation ceremonies recognize GED, ESL, and Occupational Education completions.
A parenting program, Release Preparation Program (RPP), and Adult Continuing Education (ACE) classes are also available. High school diplomas and post-secondary degrees are available through paid correspondence programs. Coastline Community College also offers courses to inmates.
Hours of operation are 7:30 a.m. to 3:30 p.m. and 5:00 to 7:00 p.m. Monday through Thursday, and 7:30 a.m. to 3:30 p.m. Friday and Saturday, excluding meals and counts.
Learn more about standard federal prison education offerings here.
Advanced Occupational Education
Terminal Island Federal Correctional Institution offers advanced occupational education in:
Carpentry
CFC
Electrical Home Wiring
Home Inspection
Plumbing
Welding
Vocational Training
FCI Terminal Island does not offer any vocational training besides its advanced occupational education programs and apprenticeships.
Apprenticeship
Terminal Island federal prison offers apprenticeships in:
Baking
Cooking
AutoCAD
Cabinet Making
Dental Assistant
Electrical
Electrostatic Powder Paint Machine
Engraver
HVAC
Industrial Truck Mechanic
Machine Setter
Maintenance Repairer
Material Coordinator
Pipefitter
Plumbing
Production Planner-Shipping Clerk
Quality Control
Stationary Engineer
Tool and Die (Machinist)
Library Services
The leisure library offers inmates a variety of reading materials, including:
Periodicals
Newspapers
Fiction, Nonfiction, and Reference Books
An interlibrary loan program is also available. The TRULINCS Electronic Law Library allows inmates access to legal materials and an opportunity to prepare legal documents. Typewriters and a copy machine are also available for inmate use.
UNICOR
FCI Terminal Island does not have a UNICOR facility.
Commissary
Prisoners housed at FCI Terminal Island prison may use funds in their accounts to purchase items at the institution commissary. This money can also be placed on their phone account, purchase TRU-Units for their TRULINCS account, or send funds out of the institution using Form BP-199.
The spending limit is $360.00 per month. Inmates may only shop on their designated shopping day each week. Regular sales are conducted at 12:00 and 3:30 p.m. Monday through Thursday. Over-the-counter medications are sold on Friday to all inmates.
Recreation Services
FCI Terminal Island provides a variety of leisure, wellness, and social programs to inmates. Leisure activities include organized and informal:
Games
Sports
Physical Fitness
Table Games
Hobby Crafts
Music Programs
Intramural Activities
Social and Cultural Organizations
Movies
Art activities include paintings and sketches using traditional methods (e.g., oils, pastels, crayons, pencils, inks, and charcoal). Hobbycraft activities include:
Ceramics
Leatherwork
Models
Clay
Mosaics
Crochet
Knitting
Sculptures
Woodworking
Lapidary
Wellness programs include screening, assessments, goal setting, fitness/nutrition plans, and counseling. Inside, inmates have access to yoga, pool tables, TVs, and more.
Outside, inmates have access to these recreation options:
Weight Pile
Walking and Running Track
Basketball
Handball
Shuffleboard
Bocce Ball
Horseshoes
Softball
Flag Football
Soccer
Volleyball
Visitation Information for FCI Terminal Island
On Sunday, Monday, and Saturday, visiting hours are between 8:00 a.m. and 3:00 p.m. On federal holidays visitation is held between 8:00 a.m. and 3:00 p.m. See our page on prisoner visitation rules for more information.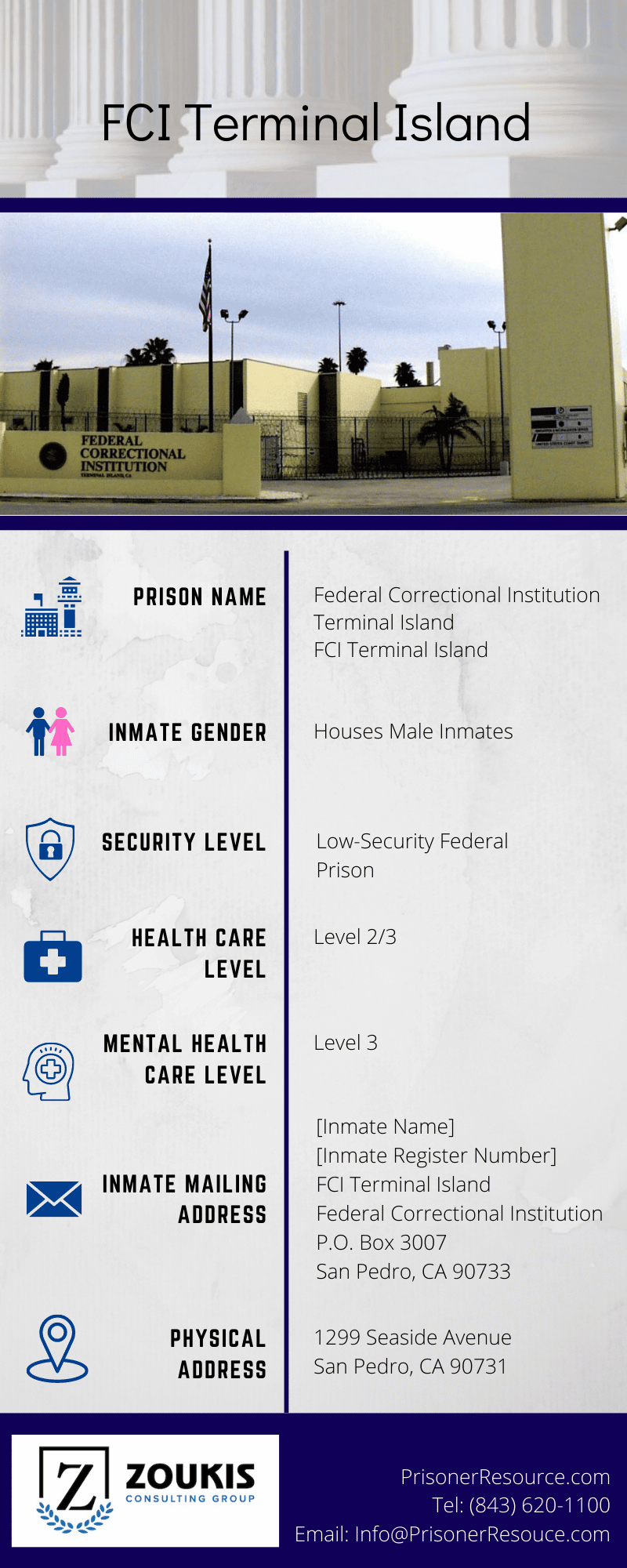 FCI Terminal Island Prison Culture Information
Prison Politics at Federal Correctional Institution Terminal Island
There is a low level of prison politics at this facility. According to one respondent, "this is a wannabe political yard." Another inmate explained, "There are some politics. The chow hall is segregated by race and political group."
One respondent explained, "The politics are a joke from many gang drop-outs, snitches, gays, and sex offenders who all want to act like they are still solid gang members."
Level of Violence
While some inmates stated that there was no violence, others assert that there is a moderate level of violence. As put by one inmate, "not too violent, but more than most Lows." Another explained, "While there are occasional fights, they don't seem to be anything to worry about as long as you are respectful and mind your own business."
Vulnerable Populations
Sex offenders, informants, and LGBT inmates can walk the yard. One respondent explained that "it is their yard." Another stated, "They can all walk the yard, but they can't watch TV."
One inmate explained, "They can do any programs, classes, or jobs that they want." The same inmate disagreed about the TVs, stating they can "even watch the TVs."
Good at FCI Terminal Island Prison
"The food and location are great." "It's by the water." "Lack of violence." "The food isn't too bad."
Bad at FCI Terminal Island Federal Prison
"Bad medical and dental services are horrible." "The staff are extremely unprofessional." "Medical care is horrible."
"Lots of fake politics and idiots who bark but couldn't make it elsewhere." "The compound is falling apart; the buildings all look abandoned."
Other Inmate Comments
"Most of the departments and programs are on par with other facilities lacking care or benefit from participation." "The place is staffed with rejects from everywhere else. They are about the least professional group you're going to find."
FCI Terminal Island in the News
In July 2015, Randy Adair, aka the Snowbird Bandit, a former LAPD detective who decided to start robbing banks in his retirement, was arrested, convicted, and sent to Federal Correctional Institution Terminal Island. The United States Department of Justice prosecuted him.
In February 2015, Luis Borjon, a guard at FCI Terminal Island, was sentenced to two days in jail with time served, 160 hours of community service, and two years of supervised release for his role in smuggling cell phones into the facility.
More Information About Federal Correctional Institution Terminal Island
For a comprehensive look at life in federal prison, pick up a copy of Christopher Zoukis' Federal Prison Handbook: The Definitive Guide to Surviving the Federal Bureau of Prisons. For more detailed information about FCI Terminal Island, please buy a copy of the Directory of Federal Prisons: The Unofficial Guide to Bureau of Prisons Institutions by Christopher Zoukis.
Published Jun 3, 2018 by Christopher Zoukis, JD, MBA | Last Updated by Christopher Zoukis, JD, MBA on Jun 4, 2023 at 6:36 pm