Federal Correctional Institution Texarkana is a low-security federal prison located in Texarkana, Texas. It is also known as FCI Texarkana. FCI Texarkana Camp is adjacent to the main institution. Both federal prisons house male inmates.
FCI Texarkana Contact Information
Facility Address & Contact Information
Federal Correctional Institution Texarkana
4001 Leopard Drive
Texarkana, TX 75501
Phone: 903-838-4587
Fax: 903-223-4424
Email: [email protected]
BOP Website: Bureau of Prisons Page
Wikipedia: Wikipedia Page
Inmate Correspondence Address
FCI Texarkana Federal Prison
Inmate Name and Registration Number
FCI Texarkana
Federal Correctional Institution
P.O. Box 7000
Texarkana, TX 75505
FCI Texarkana Prison Camp
Inmate Name and Registration Number
FCI Texarkana Camp
Satellite Prison Camp
P.O. Box 9300
Texarkana, TX 75505
How to Send Money
If you need to send money to an inmate at the Texarkana federal prison, there are a few different ways to do it. One option is to use Western Union or Money Gram. You can also send money via the National Lockbox in Des Moines, Iowa.
To use Western Union or Money Gram, you'll need the inmate's full name, prison number, and the prison address where they're housed. You can then either send the money online or at a physical location.
The National Lockbox is a bit different. You'll need to send a cashier's check or money order for the total amount of funds sent to use this service.
To discover more, go over our page on sending money to federal offenders.
Federal Correctional Institution Texarkana Inmate Information
Inmate Gender
Male Inmates
Prison Security Level
Facility Location
FCI Texarkana is in northeast Texas near the Arkansas border, 175 miles east of Dallas, 70 miles north of Shreveport, LA, off Route 59 South on Leopard Drive.
BOP Region
BOP Institution Code
TEX for FCI Texarkana
Medical Care Level
Level 2. See our page on Medical Care Levels and Procedures for more information.
Mental Health Care Level
Level 2.
Judicial District
Population Number
FCI Texarkana houses approximately 1,000 inmates. The camp houses around 150 inmates.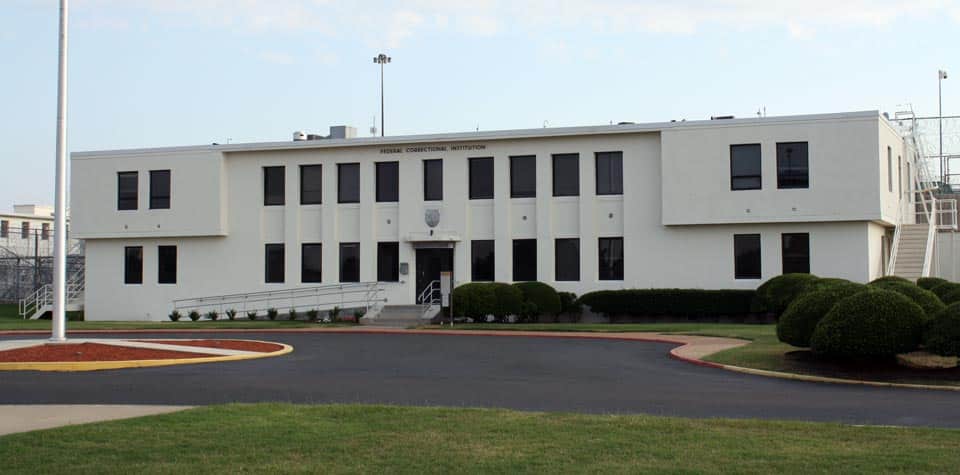 FCI Texarkana Prison Services Information
Background
Federal Correctional Institution Texarkana is a low-security federal prison in Texarkana, Texas. It opened in 1940. Federal Correctional Institution Texarkana Camp is adjacent to the main institution. Both prisons house male federal inmates.
Notable inmates include Keith Judd (sentenced to 17 years for extortion). While incarcerated, Judd filed papers to run for president in the 2012 general election. He won 41 percent of the primary vote in West Virginia against incumbent Barack Obama.
Ray Nagin was also incarcerated at FCI Texarkana. He is a former New Orleans mayor convicted of wire fraud, bribery, and money laundering. He served a ten-year federal prison sentence.
Media reports indicate that at least nine guards have been indicted for sexually assaulting inmates, and at least one guard has been convicted of smuggling contraband into the prison. Additionally, six inmates have been indicted for possessing contraband, four prisoners have been indicted for drug possession, and one inmate has been indicted for attempting to smuggle contraband into the institution.
In 2005, The Kansas City Star named FCI Texarkana Camp one of the five best federal prisons for white-collar offenders.
Inmate Housing
Inmates live in several configurations ranging from two-, four-, and ten-person cells to dormitories with up to 40 inmates. In the camp, inmates live in dormitories.
Health Services
FCI Texarkana provides inmates various health care and dental care services, including:
Preventive Health Care
Emergency Medical Care
Chronic Care
Medications
Physical Examinations
Annual TB Testing
Dental Care
Eyeglasses
Emergency medical care is available 24 hours a day, while on-site medical care is available 16 hours a day. Inmates must submit a triage form for evaluation of routine care needs. The sick call is in the mornings at 6:30 a.m. A pill line is during each meal, and the insulin line is before breakfast and dinner.
Psychology Services
A psychologist screens all inmates upon arrival to FCI Texarkana. The psychology staff offers brief individual counseling and comprehensive individual and group therapy programs. These programs address the full range of clinical disorders, provide self-help options, assess and treat behavioral and emotional problems, and facilitate the overall adjustment.
The Psychology Department also provides:
Drug Abuse Treatment
Psychotropic Medication
Mental Health Needs Consultations
Coordinate Services with other Departments
Crisis intervention is available 24 hours a day, seven days a week, including holidays.
Residential Drug Abuse Program (RDAP)
Texarkana federal prison does not have the Residential Drug Abuse Program (RDAP). The camp does have the Residential Drug Abuse Program (RDAP). Both facilities offer a Drug Abuse Education program and the Non-Residential Drug Abuse Program (NR-DAP).
FCI Texarkana Educational, Library, and Recreation Offerings
Education Services
Inmates at FCI Texarkana have access to literacy, GED, and English-as-a-Second Language (ESL) programs. Adult Continuing Education (ACE), a parenting program (Inside Out Dad), Language Lab, and a Resume Writing Workshop are also available.
Current ACE classes include:
Start Your Own Business, Spanish (beginner, intermediate, and advanced)
Civil War
Our Universe
Rosetta Stone programs are available in Spanish, German, French, Japanese, and Italian.
Information on course offerings and enrollment are posted on bulletin boards in the units, the Education Department, and TRULINCS. High school diplomas and post-secondary degrees are available through paid correspondence programs.
Hours of operation are 7:00 a.m. to 8:00 p.m. Monday through Saturday, excluding Friday night, meals, and institutional recalls.
Advanced Occupational Education
Federal Correctional Institution Texarkana offers advanced occupational education in:
Business Computer Applications
Introduction to Culinary Arts
Culinary Arts
Graphic Design
HVAC
Upholstery
Welding
The camp offers advanced occupational education programs in:
Automotive and Diesel Mechanics
Building Trades
Business Computer Applications
HVAC
Introduction to Culinary Arts
Vocational Training
Federal Correctional Institution Texarkana does not offer any vocational training programs besides advanced occupational education programs.
Apprenticeship
FCI Texarkana federal prison offers apprenticeships in:
Dental Assistant
Dental Technician
Electrical Apprenticeship
HVAC
The camp offers:
Dental Assistant Apprenticeship
Dental Technician
Electrical Apprenticeship
HVAC
Library Services
The leisure library offers a wide variety of books, including:
Vocational and Technical Books
General Reference (i.e., encyclopedias, dictionaries, etc.)
College and High School Texts
Fiction and Nonfiction Books
Magazines and daily newspapers are provided. An interlibrary loan program is also available.
The law library utilizes the Lexis Nexis Electronic Law Library system. Inmates may research legal information through the available computer stations. Typewriters and a copy machine are available for inmate use.
UNICOR
The FCI Texarkana UNICOR facility handles recycling activities and services and produces industrial products.
Commissary
Inmates may spend up to $360.00 per month on various products. This is further restricted to $100 per week. The central commissary is between the Hospital and the Dining Hall. The camp commissary is behind the housing area in the Hospital and Commissary building.
All monies are deposited into the inmate's commissary account. Commissary hours and prices are available on inmate bulletin boards. UNICOR inmates may shop at 6:30 a.m. All other inmates can shop on any of the hourly activities moves.
Recreation Services
The Federal Correctional Institution Texarkana Recreation Department offers numerous exercise programs based on cardiovascular exercise, which are ten weeks in length and is available for all age groups. The classes vary in activities, and instruction topics include health, nutrition, exercise, stretching, and personal training.
Various sports programs are also available for the inmate population. Intramural leagues include:
Volleyball
Basketball
Softball
Frisbee
Soccer
Horseshoes
Bocce Ball
Micro-Soccer
Indoor Volleyball
Indoor Basketball
The gymnasium offers various recreation options, including:
Basketball
Handball
Racquetball
Volleyball
Aerobic Equipment (e.g., treadmills, stationary bikes, ellipticals)
The outside recreation area offers a jogging/walking track, two outdoor exercise areas, two basketball courts, and two multi-purpose courts. Bocce ball courts, horseshoe pits, and an area for handball and racquetball are also available. A small recreation yard contains two handball courts and a covered weightlifting area.
A large recreation yard offers inmates many other activities, including:
Softball Field
Soccer Field
Running Track
Six Handball Courts
Two Horseshoe Pits
Bocce Pit
Two Shuffleboard Decks
Basketball Court
Weightlifting Area
The Modular Unit (not available at the camp) offers a place for table and board games, music, billiard tables, ping pong table, TVs, and art and hobby crafts. An Activity Center provides an area for playing card games and various table games. The hobby craft program offers inmates the opportunity to participate in leathercraft, stick art, beads, and art (painting, drawing, and airbrushing). The prison's music program has two band rooms.
Hours of operation are 6:30 a.m. to 8:15 p.m., excluding counts and meals.
Visitation Information for FCI Texarkana
On Sunday and Saturday, visiting hours are from 8:00 a.m. to 3:00 p.m. Families and friends can also visit an inmate on federal holidays visitation between 8:00 a.m. and 3:00 p.m. See our page on prisoner visitation rules for more information.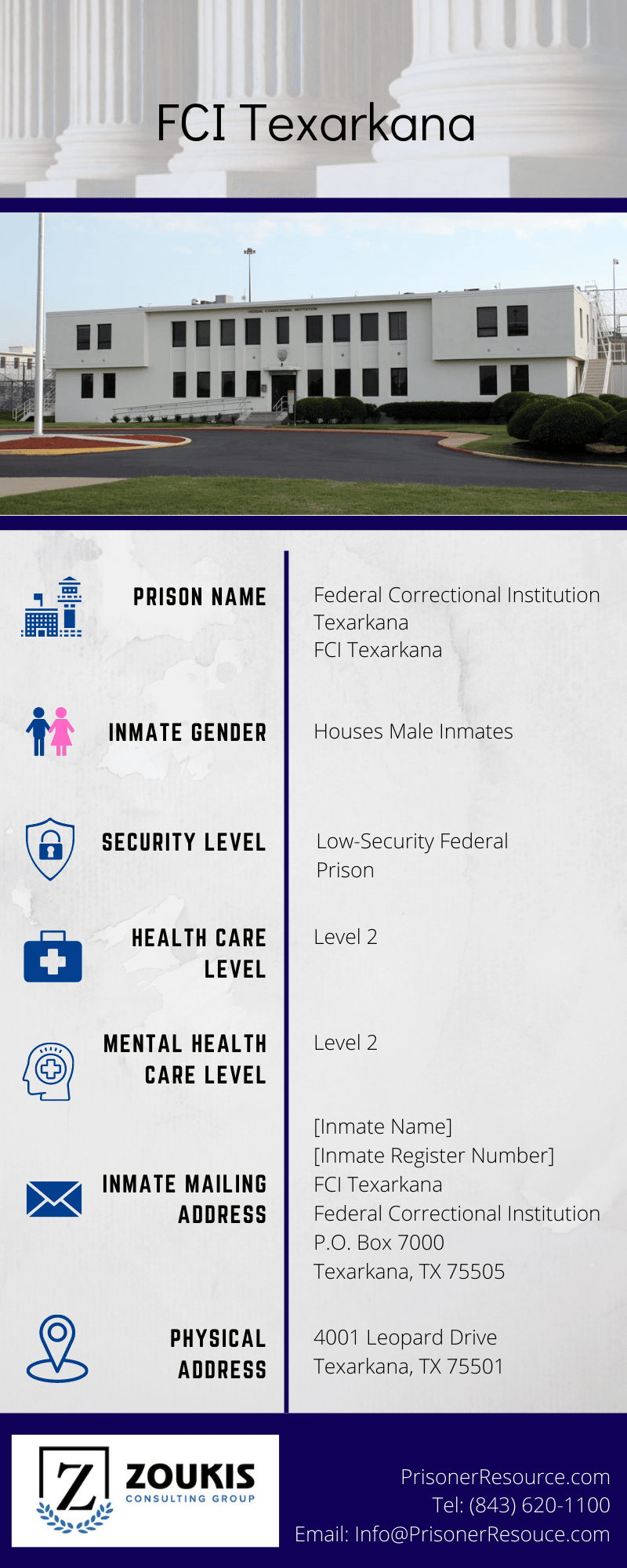 FCI Texarkana Prison Culture Information
Prison Politics at Federal Correctional Institution Texarkana
There is a low to moderate level of prison politics at Texarkana prison. According to inmates, this can be seen in the structure of seating in the chow hall and TV rooms. One inmate explained, "While there is a degree of politics, it's mostly for show."
Another respondent agreed, stating, "To the most part, the racial politics are pretty relaxed. The chow hall and some TV rooms are segregated, and groups of different races, in general, segregate out. However, there is very little actual racial violence."
According to another respondent, "Just about every race interacts with all the other races here." One inmate clarified, "Politics tend to be oriented along sex offender/non-sex offender grounds."
Level of Violence
There is a low level of violence at the Texarkana federal prison. According to one respondent, "When there is violence, there are never any weapons involved, and it's often one-on-one and short-lived." Another inmate explained, "There is almost no violence here; it is very safe."
Another respondent explained that "violence here isn't that much of an issue. There're a few fights now and then, but it's usually nothing more than a few bumps and bruises. The overall safety here is much better than at many other places as long as you're respectful and don't run up debts that you can't pay."
Vulnerable Populations
Sex offenders, informants, and LGBT inmates can walk the yard.
One inmate stated, "Sex offenders seem to be the majority of the compound." Another inmate explained, "Some units won't allow sex offenders to watch TV in the TV rooms, but it's overlooked in some ways depending on the person." He also explained, "The staff doesn't really do anything to address the politics unless it's an issue that they are forced to deal with."
Another respondent stated, "Informants are somewhat allowed. If a person isn't in a gang or otherwise affiliated and is respectful, they usually don't get messed with. If a person is claiming they aren't an informant and are later found out, that can cause problems." Another inmate stated, "There's actually a former SIS lieutenant on the yard that doesn't seem to have any issues."
Another respondent explained, "Overall, it's just a matter of circumstance and affiliation." Yet another inmate stated, "I'm a sex offender and haven't had any real problems in the 3+ years I've been here."
Good at FCI Texarkana Prison
"The best VT programs, good food, weights, and the TV rooms have five to eight TVs which are mostly newer." "The population is pretty low."
"The staff is fairly professional." "Commissary." "The food is generally good." "The food here is better than most places, and the portions tend to be more than typical."
"The general consensus here is that this place is more laid back than most." "Most guards are just here to collect an easy check and don't really mess with people as long as they aren't being complete idiots." "The Chapel is really good."
Bad at FCI Texarkana Federal Prison
"Pretty crowded, there is a bad K2 problem, no air conditioning in some housing units, and medical care is hit or miss on which MLP you are assigned to." "They just took the microwaves and our ice coolers."
"There are frequent episodes of mass punishment due to the drug problems. The BOP lacks innovation and common sense when dealing with such issues." "There's a lot of petty activity here, and some of the guards are on a personal quest to see just how far they can push the disrespect because they know the guys here are trying to point down to camp or home." "The worst aspects are the politics and guards' attitudes."
Other Inmate Comments
"We have a new warden. So far, it seems to be an improvement, and the prison seems better managed."
"The BOP, in general, seems to be on a downward spiral. As the budgets and staffing levels drop, overcrowding increases and program accessibility decreases. The same is true here as of elsewhere."
"It's a pretty relaxed place overall. Just a bit petty at times." "Overall, this isn't too bad of a place to be. There is plenty to do to keep the time going by, and the politics are manageable."
FCI Texarkana in the News
In July 2018, Kevin Tyler, a prisoner accused of attempting to smuggle contraband into Federal Correctional Institution Texarkana, asked the court to allow him access to over 1,000 pages of discovery necessary for his defense which prosecutors were trying to prevent in the name of prison security.
In March 2018, it was reported that FCI Texarkana had 41 staff positions eliminated, leaving 241 positions with 1,200 prisoners.
Also, in March 2018, Jack Elton Willie, Kevin Tyler, and Jeffery Lee Anderson were indicted for sending suboxone strips to Chester Brown, a prisoner at Federal Correctional Institution Texarkana.
In January 2018, Chester Brown, Eric Wayne Grimes, and Charles Webb, prisoners at FCI Texarkana, were separately indicted for the possession of contraband drugs. The United States Department of Justice prosecuted him.
In July 2017, Jasmer West, a federal prisoner at FCI Texarkana, was indicted for possessing synthetic marijuana, or K2.
In November 2016, the Dallas News found that at least eight federal prison guards, including FCI Texarkana guard Jose Angel Rivas, committed sexual misconduct with prisoners since 2014. Some were allowed to plea to non-sexual crimes to avoid the state's sex offender registry.
In March 2016, Jose Angel Rivas, a guard at Federal Correctional Institution Texarkana, was indicted for illegal sexual contact and providing contraband to a male prisoner from May 2013 to February 2015.
In November 2015, six prisoners at FCI Texarkana — Michael Chad Thompson, Ernest Allen McClain, Robert Abrego, Jesus Dozal, Scott McGarry, and Eliezer Hernandez — were separately indicted for possessing contraband such as cell phones, a knife, laptops, and marijuana.
In November 2014, Shelonda Chares, a case manager at FCI Texarkana prison, was charged with engaging in a sexual act with a prisoner.
More Information About Federal Correctional Institution Texarkana
If you're looking for a comprehensive guide to life in federal prison, Christopher Zoukis' Federal Prison Handbook: The Definitive Guide to Surviving the Federal Bureau of Prisons is an excellent resource. The Handbook provides detailed information about every aspect of life behind bars, from first walking into a housing unit to release planning.
For even more detailed information about FCI Texarkana, including a complete list of inmate programs and services, Christopher Zoukis' Directory of Federal Prisons: The Unofficial Guide to Bureau of Prisons Institutions is an invaluable resource. The Directory includes profiles of every federal prison to get a more specific look at facilities like Federal Correctional Institution Texarkana.
Published Jun 3, 2018 by Christopher Zoukis, JD, MBA | Last Updated by Christopher Zoukis, JD, MBA on Jun 4, 2023 at 6:38 pm