United States Medical Center for Federal Prisoners Springfield is an administrative-security federal prison located in Springfield, Missouri. It is also known as MCFP Springfield and the federal prison in Springfield, MO. The facility houses male inmates.
MCFP Springfield Contact Information
Facility Address & Contact Information
Medical Center for Federal Prisoners Springfield
1900 W. Sunshine Street
Springfield, MO 65807
Phone: 417-862-7041
Fax: 417-837-1717
Email: [email protected]
BOP Website: Bureau of Prisons Page
Wikipedia: Wikipedia Page
Inmate Correspondence Address
MCFP Springfield
Inmate Name and Registration Number
MCFP Springfield
Medical Center for Federal Prisoners
P.O. Box 4000
Springfield, MO 65801
How to Send Money
Do not send money to inmates at the federal prison in Springfield, MO. See our page on sending money to federal prisoners.
Medical Center for Federal Prisoners Springfield Inmate Information
Inmate Gender
Male Inmates
Prison Security Level
Administrative-Security Federal Prison
Facility Location
MCFP Springfield is located at the corner of Sunshine Street and the Kansas Expressway, off I-44.
BOP Region
BOP Institution Code
SPG for MCFP Springfield
Medical Care Level
Level 3/4. See our page on Medical Care Levels and Procedures for more information.
Mental Health Care Level
Level 4.
Judicial District
Population Number
MCFP Springfield houses approximately 960 inmates.
MCFP Springfield Prison Services Information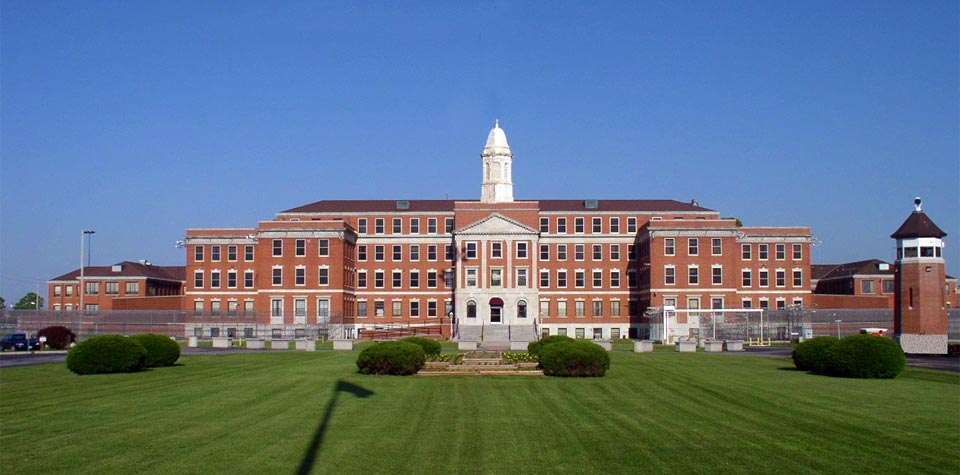 Background
United States Medical Center for Federal Prisoners Springfield is an administrative-security federal prison in Springfield, Missouri, which houses male inmates.
The facility was initially called the United States Hospital for Defective Delinquents and was designed to remove mentally deficient criminals from the general prison population. Currently, it provides major medical, mental health, and dental services for the Bureau of Prisons. It also houses a 20-bed psychiatric hospital.
Notable inmates include former officer of the Holy Land Foundation Mohammad El-Mezain (serving 15 years for providing material support to terrorists); publisher of Hustler magazine Larry Flint (served six months for contempt of court in 1984); crime boss John Gotti (died while serving a life sentence for murder, conspiracy to commit murder, loansharking, illegal gambling, obstruction of justice, bribery, and tax evasion); and the Birdman of Alcatraz Robert Stroud.
Media reports indicate that at least two inmates have been murdered at the facility, one guard has been internally disciplined for assaulting an inmate and a supervising lieutenant was internally disciplined for trying to bribe the inmate to cover up the assault, and one guard was convicted of attempting to hire an inmate as a hitman.
Inmate Housing
Inmates are housed in either one-person and two-person cells or open dormitories.
Health Services
All inmates receive a complete physical examination within 14 days of admission. As part of admission and annual physical exams for inmates over the age of 50, each inmate is offered a glaucoma test, electrocardiogram, tonometry, and colorectal cancer screening. Periodic health examinations are available. Sick call, emergency care, immunizations, medications, dental sick call, and prescription eyeglasses are also available to inmates.
Psychology Services
All inmates at MCFP Springfield are screened by Psychology Services staff during intake. Each unit has a psychologist assigned or available to provide counseling and other mental health services to unit inmates. There are many alternatives for inmates who have emotional, mental, and behavioral issues and a desire for change. These options include self-image groups and other voluntary groups. MCFP Springfield has professional staff trained in various social science fields.
Residential Drug Abuse Program (RDAP)
MCFP Springfield houses the Residential Drug Abuse Program (RDAP). It also offers a Drug Education Program and a Non-Residential Drug Abuse Program (NR-DAP).
MCFP Springfield Educational, Library, and Recreation Offerings
Education Services
MCFP Springfield provides GED and English-as-a-Second Language (ESL) programs. The facility also offers Adult Continuing Education (ACE) classes, a parenting program, and a release preparation program. High school diplomas and post-secondary degrees are available through paid correspondence programs.
Advanced Occupational Education
MCFP Springfield offers advanced occupational education in Advanced Small Engine Repair and Landscape Maintenance.
Vocational Training
MCFP Springfield does not offer any vocational training aside from its advanced occupational education and apprenticeship programs.
Apprenticeship
Baker, Barber, Biomedical Equipment Technician, Carpenter, Dental Assistant, Electrician, Housekeeping, HVAC, Machinist, Masonry, Meat Cutter, Orthotics Technician, Painter, Plumber, Prosthetic Technician, Sheet Metal, Stationary Engineer, and Steamfitter are all offered as apprenticeship programs at MCFP Springfield.
Library Services
A law library is available with a copy machine and typewriters. A leisure/ reading library holds daily newspapers and monthly magazines, as well as fiction and nonfiction books, and a listening library holds video and audio tapes, DVDs, and CDs. Inmates also have access to the TRULINCS Electronic Law Library.
UNICOR
MCFP Springfield does not have a UNICOR facility.
Commissary
Inmates may shop once a week on a designated day. Food, clothing, electronics, shoes, and other items can be purchased. A spending limit of $360.00 is imposed.
Recreation Services
The Recreation Center at MCFP Springfield provides fitness equipment, pool tables, games, and a craft workshop (crafts include leather, ceramics, painting, and stick art). The main yard provides a softball field, horseshoes, bocce ball courts, volleyball court, basketball court, pavilion, tables, walking track, soccer, handball, and flag football. The gymnasium houses a music room, limited fitness equipment, and intramural activities.
Visitation Information for MCFP Springfield
On Sunday and Saturday visiting hours are between 8:15 a.m. and 3:00 p.m. On federal holidays visiting hours are between 8:15 a.m. and 3:00 p.m. See our page on prisoner visitation rules for more information.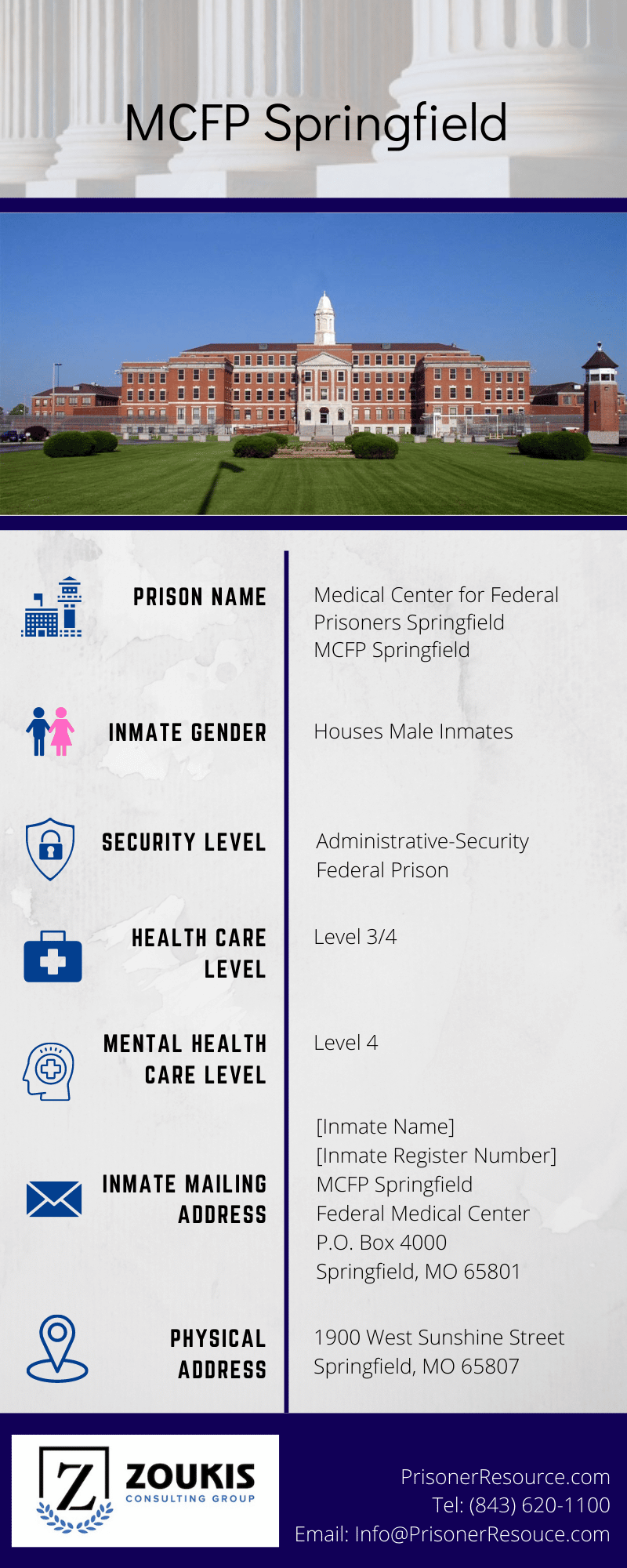 MCFP Springfield in the News
In 2015, United States Medical Center for Federal Prisoners Springfield Lieutenant James
C. Myrick, who witnessed another guard hit prisoner Shawn Springer, admitted to offering Springer a better cell assignment if he wouldn't report the assault and reporting that Springer's head injury was pre-existing.
In August 2014, prisoner Jerry Scott Hill was charged with murdering Cyprian Adoh hitting his head against a wall.
In June 2014, Wesley Paul Coonce and Charles Michael Hall, prisoners at the Federal prison in Springfield, MO, were sentenced to death for the January 2010 murder of fellow prisoner Victor Castro-Rodriguez.
In March 2014, Robert W. Jones, a guard at USMCFP Springfield, was sentenced to six years in prison after being convicted of asking a prisoner to kill his wife's ex-husband.
More Information About Medical Center for Federal Prisoners Springfield
For a comprehensive look at life in federal prison, pick up a copy of Christopher Zoukis' Federal Prison Handbook: The Definitive Guide to Surviving the Federal Bureau of Prisons. For more detailed information about MCFP Springfield, please buy a copy of the Directory of Federal Prisons: The Unofficial Guide to Bureau of Prisons Institutions by Christopher Zoukis.
Published Apr 27, 2018 by Christopher Zoukis, JD, MBA | Last Updated by Christopher Zoukis, JD, MBA on May 12, 2023 at 4:22 pm