Missouri houses one stand-alone federal prison. This Missouri federal prison is overseen by the North Central Regional Office. In total, 863 inmates are housed inside this federal prison in Missouri.
Missouri Federal Prisons by Security Level
Administrative-Security Federal Prisons in Missouri
U.S. MCFP Springfield (Springfield, MO)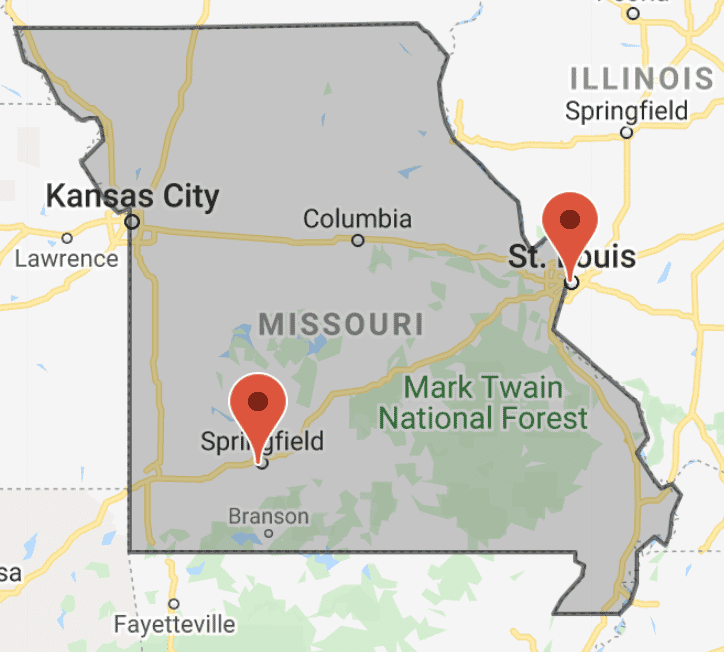 Federal Prisons in Missouri
Medical Center for Prisoners Springfield is an administrative-security level federal prison located in Springfield, Missouri. It is overseen by the North Central Regional Office. MCFP Springfield is a Medical Care Level 3/4 prison. It houses 894 male inmates.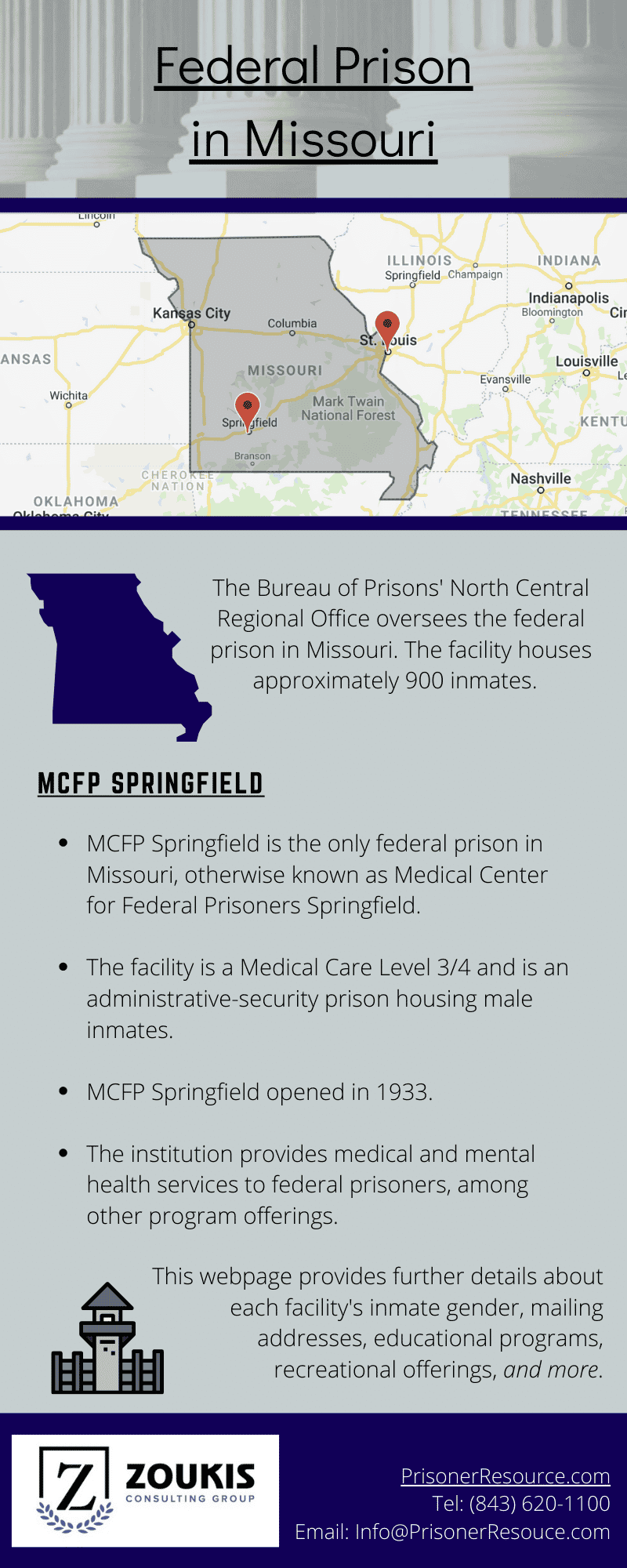 List of Missouri Federal Prisons
There is one federal prison in Missouri. It is overseen by the North Central Regional Office of the Federal Bureau of Prisons. By clicking on the below link, you will be taken to the facility's detailed profile where you can learn about specific facility offerings, other information, and staff and inmate contact details. This includes the facility's Admission & Orientation Handbook, recent Prison Rape Elimination Act audit reports, inmate commissary list, and more. While most inmates are designated to the facility for psychiatric treatment, the institution also has a work cadre of sentenced inmates who provide labor at the institution.
Medical Center for Federal Prisoners Springfield is located in Greene County, Missouri near Springfield. It provides medical and mental health services to male federal prisoners. The facility has a long history since its opening in 1933, having housed high-profile political prisoners, organized crime figures, and drug traffickers. Unless they are deemed unable to work by physical or mental health services, all inmates at MCFP Springfield are required to work during their incarceration. Medical, dental, and robust psychological programs are available to inmates. For example, the prison has the 500-hour Residential Drug Abuse Treatment Program (RDAP). This is the program that permits eligible inmates to receive one year off their sentence for program completion. Alcoholics Anonymous, Narcotics Anonymous, the Drug Education Class, and other group therapy offerings are available to the inmate population.
Prisoners are also encouraged to take part in academic, vocational, and life skills training if their health condition allows. Inmates have access to GED, ESL, Adult Continuing Education (ACE), vocational training, and apprenticeship programs. Inmates also have access to a leisure and law library, and indoor and outdoor recreational offerings. Inmates may also practice religious worship, both individually and collectively, in the prison's multidenominational Chapel.
Wikipedia Pages About Each Facility
Below you can find the Wikipedia page for each Missouri federal prison. This page contains background, historical, and other information. It also contains lists of notable current and former inmates. Alternatively, our federal prison profiles contain detailed information about each federal prison. These profiles include inmate correspondence address, staff contact address, program offerings, recreational offerings, and more. These comprehensive profiles are reviewed and regularly updated by our prison consultants, resulting in reliable and authoritative information you can trust. Please click on the above links to be taken to these comprehensive prison profiles.
Published Oct 1, 2020 by Christopher Zoukis, JD, MBA | Last Updated by Christopher Zoukis, JD, MBA on Jun 9, 2023 at 12:27 am