Are you or someone you know facing the prospect of incarceration in a federal prison? If so, you likely have many questions about what life is like in federal prison. Or even what life is like in a specific federal correctional institution. If so, the Zoukis Consulting Group's Directory of Federal Prisons can answer all of your questions and many more.
Contact the Zoukis Consulting Group team if you are facing the prospect of serving time in federal prison. We help our clients serve the least amount of time in the best federal prisons with the earliest opportunities for release. Book a one-hour initial consultation today!
Directory of Federal Prisons: Profiles of Every Federal Bureau of Prisons Facility
No one intends to go to prison. But when things go wrong, you may find that you or a loved one is on the wrong side of the law. If the crime is a federal offense, this means serving time in federal prison. This is an unknown and anxiety-provoking experience for most faced with the prospect.
Enter Christopher Zoukis' Directory of Federal Prisons. This book is a comprehensive masterpiece offering authoritative and in-depth information about Federal Bureau of Prisons facilities. The book profiles every federal prison in the United States. The information in this guide goes beyond the ordinary information on each prison's location, security level, and population. It even delves into the culture of each institution, available programs, and much more.
The Directory of Federal Prisons incorporates the real-life experiences of current federal inmates in every U.S. federal prison. This information can give you a clear picture of what to expect at each facility. Interviewed inmates also share their opinions about their federal correctional institution, the level of violence in each institution, and whether LGBT inmates, sex offenders, and informants are safe to walk each yard.
While nothing will completely remove the fear and anxiety of being sent to federal prison, the Directory of Federal Prisons helps shine a light on each institution. This information can help you request a good facility, know if you are walking into a dangerous situation, and what programs are available at every federal prison.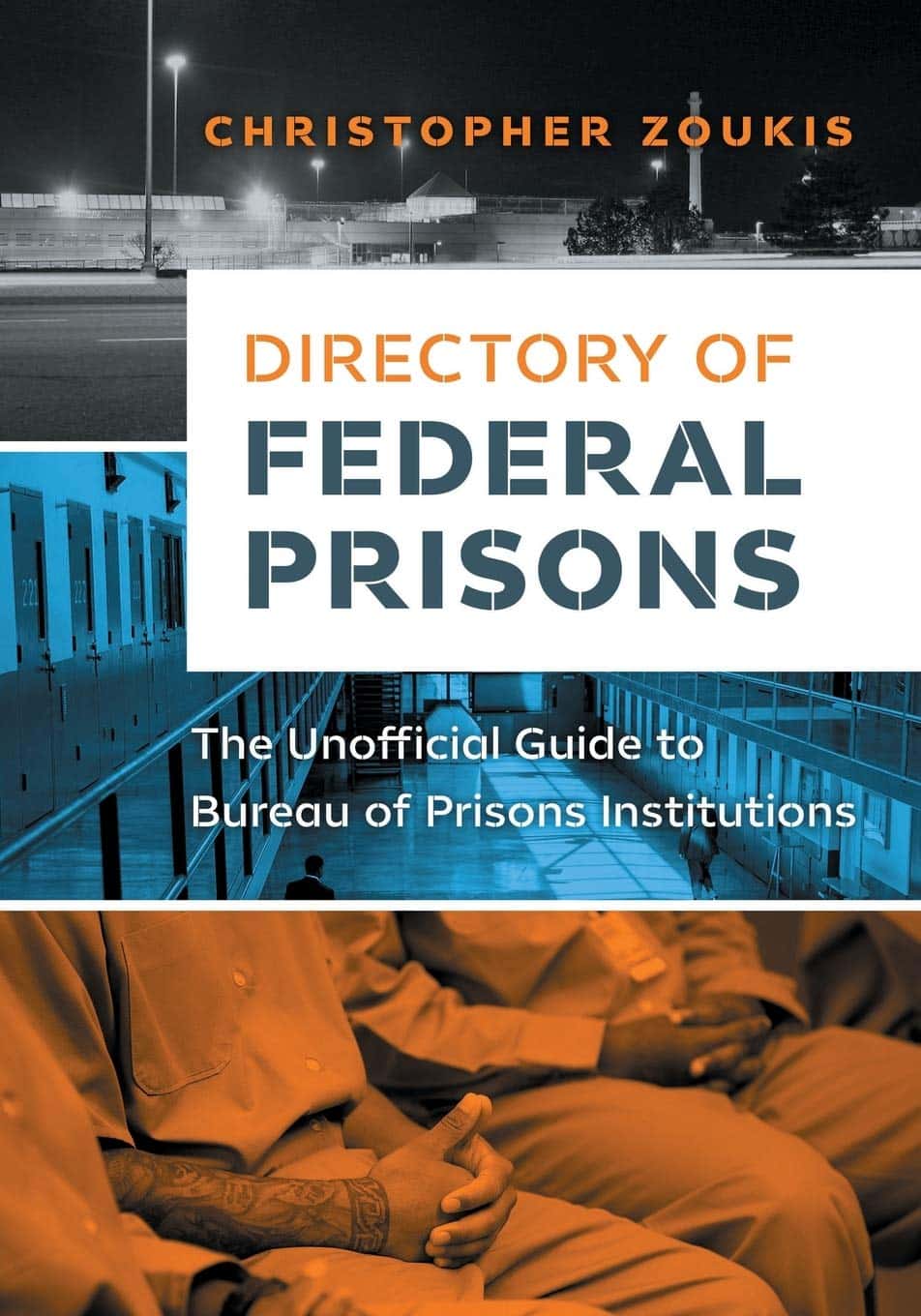 What is in the Directory of Federal Prisons?
The Directory of Federal Prisons profiles every prison within the Federal Bureau of Prisons. In each detailed profile, you will learn the following:
Basic Information About Each Federal Prison
Every prison profile includes the following basic information about each federal prison:
Facility Address
Facility Contact Information
Inmate Correspondence Address
Location
BOP Institution Code
Federal Judicial District
Mental Health Care Level
Inmate Population Total
The book also presents background information about each institution. Whether you are interested in a minimum-security federal prison camp, federal correctional institution, and United States penitentiary, this book profiles the facility. This background information includes when the facility was built, notable incidents, and any other noteworthy facility-specific information.
Unlike other such prison guides, the Directory of Federal Prisons also profiles inmate housing unit structures. For example, the book presents whether inmates are housed in cells or dormitories and approximately how many inmates are housed within each housing type.
"As a federal criminal defense attorney for the past 28 years, this is one of the best books out there on federal prisons. It discusses not only each facility and what is available, but the process you go through when entering a federal prison. . . . This book will help ease the process. Knowledge is the key to dealing with these difficult situations."

Marcia Shein, Nationally Recognized Federal Criminal Defense Attorney
Programs at Every Federal Prison
The Directory of Federal Prisons also profiles programs at every federal correctional institution. These programs are aimed at helping inmates to keep fit physically, mentally, and spiritually. The book profiles each facility's educational, recreational, religious, and psychological programs.
Each facility offers different programs depending on numerous factors. These programs are essential for inmates to recover from addiction, obtain treatment for psychological conditions, turn their lives around, and prepare for life after prison.
The Directory of Federal Prisons profiles the following program areas at each institution:
Educational Offerings
Advanced Occupational Education Programs
Vocational Training
Apprenticeship Programs
Library Services
UNICOR Facilities
Recreational Programs and Opportunities
"Once again, Christopher Zoukis displays why his perspective is unique, insightful, and simply different than what is available in the print media. . . . You will simply not get this detail of information and analysis from what is currently available on the market. It is a must-read for advocates, attorneys, and academics to gain better insight into the BOP."

Jack Donson, former Bureau of Prisons Case Manager
Each Institution's Inmate Culture
The book also profiles each facility's inmate culture. This is one of those challenging areas to quantify but an area that acutely impacts every inmate's life. The institutional culture is perhaps the most significant indicator of the quality of life behind bars.
While prison officials won't admit it, different federal prisons have drastically divergent cultures. For example, facilities such as USP Beaumont are known as "Bloody Beaumont" due to the violent and dangerous culture. Likewise, USP Victorville is known as "Victimville" due to ongoing severe violence. On the other hand, FCI Petersburg Medium is known as "Sweetersburg," while FPC Alderson is known as "Camp Cupcake."
Christopher interviewed and surveyed inmates at every federal prison to learn their thoughts about their prison's inmate culture. He then distilled this information into these areas:
Prison Politics
Every federal prison has an independent culture that defines it. Inmates tend to refer to this inmate culture as "Prison Politics."
This section discusses if inmates must be part of gangs to remain safe. If inmates can remain "Independent," meaning they are not part of a gang or prison car. And the level of racial segregation inmates impose in housing and daily interactions.
"Christopher Zoukis has written an invaluable guide to our federal prisons, from security levels, to health care information, to locations and news items concerning every federal prison facility."

Brandon L. Garrett, Professor of Law, Duke University School of Law, and author of Federal Habeas Corpus
Level of Violence
Federal Bureau of Prisons officials are notably silent regarding the level of violence at their facilities. To follow the party line, they safely and securely house inmates at all security levels. Yet, violent incidents are commonplace at some medium- and all high-security federal prisons. This silence creates a significant safety problem for new arrivals who don't know what to expect.
To help demystify this area, Chris discussed the perception of safety with inmates currently at each federal prison. He focused on observed acts of violence, how inmates feel about the facility's safety, and specifics as to the severity of the violence. For example, he wanted to know whether it was more common for inmates to be involved in shoving matches or stabbings, verbal taunts, or actual physical violence.
"I've been a prison and sentencing consultant for over 19 years and have relied on countless sources of information about particular federal prisons so as to properly advise my clients. Most third-party sources are either inaccurate or outdated — until now. Christopher Zoukis' Directory of Federal Prisons is thorough, comprehensive, and accurate. Every federal criminal defense lawyer should have a copy on their desk when their client is facing a federal prison sentence."

John B. Webster, Managing Director, National Prison & Sentencing Consultants
Vulnerable Populations
As with prison violence, the Directory of Federal Prisons also examines whether certain vulnerable inmates are safe to remain at each facility. He profiles three distinct groups: LGBT inmates, sex offenders, and inmates who cooperated with law enforcement in prosecuting others. These groups are significant because they are often subjected to abuse and harm, depending on the facility.
In this section, you will learn whether sex offenders, LGBT inmates, and informants are safe to remain at each facility. This can help these populations to stay safe, even when faced with Receiving & Discharge officers who categorically claim that everyone is safe to enter the general population. As with institutional cultures, inmates at different facilities have specific views about who can stay and who must go.
Inmate Perspectives About Each Federal Prison
During Christopher's interviews with the inmates, they shared their thoughts about their institution. This included their likes and dislikes about each facility and other boots-on-the-ground information, including:
How prison guards treat inmates.
What types of inmates will do well at each facility.
How the prison compares to others.
Notable educational and recreation program offerings.
High and low points of the prison's operations.
The general feeling at the facility.
"With his Directory of Federal Prisons, Christopher Zoukis has provided an invaluable resource to federal criminal defense lawyers, their clients, client families, and federal judges."Subodh Chandra, former Assistant United States Attorney and current Federal Criminal Defense Attorney
How the Directory of Federal Prisons is Different from Other Prison Survival Guides
Most federal prison survival guides merely regurgitate the party line about each facility. They pull information from the Federal Bureau of Prisons' website and otherwise provide only the most basic information about each facility, for example, the prison's contact information. The Directory of Federal Prisons is different.
This book is different in three key ways:
Christopher covers every aspect of federal prisons and answers common questions in as much detail as possible. He explains how the Federal Bureau of Prisons function and includes tips and insider information for survival in different federal prisons. This in-depth information makes it the ultimate guide for federal inmates, federal criminal defendants, and defense attorneys.
The book is written in the third person to offer help and not to judge. As a reader, you'll be able to read the book comfortably (without feeling judged) and use the information in the way that best fits you. Likewise, if you are about to surrender to federal prison or have a loved one already incarcerated, you can learn about their daily lives and help guide them to valuable programs.
Clear and Concise Facility Discussions
Christopher breaks down every topic clearly and goes straight to the point so that you can understand right away. Not only will you enjoy reading the book, but you will also obtain authoritative information that will make prison life easier for you or your loved one.
"Going to prison is terrifying, and finding reliable information about what a federal facility is like can be daunting. The Directory of Federal Prisons is a useful source of information that is often otherwise very hard to find. It's the book you hope you never need, but if oyu need it, you'll be grateful it's there."

Matthew Kaiser, Partner, KaiserDillon PLLC
Summary
The Directory of Federal Prisons: The Unofficial Guide to Bureau of Prison Institutions has received exemplary reviews from traditional media outlets, federal prison and criminal defense experts, and regular readers alike.
The book goes beyond an ordinary directory and gives a real-life scenario of life in prison. It's a guide into the life that most people don't talk about and shares experiences from inside U.S. Federal prisons.
Published Jan 26, 2022 by Christopher Zoukis, JD, MBA | Last Updated by Christopher Zoukis, JD, MBA on Jun 9, 2023 at 12:46 pm