FCI Aliceville is a low-security federal prison located in Aliceville, Alabama. The facility houses female inmates. FCI Aliceville Camp is adjacent to the primary institution. The camp also houses female inmates. It is also known as Aliceville prison and Federal Correctional Institution Aliceville.
Contact us if you or a loved one are serving time at FCI Aliceville. Our team of expert prison consultants can help you resolve any problems in prison and otherwise seek an early release from custody.
Book an initial consultation today to speak with a member of our team.
FCI Aliceville Contact Information
Facility Address & Contact Information
Federal Correctional Institution Aliceville
11070 Highway 14
Aliceville, AL 35442
Phone Number: 205-373-5000
Fax: 205-373-5020
Email: ALI/[email protected]
BOP Website: Bureau of Prisons Page
Wikipedia: Wikipedia Page
Inmate Correspondence Address
FCI Aliceville
Inmate Name and Register Number
FCI Aliceville
Federal Correctional Institution
P.O. Box 4000
Aliceville, AL 35442
FCI Aliceville Satellite Prison Camp
Inmate Name and Register Number
FCI Aliceville
Satellite Prison Camp
P.O. Box 487
Aliceville, AL 35442
How to Send Money to an Inmate
Aliceville, Alabama prison inmates cannot receive funds directly. See our page on sending money to federal inmates. Funds can be sent via Western Union, Money Gram, and the Nationa Lockbox in Des Moines, Iowa.
FCI Aliceville Inmate Information
Inmate Gender
Female Inmates are housed at the Aliceville prison.
Prison Security Level
Facility Location
FCI Aliceville is located 100 miles from Birmingham, on the west side of Alabama. It is located in Pickens County. The camp is located next to the central institution.
BOP Region
BOP Institution Code
ALI for FCI Aliceville
Medical Care Level
Level 2. See our page on Medical Care Levels and Procedures for more information.
Mental Health Care Level
Level 2
Judicial District
Population Number
FCI Aliceville houses approximately 1,340 inmates. The camp houses around 250 inmates.
Aliceville Prison Services Information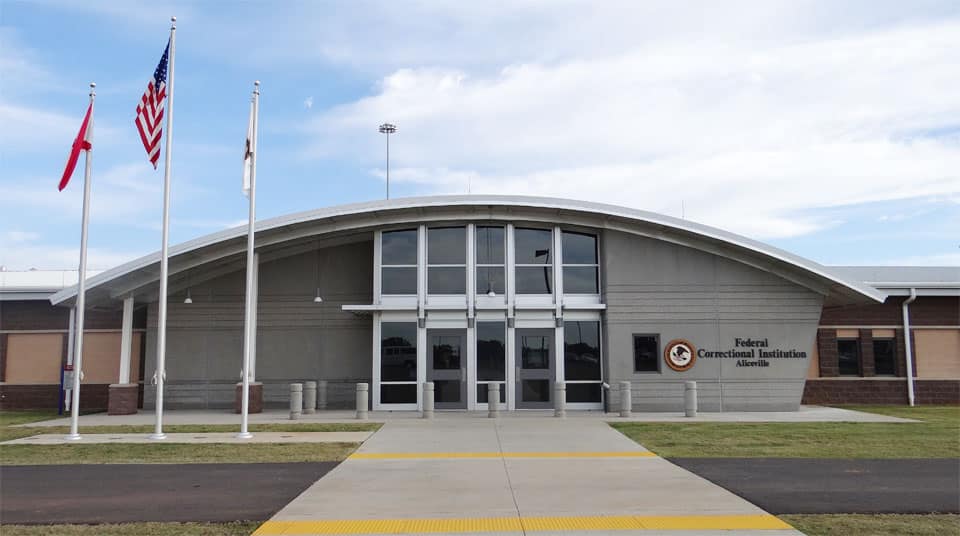 Background
Aliceville Federal Correctional Institution is a low-security prison in Aliceville, Alabama, which houses female inmates. The prison opened in 2013. Federal Correctional Institution Aliceville Camp, which also houses female inmates, is adjacent to the primary institution.
Construction on Aliceville federal prison began in 2008, and it became operational in 2013. It is under the preview of the U.S. Department of Justice. The prison is between Aliceville and Pickensville.
Notable prisoners include Elaine Brown. She was sentenced to 35 years in prison after authorities found her stockpiling bombs, handguns, and high-powered rifles. Law enforcement arrested her after an eight-month standoff over her and her husband's tax evasion charge.
Media reports state guards have been charged with sexually assaulting female inmates, lying to federal investigators, and smuggling contraband into the institution.
Inmate Housing
Inmates live in two- and three-person cells, though only two people are in one cell regardless of occupancy. Only 16 of the 64 cells in each unit are three-person. These cells house new arrivals, inmates returning from the SHU, and those on IFRP refusal status.
There is a total of 12 housing units. Each housing unit has six TVs, six computers, and two computers for video visits. Inmates also have access to two hot water dispensers and one ice machine in each unit. Inmates at the camp are housed in dormitories.
Inmates confined in the Aliceville, Alabama federal prison's Special Housing Unit (SHU) are housed in cells.
Health Services
FCI Aliceville provides medical sick call services for routine and non-emergency conditions. Dental sick call and chronic care services are also available.
Pharmacy services, prescription medications, and tuberculosis testing are also available. Inmates may receive eye examinations once every two years. Physical health examinations and HIV testing are also available.
Sick call is held Monday, Tuesday, Thursday, and Friday at 8:00 a.m. Health Services is open from 8:00 a.m. to 3:30 p.m. Pill and insulin lines are conducted at 6:00 a.m. and various times in the evening. Emergency medical care is available 24 hours a day.
Psychology Services
Inmates participate in Psychology Services A&O within a month of their arrival. Aliceville Alabama prison Psychology Services staff work with inmates who have mental health and significant emotional and behavioral problems. The open house is held Wednesdays from 12:30 to 2:00 p.m.
Psychology Services staff also encourage inmates without such problems to engage in self-improvement activities. With input from Psychology Services, Health Services refers inmates who need a psychiatrist for psychotropic medications. Groups offered include drug treatment and trauma treatment.
Recent offerings include the Resolve program, Foundation, Assert Yourself for Females, and Women's Relationships. Brief counseling sessions are available to address individual needs. The facility also offers the STAGES program for inmates with serious mental illness and personality disorders.
Residential Drug Abuse Program (RDAP)
Aliceville prison and the satellite camp do not have the Residential Drug Abuse Program (RDAP). Both facilities offer the Drug Education class and the Non-Residential Drug Abuse Program (NR-DAP).
FCI Aliceville Educational, Library, and Recreation Offerings
Education Services
The FCI Aliceville Education Department is open Monday through Friday, from 8:00 a.m. to 3:30 p.m., Monday through Thursday. It is also available from 8:00 to 9:30 a.m. and from 12:00 to 3:30 p.m. Saturday and Sunday.
The department offers literacy, GED and GED preparation classes, Spanish GED, and English-as-a-Second Language (ESL) programs. A Special Learning Needs program is also available.
Adult Continuing Education (ACE) and parenting classes are also available. Inmates may sign up for one five-week-long ACE class at a time. The Parenting Program meets for three hours each week for twelve weeks.
Inmates may participate in a Release Preparation Program. This program includes Staying Healthy, Budgeting, Housing & Transportation, Self-Esteem, Pathway to a Successful Reentry, and Key to Successful Employment. These four-week-long courses are held on Tuesdays and Thursdays from 6:00 to 8:00 p.m.
Inmate tutors teach skills, including job searching, resume writing, budgeting, and buying a home. High school diplomas, career certificates, and college degrees are available through paid correspondence programs.
Advanced Occupational Education
Aliceville, Alabama prison does not offer any advanced occupational education programs.
Vocational Training
FCI Aliceville offers vocational training programs in Carpentry, Cosmetology, and Electrical. The National Center for Construction Education and Research accredits the Carpentry and Electrical programs. Both facilities also offer training in MS Office.
Apprenticeship
Aliceville, Alabama, federal prison offers apprenticeships in Carpentry, Electrician, HVAC, and Plumbing.
Library Services
FCI Aliceville has leisure and law libraries. These contain hundreds of reading and reference books in both English and Spanish. Newspapers, magazines, and legal reference materials are also available. Inmates also have access to Bureau of Prison policies, a copy machine, and typewriters.
Inmates can conduct legal research on the TRULINCS Electronic Law Library computers. A law library clerk is available to assist inmates with legal typing needs.
UNICOR
Aliceville federal prison does not have a UNICOR facility. The Mail Room and Receiving & Discharge currently use the UNICOR building to conduct operations.
Commissary
The Bureau of Prisons imposes a $360.00 monthly spending limit. Inmates may shop on their designated day once each week. Each housing unit has a specific shopping day, during which inmates can shop from 6:00 to 10:30 a.m.
Inmates may shop on Monday, Tuesday, and Wednesday. Inmates can purchase a wide variety of items, including clothing, shoes, electronics, food, sodas, ice cream, and more.
Recreation Services
FCI Aliceville offers athletic and leisure time activities for the inmate population. Each day, inmates can access the gymnasium, recreation yard, inside recreation areas, and hobby craft areas. They are open from 6:00 to 10:30 a.m., 12:30 to 3:30 p.m., and 5:00 to 8:30 p.m. The Recreation Department also offers various games, sports, social activities, arts and crafts, wellness, and other group and individual activities.
Inmates can participate in many indoor recreation activities, including:
Acrylic Painting
Beading
Cardmaking
Crochet
Knitting
Drawing
Step-Aerobics
Yoga
Zuma
Inmates can also play softball, soccer, football, volleyball, and basketball outside.
The camp also has a recreation yard. Inmates can participate in various games, sports, and social activities here. Prisoners can also participate in art, hobby crafts, wellness, and other group and individual activities.
Visitation Information for Aliceville Prison
Family and friends can visit inmates from 8:00 a.m. and 3:00 p.m. Sundays and Saturdays. Visiting hours are between 8:00 a.m. and 3:00 p.m. on federal holidays. See our page on prisoner visitation rules for more information. Only approved visitors may visit federal inmates in government-operated facilities.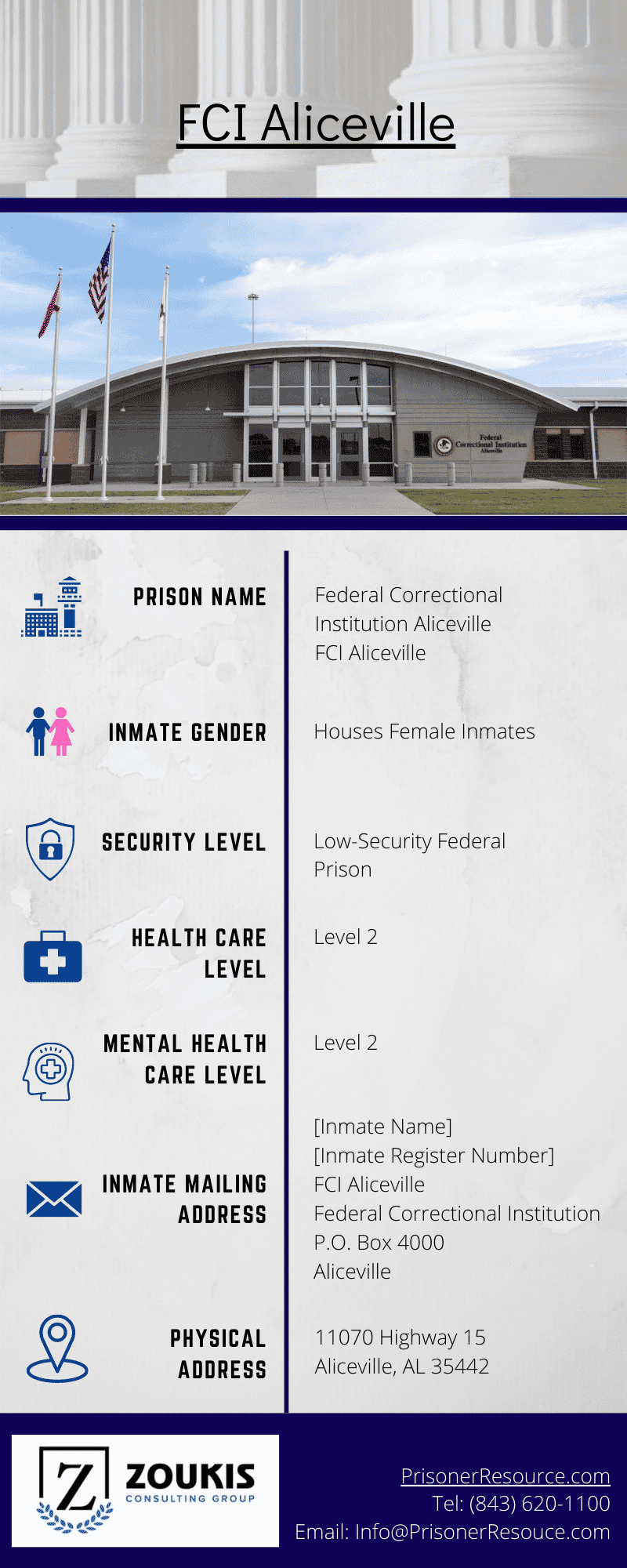 FCI Aliceville Prison Culture Information
Prison Politics at Aliceville Prison
There are no reported prison politics at BOP Aliceville.
Level of Violence
Most respondents felt there is a very low level of violence at this prison. Still, others stated that the level of violence is high for a low. One inmate felt there was a high level of violence, explaining, "The place is not under control at all" and that "older inmates are at high risk here."
Vulnerable Populations
Sex offenders, informants, and LGBT inmates can walk the yard. According to one respondent, "Everyone is all put in here together and can mingle with everyone else."
Good at FCI Aliceville
"It is very easy and relaxing being here." This is drastically different than medium-security federal prisons.
Bad at FCI Aliceville
"We need more programs." "Nothing is good about this prison." "Very bad medical care."
Other Inmate Comments
"This place needs to be completely shut down."
FCI Aliceville in the News
In May 2018, reality TV celebrity Kim Kardashian West met with President Donald Trump. She advocated for a presidential pardon of Alice Marie Johnson. She was serving a life sentence at Aliceville prison for a first-time drug conspiracy offense. President Trump subsequently pardoned Johnson.
Also, in May 2018, Jesse Bailey was charged with having sex with a female prisoner and lying about it to federal investigators. Bailey was a guard at BOP Aliceville. She received one-and-a-half years in prison.
In April 2017, Eric C. Walker was arrested and accused of smuggling tobacco and other contraband into the prison for cash bribes. He was a material handling supervisor at FCI Aliceville.
In January 2017, Patricia Bradley became warden of FCI Aliceville after serving as an associate warden at Federal Correctional Complex Yazoo City.
In September 2016, Brenda Montgomery and Cindy Tate were sentenced to 57 months in federal prison. They had stolen nearly $4 million from the bank where they were employed. Both were sent to FCI Aliceville.
In February 2016, a tornado tore through Aliceville, Alabama, federal prison. The tornado ripped off a dorm's roof. Female prisoners hid under their bunks on the top floor and stood in four inches of water on the bottom floor.
More Information About Aliceville Prison
For a comprehensive look at life in federal prison, pick up a copy of Christopher Zoukis' Federal Prison Handbook: The Definitive Guide to Surviving the Federal Bureau of Prisons. For more detailed information about FCI Aliceville, please buy a copy of the Directory of Federal Prisons: The Unofficial Guide to Bureau of Prisons Institutions by Christopher Zoukis.
Your FCI Aliceville Federal Prison Experts
Contact our expert federal prison consultants if you or a loved one are serving time at FCI Aliceville. Our team can answer your questions, help resolve any in-prison issues, and review your case to determine if an early release is possible.
Book an initial consultation to speak with an Aliceville prison expert today!
Published Jun 3, 2018 by Christopher Zoukis, JD, MBA | Last Updated by Christopher Zoukis, JD, MBA on Jul 20, 2023 at 1:19 pm