Federal Correctional Institution Coleman Medium is a medium-security federal prison located in Sumterville, Florida. It is also known as FCI Coleman Medium. The facility houses male inmates.
Do you know an inmate at Coleman federal prison? If so, the Zoukis Consulting Group can answer your questions and help them seek an early release from prison.
Book an initial consultation with an FCI Coleman Medium expert today!
Coleman Federal Prison Contact Information
Facility Address & Contact Information
Federal Correctional Institution Coleman Medium
846 NE 54th Terrace
Sumterville, FL 33521
Phone: 352-689-5000
Fax: 352-689-5027
Email: [email protected]
BOP Website: Bureau of Prisons Page
Wikipedia: Wikipedia Page
Inmate Correspondence Address
FCI Coleman Medium
Inmate Name and Registration Number
FCI Coleman Medium
Federal Correctional Institution
P.O. Box 1032
Coleman, FL 33521
How to Send Money
Funds cannot be sent directly to Coleman federal prison inmates. See our page on sending money to federal prisoners.
FCI Coleman Medium Inmate Information
Inmate Gender
Male Inmates
Prison Security Level
Medium-Security Federal Prison
Facility Location
FCI Coleman Medium is located in central Florida, south of the town of Coleman, off Highway 301 on State Road 470 in Sumter County, about 50 miles northwest of Orlando, 60 miles northeast of Tampa, and 35 miles south of Ocala.
BOP Region
BOP Institution Code
COM for FCI Coleman Medium, COX for Coleman Federal Correctional Complex
Medical Care Level
Level 2/3. See our page on Medical Care Levels and Procedures for more information.
Mental Health Care Level
Level 3.
Judicial District
Population Number
Coleman federal prison houses approximately 1,500 inmates.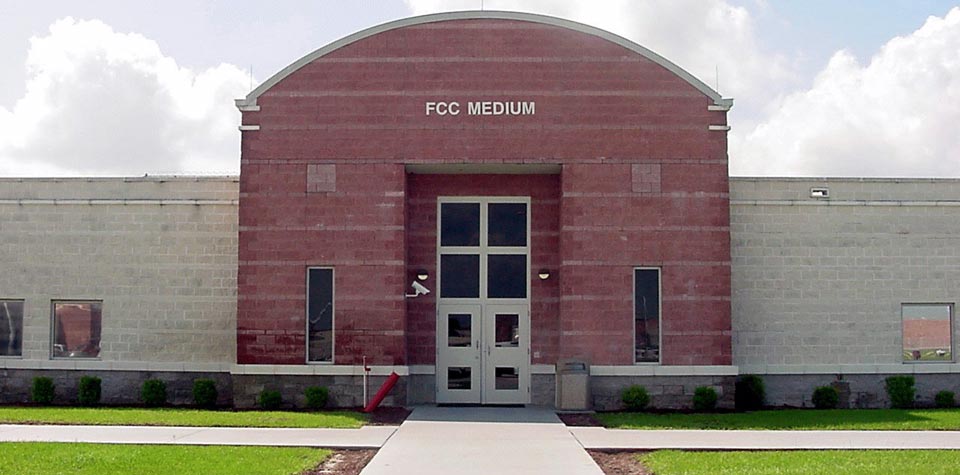 Coleman Federal Prison Services Information
Background
Federal Correctional Institution Coleman Medium is a medium-security federal prison in Coleman, Florida, housing male inmates. It was opened in 1996 and is part of the Coleman Federal Correctional Complex.
Media reports indicate that the Department of Justice has indicted at least one guard for taking bribes and smuggling contraband into the institution.
United States Penitentiary Coleman is near FCI Coleman Medium. USP Coleman is a high-security federal prison.
Inmate Housing
Federal inmates live in two-person cells. There is a total of twelve housing units at Coleman federal prison.
Health Services
Coleman Florida prison provides inmates with the following physical health services:
Sick Call
First Aid
Dental Sick Call
Emergency and Routine Treatment
Follow-Up Care
The facility offers a pharmacy for prescription medications (over-the-counter medications are available through the commissary).
Medical care services at Coleman federal prison also include:
Health Care Staff Referrals
Staff-Approved Follow-Up Treatment for Chronic Conditions
Preventive Health Care Services
Emergency Services
Diagnosis and Treatment of Chronic Infectious Diseases
Mental Health Care
Sick call is held at 7:00 a.m. on weekdays, and an open house is held on Wednesdays at 1:30 p.m. Emergency medical care is available 24 hours a day at FCI Coleman Medium.
Psychology Services
Coleman federal prison Psychology Services staff conduct routine initial intake screenings for all inmates admitted to the facility. They also provide the following mental health services:
Crisis Intervention Services
Brief Counseling
Individual and Group Therapy
Psycho-Educational Groups
The Skills Program is available for inmates with intellectual disabilities and social deficiencies. The STAGES Program is available for camp inmates with serious mental illness and personality disorders.
Inmates must either submit a request to staff or visit the Psychology Services open house to sign up for available programs.
Residential Drug Abuse Program
Coleman federal prison does not have the Residential Drug Abuse Program (RDAP). Drug education classes, as well as Non-Residential Transitional Services, are available for inmates. The Non-Residential Drug Abuse Program (NR-DAP) is also available.
FCI Coleman Medium Educational, Library, and Recreation Offerings
Education Services
FCI Coleman Medium offers literacy, GED, and English-as-a-Second Language (ESL) programs in English and Spanish.
An Adult Basic Education (ABE) program is available for inmates without a high school diploma or GED. Adult Continuing Education (ACE) classes and a parenting program are also available.
High school diplomas and post-secondary degrees are available through paid correspondence programs.
You can learn more about in-prison education offerings here.
Advanced Occupational Education
Coleman federal prison offers advanced occupational education in Culinary Arts, HVAC, and Electrical.
Vocational Training
Vocational training programs at the Coleman, Florida, prison are designed to meet the changing needs of the community workforce. The following programs are available to inmates:
Business Education
Computer Training
Culinary Arts
Home Health Care
Typing
Baking
Heating/Air Conditioning
Landscaping
Electrical
Apprenticeship
FCI Coleman Medium offers apprenticeships in Electrician, HVAC, Landscape Tech, and Plumbing.
Library Services
Inmates at Coleman prison can access the law and leisure libraries at the central prison and the camp seven days a week. The leisure library offers books, newspapers, and magazines to the inmate population. In the law library, inmates can access the TRULINCS Electronic Law Library, copy machines, and typewriters.
UNICOR
The Coleman federal prison UNICOR facility produces office furniture.
Commissary
Coleman federal prison inmates can spend up to $360.00 per month in the prison commissary.
A weekly spending limitation of $90 is further imposed. The following items do not affect the spending limit:
Postage Stamps
Nicotine Replacement Therapy (NRT)
Kosher/Halal Shelf-Stable Entrees
Copy Cards
Copy Paper
Commissary items include candy, cookies, ice cream, instant coffee, fresh fruit, and toiletries.
The shopping schedule rotates quarterly and can be found posted on the commissary bulletin board. Currently, inmates shop from 12:30 to 3:30 p.m. on their designated shopping day. If all inmates haven't been served, shopping continues after the 4:00 p.m. count.
Inmates pay for all prison commissary purchases through their commissary accounts.
Recreation Services
The FCI Coleman Medium prison and camp provide a recreation yard, hobby craft center, leisure center, and sports leagues. The main prison and camp recreation yards offer:
Basketball
Bocce Ball
Handball
Racquetball
Horseshoe Pits
Softball
Jogging Track
Coleman Florida prison also has a music center, cards and games room, and a fitness area. Additional offerings at the central prison include football, soccer, tennis, ping pong, and yoga.
Visitation Information for Coleman Federal Prison
Visitation is held at Coleman federal prison from 8:00 a.m. to 3:00 p.m. Sundays, Mondays, and Saturdays. Federal holidays visitation hours are 8:00 a.m. to 3:00 p.m. See our page on prisoner visitation rules for more information.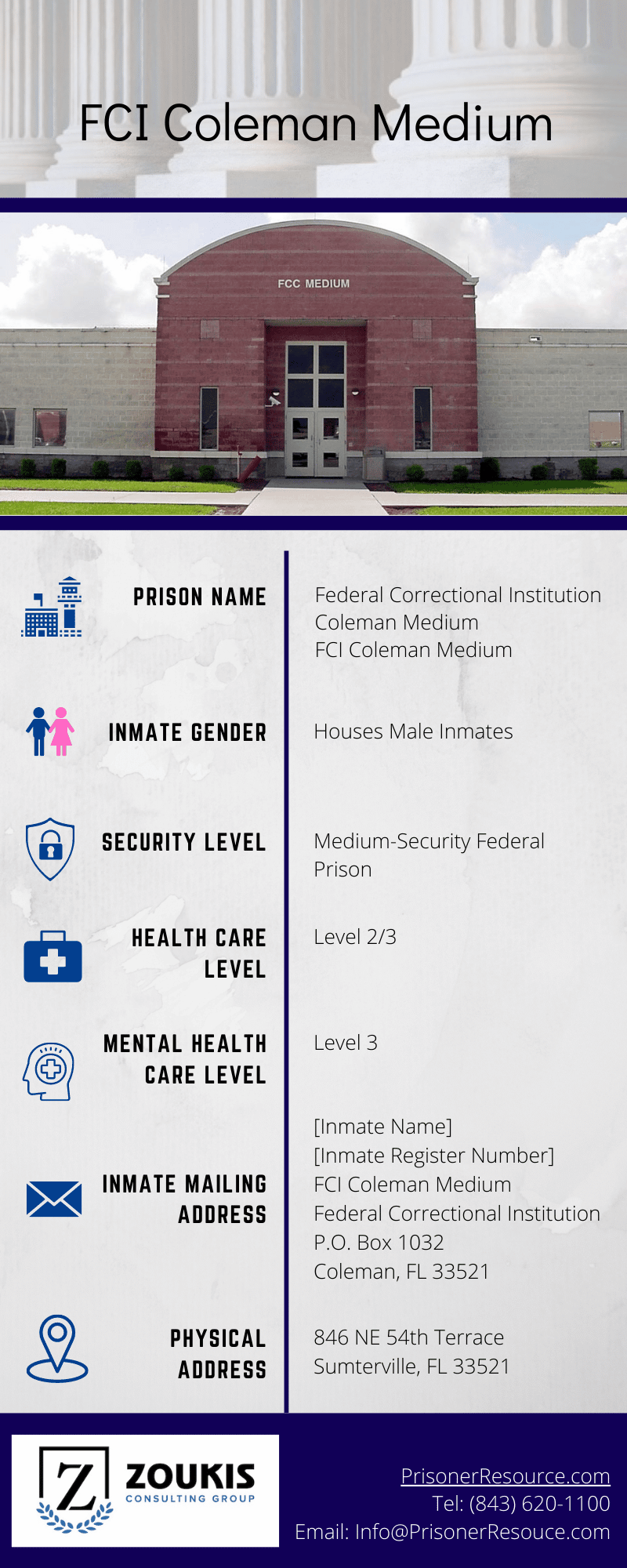 FCI Coleman Medium Prison Culture Information
Prison Politics at Federal Correctional Institution Coleman Medium
There is a low to moderate level of politics at Coleman federal prison. Inmates report that while there are cars, you don't necessarily have to be a part of one to stay, though it will make your time easier.
Level of Violence
There is a low to moderate level of violence at this facility. According to one inmate, "Safety is almost guaranteed." Others disagreed, stating that violence can be a problem, especially "if you get involved in politics or the drug trade."
Vulnerable Populations
One inmate reports there being no transgender inmates at the facility. Inmates had diverse opinions regarding whether sex offenders are safe at the facility.
Good at Coleman Federal Prison
"Prison is laid back."
Coleman Federal Prison in the News
In February 2017, 524 past and present female employees of Federal Correctional Complex Coleman, led by Tammy Padgett and Taronica White, won a $20 million settlement for decades of sexual harassment by prisoners and staff and the subsequent dismissiveness by prison managers.
In January 2016, William Houghton and Eddie Rodas-Castro, guards at Federal Correctional Institution Coleman Medium, pleaded guilty in a case involving the beating of a prisoner in the head and face and then falsifying reports attempting to cover it up. Houghton was sentenced to a year and a day in March 2016.
In July 2015, Roy Larry Lee, who was serving a life sentence for non-violent drug offenses at the Coleman Florida prison, was granted clemency by President Obama after spending 25 years in prison.
In January 2011, Ronnie Young, a guard at the Coleman federal prison, was arrested after thousands of images and videos of child pornography were found on his home computer.
More Information About Federal Correctional Institution Coleman Medium
For a comprehensive look at life in federal prison, pick up a copy of Christopher Zoukis' Federal Prison Handbook: The Definitive Guide to Surviving the Federal Bureau of Prisons. For more detailed information about FCI Coleman Medium, please buy a copy of the Directory of Federal Prisons: The Unofficial Guide to Bureau of Prisons Institutions by Christopher Zoukis.
Your Coleman Federal Prison Experts
If you know someone housed at FCI Coleman Medium, contact the Zoukis Consulting Group. Our expert team can help you seek an early release from federal prison.
Book a one-hour initial consultation today!
Published Jun 3, 2018 by Christopher Zoukis, JD, MBA | Last Updated by Christopher Zoukis, JD, MBA on Jul 21, 2023 at 12:15 pm