Federal Correctional Institution Marianna is a medium-security federal prison in Marianna, Florida. It is also known as FCI Marianna and the federal prison in Marianna, FL. The facility houses male inmates. FCI Marianna Camp is next to the primary institution. Female inmates are at the camp.
If you or a loved one is incarcerated at Federal Correctional Institution Marianna, the Zoukis Consulting Group can help. Our team of experienced prison consultants can assist with various in-prison matters and help secure an early release from prison.
We offer a one-hour initial consultation to discuss your case and how we can help. Contact us today to get started.
FCI Marianna Contact Information
Facility Address & Contact Information
Federal Correctional Institution Marianna
3625 FCI Road
Marianna, FL 32446
Phone: 850-526-2313
Fax: 850-718-2014
Email: [email protected]
BOP Website: Bureau of Prisons Page
Wikipedia: Wikipedia Page
Inmate Correspondence Address
FCI Marianna
Inmate Name and Registration Number
FCI Marianna
Federal Correctional Institution
P.O. Box 7007
Marianna, FL 32447
FCI Marianna Prison Camp
Inmate Name and Registration Number
FCI Marianna Camp
Satellite Prison Camp
P.O. Box 7006
Marianna, FL 32447
How to Send Money
Inmates may not receive funds directly. See our page on sending money to federal prisoners. Family and friends can send money to inmates through the National Lockbox in Des Moines, Iowa.
Federal Correctional Institution Marianna Inmate Information
Inmate Gender
FCI: Male Inmates
Camp: Female Inmates
Prison Security Level
Facility Location
The federal prison in Marianna, FL, is on the panhandle, 65 miles west of Tallahassee and 5 miles north of the town of Marianna, off Highway 167.
BOP Region
BOP Institution Code
MNA for FCI Marianna
Medical Care Level
Level 2. See our page on Medical Care Levels and Procedures for more information.
Mental Health Care Level
Level 3.
Judicial District
Population Number
FCI Marianna houses approximately 920 male inmates. The camp houses around 200 female inmates.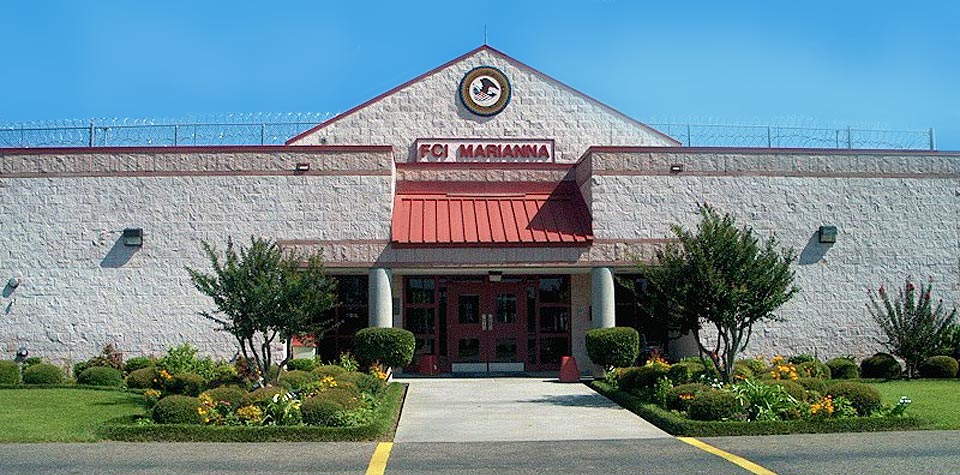 FCI Marianna Prison Services Information
Background
Federal Correctional Institution Marianna is a medium-security federal prison in Marianna, Florida. It opened in 1988 and houses male inmates. Federal Correctional Institution Marianna Camp opened the same year. It houses female federal inmates and is adjacent to the primary institution.
In October 2018, Hurricane Michael, a Category 4 storm, significantly damaged FCI Marianna. Due to the extensive damage, all inmates were evacuated after the storm. The facility is not currently housing inmates.
Marianna federal prison is a Sex Offender Management Program (SOMP) facility, meaning approximately 40 percent of the prison's population is incarcerated for either a current or past sexual offense.
Media reports indicate that at least two guards have been indicted for smuggling contraband into the institution. The United States Department of Justice spearheaded these prosecutions.
Inmate Housing
Inmates live in two- and three-person cells. There is a total of eight housing units. Inmates at the camp live in dormitories divided into two-person cubicles.
Health Services
FCI Marianna provides inmates with various medical services, including:
Medical Sick Call
Emergency Medical Care
Physical Examinations
Immunizations
Dental Care
Medication through the Pharmacy
Mammograms, MRIs, and CT scans are performed at facilities in the local community. Emergency medical care is available 24 hours a day. Over-the-counter medications are available through the commissary.
A sick call is held during breakfast. Pill line is conducted at 6:45 a.m., 4:15 p.m., and 7:30 p.m. on the weekdays. On the weekends, the morning session is at 8:30 a.m. The insulin line is held during breakfast and dinner.
Psychology Services
The federal prison in Marianna, FL, offers intake screenings, crisis intervention, and individual and group counseling. The Non-Residential Sex Offender Treatment Program (SOTP-NR) is available. Other treatment groups include anger management, rational thinking, and a transgender support group.
The F.I.S.H. (Finding Insight Self-Help) program allows inmates to complete self-study packets on a variety of topics, including:
Depression
PTSD
Gang Violence
Anxiety
Guilt
Shame
Anger
Self-help books and DVD videos are also available. The STAGES Program is available for inmates with serious mental illness and personality disorders at the camp. An open house is held on Tuesdays and Thursdays from 11:00 a.m. to 12:00 p.m.
Residential Drug Abuse Program (RDAP)
FCI Marianna FL prison offers the Residential Drug Abuse Program (RDAP). It also provides a Drug Education Course, the Non-Residential Drug Abuse Program (NR-DAP), Alcoholics Anonymous (AA), and Narcotics Anonymous (NA).
FCI Marianna Educational, Library, and Recreation Offerings
Education Services
The Marianna, FL prison offers literacy, GED, and English-as-a-Second Language (ESL) programs. The Education Department offers GED classes in English and Spanish.
Adult Continuing Education (ACE) classes include:
Parenting
Financial Management
Conversational Spanish
Health Education
Career Planning
Career Counseling
Basic Study Skills
A reentry resource center is also available. High school diplomas and post-secondary programs are available through paid correspondence programs.
Inmates also have access to a specialized pilot program. The Inmate Comprehensive Academic Network, or iCAN, allowed educated inmates with real-world experience to create and conduct classes in their area of expertise. Current offerings include:
Better Man Series
Going Home Series
Family Fundamentals
Changing Your Thinking
12-Steps
Legal Research
Cognitive Behavioral Therapy
Hours of operation are 7:30 to 10:30 a.m., 12:30 to 3:15 p.m., and 6:30 to 8:15 p.m. Monday through Friday, except for Friday night, when the department is closed.
Advanced Occupational Education
FCI Marianna offers advanced occupational education in these disciplines:
K-9 Training
Business Foundations
Electrical Helper
Refrigerant Certification
The camp offers these programs:
K-9 Training
Building Maintenance
Cosmetology
Culinary Arts
Lube Technician
Mechanic Technician
Safety Technician
Horticulture
Building and Trades Core
Plumbing Helper
Vocational Training
Federal Correctional Institution Marianna offers no vocational programs besides advanced occupational education and apprenticeship programs.
Apprenticeship
FCI Marianna offers HVAC, HVAC Helper, Electrician, and Plumbing apprenticeships.
Library Services
The federal prison in Marianna, FL, houses both a leisure library and a law library for inmate use. The leisure library offers fiction and nonfiction books, newspapers, and magazines. The DVD movie program has been canceled.
The law library offers the TRULINCS Electronic Law Library on eight computers, six typewriters, and a copy machine.
UNICOR
FCI Marianna does not have a UNICOR facility.
Commissary
Inmates can spend up to $360.00 monthly on their designated weekly shopping day in the prison commissary. This limit is further restricted to $180 every two weeks. Over-the-counter (OTC) medications, telephone credits, and postage stamps do not count against the monthly spending limit.
Popular items include food, drinks, ice cream, and electronics. Sales are conducted Monday through Thursday during breakfast and lunch.
The institution retains funds in a trust fund account. Inmates may withdraw money for personal spending in the institution commissary, family support, or other approved purposes. Upon release, accumulated institutional earnings and monies sent from outside are given to the inmate or can be mailed home.
Recreation Services
FCI Marianna offers recreation and hobby craft areas where inmates can engage in various leisure activities.
In the recreation yard, inmates can play sports such as:
Basketball
Softball
Horseshoes
Handball
Flag Football
Bocce Ball
Volleyball
Soccer
Frisbee
In the hobby craft areas, inmates can paint, draw, and engage in other craft and artwork activities (e.g., crochet, basket weaving, charcoal, acrylic, and oil painting).
A band room, track, ellipticals, stationary bikes, treadmills, TVs, ab machines, and more are also available. The gym and leisure center are open during all operational hours. Changes in the hours of operation are posted on inmate bulletin boards in the housing units.
Visitation Information for FCI Marianna
Visiting hours are from 8:15 a.m. and 3:00 p.m. Sunday, Monday, and Saturday. On federal holidays visitation is held between 8:15 a.m. and 3:00 p.m. See our page on prisoner visitation rules for more information.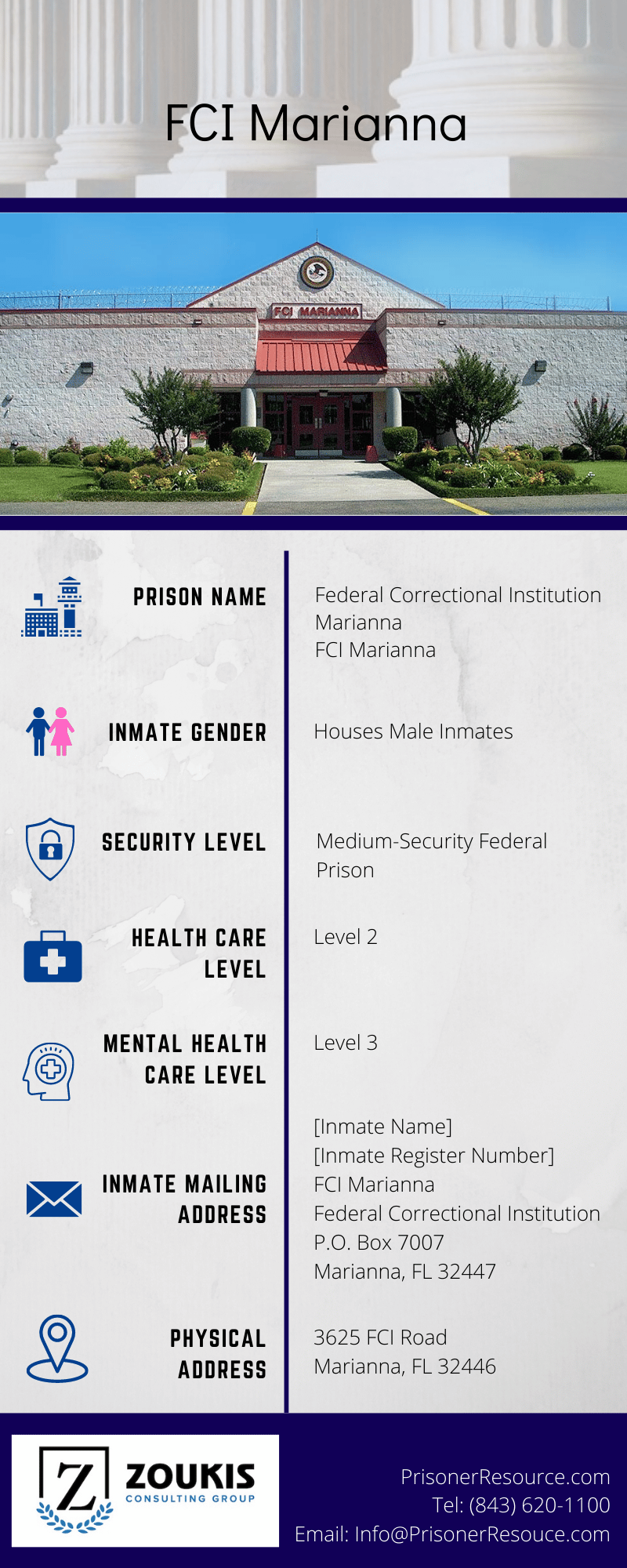 FCI Marianna Prison Culture Information
Prison Politics at Federal Correctional Institution Marianna
The Marianna, FL prison is not a political yard. One respondent said, "This is a sex offender, drop-out, and check-in yard."
Level of Violence
There is minimal violence at this prison, though there are some fights. One inmate said, "For the most part, this is a safe yard except for the drop-out druggies fighting amongst themselves over debts and drugs."
Another concurred, stating, "There is very little violence. That which does occur is centered around drug use and drug bills."
Another Marianna federal prison inmate explained that the violence is getting worse "due to the drugs and what comes with them." One respondent said he would "rate the safety at roughly an 8 out of 10."
Vulnerable Populations
Sex offenders, informants, and LGBT inmates can stay. According to one inmate, "They are all safe here."
Another inmate stated, "Sex offenders, informants, gays, and transgender people are all allowed to walk here. There is a pretty high population of transgender and gay inmates."
One respondent noted that "staff sometimes discriminate against sex offenders regarding employment, medical, and commissary."
Good at FCI Marianna Federal Prison
"Great recreation department. Good chapel and psychology services." "The scenery and landscape are great." "Good food and medical care." "Safe, calm yard; nothing is going on."
Bad at FCI Marianna Prison
"Staff disrespectful, poor commissary selection, and bad food." "Pay is crap all over; nothing going on."
Other Inmate Comments
"Overall, fine for anyone. Lots of sex offenders, so a very soft yard." "The federal prison in Marianna, FL, is generally horrible."
"Overall, the Marianna Florida prison is a nice yard, fairly slow-paced and somewhat boring at times, just the place to finish a bid."
"Lack of politics means the staff have free reign and sometimes make off-the-wall proclamations that nobody stands up against." "It's safe to a point but getting worse due to all the drugs."
FCI Marianna in the News
In June 2012, Steven M. Smith and Mary S. Summers, correctional officers at the Federal Correctional Institution in Marianna, were indicted for a smuggling operation that involved cell phones, tobacco, a lighter, an MP3 player, and synthetic marijuana.
In 2012, several dozen prison guards filed lawsuits against FCI Marianna's UNICOR facility seeking compensation for illnesses and the resulting quality of life losses. The inmates said they were exposed to toxic dust while recycling computers. These products have components containing lead, cadmium, beryllium, mercury, and possibly other harmful substances.
More Information About Federal Correctional Institution Marianna
For a comprehensive look at life in federal prison, pick up a copy of Christopher Zoukis' Federal Prison Handbook: The Definitive Guide to Surviving the Federal Bureau of Prisons. For more detailed information about the federal prison in Marianna, FL, please buy a copy of the Directory of Federal Prisons: The Unofficial Guide to Bureau of Prisons Institutions by Christopher Zoukis.
Your FCI Marianna Federal Prison Experts
The Zoukis Consulting Group can assist if you or a loved one are incarcerated at the federal prison in Marianna, FL. Our team of specialists includes members with significant expertise in dealing with in-custody concerns and obtaining early release from prison.
Book a one-hour initial consultation with an FCI Marianna federal prison expert today. We will review your case and develop a customized plan to help you achieve the best possible outcome.
Published Jun 3, 2018 by Christopher Zoukis, JD, MBA | Last Updated by Christopher Zoukis, JD, MBA on Aug 7, 2023 at 5:45 pm