Federal Correctional Institution Milan is a low-security federal prison located in Milan, Michigan. It is also known as FCI Milan and Milan Correctional Facility. Federal Detention Center Milan is adjacent to the central institution. Both federal prisons house male inmates.
FCI Milan Contact Information
Facility Address & Contact Information
Federal Correctional Institution Milan
4004 East Arkona Road
Milan, MI 48160
Phone: 734-439-1511
Fax: 734-439-5534
Email: [email protected]
BOP Website: Bureau of Prisons Page
Wikipedia: Wikipedia Page
Inmate Correspondence Address
FCI Milan
Inmate Name and Registration Number
FCI Milan
Federal Correctional Institution
P.O. Box 1000
Milan, MI 48160
How to Send Money
There are a few different options for sending money to an inmate in federal prison. These include Money Gram, Western Union, and the National Lockbox.
To use Western Union, you'll need the inmate's name, prison system name, and inmate number. Another option is to use the National Lockbox in Des Moines, Iowa. You will need the inmate's name and nine-digit register number for this option.
More information about these options can be found on our page about sending money to federal prisoners.
Federal Correctional Institution Milan Inmate Information
Inmate Gender
Male Federal Inmates
Prison Security Level
Facility Location
FCI Milan is in the town of Milan, off of U.S. 23 (Exit 27). It is 45 miles south of Detroit and 35 miles north of Toledo.
BOP Region
BOP Institution Code
MIL for FCI Milan
Medical Care Level
Level 2. See our page on Medical Care Levels and Procedures for more information.
Mental Health Care Level
Level 2.
Judicial District
Population Number
FCI Milan houses approximately 1,480 inmates.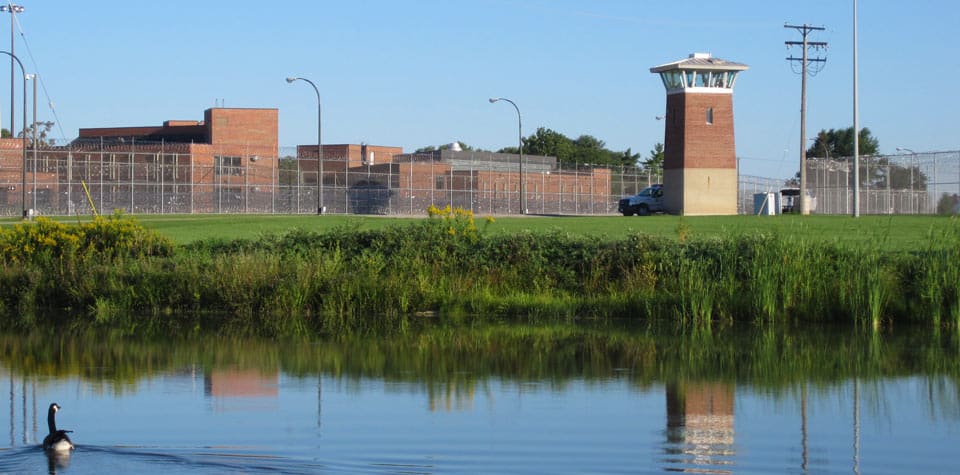 FCI Milan Prison Services Information
Background
Federal Correctional Institution Milan is a low-security federal prison in Milan, Michigan. It opened in 1933 and houses male inmates. FCI Milan also contains a detention center for pretrial and pre-sentence detainees and holdover inmates.
Notable inmates include the alleged leader of the Sinaloa Cartel, Vincent Zambada-Niebla (awaiting trial on charges of cocaine importation and drug-related murders).
Media reports indicate that one guard was indicted for bribery in connection with smuggling contraband, and one inmate was charged with drug possession. In addition, at least one guard has been fired for assaulting an inmate. There has also been at least one inmate suicide. According to news reports, in the mid-1990s, more than 100 prisoners engaged in a brawl.
Inmate Housing Units
Milan Correctional Facility inmates live in dormitories containing two- and four-person rooms.
C Unit houses new arrivals.
G Unit is the RDAP unit.
H Unit is the RISE unit for those with mental health issues.
A Unit houses Life Connections Program inmates.
Inmates live in two-person cells at the Milan Federal Detention Center.
Health Services
Health services available to inmates at FCI Milan include:
Medical Sick Call
Chronic Care
Specialty Clinics
X-Rays
Lab
Dental
Pharmacy
Medical Records
Preventive Health Care Services
Emergency Services
Diagnosis and Treatment of Chronic Infectious Diseases
While emergency medical care is available 24 hours a day, inmates must submit a sick call form to evaluate non-emergency medical needs.
Psychology Services
All new arrivals at FCI Milan federal prison receive a brief clinical interview. During the interview, they are made aware of available treatment opportunities and the process of requesting services from the Psychology Department.
Treatment is typically offered in a group therapy format and includes anger management, wellness classes, and other groups. Notices of new and upcoming offerings are posted on inmate bulletin boards.
The Religious Services Department also offers the Life Connection Program for inmates who desire to grow as responsible persons. The residential RISE program is also available for mentally ill inmates.
Residential Drug Abuse Program (RDAP)
FCI Milan offers the Residential Drug Abuse Program (RDAP). Additional programs include the Non-Residential Drug Abuse Program (NR-DAP), the Drug Education Class, Alcoholics Anonymous (AA), and Narcotics Anonymous (NA).
FCI Milan Educational, Library, and Recreation Offerings
Education Services
FCI Milan Michigan prison provides GED and English-as-a-Second Language (ESL) programs. Adult Continuing Education (ACE) courses (e.g., creative writing, effective communications, etc.), a parenting program, and a Reading is Fundamental program are also offered.
High school diplomas and post-secondary degrees are available through paid correspondence programs. Jackson Community College allows inmates to earn an associate's degree in business administration.
Hours of operation are 7:30 a.m. to 7:30 p.m. Monday through Friday (excluding Friday evening) and 7:30 a.m. to 2:30 p.m. Saturday and Sunday, excluding inmate counts and meals.
Learn more about educational programs in federal prisons here.
Advanced Occupational Education
Milan Correctional Facility offers advanced occupational education in:
Automotive Service Technician
Janitorial Maintenance
National Federation of Professional Trainers (NFPT)
Parks & Recreation Worker
Vocational Training
Milan federal prison does not offer any vocational training besides advanced occupational education and apprenticeship programs.
Apprenticeship
FCI Milan offers apprenticeships in:
Carpentry
Computer Operator
Dental Assistant
Electrician
HVAC
Millwright
Pipefitter
Plumber
Quality Assurance
Stationary Engineer
Tool & Die
Welding
Library Services
The Milan, Michigan prison offers inmates various reading materials. These are contained in the leisure library and law library.
Reference materials are available in the Milan Correctional Facility law library. The TRULINCS Electronic Law Library enables inmates to conduct legal research. Typewriters and a copy machine are also available.
Inmates are allowed to check out reading materials in the prison library. These include fiction and nonfiction books, magazines, and newspapers. A robust CD and DVD program is available where inmates can listen to audiobooks and watch movies, including a broad selection of The Greatest Courses offerings.
UNICOR
The FCI Milan UNICOR operates a Metal Specialty Plant. There is a pre-industrial training program for inmates awaiting hire in the plant.
Commissary
Inmates can spend up to $360.00 monthly in the prison commissary. Postage stamps, copy cards, photo tickets, and over-the-counter medications do not count against this spending limit. Popular items include:
Ice Cream
Soda
Food
Candy
Snacks
Inmates can shop once a week on their designated shopping day. Currently, sales are conducted Monday through Thursday from 6:00 a.m. to 2:30 p.m. Inmates at the FDC shop once every two weeks on Mondays. A $180 biweekly spending limitation is enforced.
Recreation Services
Indoor and outdoor recreation programs are provided to FCI Milan Michigan inmates, including a gymnasium and recreation yard. Hobbycraft and sports league activities are available to the inmate population. Popular sports include basketball, soccer, and flag football.
Indoors, inmates have access to:
Hobby Crafts (e.g.., crochet, drawing, painting, cross-stitch, ceramics, and leathercraft)
Gym
Treadmills
Rowing Machines
Ellipticals
Stair Climbers
Basketball
Weight Room
Handball
Volleyball
Outdoors, inmates have access to:
Bocce Ball
Horseshoes
Hoover Ball
Softball
Soccer
Football
Weight Pile
Chairs
Tables
Walking and Running Track
Hours of operation are 6:00 a.m. to 8:30 p.m., excluding counts and meals. In the FDC, inmates have access to an indoor area with cards, chess, and TVs. Outdoors at the FDC, there is a small enclosed yard with a basketball net.
Visitation Information for FCI Milan
Visiting hours are from 8:15 a.m. to 3:00 p.m. on Sundays and Saturdays. On Thursday, visitation is held between 4:30 and 8:00 p.m. Visitation is held between 12:45 and 8:00 p.m o Fridays. On federal holidays visitation is held between 8:15 a.m. and 3:00 p.m. See our page on prisoner visitation rules for more information.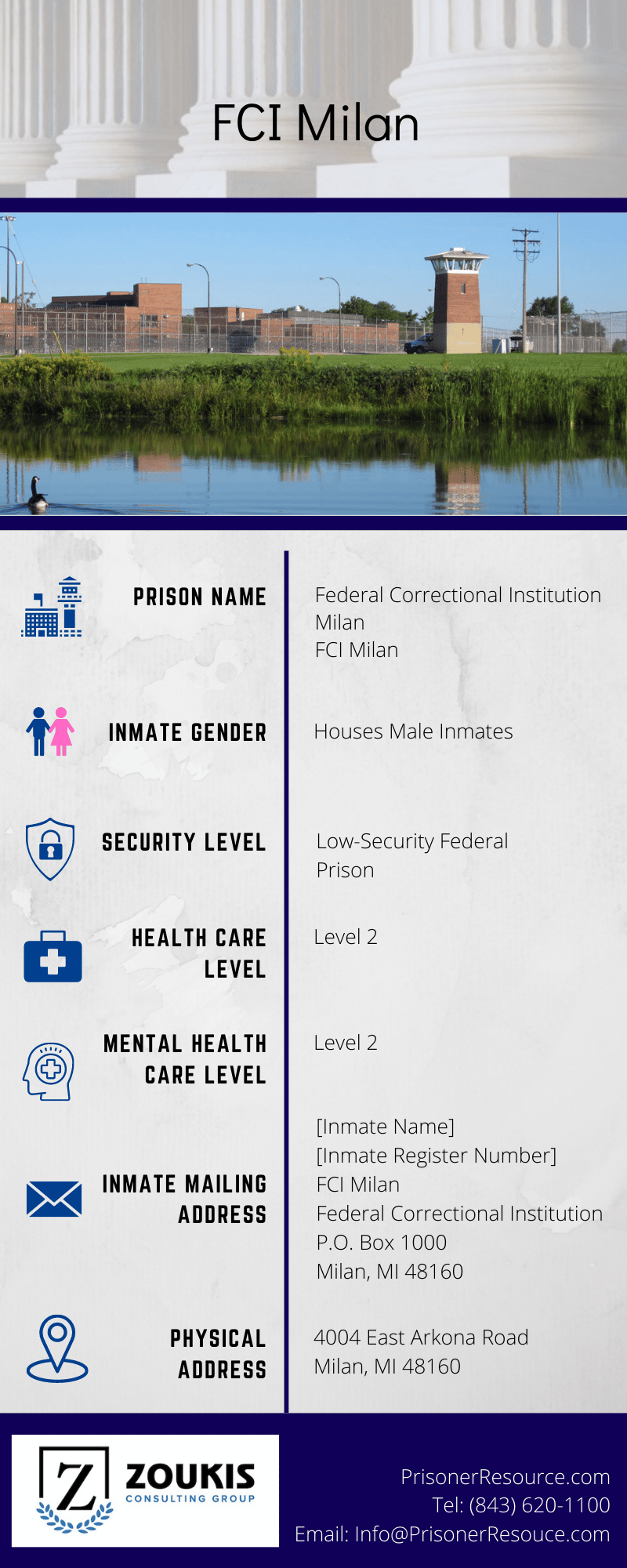 FCI Milan Prison Culture Information
Prison Politics at Federal Correctional Institution Milan
This is not a political yard. One respondent said, "No one cares what race you are or where you come from."
Level of Violence
There is a low level of violence at this prison. A common phrase on the compound is: "You don't get to Milan by being a badass."
Vulnerable Populations
Sex offenders, informants, and LGBT inmates can walk the yard. According to one inmate, while there are haters, "they bark more than bite." There is also a large gay population on the compound.
Good at FCI Milan Federal Prison
"The food is pretty good." "The best-run area is Facilities."
Bad at FCI Milan Michigan Prison
"Like most places, you can always depend on it being undependable." "New officers come through and try to make their mark, but in a few months, they get squared away." "The new captain sucks." "The worst run area is Education."
Other Inmate Comments
"The place isn't bad. You just have to expect the unexpected and realize that this place is consistently inconsistent."
FCI Milan in the News
In October 2015, Federal Correctional Institution Milan prison guard Jake John Froehly was indicted for accepting bribes to smuggle contraband into the prison.
In July 2010, Donald Brelje, a prisoner at FCI Milan Michigan prison, was charged with possession of contra- band after more than three grams of marijuana was found in his cell.
In October 2007, pretrial detainee John Atchison, a federal prosecutor from Florida, killed himself while in isolation on suicide watch at Milan Correctional Facility. He was awaiting trial on charges that he flew to Michigan to have sex with a five-year-old girl.
In 2004, Marcus Johnson, a guard at FCI Milan, slammed a cell-door food slot shut on the arms of prisoner Yousseff Hmimssa and was fired after prosecutors refused to press charges against him.
In 1994, a riot erupted involving more than 100 prisoners and lasted more than 20 minutes before order was restored.
More Information About Federal Correctional Institution Milan
For a comprehensive look at life in federal prison, pick up a copy of Christopher Zoukis' Federal Prison Handbook: The Definitive Guide to Surviving the Federal Bureau of Prisons. For more detailed information about FCI Milan, please buy a copy of the Directory of Federal Prisons: The Unofficial Guide to Bureau of Prisons Institutions by Christopher Zoukis.
Published Apr 26, 2018 by Christopher Zoukis, JD, MBA | Last Updated by Christopher Zoukis, JD, MBA on Jun 4, 2023 at 6:04 pm