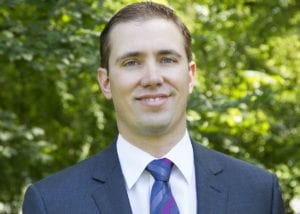 By Christopher Zoukis
The Georgetown University Law Center (GULC), rated among the nation's top law schools, draws its faculty from many sources: academia, law firms, and top lawyers in government agencies. But its most recent hire, Associate Professor Shon Hopwood, doesn't fit that pattern. As reported by CBS News' 60 Minutes program in October, before coming to teach criminal law at GULC, the federal institution where Hopwood was most at home wasn't a federal court or an executive office at the Justice Department (though many other GULC faculty members have those credentials), but the cells of a federal prison in Pekin, Illinois.
Now 42, Hopwood grew up in a small Nebraska town. An indifferent student, he soon dropped out of college and indulged heavily in alcohol (drugs would come later). After two undistinguished years in the Navy, in his early 20s, living with his parents and working in a cattle feedlot, he went along with a friend's suggestion that robbing rural banks in towns too small to have their own police forces might be an easy way to obtain money with minimal risk.
But 10 months into that criminal career, the FBI apprehended him and his accomplices; winning convictions wasn't much of a challenge for prosecutors, since the amateurs had stashed in their car about $100,000 of the approximately $200,000 taken in their five holdups, plus the guns they had brandished but not used. At age 23, after pleading guilty, Hopwood entered prison in May 1999 as Federal Bureau of Prisons inmate #15632-047.
Assigned to work in the prison library, Hopwood became fascinated with the law and read voraciously. He became known within the prison population as a "jailhouse lawyer," a good source of advice and assistance on legal issues. That reputation moved to a life-altering new level three years later, when he researched and drafted for another inmate a petition asking the U.S. Supreme Court to review a federal appeals court's unfavorable decision.
The odds of persuading the Supreme Court to hear such an appeal that year were about one in a thousand. The filing Hopwood authored so impressed Seth Waxman, a former U.S. solicitor general who argued the inmate's case (Fellers v. US) pro bono before the high court, that he insisted Hopwood work with him on the appeal (they scored a unanimous win). A few years later, lightning struck again, as the Supreme Court opted to hear another Hopwood-drafted appeal. While still a federal prisoner in Illinois, he also drafted winning conviction appeals and sentence reduction petitions in other states.
Upon his release in 2008, a recommendation from Waxman helped Hopwood to win a job with a legal printing firm, advising lawyers on how to frame Supreme Court filings (during the same period he finished the college degree he began while incarcerated). The University of Washington law school took a chance on this unusual applicant, and a strong record there helped him pass the bar exam and win approval to practice law.
He next clerked for a federal appellate judge, won a fellowship at GULC running a criminal appeals clinic, and this April accepted a full-time faculty position. Besides teaching, with Michael Santos, another former inmate turned educator and advocate, he operates Prison Professors, a consulting service for federal criminal defendants seeking to mitigate their sentences and to prepare for a term of incarceration, as well as current inmates who require assistance with issues of prison life and policy.
About Christopher Zoukis
Christopher Zoukis is an outspoken prisoner rights and correctional education advocate who is incarcerated at FCI Petersburg Medium in Virginia. He is an award-winning writer whose work has been published widely in major publications such as The Huffington Post, Prison Legal News, New York Daily News and various other print and online publications. Learn more about Christopher Zoukis at christopherzoukis.com and prisoneducation.com.


Published Nov 13, 2017 by Christopher Zoukis, JD, MBA | Last Updated by Christopher Zoukis, JD, MBA on May 10, 2022 at 12:03 am