Federal Correctional Institution Waseca is a low-security federal prison located in Waseca, Minnesota. It is also known as FCI Waseca. The facility houses male inmates.
FCI Waseca Contact Information
Facility Address & Contact Information
Federal Correctional Institution Waseca
1000 University Drive SW
Waseca, MN 56093
Phone: 507-835-8972
Fax: 507-837-4547
Email: [email protected]
BOP Website: Bureau of Prisons Page
Wikipedia: Wikipedia Page
Inmate Correspondence Address
FCI Waseca
Inmate Name and Registration Number
FCI Waseca
Federal Correctional Institution
P.O. Box 1731
Waseca, MN 56093
How to Send Money
Funds cannot be sent directly to inmates. See our page on sending money to federal prisoners.
Federal Correctional Institution Waseca Inmate Information
Inmate Gender
Male Inmates
Prison Security Level
Facility Location
Located in southern Minnesota, 75 miles south of Minneapolis on I-35; 13 miles west of Owatonna on State Highway 57.
BOP Region
BOP Institution Code
WAS for FCI Waseca
Medical Care Level
Level 2. See our page on Medical Care Levels and Procedures for more information.
Mental Health Care Level
Level 3.
Judicial District
Population Number
FCI Waseca houses approximately 760 inmates.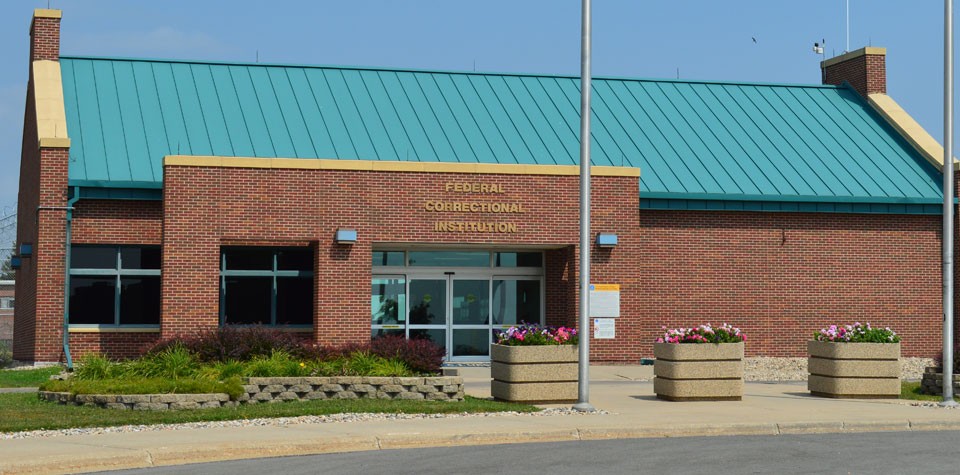 FCI Waseca Prison Services Information
Background
Federal Correctional Institution Waseca is a low-security federal prison in Waseca, Minnesota, which houses female inmates. It was opened in 1995.
Formerly a University of Minnesota campus, FCI Waseca opened as an all-male federal prison in 1995. It was converted to an all-female facility in 2008. In 2014, Riverland Community College started offering cosmetology training to interested inmates.
Notable inmates include former CEO of Enron Corporation Jeffrey Skilling (serving a 24-year sentence for insider training and securities fraud and was a holdover at the facility), Catherine Greig (convicted of harboring a fugitive and identity fraud for assisting Irish Mob figure James "Whitey" Bulger evade capture), and Shelly Shannon (serving 20 years for firebombing six abortion clinics).
Media reports indicate that at least one prisoner has been prosecuted for assaulting a fellow inmate.
Inmate Housing
Inmates are housed in dormitories consisting of two- and four-person cubicles, along with four-person rooms.
Health Services
Health services at FCI Waseca include medical sick call, dental sick call, emergency medical services, treatment of infectious diseases, periodic health assessments, routine dental care, chronic care, medications, TB testing, immunizations, physical and periodic health examinations, eye care, health promotion, and disease prevention. While emergency medical care is available 24 hours a day, inmates must submit a triage form to be evaluated for routine health care needs.
Psychology Services
Inmates at FCI Waseca are screened by Psychology Services staff within 14 days of arriving at the prison. Inmates who have family or personal problems or are in a crisis may be seen for individual therapy. Psychology groups include Trauma and Life Workshop, Resolve (Trauma and Recovery), Basic Cognitive Skills, Criminal Thinking, and Emotional Self-Regulation. Additionally, Illness Management and Recovery is offered to inmates who are identified as needing additional assistance in self-care due to a mental illness. The open house is held on Monday, Wednesday, and Friday.
Residential Drug Abuse Program (RDAP)
FCI Waseca offers the Residential Drug Abuse Program (RDAP). It also offers a Drug Education Program and a Non-Residential Drug Abuse Program (NR-DAP). Some inmates are mandated to take Drug Education classes based on their documented use history, judicial recommendations, and/or violation behavior, but all other programs are voluntary.
FCI Waseca Educational, Library, and Recreation Offerings
Education Services
FCI Waseca provides literacy, GED, and English-as-a-Second Language (ESL) programs. Current ACE offerings include insurance, accounting, Money Smart, basic math, grammar, creative writing, and business management. The Education Department also sponsors Adult Continuing Education (ACE) classes and a parenting program. High school diplomas and post-secondary degrees are available through paid correspondence programs.
Advanced Occupational Education
FCI Waseca offers advanced occupational education in Business Office Specialist, Cosmetology, and the P.A.W.S. (Prisoners Assisting With Service Dogs) Program.
Vocational Training
FCI Waseca offers vocational training in Horticulture and Woodworking.
Apprenticeship
FCI Waseca offers apprenticeship training in Landscape Technician.
Library Services
Leisure and law libraries are available to inmates. The leisure library offers fiction and nonfiction books, newspapers, and magazines. An interlibrary loan program is also available to the inmate population. The law library contains a variety of legal reference materials for use in preparing legal papers. Reference materials include the United States Code Annotated, Federal Reporter, Supreme Court Reporter, Bureau of Prisons Program Statements, institution supplements, indexes, and other legal materials. Most of these, plus federal case law, are available on the TRULINCS Electronic Law Library computers. Inmates also have access to typewriters and a copy machine.
UNICOR
The FCI Waseca UNICOR facility produces clothing and textiles.
Commissary
Inmates are allowed to buy commissary items such as food, drinks, clothing, electronics, and other items. A $360.00 monthly spending limit is imposed, which does not include the purchase of copy cards, postage stamps, or over-the-counter medications. This spending limit is further restricted to $180 every two weeks. Inmates are allowed to shop once a week.
Recreation Services
FCI Waseca offers a wide variety of athletic and leisure time activities for the inmate population. In addition to a full-sized gymnasium, there are indoor workout areas for aerobics, exercise machines, spin bikes, stretching, and yoga. There is a large DVD library with workout and fitness videos available for check out, as well as basic nutrition DVDs. Outdoor recreation areas offer a variety of activities, including racquetball, volleyball, bocce ball, tennis, frisbee golf, basketball, horseshoes, a multi-purpose field, and a large walking track that is open year-round. A variety of wellness classes are offered in the Recreation Department to address general wellness, nutrition, and fitness. In season, the Recreation Department offers an opportunity to participate in a Community Flower Garden. Hours of operation are 6:30 a.m. to 8:30 p.m., excluding meals and counts.
Visitation Information for FCI Waseca
On Sunday and Saturday visitation is held between 8:30 a.m. and 3:00 p.m. On Friday visitation is held between 4:30 and 8:30 p.m. On federal holidays visitation is held between 8:30 a.m. and 3:00 p.m. See our page on prisoner visitation rules for more information.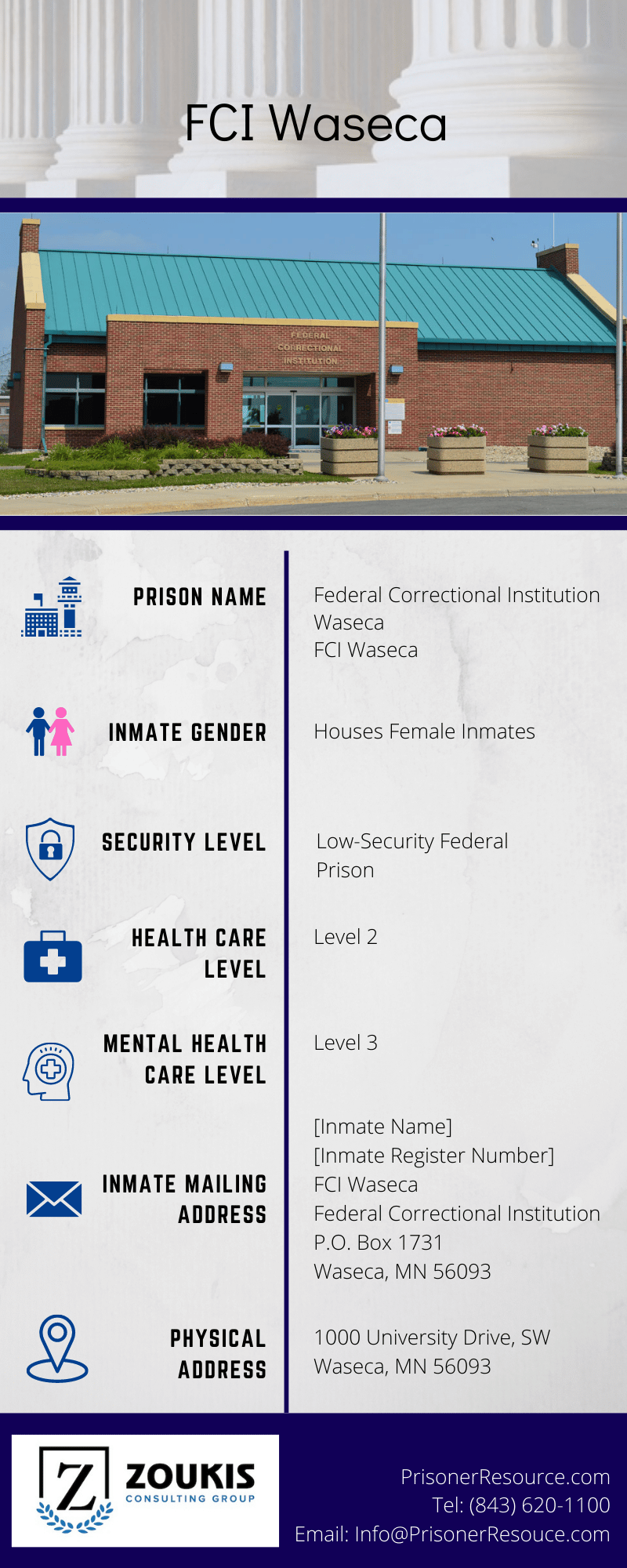 FCI Waseca Prison Culture Information
Prison Politics at Federal Correctional Institution Waseca
There is a very low level of prison politics at this facility.
Level of Violence
There is almost no violence at this prison. According to one inmate, "This place is safe, just a lot of bullying which staff put a stop to when reported."
Vulnerable Populations
Sex offenders, informants, and LGBT inmates are allowed to walk the yard. According to one respondent, "There are an enormous amount of gay people here. There are also a few transwomen here as well."
Good at FCI Waseca
"In the Resolve Program, most staff are here to help no matter how big or little the issue is. The staff doesn't give up on you." "The Camp Cadre unit is peaceful." "The Warden is good and is trying to make the place better."
Bad at FCI Waseca
"The food isn't very good at all. Lots of fatty foods." "Some of the staff are intimidating; they scare me."
FCI Waseca in the News
In 2014, Federal Correctional Institution Waseca began a program with Riverland Community College to provide female prisoners with cosmetology training.
In January 2013, Felecia Thomas, who was serving 17 years at FCI Waseca for arson and the use of explosives, pleaded guilty to assault with a deadly weapon after choking another prisoner with a rope.
In October 2008, FCI Waseca began its transition from a men's prison to a women's prison.
More Information About Federal Correctional Institution Waseca
For a comprehensive look at life in federal prison, pick up a copy of Christopher Zoukis' Federal Prison Handbook: The Definitive Guide to Surviving the Federal Bureau of Prisons. For more detailed information about FCI Waseca, please buy a copy of the Directory of Federal Prisons: The Unofficial Guide to Bureau of Prisons Institutions by Christopher Zoukis.
Published May 16, 2018 by Christopher Zoukis, JD, MBA | Last Updated by Christopher Zoukis, JD, MBA on May 18, 2022 at 6:03 pm