United States Penitentiary Victorville is a high-security federal prison located in Victorville, California. Also known as USP Victorville Prison, the facility houses male inmates.
USP Victorville Contact Information
Facility Address & Contact Information
United States Penitentiary Victorville
13777 Air Expressway Boulevard
Victorville, CA 92394
Phone: 760-530-5000
Fax: 760-530-5103
Email: [email protected]
BOP Website: Bureau of Prisons Page
Wikipedia: Wikipedia Page
Inmate Correspondence Address
USP Victorville
Inmate Name and Registration Number
USP Victorville
United States Penitentiary
P.O. Box 3900
Adelanto, CA 92301
How to Send Money
Inmates may not receive funds directly. See our page on sending money to federal prisoners.
United States Penitentiary Victorville Inmate Information
Inmate Gender
Male Inmates
Prison Security Level
Facility Location
USP Victorville is located in San Bernardino County, approximately 85 miles northwest of Los Angeles, on Interstate 15.
BOP Region
BOP Institution Code
VIP for USP Victorville, VIX for Victorville Federal Correctional Complex
Medical Care Level
Level 2/3. See our page on Medical Care Levels and Procedures for more information.
Mental Health Care Level
Level 2.
Judicial District
Central District of California
Population Number
USP Victorville houses approximately 985 inmates.
USP Victorville Prison Services Information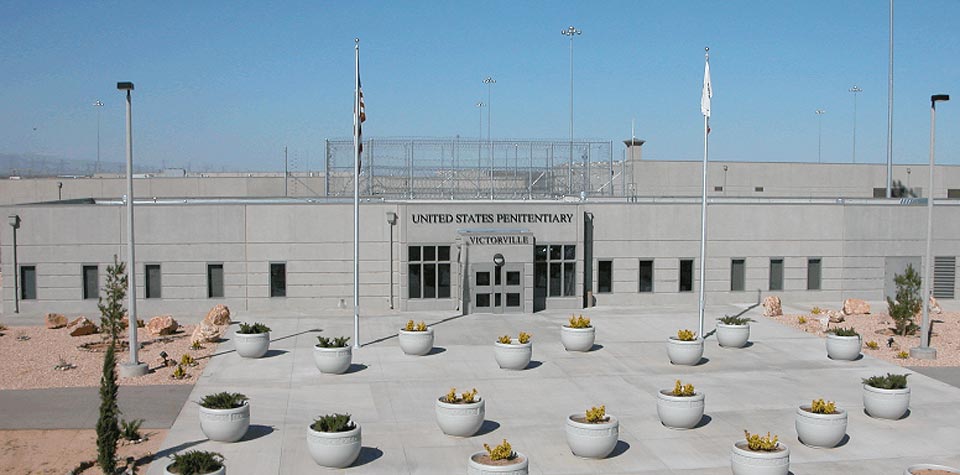 Background
United States Penitentiary Victorville is a high-security federal prison in Victorville, California, and houses male inmates. Opened in 2004, it is part of the Victorville Federal Correctional Complex.
USP Victorville prison is informally known as "Victimville" due to the culture of violence amongst the inmate population.
Notable inmates include the leader of the Cuban Five Gerardo Hernandez (serving a life sentence for conspiracy to commit murder and espionage), leader of the Chicago Latin Kings Augustin Zambrano (serving 60 years for racketeering conspiracy), and former MLB player Lenny Dykstra (served six months for grand theft auto and providing false financial statements).
At least five inmates have been murdered at the prison in Victorville, according to media reports. Additionally, at least one guard has been indicted for smuggling contraband and a drone was discovered transporting contraband into the facility.
Inmate Housing
USP Victorville inmates are housed in one- and two-person cells.
Health Services
The federal penitentiary in Victorville provides inmates with medical services including:
Emergency medical care
Sick Call
Physical Examinations
Annual TB Testing
Medication
Dental Services
Eyeglasses
Emergency medical care is available 24 hours a day. A sick call form must be submitted in order to be evaluated for routine care needs.
Psychology Services
Intake screening is provided for each inmate upon arrival at USP Victorville prison. Inmates can also speak with a psychologist during open house hours or at the noon meal.
Psychologists conduct groups and workshops for inmates, such as anger management and stress management.
Residential Drug Abuse Program (RDAP)
USP Victorville does not offer the Residential Drug Abuse Program (RDAP), but referrals can be made to institutions that do provide RDAP.
A Drug Education class, the Non-Residential Drug Abuse Program (NR-DAP), Alcoholics Anonymous (AA), and Narcotics Anonymous (NA) are available.
USP Victorville Educational, Library, and Recreation Offerings
Education Services
USP Victorville offers literacy, GED, and English-as-a-Second Language (ESL) courses.
If an inmate does not possess a high school diploma or GED, they will be required to participate in the literacy program for a minimum of 240 hours.
Adult Continuing Education (ACE) and parenting classes are also available.
High school diplomas and post-secondary degrees are available through paid correspondence courses. Coastline Community College enables inmates to obtain an associate's degree in either liberal arts or specialized business.
Advanced Occupational Education
USP Victorville offers advanced occupational education in the following areas:
Automotive Service Excellence
Microsoft Office 2010
Recycling/Solid Waste Construction and Extraction Management
ServSafe
Vocational Training
USP Victorville does not offer any vocational training programs.
Apprenticeship
Federal penitentiary Victorville offers apprenticeships in HVAC and Plumbing.
Library Services
Leisure and law libraries are available for the inmate population complex-wide.
The law library contains the TRULINCS Electronic Law Library terminals, typewriters, and a copy machine.
The leisure library offers newspapers, magazines, and fiction and nonfiction books to the inmate population.
UNICOR
The USP Victorville UNICOR facility handles fleet management and vehicular components.
Commissary
The federal penitentiary in Victorville operates a commissary that gives inmates an opportunity to purchase items not issued or delivered as basic care by the institution, as well as items of a higher quality.
The monthly spending limit is $360.00. Inmates may only shop once per week on their shopping day.
Recreation Services
The USP Victorville Recreation Department offers a number of programs:
Hobby Craft Programs
Sports Programs
Sports Leagues
Leisure Programs
Holiday Programs
Music programs
Structured Exercise Programming
Wellness Programs
A housing unit art/hobby craft program is also available to inmates at the federal penitentiary in Victorville.
The recreation library offers literature, DVDs, and videos related to fitness/wellness.
A Photo Program is also offered to inmates. The program gives inmates the chance to have photos taken of themselves and their visitors on scheduled visiting days.
Visitation Information for USP Victorville
Visitation is held Sundays, Mondays, Saturdays and Federal holidays between 8:30 a.m. and 3:00 p.m. See our page on prisoner visitation rules for more information.
USP Victorville in the News
In February 2017, Ignacio Adrian Sobers, Jr., a guard at the United States Penitentiary in Victorville, pleaded guilty to accepting a bribe for his role in smuggling MP3 players and pornographic material into the facility for a prisoner.
In March 2015, an unmanned drone was used to smuggle two cell phones into USP Victorville.
In June 2014, prisoners Brian Kountz and Robert Howard Ferguson were killed at USP Victorville. At least three other prisoners died within less than a year of Kountz's death at what is familiarly known as "Victimville."
In April 2005, prisoner Peter Scopazzi, who was in a fight with five other prisoners at USP Victorville, was stabbed several times and subsequently died.
More Information About United States Penitentiary Victorville
For a deeper look at life in federal prison, pick up a copy of Christopher Zoukis' Federal Prison Handbook: The Definitive Guide to Surviving the Federal Bureau of Prisons. For more detailed information about USP Victorville, please buy a copy of the Directory of Federal Prisons: The Unofficial Guide to Bureau of Prisons Institutions by Christopher Zoukis.
Published Jun 3, 2018 by Christopher Zoukis, JD, MBA | Last Updated by Christopher Zoukis, JD, MBA on May 12, 2023 at 4:27 pm