Federal Correctional Institution Herlong is a medium-security federal prison located in Herlong, California. The facility is also known as FCI Herlong and Herlong CA prison. FCI Herlong Camp is adjacent to the primary institution. Both federal prisons house male inmates.
If you or a loved one are incarcerated at FCI Herlong, the Zoukis Consulting Group can help. Our prison experts have extensive experience resolving in-prison matters and securing an early release from prison.
Please contact us for an initial consultation to discover how we can assist you or your loved one. We look forward to speaking with you!
FCI Herlong Contact Information
Facility Address & Contact Information
Federal Correctional Institution Herlong
741-925 Access Road A-25
Herlong, CA 96113
Phone: 530-827-8000
Fax: 530-827-8024
Email Address: [email protected]
BOP Website: Bureau of Prisons Page
Wikipedia: Wikipedia Page
Inmate Correspondence Address
FCI Herlong
Inmate Name and Registration Number
FCI Herlong
Federal Correctional Institution
P.O. Box 800
Herlong, CA 96113
FCI Herlong Prison Camp
Inmate Name and Registration Number
FCI Herlong Camp
Satellite Prison Camp
P.O. Box 800
Herlong, CA 96113
How to Send Money
Funds cannot be sent directly to inmates. See our page on sending money to federal prisoners.
Federal Correctional Institution Herlong Inmate Information
Inmate Gender
Male Inmates
Prison Security Level
Facility Location
FCI Herlong is located in the Sierra highlands of northern California, 50 miles northwest of Reno, Nevada, and about 30 miles south of Susanville, California. The prison is in Lassen County.
BOP Region
BOP Institution Code
HER for FCI Herlong
Medical Care Level
Level 1. See our page on Medical Care Levels and Procedures for more information.
Mental Health Care Level
Level 1.
Judicial District
Eastern District of California
Population Number
FCI Herlong houses approximately 1,320 inmates. The camp houses around 100 inmates.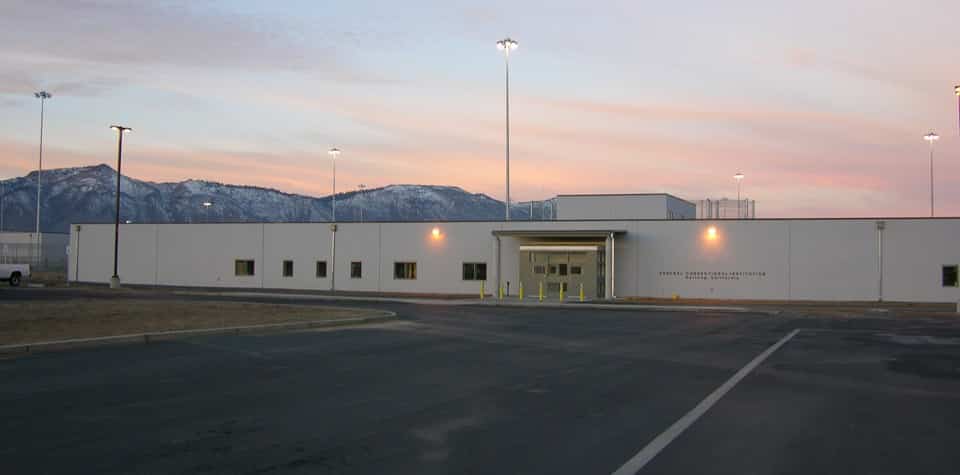 FCI Herlong Prison Services Information
Background
Federal Correctional Institution Herlong is a medium-security federal prison in Herlong, California. It opened in 2007. Federal Correctional Institution Herlong Camp is next to the primary institution. Both prisons house male federal inmates.
Notable inmates include:
Earth Liberation Front member Tre Arrow: served five years for arson.
Co-founder of the environmental group Peaceful Uprising Tim DeChristopher: served two years for false representation.
Media reports indicate that at least one guard has been indicted for smuggling contraband into this United States federal prison.
Inmate Housing
Inmates live in two- and three-person cells. There are approximately 200 inmates in each housing unit. In the camp, inmates live in dormitories.
Health Services
FCI Herlong provides routine medical care for inmates. This care includes intake examinations, emergency care, and sick calls. Emergency care is available 24 hours a day.
Inmates must attend the sick calls on weekdays from 7:00 to 8:00 a.m. to be evaluated for non-emergency care. Pill line and insulin line are held at 6:30 a.m. and 4:50 p.m.
Psychology Services
Herlong prison offers crisis counseling, individual and group therapy, and medication treatment in conjunction with Health Services. The open house is held on Tuesday and Friday. Typical treatment groups include:
Anger Management
Stress Reduction
AIDS/HIV Awareness
Residential Drug Abuse Program (RDAP)
FCI Herlong offers the Residential Drug Abuse Program (RDAP). The Drug Education class, the Non-Residential Drug Abuse Program (NR-DAP), and Alcoholics Anonymous (AA) are also available.
FCI Herlong Educational, Library, and Recreation Offerings
Education Services
Herlong federal prison offers inmates a wide variety of prison education programs, including:
GED
English-as-a-Second Language (ESL)
Adult Continuing Education (ACE)
Parenting Classes
High school diplomas and college correspondence courses are also available, but inmates must pay for them.
Advanced Occupational Education
FCI Herlong does not offer any advanced occupational education programs.
Vocational Training
The Herlong CA prison camp has many vocational training programs which enable inmates to work outside the prison in the local community.
Apprenticeship
FCI Herlong CA prison does not offer any apprenticeship programs.
Library Services
Leisure and law libraries are available to Herlong federal prison inmates.
Inmates can check out fiction and nonfiction books, newspapers, and magazines in the leisure library. Inmates can also check out NEO word processors.
The law library primarily consists of the TRULINCS Electronic Law Library. Inmates also have access to typewriters and a copy machine.
UNICOR
The FCI Herlong UNICOR facility handles fleet management and vehicular components.
Commissary
Inmates can spend up to $360.00 per month in the prison commissary. They can shop once a week on their designated shopping day. Shopping is conducted Monday through Friday from 6:45 a.m. to 12:30 p.m.
Copy cards, postage stamps, and over-the-counter medications do not count against this spending limit. Popular items include snacks, candy, drinks, food, ice cream, clothing, and electronics.
Recreation Services
FCI Herlong's Recreation Department offers both indoor and outdoor activities.
Inside, inmates have access to an indoor gym with a basketball court and workout machines, including:
Treadmills
Ladder Climbers
Ellipticals
Workout courses, music classes, art and craft programs, and other activities are available in indoor recreation.
Outside, inmates can access a track, football/ soccer field, basketball courts, softball field, tables, and more. The hours of operation are 6:45 to 11:00 a.m., 12:30 to 3:30 p.m., and 4:45 to 8:45 p.m. on weekdays. On weekends, the morning hours are 6:45 to 9:30 a.m.
Visitation Information for FCI Herlong CA Prison
Family and friends can visit inmates during authorized visiting hours. Sunday and Saturday visitation is held between 8:00 a.m. and 3:00 p.m. On federal holidays visitation is held between 8:00 a.m. and 3:00 p.m. See our page on prisoner visitation rules for more information.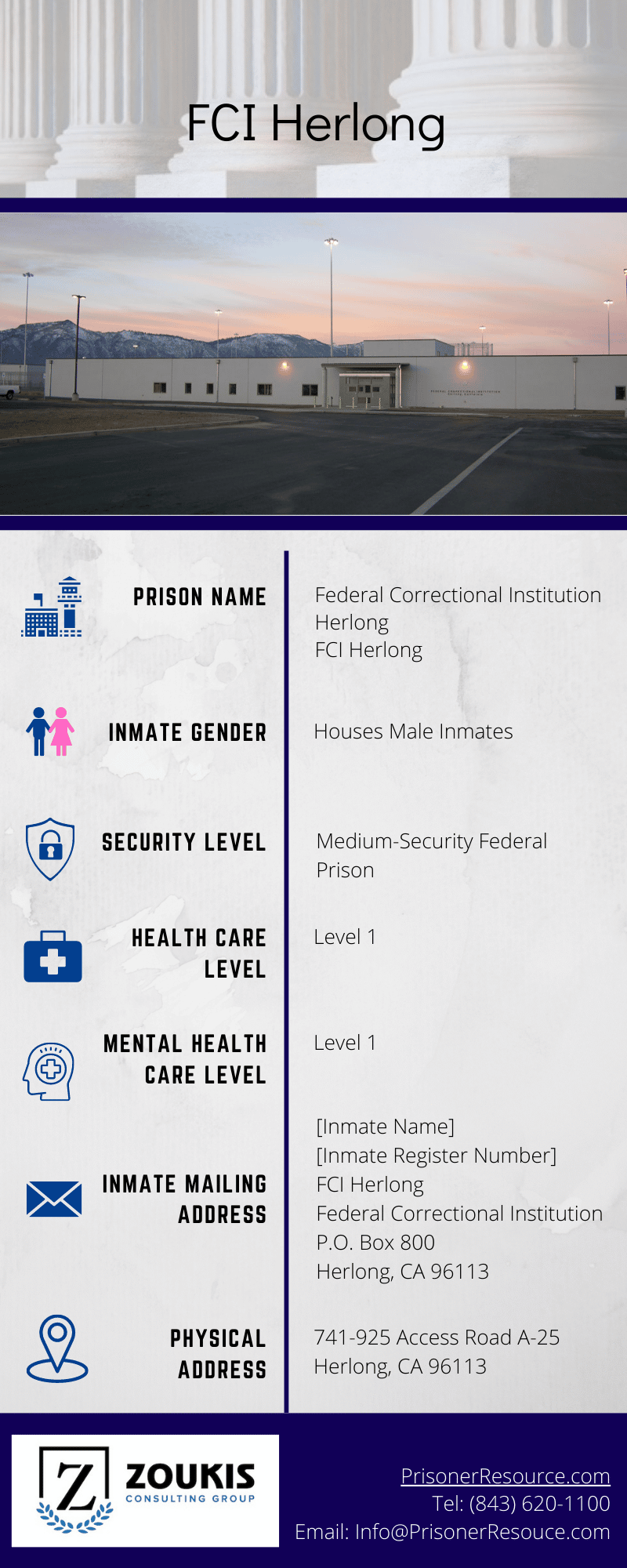 FCI Herlong Prison Culture Information
Prison Politics at Federal Correctional Institution Herlong
There is a low level of prison politics at this facility. Inmates are not required to be in a car.
Level of Violence
There is a low level of violence at this prison. According to one respondent, "it's safe." Another respondent stated, "This spot is cool, safe, and low on violence."
Vulnerable Populations
Sex offenders, informants, and LGBT inmates can walk the yard.
Good at FCI Herlong Federal Prison
"Education, programs, recreation, and the moves are all good."
Bad at FCI Herlong Prison
"The yard is split for recreation. So, all the downstairs blocks rec together and the upstairs one's rec together." "The lack of empathy is bad, and the administration's attitude in dealing with grievances is also bad."
Other Inmate Comments
"Herlong is ok." "There are problems with mental health on this yard and the lack of treatment, but this is also the same at other spots."
FCI Herlong CA Prison in the News
In September 2008, Michael Megill, a cook at the Federal Correctional Institution at Herlong, and his brother Jeremy were sentenced to a year in prison for smuggling tobacco products into the facility for the prisoners.
More Information About Federal Correctional Institution Herlong
For a comprehensive look at life in federal prison, pick up a copy of Christopher Zoukis' Federal Prison Handbook: The Definitive Guide to Surviving the Federal Bureau of Prisons. For more detailed information about FCI Herlong, please buy a copy of the Directory of Federal Prisons: The Unofficial Guide to Bureau of Prisons Institutions by Christopher Zoukis.
Your FCI Herlong Federal Prison Experts
If you have a loved one incarcerated at FCI Herlong, We can help. The Zoukis Consulting Group has significant expertise in handling in-prison issues and obtaining early release for clients.
Book an initial consultation to speak with an FCI Herlong CA federal prison expert today!
Published Jun 3, 2018 by Christopher Zoukis, JD, MBA | Last Updated by Christopher Zoukis, JD, MBA on Jun 4, 2023 at 5:35 pm