Federal Prison Camp Yankton is a minimum-security federal prison in Yankton, South Dakota. It is also known as FPC Yankton and Yankton SD Prison. The facility houses male inmates.
FPC Yankton Contact Information
Facility Address & Contact Information
Federal Prison Camp Yankton
1016 Douglas Avenue
Yankton, SD 57078
Phone: 605-665-3262
Fax: 605-668-1113
Email: [email protected]
BOP Website: Bureau of Prisons Page
Wikipedia: Wikipedia Page
Inmate Correspondence Address
FPC Yankton
Inmate Name and Registration Number
FPC Yankton
Federal Prison Camp
P.O. Box 700
Yankton, SD 57078
How to Send Money
Do not send money to an inmate directly. See our page on sending money to federal prisoners.
Federal Prison Camp Yankton Inmate Information
Inmate Gender
Male Inmates
Prison Security Level
Minimum-Security Federal Prison
Facility Location
It is located in southeastern South Dakota, 60 miles northwest of Sioux City, IA, and 85 miles southwest of Sioux Falls, SD, off U.S. Highway 81.
BOP Region
BOP Institution Code
YAN for FPC Yankton
Medical Care Level
Level 1. See our page on Medical Care Levels and Procedures for more information.
Mental Health Care Level
Level 1.
Judicial District
Population Number
Yankton, SD Prison Camp houses approximately 305 inmates.
FPC Yankton Prison Services Information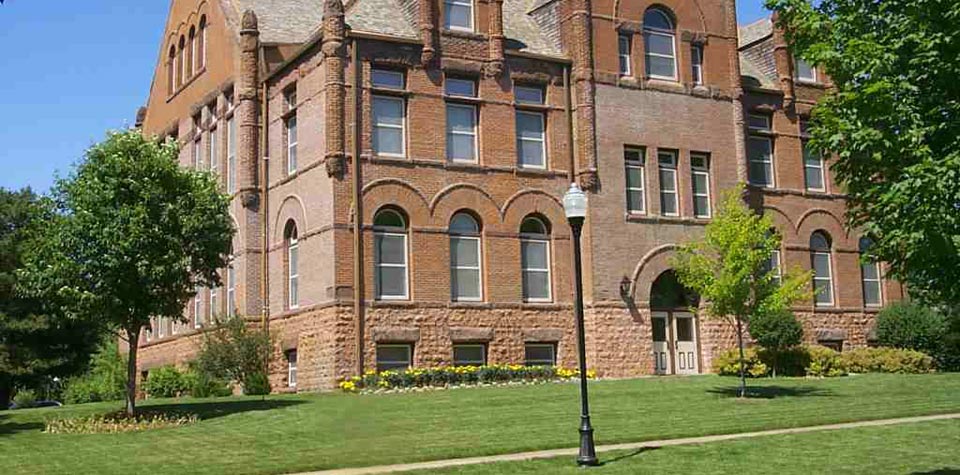 Background
Federal Prison Camp Yankton is a minimum-security federal prison in Yankton, South Dakota, which houses male inmates. It was opened in 1988.
FPC Yankton opened on the shuttered campus of Yankton College, which operated from 1881 to 1984. The facility houses inmates who do not have a history of escape, violence, sexual offenses, or significant medical or psychiatric problems.
As of 2011, prisoners can participate in a certified apprenticeship program or work towards an associate's degree in business, accounting, or horticulture. In 2017, the prison partnered with the Heartland Humane Society to offer the Federal Inmate Dog Obedience (FIDO) training program.
Notable inmates include former Mormon Bishop Shawn Merriman (serving 12 years for mail fraud) and film director John McTiernan (serving 328 days for perjury).
In 2017, Insider Monkey named FPC Yankton one of the ten easiest federal prisons to do time. In 2012, CNBC named the facility one of the 12 best federal prisons to do time. In 2009, Forbes magazine rated FPC Yankton as one of America's ten cushiest federal prisons. And in 2005, The Kansas City Star named FPC Yankton one of the five best federal prisons for white-collar offenders.
Inmate Housing
Inmates are housed in dormitories consisting of four to twelve-person cubicles.
Health Services
Health services at FPC Yankton include medical and dental sick calls, emergency services, medication, routine dental care, chronic care, eyeglasses, and eye exams. To be examined by a healthcare professional, inmates must submit a triage form and wait to be placed on a call-out. Emergency medical care can be obtained by approaching any staff member and requesting assistance.
Psychology Services
The Psychology Services Department offers basic mental health care to inmates.
This care includes:
Screening
Assessment
Individual/Group Counseling
Psycho-Educational Classes
Self-Help/Supportive services
Care can be sought at the open house or by submitting an Inmate Request to Staff.
Residential Drug Abuse Program (RDAP)
FPC Yankton offers the Residential Drug Abuse Program (RDAP). It also provides drug abuse programs, CHOICES (a drug awareness program), a Drug Abuse Education course, and the Non-Residential Drug Abuse Program (NR-DAP).
FPC Yankton Educational, Library, and Recreation Offerings
Education Services
FPC Yankton provides literacy, GED, and English as a Second Language (ESL) programs. An incentive award system has been established which recognizes achievement at intervals within the literacy program with special recognition upon achievement of functional literacy. Incentives include consumable items, such as popcorn and sodas, for satisfactory progress toward literacy goals or periodic classroom achievements (e.g., hardest worker, best test score, perfect attendance), a $25.00 award for successful completion of the GED or ESL program, and public recognition, with name and picture placed on a plaque within the Education Department. High school diplomas and post-secondary degrees are available through paid correspondence programs.
Advanced Occupational Education
FPC Yankton offers advanced occupational education in Accounting, Business and Financial Administration, Science, and AWS Certified Welding.
Vocational Training
FPC Yankton offers no vocational training besides its advanced occupational education and apprenticeship programs.
Apprenticeship
FPC Yankton offers apprenticeships in the following fields:
Baker
Boiler Operator/Mechanic
Building Maintenance
Carpentry
Cook
Dental Assistant
Electrician Maintenance
Human Services Direct Support Professional
HVAC
Industrial Housekeeper
Landscape Management Technician
Landscape Technician
Painting
Plumbing
Refrigeration Mechanic
Tape Recorder Repairer
Library Services
The leisure library offers inmates magazines, newspapers, and fiction and nonfiction books. The law library is located in the Education Department and contains various legal reference materials for preparing legal papers. Reference materials include the United States Code Annotated, Federal Reporter, Supreme Court Reporter, Bureau of Prisons Program Statements, institution supplements, indexes, and other legal materials. Inmates can also access a copy machine, typewriters, and the TRULINCS Electronics Law Library.
UNICOR
Yankton, SD Prison camp does not house a UNICOR facility.
Commissary
The monthly spending limit is $360.00, with the exception of postage stamps, copy cards, phone credits, and over-the-counter medications. Food, snacks, candy, ice cream, sodas, drink mixes, clothing, shoes, and electronics can be purchased from the commissary. Inmates are assigned a particular day of the week to shop.
Recreation Services
Programs at FPC Yankton include indoor and outdoor activities and range from individualized arts and crafts programs to intramural team sports such as softball, basketball, and volleyball. Physical fitness and weight reduction programs are also available. Musical instruments are available in the recreation area for the inmate population. The musical instruments are to remain in the music room. Hobbycraft programs include painting, leather, art, and beadwork.
Visitation Information for FPC Yankton
On Sunday and Saturday, visitation is held between 8:15 a.m. and 3:00 p.m. On Friday, visitation is held between 4:30 and 9:15 p.m. On federal holidays visitation is held between 8:15 a.m. and 3:00 p.m. See our page on prisoner visitation rules for more information on how to visit an inmate.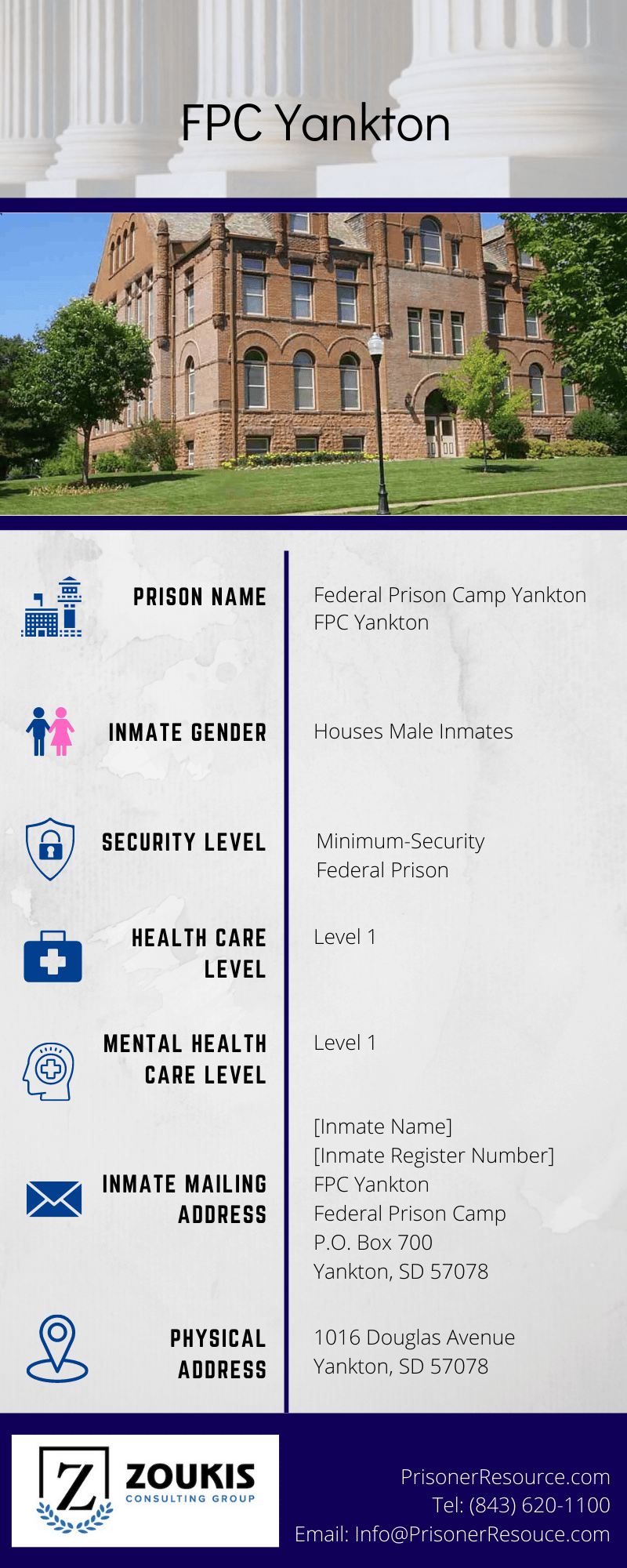 FPC Yankton in the News
In January 2017, Yankton's Heartland Humane Society created the Federal Inmate Dog Obedience (FIDO) program, allowing prisoners at Federal Prison Camp Yankton to train dogs available for adoption.
In August 2016, Richard Hudgins became warden of the Yankton, SD prison camp, replacing Gregory Kizziah, who was the warden since May 2015.
More Information About Federal Prison Camp Yankton
For a comprehensive look at life in federal prison, pick up a copy of Christopher Zoukis' Federal Prison Handbook: The Definitive Guide to Surviving the Federal Bureau of Prisons. For more detailed information about FPC Yankton, please buy a copy of the Directory of Federal Prisons: The Unofficial Guide to Bureau of Prisons Institutions by Christopher Zoukis.
Published May 17, 2018 by Christopher Zoukis, JD, MBA | Last Updated by Christopher Zoukis, JD, MBA on Aug 1, 2023 at 9:48 am