Metropolitan Detention Center Brooklyn is an administrative-security federal prison located in Brooklyn, New York. It is also known as MDC Brooklyn and Brooklyn Correctional Facility. The facility houses male and female inmates.
MDC Brooklyn Contact Information
Facility Address & Contact Information
Metropolitan Detention Center Brooklyn
80 29th Street
Brooklyn, NY 11232
Phone: 718-840-4200
Fax: 718-840-5005
Email: [email protected]
BOP Website: Bureau of Prisons Page
Wikipedia: Wikipedia Page
Inmate Correspondence Address
MDC Brooklyn
Inmate Name and Registration Number
MDC Brooklyn
Metropolitan Correctional Center
P.O. Box 329002
Brooklyn, NY 11232
How to Send Money
Do not send money to inmates directly. See our page on sending money to federal prisoners.
Metropolitan Detention Center Brooklyn Inmate Information
Inmate Gender
Male and Female Inmates
Prison Security Level
Administrative-Security Federal Prison
Facility Location
MDC Brooklyn is located in the Sunset Park section of Brooklyn, one of the five boroughs of New York City.
BOP Region
BOP Institution Code
BRO for MDC Brooklyn
Medical Care Level
Level 2. See our page on Medical Care Levels and Procedures for more information.
Mental Health Care Level
Level 2.
Judicial District
Population Number
MDC Brooklyn houses approximately 1,620 inmates.
MDC Brooklyn Prison Services Information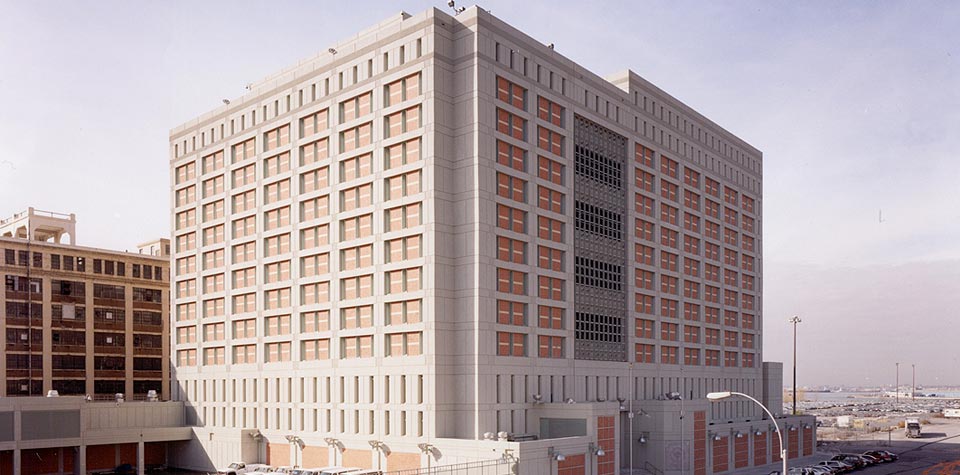 Background
Metropolitan Detention Center Brooklyn is an administrative-security federal prison in Brooklyn, New York, which houses both male and female inmates.
MDC Brooklyn houses pre-trial and pre-sentence detainees. The National Association of Women Judges has described the conditions of confinement at MDC Brooklyn as "unconscionable."
Notable inmates include New York City mobster Vincent Asaro (convicted of car arson), Linda Weston (serving a life sentence for murder, racketeering, and hate crimes), and current MSNBC host Al Sharpton (served 90 days for trespassing on federal property).
Media reports have indicated that at least ten female detainees and one male detainee have been sexually assaulted by both guards and lieutenants at the facility. In addition, guards have been arrested for stealing money from inmates and, in one case, for hiring hitmen to attack a former spouse with a hammer. News reports also state that the Bureau paid out a multi-million-dollar settlement after one inmate suffered a stroke as a result of prolonged malnutrition at the facility and then died shortly after his release.
Inmate Housing
Brooklyn Correctional Facility houses inmates in cells with two or more bunks.
Health Services
Sick call, dental sick call, emergency services, and medications are all provided to inmates. Routine care requires the submission of a Sick Call form. Emergency care is available 24 hours a day.
Psychology Services
The Psychology Department at MDC Brooklyn provides mental health services to those inmates who have a history of mental illness and who have difficulty adjusting to incarceration. Staff members are assigned to individual floors to quickly address inmate mental health concerns. If there is a need for psychiatric medication, the inmate will be placed on the list to see the psychiatrist.
Residential Drug Abuse Program (RDAP)
MDC Brooklyn does not have the Residential Drug Abuse Program (RDAP). The Drug Education Class and the Non-Residential Drug Abuse Program (NR-DAP) are available.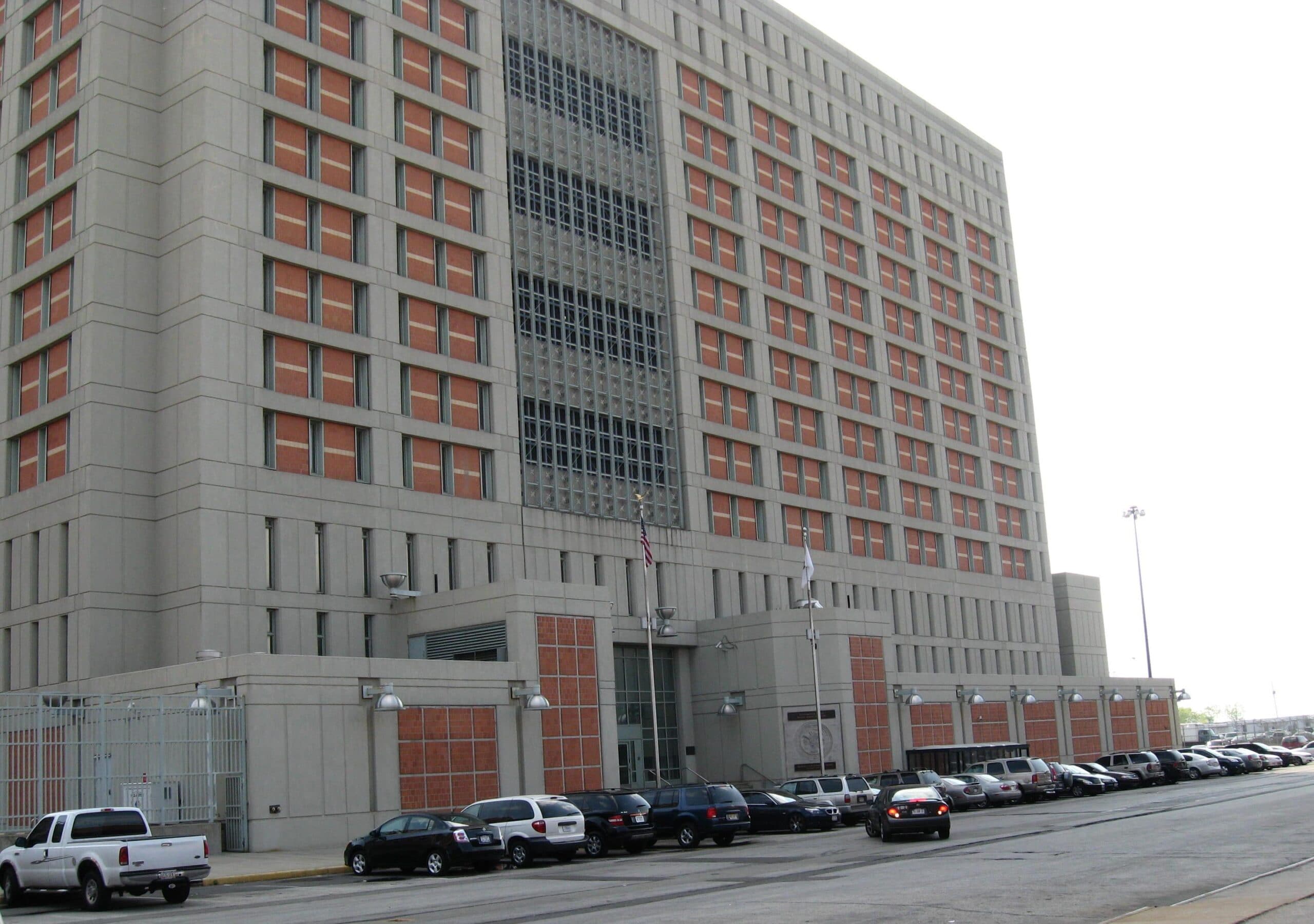 MDC Brooklyn Educational, Library, and Recreation Offerings
Education Services
MDC Brooklyn federal prison provides GED and English-as-a-Second Language (ESL) programs. High school diplomas and post-secondary degrees are available through paid correspondence programs.
Advanced Occupational Education
MDC Brooklyn correctional facility does not offer any advanced occupational education.
Vocational Training
MDC Brooklyn does not offer any vocational training programs.
Apprenticeship
MDC Brooklyn does not offer any apprenticeship programs.
Library Services
A leisure library and law library are available to inmates. Law books may not be removed from the law library for any reason. A copy machine is available in the Education Department. Leisure books can be checked out of the main libraries during each floor's library session. Inmates confined in SHU can request leisure books through a request form.
UNICOR
MDC Brooklyn does not have a UNICOR facility.
Commissary
Inmates have the right to use funds for commissary and other purchases, consistent with institution security and good order, for opening bank and/or savings accounts, and for assisting families. Prisoners can spend up to $90 per week.
Recreation Services
The MDC Brooklyn Recreation Department consists of indoor and outdoor areas. Leisure activities include participation in organized and informal games, wellness activities, curricular and extracurricular activities, sports, social activities, artwork, physical fitness, table games, and board games. Recreation staff is available to aid in planning and organizing recreational activities.
Visitation Information for MDC Brooklyn
On weekdays and federal holidays, visiting hours are between 12:00 and 3:00 p.m. as well as 5:00 to 7:30 p.m. On weekends visiting hours are between 8:00 a.m. and 3:00 p.m. See our page on prisoner visitation rules for more information.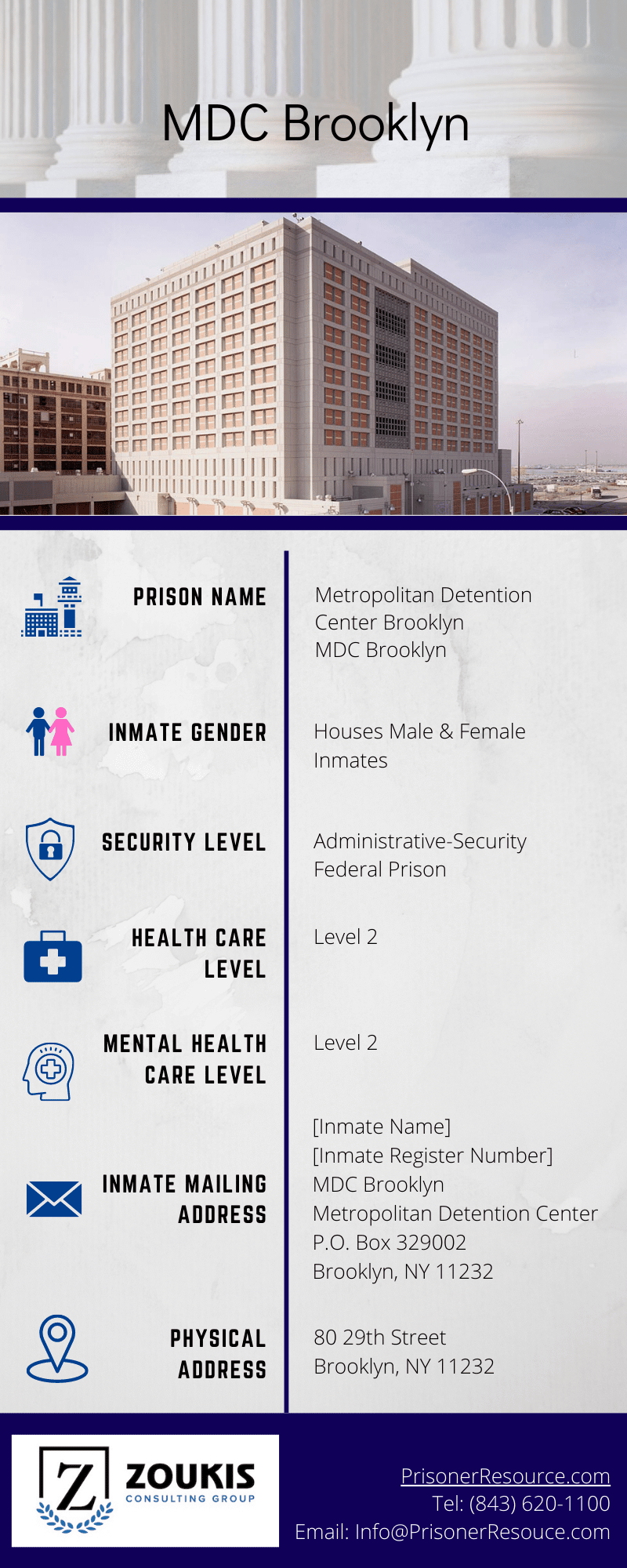 MDC Brooklyn in the News
In August 2018, George Gonzalez, a guard at the Metropolitan Detention Center in Brooklyn, pleaded guilty to hiring hitmen to severely injure his estranged wife and her boyfriend with a hammer to their spines.
Also, in August 2018, a prisoner at MDC Brooklyn filed a lawsuit alleging numerous abuses at the facility, including sexual assaults and medical neglect.
In May 2018, Eugenio Perez, a lieutenant at MDC Brooklyn, was convicted of sexually assaulting five female inmates between 2013 and 2016.
In January 2018, Carlos Richard Martinez, a lieutenant at MDC Brooklyn correctional facility, was found guilty of raping a female prisoner at least four times between December 2015 and April 2016.
In November 2017, MDC Brooklyn guard Armondo Moronta pleaded guilty to sexually abusing three female inmates.
In June 2016, members of the National Association of Women Judges visited MDC Brooklyn and described the conditions as "unconscionable."
In 2015, the Bureau of Prisons paid $2.9 million to the widow of Gerald Kapiloff, whose medical pleas were ignored until he suffered a massive seizure from malnutrition during his 16-month sentence at MDC Brooklyn. Kapiloff died a year after his release.
In May 2013, Debbie Austin, a guard at MDC Brooklyn, and her roommate Shamika Clarke were charged with stealing $1,600 that was sent to prisoners and supposed to be credited to their trust accounts.
In March 2013, Nancy Gonzalez, a guard at MDC Brooklyn, was arrested for having sex with Ronnell Wilson, a prisoner at the facility who was accused of killing two NYPD police officers. Gonzalez gave birth to Wilson's child but lost custody of him after violating the conditions of her bail, specifically the condition to refrain from drinking alcohol.
In November 2001, Randy Denjen, a lieutenant at MDC Brooklyn, allegedly raped a female prisoner.
In 2000, Mamdouh Mahmud Salim was awaiting trial on terrorism charges at MDC Brooklyn when he shoved a comb into guard Louis Pepe's eye, leaving him brain-damaged and nearly blind.
More Information About Metropolitan Detention Center Brooklyn
For a comprehensive look at life in federal prison, pick up a copy of Christopher Zoukis' Federal Prison Handbook: The Definitive Guide to Surviving the Federal Bureau of Prisons. For more detailed information about MDC Brooklyn, please buy a copy of the Directory of Federal Prisons: The Unofficial Guide to Bureau of Prisons Institutions by Christopher Zoukis.
Published May 17, 2018 by Christopher Zoukis, JD, MBA | Last Updated by Christopher Zoukis, JD, MBA on Jul 20, 2023 at 5:32 pm