USP Atwater Contact Information
Facility Address & Contact Information
United States Penitentiary Atwater
1 Federal Way
Atwater, CA 95301
Phone: 209-386-0257
Fax: 209-386-4635
Email: [email protected]
BOP Website: Bureau of Prisons Page
Wikipedia: Wikipedia Page
Inmate Correspondence Address
USP Atwater
Inmate Name and Registration Number
USP Atwater
United States Penitentiary
P.O. Box 019001
Atwater, CA 95301
USP Atwater Camp
Inmate Name and Registration Number
USP Atwater Camp
Satellite Prison Camp
P.O. Box 019001
Atwater, CA 95301
How to Send Money
Do not send money to inmates at Atwater prison directly. See our page on sending money to federal prisoners.
United States Penitentiary Atwater Inmate Information
Inmate Gender
Male Federal Inmates
Prison Security Level
Facility Location
USP Atwater is located in Merced County, California on a portion of the former Castle Air Force Base, about 130 miles from San Francisco.
BOP Region
BOP Institution Code
ATW for USP Atwater
Medical Care Level
Level 1. See our page on Medical Care Levels and Procedures for more information.
Mental Health Care Level
Level 1.
Judicial District
Eastern District of California
Population Number
USP Atwater houses approximately 930 inmates. The camp houses around 95 inmates.
USP Atwater Prison Services Information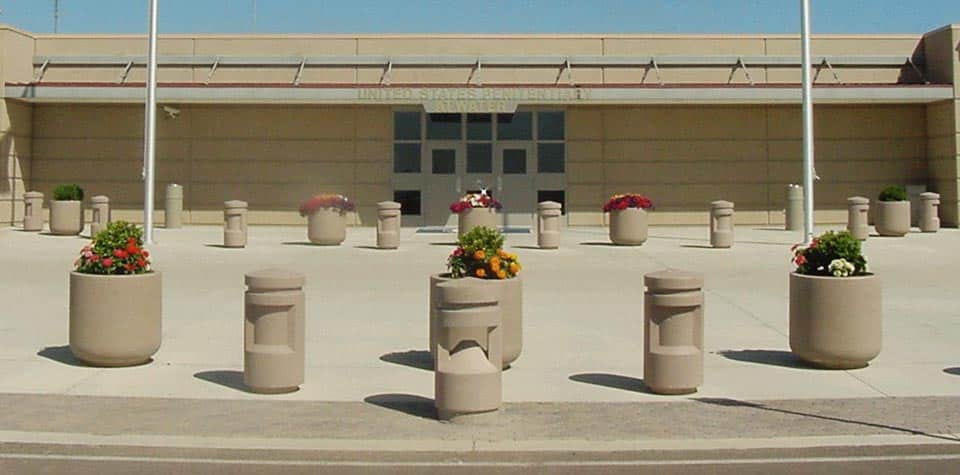 Background
United States Penitentiary Atwater is a high-security federal prison in Atwater, California, which houses male inmates. United States Penitentiary Atwater Camp, which also houses male inmates, is located adjacent to the main institution.
USP Atwater, California, prison is located on land formerly part of Castle Air Force Base, which the Air Force has verified was used to store nuclear weapons.
Notable inmates include the leader of the Crips street gang Bobby Banks (sentenced to 55 years for conspiracy and drug trafficking for operating a large-scale crack cocaine distribution operation). Banks was in an episode HBO's Gang War: Bangin' In Little Rock.
Media reports indicate that there have been at least two inmate murders, one inmate suicide, and two unspecified inmate deaths at the facility. Multiple inmates and guards have been taken to local hospitals for stab and other wounds, the result of assaults. One guard has been murdered at the facility.
Inmate Housing
USP: One- and Two-person cells.
Camp: Dormitories
Health Services
Health services at USP Atwater include emergency medical services, physical examinations, examinations for inmates 50 and older, medication, dental sick call, and reading glasses. Emergency medical care is available 24 hours a day.
Psychology Services
USP Atwater federal prison Psychology Services provides:
Intake Screening
Individual/Group Counseling
Psycho-Educational Classes
Self-Help/Supportive Services
Medical Interventions for Mental Illness
Medications
The department also offers specialized mental health programs and the Challenge Program (an intensive, residential program for inmates with mental health problems).
Residential Drug Abuse Program (RDAP)
Neither USP Atwater nor the camp have the Residential Drug Abuse Program (RDAP). Staff can make referrals to prisons that do offer RDAP. Both facilities provide drug abuse programs, a Drug Abuse Education Course, and the Non-Residential Drug Abuse Program (NR-DAP).
USP Atwater Educational, Library, and Recreation Offerings
Education Services
USP Atwater offers literacy, GED (in English and Spanish), and English- as-a-Second Language (ESL) programs. Graduation ceremonies recognize GED, ESL, and Occupational Education completions.
Adult Continuing Education (ACE) classes offered include typing, computer literacy, foreign language, and business skills. High school diplomas and post-secondary degrees are available through paid correspondence programs.
Advanced Occupational Education
USP Atwater and the camp do not offer any advanced occupational education programs.
Vocational Training
USP Atwater, California prison inmates have access to vocational training in Building Trades/Landscaping and Computer Skills – Illustrator and MS Office. The camp does not offer vocational training programs.
Apprenticeship
USP Atwater offers apprenticeships for the following occupations: Electrician, Cook, HVAC, and Teacher's Aide. The camp offers apprenticeships for the following occupations: Landscape Technician, Stationary Engineer, and Teacher's Aide.
Library Services
Leisure and law libraries are available to inmates. A variety of reading materials, including periodicals, newspapers, fiction, nonfiction, and reference books are available at the leisure library. An interlibrary loan program with local, state, and college libraries and available bookmobile services is available. The TRULINCS Electronic Law Library offers inmates access to legal materials and the preparation of legal documents. Typewriters and a copy machine are available for inmate use.
UNICOR
The USP Atwater and camp UNICOR facilities handle recycling.
Commissary
The spending limit is $360.00 per month. Inmates must have their commissary card in their possession at all times for identification purposes. Popular commissary items include ice cream, snacks, foods, electronics, clothing, drinks, and shoes.
Recreation Services
Leisure activities at USP Atwater include:
Organized/Informal Games
Sports
Physical Fitness
Table Games
Hobby Crafts
Music Programs
Intramural Activities
Social/Cultural Organizations
Movies
Art activities include painting and sketching. Hobbycraft activities include crochet and knitting.
The camp also offers a number of recreation activities including leathercraft, painting, sketching, and bead craft. The housing unit common area is where inmates can play cards, table games, etc. The recreation field hosts many structured activities throughout the year, including softball, track and field, soccer, volleyball, and wellness classes.
Visitation Information for USP Atwater
On Sunday and Saturday visiting hours are between 8:00 a.m. and 3:00 p.m. On federal holidays visiting hours are between 8:00 a.m. and 3:00 p.m. See our page on prisoner visitation rules for more information on how to visit an inmate.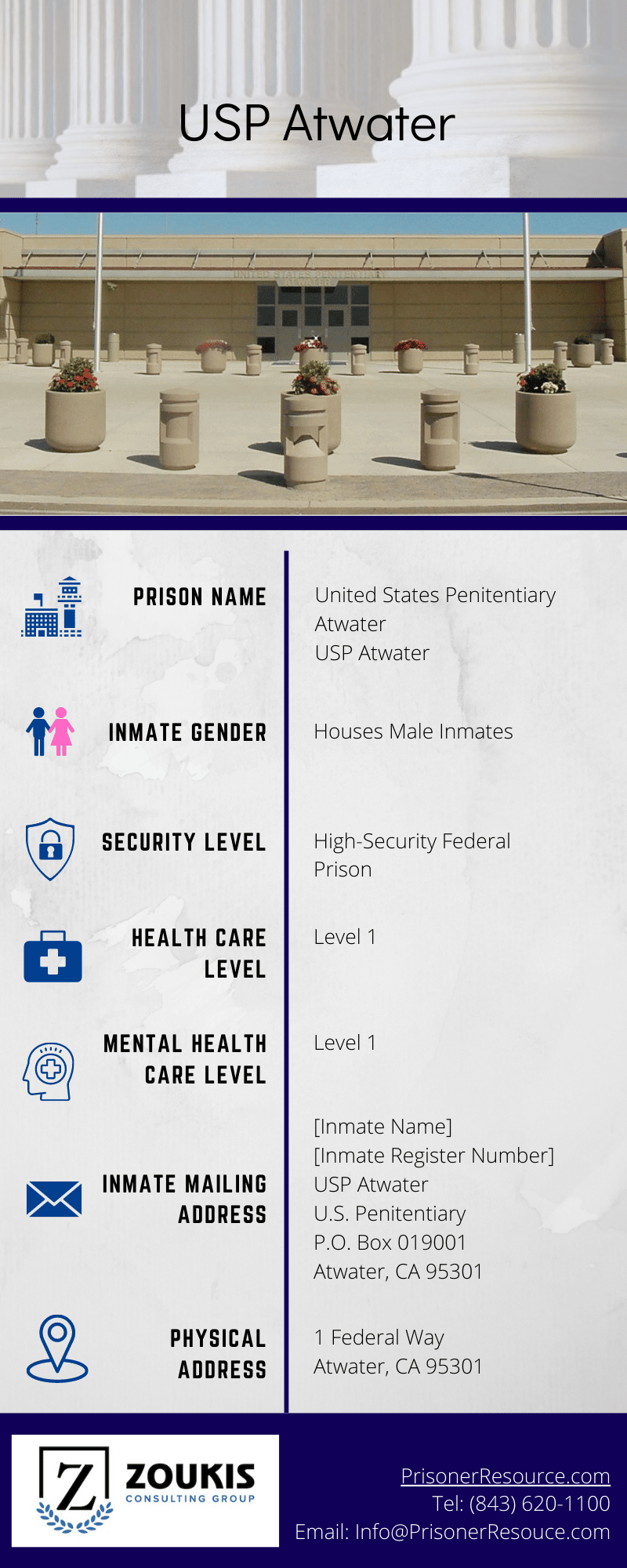 USP Atwater in the News
In August 2018, Juan Flores, while serving a six-month sentence at United States Penitentiary Atwater, was found unresponsive in his cell and pronounced dead at a local hospital.
In July 2018, Raul Ortega was found unresponsive in his cell at Atwater federal prison in what officials believed to be a suicide.
In June 2018, "multiple incidents" reportedly took place at USP Atwater and a prisoner and staff member were taken to the hospital and treated. Earlier in June, one prisoner was taken to a hospital for treatment after being assaulted by two other prisoners.
In March 2018, Thomas Douglas Smith, a prisoner at USP Atwater, was found unresponsive in his cell and pronounced dead at a local hospital.
In October 2017, several prisoners assaulted an Atwater, California prison staff member with a sharpened blade. Three staff members were treated at a local hospital and another received minor injuries. No prisoners were injured in the incident.
In May 2017, unmanned guard towers may have helped a prisoner escape from USP Atwater.
In March 2012, Samuel Stone, who was already serving a life sentence at USP Atwater, was charged with murdering his cellmate, Michael Anita, in July 2003. It was the first murder at the prison since 2002.
In 2012, the Bureau of Prisons instituted a policy change allowing guards at seven federal facilities to carry pepper spray to use against violent prisoners. This was in response to the 2008 fatal stabbing of Jose Rivera, a guard at USP Atwater, by prisoners Leon Guerrero and Joseph Cabrera Sablan
In June 2008, USP Atwater guard Jose Rivera was chased down and stabbed to death by prisoners James Ninete, Leon Guerrero, and Jose Cabrera Sablan. Guerrero, who was already serving a life sentence, was given another life sentence in May 2014.
In June 2003, the Air Force verified that it stored nuclear weapons where USP Atwater now stands, meaning that nuclear waste is likely still present at the site.
In March 2003, two prisoners on the recreation yard of USP Atwater refused to stop attacking a third prisoner after they were ordered to stop, resulting in one of the men being shot in the torso by a guard. None of the prisoners' injuries were life-threatening.
More Information About United States Penitentiary Atwater
For a comprehensive look at life in federal prison, pick up a copy of Christopher Zoukis' Federal Prison Handbook: The Definitive Guide to Surviving the Federal Bureau of Prisons. For more detailed information about USP Atwater, please buy a copy of the Directory of Federal Prisons: The Unofficial Guide to Bureau of Prisons Institutions by Christopher Zoukis.
Published Jun 3, 2018 by Christopher Zoukis, JD, MBA | Last Updated by Christopher Zoukis, JD, MBA on Jun 4, 2023 at 4:53 pm