Federal Correctional Institution Fairton is a medium-security federal prison located in Fairton, New Jersey. It is also known as FCI Fairton. The facility houses male inmates. FCI Fairton Detention Center and Fairton Prison Camp are adjacent to the central institution. Male inmates are incarcerated at both institutions.
If you or a loved one are preparing to enter federal prison, you need an experienced federal prison coach to guide you. Our team of trustworthy prison consultants can help you prepare, resolve any issues, and review your case to determine if you qualify for early release from custody.
Book a one-hour initial consultation with an FCI Fairton federal prison expert today! We would be happy to answer any questions you have.
FCI Fairton Contact Information
Facility Address & Contact Information
Federal Correctional Institution Fairton
655 Fairton-Millville Road
Fairton, NJ 08320
Phone: 856-453-1177
Fax: 856-453-4015
Email: [email protected]
BOP Website: Bureau of Prisons Page
Wikipedia: Wikipedia Page
Inmate Correspondence Address
FCI Fairton
Inmate Name and Registration Number
FCI Fairton
Federal Correctional Institution
P.O. Box 420
Fairton, NJ 08320
FCI Fairton Prison Camp
Inmate Name and Registration Number
FCI Fairton Camp
Satellite Prison Camp
P.O. Box 420
Fairton, NJ 08320
How to Send Money
Funds cannot be sent directly to inmates. See our page on sending money to federal prisoners. This page explains how to send money to inmates, including via the National Lockbox in Des Moines, Iowa.
Federal Correctional Institution Fairton Inmate Information
Inmate Gender
Male Inmates
Prison Security Level
Facility Location
FCI Fairton is located 50 miles southeast of Philadelphia and 40 miles west of Atlantic City, off State Highway 55 at 655 Fairton-Millville Road.
BOP Region
BOP Institution Code
FAI for Federal Correctional Institution Fairton
Medical Care Level
Level 2. See our page on Medical Care Levels and Procedures for more information.
Mental Health Care Level
Level 3.
Judicial District
Population Number
FCI Fairton houses approximately 820 inmates. The Fairton Federal Prison Camp houses around 50 inmates.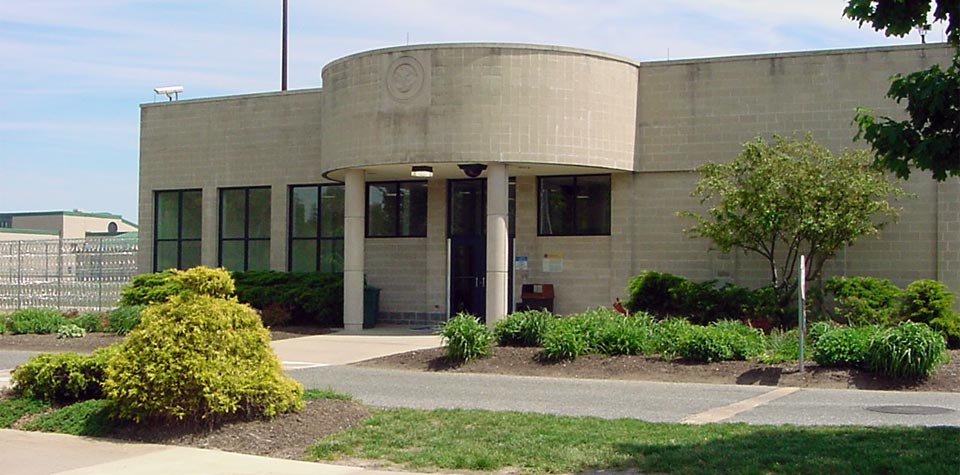 FCI Fairton Prison Services Information
Background
Federal Correctional Institution Fairton is a medium-security federal prison in Fairton, New Jersey. It opened in 1990. Federal Correctional Institution Fairton Camp opened in 1992 adjacent to the primary institution. Both federal prisons incarcerated male inmates.
Notable inmates include Lucchese crime family member Nicodemo Scarfo, Jr. (serving a 30-year sentence for racketeering, conspiracy, and money laundering).
Media reports indicate that one inmate was murdered, two were airlifted to a local hospital following assaults, and two were taken to the hospital following a brawl involving 40 prisoners.
Additionally, at least one guard has been indicted for smuggling contraband into the institution, and one guard has committed suicide on prison grounds. The United States Department of Justice prosecutes all crimes in federal prisons.
Inmate Housing Units
Inmates live in two-, three-, and four-person cells. Two-person cells are the most common. FCI Fairton Camp inmates live in dormitory-style housing.
Health Services
FCI Fairton provides inmates with emergency services, medical sick calls, routine dental treatment, and medications. While emergency care is available 24 hours a day, inmates must submit triage forms for evaluation of everyday health care needs.
A dental sick call is available for emergency care. This includes toothaches, abscesses, temporary fillings, and permanent fillings.
You can learn more about medical care in prison here.
Psychology Services
Fairton prison Psychology Services staff members evaluate all new arrivals during their first month at the institution.
Psychology Department classes include:
Anger Management
Stress Management
HIV/AIDS Awareness
Basic Cognitive Skills
Criminal Lifestyles
Certificates are provided for successful program completion. Inmates may also receive brief counseling, individual psychotherapy, and group psychotherapy. These treat emotional, behavioral, and familial problems. Psychology Services coordinates with Health Services in the area of psychiatric medication.
Residential Drug Abuse Program (RDAP)
FCI Fairton has the Residential Drug Abuse Program (RDAP). The satellite camp does not have the Residential Drug Abuse Program (RDAP). Both facilities offer the following group counseling programs:
Drug Abuse Education Class
Non-Residential Drug Abuse Program (NR-DAP)
Self-Help Programs
Alcoholics Anonymous (AA)
Narcotics Anonymous (NA)
Thinking Skills
Parenting and Recovery
Nicotine Anonymous
Anger and Recovery
Living Free
FCI Fairton Educational, Library, and Recreation Offerings
Education Services
Fairton prison and Fairton Federal Prison Camp provide GED and English-as-a-Second Language (ESL) prison education programs.
A Pre-Release Program, career counseling, and Adult Continuing Education (ACE) classes are available. ACE classes include smart investing, keyboarding, real estate investing, and CDL.
High school diplomas and post-secondary degrees are available through paid correspondence programs.
Advanced Occupational Education
Federal Correctional Institution Fairton offers advanced occupational education in Aquaculture and Horticulture. The FCI Fairton Camp does not offer any advanced occupational education programs.
Vocational Training
No vocational training is offered at Fairton federal prison or the camp aside from the vocational training and apprenticeship programs.
Apprenticeship
The Fairton NJ prison offers apprenticeships in Electrician, Gardener, HVAC, Landscape Management Technician, Landscape Technician, Plumber, Quality Assurer, and Building Maintenance Apprenticeship.
Fairton Federal Prison Camp offers an apprenticeship in Dog Trainer for Hearing Impaired.
Library Services
The Fairton prison education library supports leisure reading, independent study, and academic programs. Resources include printed materials in various forms. Audiotapes, videotapes, listening laboratory media/study kits, reference materials, and a computer laboratory are also available. Inmates also have access to books, magazines, newspapers, and movies.
The law library provides inmates with access to legal research materials. This is primarily accomplished through the TRULINCS Electronic Law Library. Inmates also have access to a copy machine and electronic typewriters.
UNICOR
The FCI Fairton UNICOR facility produces electronics and plastics.
Commissary
Inmates can spend up to $360.00 each month in the prison commissary. The only items excluded from this spending limitation are stamps, phone credits, copy cards, over-the-counter medications, and computer/TRULINCS units.
The total value of an inmate's accumulated commissary items (excluding special purchases) is limited to the respective monthly spending limit. Inmates tend to use their laundry bags to carry their commissary purchases from the store. Inmates can purchase various items ranging from food, drinks, and cosmetics to shoes, electronics, and clothing.
Recreation Services
Leisure and recreation offerings at FCI Fairton include indoor and outdoor activities, ranging from individualized arts and crafts programs to intramural team sports, such as:
Softball
Basketball
Volleyball
Physical fitness and weight reduction programs are also offered. The yard also has a weight pile.
Visitation Information for FCI Fairton
Family and friends may visit inmates from 8:15 a.m. and 3:15 p.m. Sundays, Mondays, Fridays, and Saturdays. Federal holidays visiting hours are from 8:15 a.m. to 3:15 p.m. See our page on prisoner visitation rules for more information.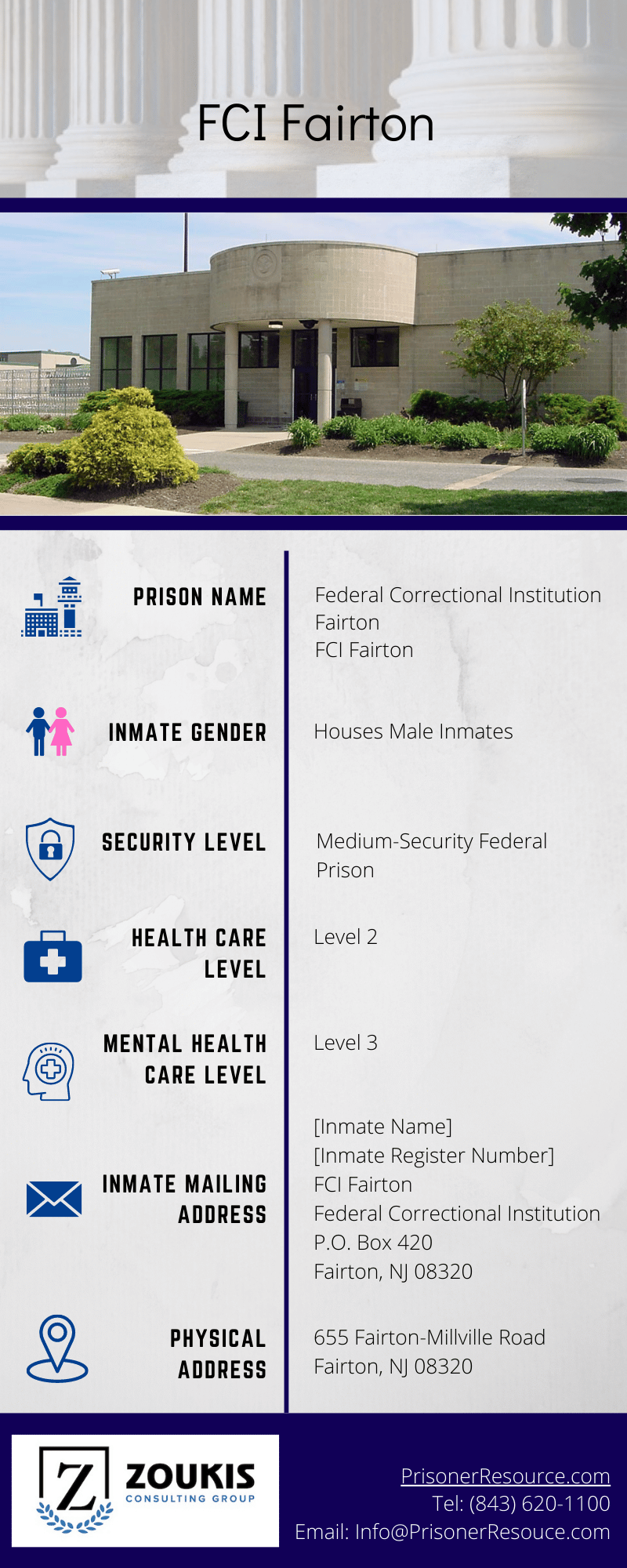 FCI Fairton Prison Culture Information
Prison Politics at Federal Correctional Institution Fairton
This yard is not very political. According to one respondent, "it's a drop-out yard now."
Level of Violence
There is a minimal level of violence.
Vulnerable Populations
Sex offenders, informants, and LGBT inmates can remain on the yard.
Good at FCI Fairton
"Nothing is good."
Bad at FCI Fairton
"Medical is particularly bad."
FCI Fairton in the News
In February 2018, Salomon Hernandez-Vega, serving a 77-month sentence at the Federal Correctional Institution at Fairton, was found dead in his cell after an "altercation."
In December 2016, a prisoner at FCI Fairton was airlifted to a hospital after suffering head injuries.
In August 2013, Fairton prison inmate Alano-Martin was airlifted to a hospital after being assaulted in the recreation yard.
In September 2013, Robert Pyott, a correctional officer at FCI Fairton, was found dead of an apparent self-inflicted gunshot outside the perimeter fence.
In June 2012, Job Brown, a guard at FCI Fairton, pleaded guilty to charges of accepting $3,600 to smuggle tobacco and vitamins into the facility between January and March 2012.
In June 2011, two prisoners at FCI Fairton were taken to the hospital after a fight broke out among 40 prisoners in the recreation yard.
More Information About Federal Correctional Institution Fairton
For a comprehensive look at life in federal prison, pick up a copy of Christopher Zoukis' Federal Prison Handbook: The Definitive Guide to Surviving the Federal Bureau of Prisons. For more detailed information about FCI Fairton, please buy a copy of the Directory of Federal Prisons: The Unofficial Guide to Bureau of Prisons Institutions by Christopher Zoukis.
Published May 17, 2018 by Christopher Zoukis, JD, MBA | Last Updated by Christopher Zoukis, JD, MBA on Mar 26, 2023 at 12:11 pm