Federal Correctional Institution Safford is a low-security federal prison located in Safford, Arizona. It is also known as FCI Safford and the federal prison in Safford, AZ prison. The facility houses male inmates.
FCI Safford Contact Information
Facility Address & Contact Information
Federal Correctional Institution Safford
1529 West Highway 366
Safford, AZ 85546
Phone: 928-428-6600
Fax: 928-348-1331
Email: [email protected]
BOP Website: Bureau of Prisons Page
Wikipedia: Wikipedia Page
Inmate Correspondence Address
FCI Safford
Inmate Name and Registration Number
FCI Safford
Federal Correctional Institution
P.O. Box 9000
Safford, AZ 85548
How to Send Money
If you have a friend or loved one incarcerated in federal prison, you may be wondering how you can send them money. Inmates at the federal prison in Safford, AZ, cannot receive funds directly, but options are still available.
Family and friends can send money to an inmate through Western Union, Money Gram, or the National Lockbox in Des Moines, Iowa. These options have different fees and requirements, so be sure to research each one before sending any money. Keep in mind that there may be limits on how much money you can send to an inmate at one time.
Please read our page on how to send money to inmates for more information.
Federal Correctional Institution Safford Inmate Information
Inmate Gender
Male Inmates
Prison Security Level
Facility Location
FCI Safford is in southeastern Arizona, 127 miles northeast of Tucson, 165 miles east of Phoenix, off Highway 191, and 7 miles south of the town of Safford.
BOP Region
BOP Institution Code
SAF for FCI Safford
Medical Care Level
Level 1. See our page on Medical Care Levels and Procedures for more information.
Mental Health Care Level
Level 1.
Judicial District
District of Arizona
Population Number
FCI Safford houses approximately 830 inmates.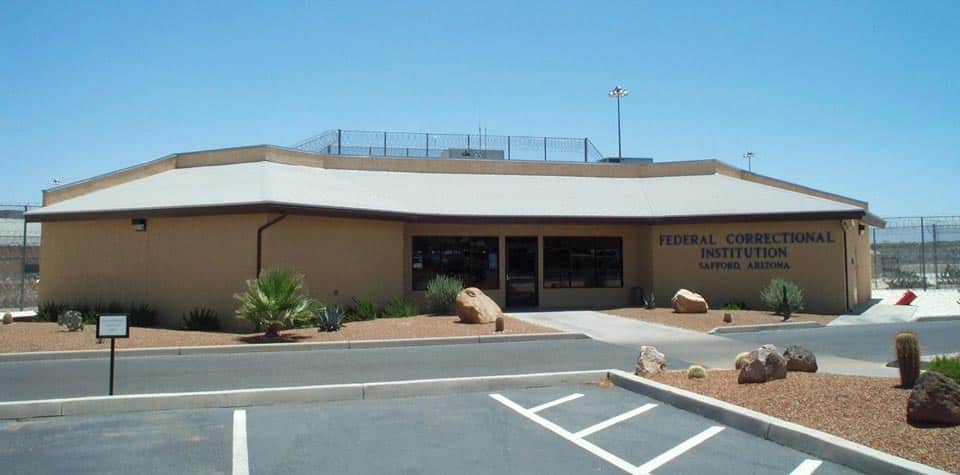 FCI Safford Prison Services Information
Background
Federal Correctional Institution Safford is a low-security federal prison in Safford, Arizona. It opened in 1974 and houses male inmates.
FCI Safford initially opened in 1974 as Federal Prison Camp Safford. In 1985, it converted into the low-security federal prison it is today.
Please note that FCI Safford is a federal prison and not affiliated with Fort Grant, ASPC Safford, or the Arizona State Prison Complex in Safford.
Notable inmates include:
Earth Liberation Front member Kevin Tubbs (served 12 years for arson)
Allen Pace (serving 24 years for armed robbery)
Former police officer Karl Thompson (served 51 months for the beating death of Otto Zehm)
Inmate Housing
Federal inmates live in dormitories divided into six- to eight-person cubicles. There are three total housing units.
Health Services
FCI Safford offers various basic medical and dental care health services, including:
Sick Call
Medications
Medical Emergency Care
Dental Sick Call
Routine Dental Care
Eyeglasses
Hearing Aids
Physical Examinations
HIV testing
Inmates are assigned to a particular mid-level practitioner (MLP) who treats them for the duration of their stay. Emergency medical care is available 24 hours a day.
A sick call is held at 6:30 a.m. Pill line is conducted at 6:30 a.m., 11:00 a.m., and 4:30 p.m. on weekdays and 9:30 a.m. and 4:30 p.m. on weekends. The insulin line is held before breakfast and dinner.
Psychology Services
The federal prison in Safford, AZ, screens all new inmates for psychological needs and offers treatment to those who need it. Services range from substance abuse therapy and other behavioral or emotional problems such as depression.
Inmates can also seek help by contacting Psychology Services staff members. Treatment groups and a self-help library containing books and videos are also available.
Residential Drug Abuse Program (RDAP)
FCI Safford offers the Residential Drug Abuse Program (RDAP). The Drug Education class and the Non-Residential Drug Abuse Program (NR-DAP) are also available.
FCI Safford Educational, Library, and Recreation Offerings
Education Services
FCI Safford provides inmates with literacy, GED, and English-as-a-Second Language (ESL) programs. Adult Continuing Education (ACE) and parenting classes are also available. A computer lab is also open where inmates can take courses such as typing.
High school diplomas, general education, and post-secondary degrees are available through paid correspondence programs. Eastern Carolina College offers a program where inmates can earn an associate's degree in business.
Advanced Occupational Education
Safford, AZ prison offers advanced occupational education in Carpentry, Business, Retail Sales, and HVAC.
Vocational Training
FCI Safford offers vocational training in Business, Carpentry, and HVAC.
Apprenticeship
The federal prison in Safford, AZ, offers apprenticeships in:
Cabinet Making
Culinary Arts
Dental Assistant
Electrical
HVAC
Plumbing
Commercial Driver's License
Small Gas Engine
Note that many inmates involved in apprenticeships also engage in work programs related to the field of study. If an inmate is in the HVAC apprenticeship, they typically also perform HVAC work around the prison.
Library Services
The FCI Safford leisure library includes a variety of reading materials for inmates, including:
Magazines
Newspapers
Reference Materials
Fiction Books
Nonfiction Books
Inmates can prepare legal documents and access legal materials via the TRULINCS Electronic Law Library (LexisNexis). The law library contains required legal publications, general legal reference materials, and a selection of Bureau of Prisons policies. A copy machine and electronic typewriters are also available.
UNICOR
The Safford AZ prison's UNICOR facility produces clothing and textiles.
Commissary
Inmates may use their prison commissary funds in various ways:
Purchase items at the institution commissary
Place funds on their inmate phone account
Purchase TRU-Units for their TRULINCS account
Send funds out of the institution to family and friends
All purchases are limited to $180.00 every two weeks, for $360 monthly, except for over-the-counter medications, Nicotine Replacement Therapy patches, and postage stamps. An additional $50.00 is added to the spending limit during the November/December period to allow holiday item purchases.
Commissary is open Monday through Thursday between 6:00 and 8:00 a.m. and 10:30 a.m. to 12:00 p.m. Inmates may only shop once a week on their designated shopping day.
Recreation Services
The FCI Stafford Recreation Department offers various recreation options:
Equipment Issue Room
Hobby Shop
Music Room
Weightlifting Area
Auditorium
Outdoor Activities
The department offers organized intramural leagues throughout the calendar year. The hobby craft programs include drawing, painting, leathercraft kits, crochet, airbrush, and beading. Feature-length movies are shown in the auditorium on weekends and holidays.
Inside, inmates have access to:
Treadmills
Stationary Bikes
Ellipticals
Rowing Machines
Outside, inmates have access to:
Weight Pile
Track
Six Handball Courts
Two Tennis Courts
Softball
Basketball
Soccer
Volleyball
Ping Pong
Hours of operation are:
Weekdays: 6:00 to 10:00 a.m.; 12:00 to 3:30 p.m.; 4:30 to 8:30 p.m.
Weekends: 6:30 to 9:30 a.m.; 10:30 to 3:30 p.m.; 4:30 to 8:30 p.m.
Visitation Information for FCI Safford
On Saturday and Sunday, visitation is held between 8:00 a.m. and 3:00 p.m. On federal holidays visiting hours are from 8:00 a.m. to 3:00 p.m. See our page on prisoner visitation rules for more information. And note, during the COVID-19 pandemic, some prison complexes allow visitation by appointment only.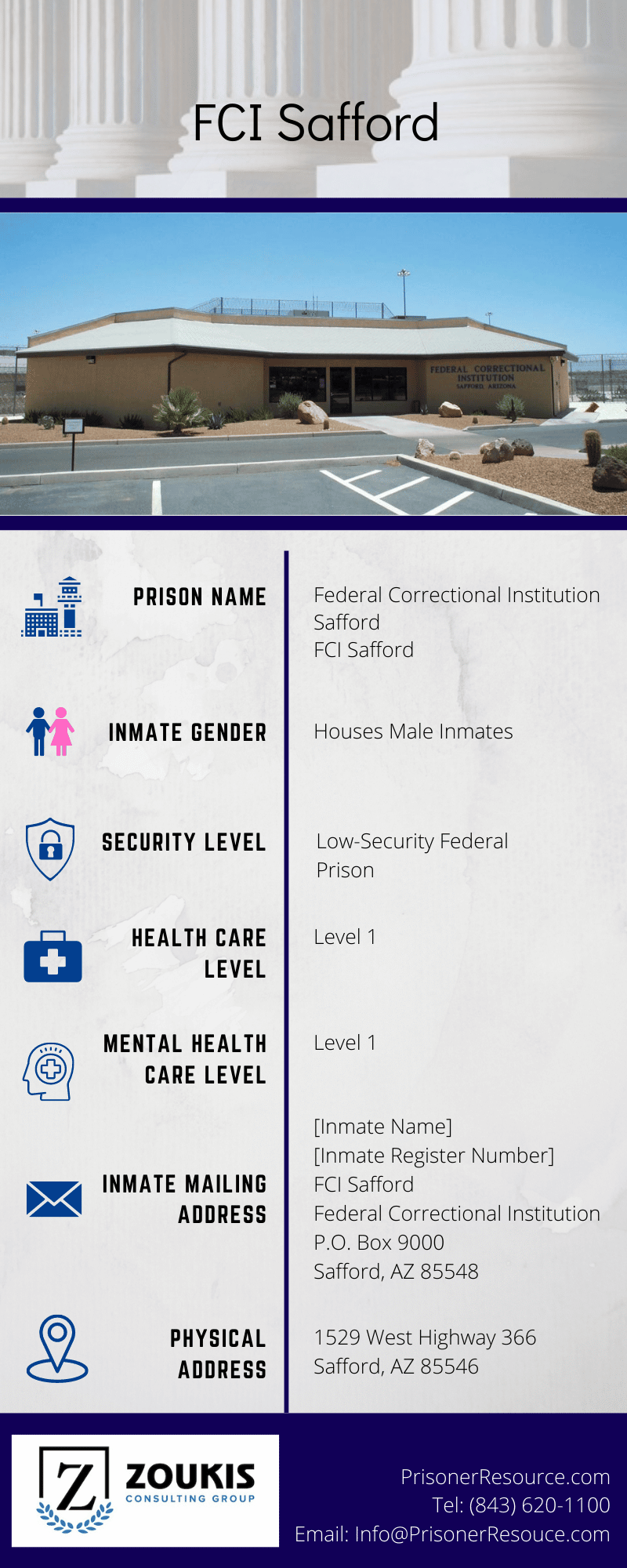 FCI Safford Prison Culture Information
Prison Politics at Federal Correctional Institution Safford
The federal prison in Safford, AZ, is a somewhat political yard, though it appears that all can walk. According to inmate reports, if an inmate has bad paperwork, they will suffer from some ostracization, but not violence. There is no gang or car requirement.
Level of Violence
There is very little violence in this prison. One respondent stated, "Over the past two years, the prison has become progressively soft and softer." Another inmate expressed that "overall this is a safe yard, no random acts of violence." One inmate pegged the violence level at a 1 out of 10, explaining, "There is no real violence here."
Vulnerable Populations
Sex offenders, informants, and LGBT inmates can stay at the federal prison in Safford, AZ, though, according to one inmate, they are "tormented and taken advantage of." The same person explained that "staff is just as hard on sex offenders as inmates are."
Another inmate said that "sex offenders have segregated seating in the chow hall and their TV to watch." Another inmate somewhat disagreed, stating that all three groups could stay and that it's "all cool."
Good at FCI Safford Federal Prison
"Education, particularly college program; open compound on the evenings and weekends; trees, tables, and palm trees." "Food, rec, and UNICOR are good." "Food is pretty good, lots of sunshine, and beautiful mountains to look at." "The freedom and so many things to do." "The guards are helpful."
Bad at FCI Safford AZ Prison
"Tense politics amongst the whites." "The way staff treats inmates, and sex offenders, in particular, is bad." "The administration is getting rid of some shade trees and seating in the recreation area."
Other Inmate Comments
"Non-sex offenders will like this yard. Sex offenders and informants will be excluded from some areas, such as the weight pile. Laidback staff. Very pro-education."
"Overall, a good yard, and safe yard for all." "It's a good, kick-back yard."
FCI Safford in the News
In February 2016, former police officer Karl Thompson was released from Federal Correctional Institution Safford after completing his 51-month sentence for the beating death of janitor Otto Zehm.
More Information About Federal Correctional Institution Safford
When it comes to learning about life in federal prison, there are few better sources of information than Christopher Zoukis. His book, Federal Prison Handbook: The Definitive Guide to Surviving the Federal Bureau of Prisons, offers a comprehensive look at what to expect when serving time in a federal facility.
For those who want more specific information about FCI Safford federal prison, Zoukis's Directory of Federal Prisons: The Unofficial Guide to Bureau of Prisons Institutions is an essential resource. This book provides detailed information about the prison, a complete list of its amenities, and its culture.
With these two books, anyone facing time in federal prison will have all the information they need to make the best of their situation.
Published Jun 3, 2018 by Christopher Zoukis, JD, MBA | Last Updated by Christopher Zoukis, JD, MBA on May 12, 2023 at 4:05 pm