United States Penitentiary Lee is a high-security federal prison located in Pennington Gap, Virginia. It is also known as Lee Correctional Facility, Lee County Prison, and Lee Correctional Institution. USP Lee Camp is next to the central institution. Both prisons house male inmates.
If you or a loved one are incarcerated at USP Lee in Virginia, the Zoukis Consulting Group can help. Our federal prison experts have extensive experience assisting clients with all aspects of their incarceration, from preparing for prison to resolving in-prison matters to securing an early release.
We offer initial consultations to all potential clients, so contact us today to learn more about how we can help you or your loved one navigate the federal prison system.
Lee County Prison Contact Information
Facility Address & Contact Information
United States Penitentiary Lee
Lee County Industrial Park
Hickory Flats Road
Pennington Gap, VA 24277
Phone: 276-546-0150
Fax: 276-546-9115
Email: [email protected]
BOP Website: Bureau of Prisons Page
Wikipedia: Wikipedia Page
Inmate Correspondence Address
USP Lee
Inmate Name and Registration Number
USP Lee
United States Penitentiary
P.O. Box 305
Jonesville, VA 24263
USP Lee Prison Camp
Inmate Name and Registration Number
USP Lee Camp
Satellite Prison Camp
P.O. Box 644
Jonesville, VA 24263
How to Send Money
Lee Correctional Facility inmates may not receive directly. See our page on sending money to federal prisoners.
United States Penitentiary Lee Inmate Information
Inmate Gender
Male Inmates
Prison Security Level
Facility Location
Lee Correctional Facility is in southwest Virginia in Lee County, 8 miles east of Jonesville.
BOP Region
BOP Institution Code
LEE for USP Lee
Medical Care Level
Level 1. See our page on Medical Care Levels and Procedures for more information.
Mental Health Care Level
Level 1.
Judicial District
Population Number
Lee Correctional Facility houses approximately 1,240 inmates. The camp houses around 80 inmates.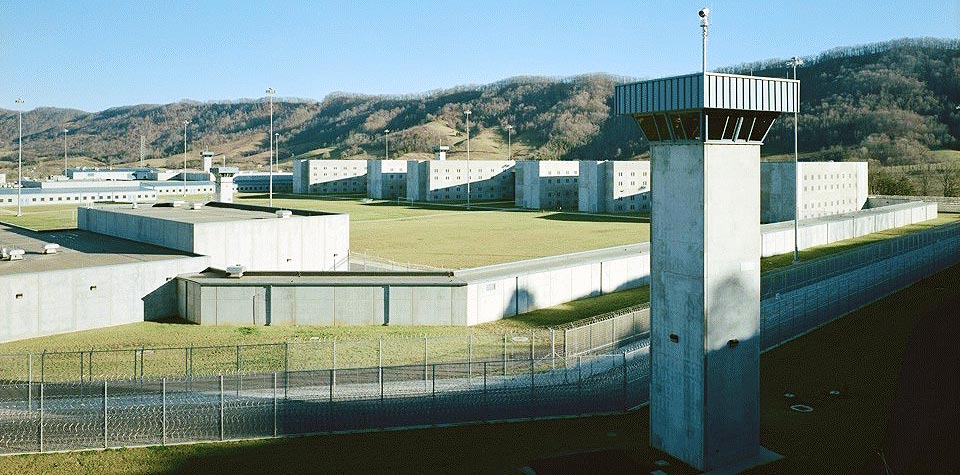 USP Lee Prison Services Information
Background
United States Penitentiary Lee is a high-security federal prison located in Pennington Gap, Virginia. Construction was completed in August 2001, and the institution began receiving inmates in 2002. United States Penitentiary Lee Camp is adjacent to the primary institution. Both facilities house male inmates.
Numerous violent incidents have occurred at USP Lee, including several homicides.
Notable Lee County prison inmates include:
Former assassin for the now-defunct Medellin Drug Cartel Dandeny Munoz-Mosquera (serving a life sentence for blowing up an airplane).
Hitman for Loz Zetas Gerardo Castillo-Chavez (serving a life sentence for racketeering, drug trafficking conspiracy, and weapons charges).
Former U.S. Air Force intelligence analyst Brian Patrick Regan (serving a life sentence for espionage).
Somali pirate leader Mohammed Modin Hasan (serving a life sentence for attacking an American warship).
Media reports indicate that at least five guards were federally indicted for falsifying reports. In 2015, eight inmates and one guard were transported to a local hospital for treatment following a brawl at the prison.
Inmate Housing
Lee County prison inmates live in one- and two-person cells. The camp has dormitories.
Health Services
Lee Correctional Institution inmates receive an initial routine health screening shortly after admission. Health services include:
Health Examinations
Dental Care
Specific Preventive Health Examinations (e.g., cancer screening)
Routine Care
Medications
Vaccinations
Specialty Care
Inmates can request to be seen by a provider by attending a sick call at 8:30 a.m. Medical care is provided by institution health services staff. Emergency medical care is available 24 hours a day. Pill and insulin lines are held at 6:30 a.m. and 5:15 p.m.
Psychology Services
USP Lee offers screening, assessment, and treatment of mental health problems, individual and group counseling, self-help and supportive services, and referral to Health Services for medical treatment of a mental illness.
Additional programs and groups are available for anger management, stress management, and crisis intervention. A self-help library is available. The facility also houses the Challenge Program for inmates prone to substance abuse, mental illness, and violence.
Residential Drug Abuse Program (RDAP)
Lee County prison does not have a Residential Drug Abuse Program (RDAP). It does offer Alcoholics Anonymous (AA), Narcotics Anonymous (NA), the Non-Residential Drug Abuse Treatment Program (NR-DAP), and a Drug Education Class.
USP Lee Educational, Library, and Recreation Offerings
Education Services
Lee Correctional Institution offers GED instruction and an English-as-a-Second Language (ESL) program. Classes are separated into Pre-GED, GED, Advanced GED, and Special Learning Need levels. Parenting and Adult Continuing Education (ACE) classes are also available. High school diplomas and post-secondary degrees are available through paid correspondence programs.
Learn about other inmate education programs.
Advanced Occupational Education
USP Lee offers advanced occupational education in Basic Home Construction and Residential HVAC. The camp provides Horticulture/Gardening.
Vocational Training
Lee Correctional Institution does not offer any vocational training programs besides its advanced occupational education programs.
Apprenticeship
USP Lee does not offer any apprenticeship programs.
Library Services
Lee County prison inmates have access to the TRULINCS Electronic Law Library, a copy machine, and electronic typewriters. A leisure library is also available where inmates can check out fiction and nonfiction books, newspapers, and magazines.
UNICOR
USP Lee does not have a UNICOR factory.
Commissary
Lee Correctional Facility inmates can spend $90 per week in the prison commissary. All items count against this limit, including Special Purchase Orders (SPOs), except for these products:
Kosher Meals
Postage Stamps
Over-the-Counter Medications
Copy Cards
Commonly purchased items include drink mixes, candy, food, snacks, and clothing. Inmates are only permitted to shop on their assigned shopping days.
Recreation Services
Recreation programs at Lee County Prison include indoor and outdoor activities, including individualized arts and crafts programs. Intramural team sports include:
Softball
Basketball
Soccer
Volleyball
Bocce ball, horseshoes, and a track are also available. Physical fitness and weight reduction programs are available for inmates. A hobby craft program is available, which includes painting, leather, art, and drawing. Indoors, inmates also have access to tables, an art room, TVs, stationary bikes, basketball, volleyball, and ping pong.
Visitation Information for USP Lee
On Sundays and Saturdays, visiting hours are from 8:15 a.m. to 3:00 p.m. On federal holidays visitation is held between 8:15 a.m. and 3:00 p.m. See our page on prisoner visitation rules for more information.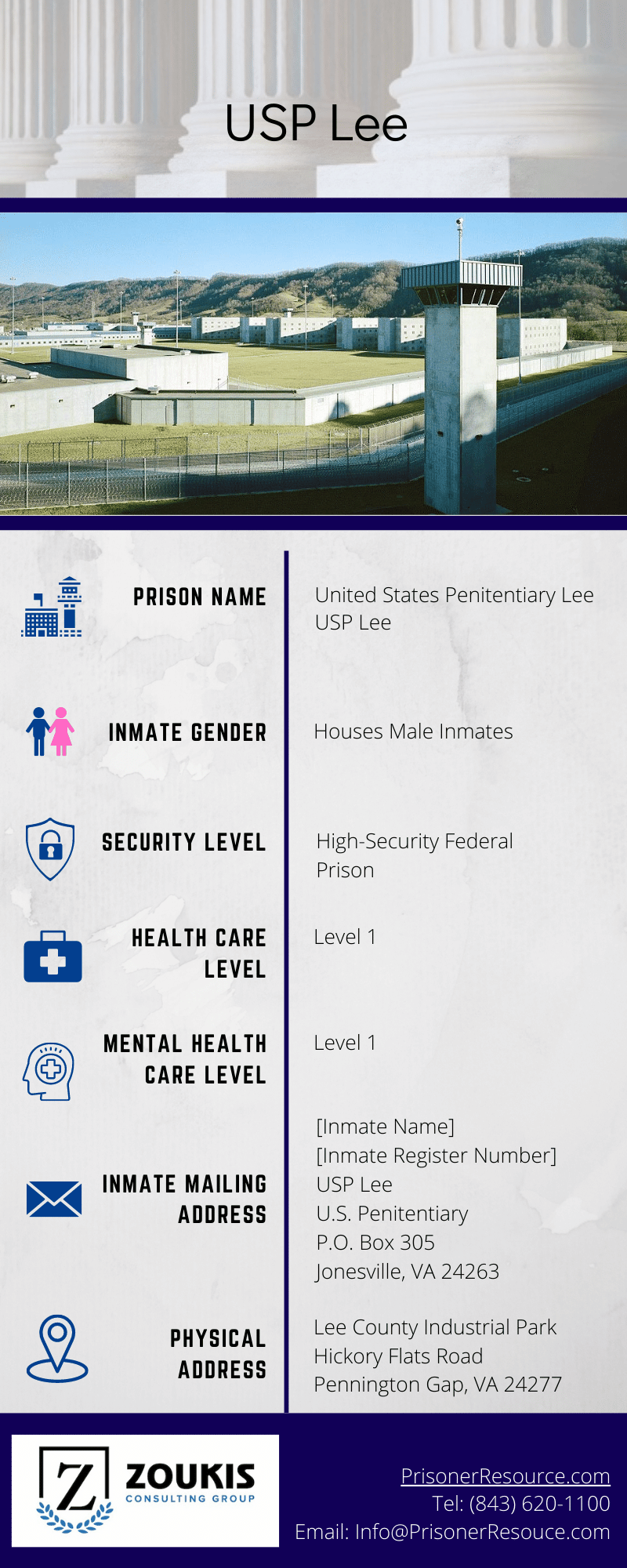 USP Lee Prison Culture Information
Prison Politics at United States Penitentiary Lee
Lee Correctional Institution is a very political yard. Inmates are required to be part of a car.
Level of Violence
There is a very high level of violence at Lee Correctional Facility. Inmates report several fights per week and monthly stabbings. One respondent explained, "Since the new warden got here, the level of violence has increased greatly."
Vulnerable Populations
Sex offenders, informants, and LGBT inmates cannot stay at Lee County prison. According to one inmate, "None of those kinds of inmates are here; if they are, they have yet to be 'exposed.'"
Good at USP Lee
"Nothing. I cannot think of anything good about that place."
Bad at USP Lee
"Inmate-on-inmate and staff-on-inmate violence." "There is nothing good about this prison. It's constantly locked down, which means that guys can't get what little programs they offer, and guys trying to get their GEDs can't attend classes."
Other Inmate Comments
"Go there if you want to die or make a name for yourself by killing somebody." "If you're young and wild, Lee is the place for you."
Lee Correctional Facility in the News
In March 2018, the warden at United States Penitentiary Lee announced "heightened mail monitoring protocols" that severely restricted where prisoners could purchase books, which included a cumbersome ordering process and a 30 percent markup. Bureau of Prisons officials reversed this policy in May 2018.
In January 2018, Lee Correctional Institution was instructed to eliminate 62 staff positions, bringing the total number from 427 to 365.
In November 2017, federal charges against five Lee Correctional Facility guards: Michael Bernette, Jerry Shuler, Charles Carter, Ryan Sluss, and William Marshal. The correctional officers were accused of falsifying reports and pleaded guilty. Assistant U.S. Attorney Zachary T. Lee later declined to prosecute.
In July 2015, multiple fights broke out at USP Lee. Inmates categorized the incident as a riot. Eight people were treated for cuts, stab wounds, and broken teeth at a local hospital. A guard also had his wrist broken.
Lee Prison Camp in the News
In February 2008, Edward Porta, an inmate at USP Lee Camp, walked away from the prison. He was incarcerated for defrauding the U.S. Department of Agriculture out of more than $400,000. He was recaptured in May 2016.
More Information About United States Penitentiary Lee
For a comprehensive look at life in federal prison, pick up a copy of Christopher Zoukis' Federal Prison Handbook: The Definitive Guide to Surviving the Federal Bureau of Prisons. For more detailed information about USP Lee, please buy a copy of the Directory of Federal Prisons: The Unofficial Guide to Bureau of Prisons Institutions by Christopher Zoukis.
Your USP Lee Correctional Institution Experts
Do you have a loved one at United States Penitentiary Lee? If so, contact the Zoukis Consulting Group. Our team helps clients prepare for federal incarceration, resolve in-prison matters, and secure an early release from custody.
Book an initial consultation with a USP Lee federal prison expert today! We can help you navigate the complex federal prison system and get your loved one home as soon as possible.
Published Apr 24, 2018 by Christopher Zoukis, JD, MBA | Last Updated by Christopher Zoukis, JD, MBA on Jun 4, 2023 at 5:40 pm