United States Penitentiary Thomson is a high-security federal prison in Thomson, Illinois. It is also known as USP Thomson and Thomson IL Prison. USP Thomson Camp is next to the primary institution. Both federal prisons house male inmates.
If you or a loved one are incarcerated at USP Thomson, the Zoukis Consulting Group can help. Our federal prison experts have extensive experience resolving in-prison matters and securing an early release from prison.
We offer initial consultations, so please don't hesitate to contact us today. We'll happily answer any questions and provide the assistance you need.
USP Thomson Contact Information
Facility Address & Contact Information
United States Penitentiary Thomson
1100 One Mile Road
Thomson, IL 61285
Phone: 815-259-1000
Fax: 815-259-0186
Email: [email protected]
BOP Website: Bureau of Prisons Page
Wikipedia: Wikipedia Page
Inmate Correspondence Address
USP Thomson
Inmate Name and Registration Number
USP Thomson
United States Penitentiary
P.O. Box 1002
Thomson, IL 61285
USP Thomson Camp
Inmate Name and Registration Number
USP Thomson Camp
Satellite Prison Camp
P.O. Box 1002
Thomson, IL 61285
How to Send Money
Inmates cannot receive funds directly at the institution. See our page on sending money to federal prisoners.
United States Penitentiary Thomson Inmate Information
Inmate Gender
Male Inmates
Prison Security Level
Facility Location
USP Thomson, Illinois, federal prison is near the western border of Illinois, 70 miles west of Rockford, Illinois, and 52 miles east of Davenport.
BOP Region
BOP Institution Code
TOM for Thomson
Medical Care Level
Level 2. See our page on Medical Care Levels and Procedures for more information.
Mental Health Care Level
Level 1.
Judicial District
Population Number
USP Thomson houses approximately 875 inmates. The camp houses around 115 inmates.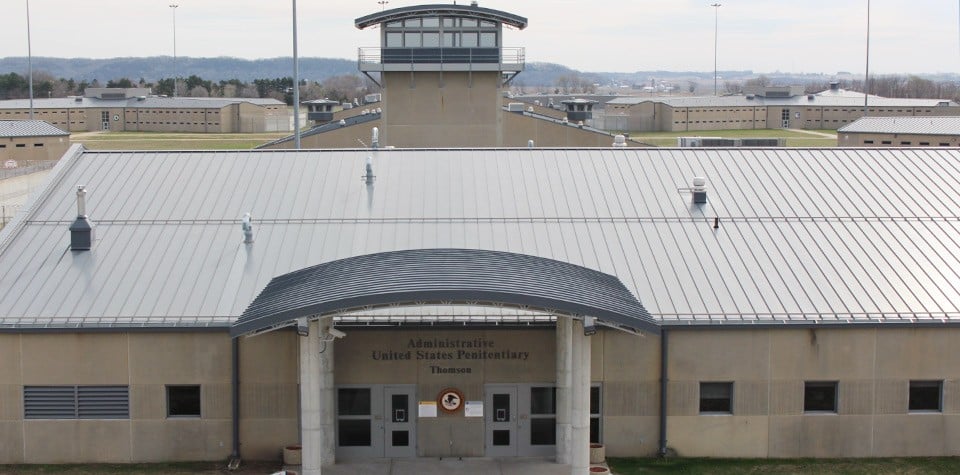 USP Thomson Prison Services Information
Background
United States Penitentiary Thomson is an administrative-security federal prison in Thomson, Illinois. USP Thomson Camp is adjacent to the main institution. Both facilities house male inmates.
The facility was initially a state prison in 2001. The U.S. Government purchased the prison in 2012. The facility now houses high-security federal prisoners for the Department of Justice.
Local 4070 is the union representing prison staff in Thomson, Illinois. The prison union has repeatedly raised concerns about drug exposure. These concerns have led to changes in mail screening, including drug detection equipment to reduce staff's exposure to drugs.
Inmate Housing
Thomson, IL, prison inmates live in cells. At the camp, inmates live in dormitories.
Health Services
New inmates receive a physical examination within 14 days of arrival at the institution. The Health Services Unit at USP Thomson functions as an outpatient clinic.
The medical staff comprises physicians, dentists, mid-level practitioners, and nurses. Staff provides various health care services, including:
Medical Sick Call
Dental Sick Call
Preventive Health Care Services
Chronic Care
Medications
Eyeglasses
Inmates may request a screening for infectious diseases. Emergency medical care is available 24 hours a day. Inmates must be in uniform and present their commissary ID cards for admission into the Health Services Unit.
Psychology Services
USP Thomson IL prison Psychology Services staff will interview new inmates to determine mental health and drug programming needs. Referrals to residential mental health programs designed to help inmates with severe emotional, cognitive, and behavioral problems are also available. These programs are for inmates with difficulty functioning in a mainline institution due to a psychological disorder.
Residential Drug Abuse Program (RDAP)
Thomson Illinois federal prison does not offer the Residential Drug Abuse Treatment Program (RDAP). Staff can refer inmates to an institution that does offer this program. A drug abuse program, Drug Abuse Education course and the Non-Residential Drug Abuse Program (NR-DAP) are available.
USP Thomson Educational, Library, and Recreation Offerings
Education Services
Thomson Illinois federal prison provides literacy, GED, and English-as-a-Second Language (ESL) programs. Graduation ceremonies recognize GED, ESL, and Occupational Education completions.
A parenting program and Adult Continuing Education (ACE) classes are also available. High school diplomas and post-secondary degrees are available through paid correspondence programs.
You can learn more about inmate education programs here.
Advanced Occupational Education
USP Thomson does not offer any advanced occupational education programs.
Vocational Training
Thomson, IL prison does not offer any vocational training programs.
Apprenticeship
USP Thomson, Illinois prison does not offer any apprenticeship programs.
Library Services
The TRULINCS Electronic Law Library is available for use in preparing legal documents. Legal materials are also available in the law library.
The leisure library offers inmates a variety of reading materials, including periodicals, newspapers, fiction, nonfiction, and reference books. Typewriters and a copy machine are also available.
UNICOR
USP Thomson IL prison does not house a UNICOR facility.
Commissary
Inmates can shop once per week in the prison commissary on a designated day. The commissary spending limit is $360.00 per month. Thomson Illinois federal prisoners can purchase food, sodas, ice cream, snacks, radios, MP3 players, clothing, shoes, and more.
Recreation Services
Prison recreation activities at USP Thomson federal prison and the satellite camp include:
Sports
Physical Fitness
Table Games
Hobby Crafts
Music Programs
Intramural Activities
Wellness programs include screening, assessments, goal setting, classes, fitness/nutrition plans, and counseling. An inmate photo program is also available. The Recreation Department also offers movies and electric instruments.
Visitation Information for USP Thomson IL Prison
Visiting hours are from 8:00 a.m. to 3:00 p.m., Sundays and Saturdays. Visitation is between 5:00 and 8:30 p.m. on Fridays. On federal holidays visitation is from 8:15 a.m. to 3:00 p.m. See our page on prisoner visitation rules for more information.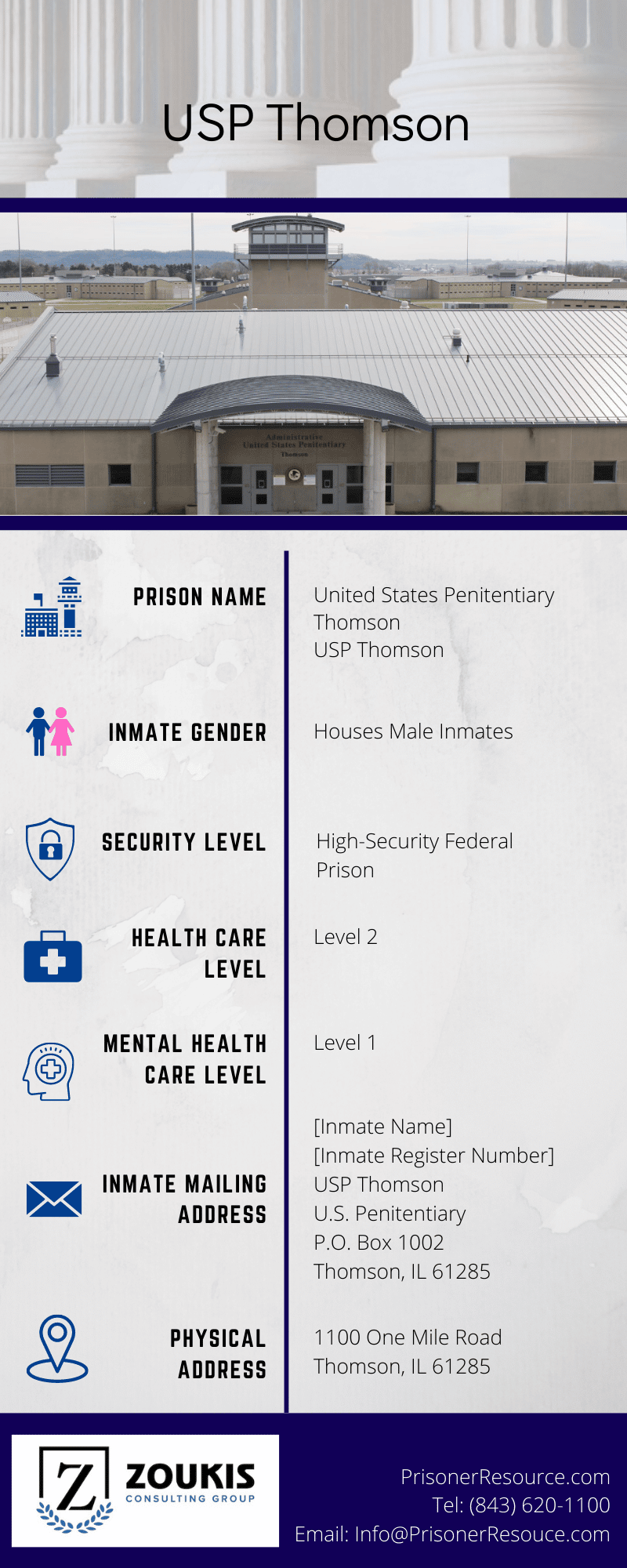 USP Thomson Illinois Prison in the News
In January 2022, rapper Kodak (given name Bill Kahan Kapri) was arrested for misdemeanor trespassing. He had served time at USP Thomson Camp before being pardoned in 2021 by then-President Donald Trump. Kodak had previously been housed at USP Big Sandy and was USP Thomson following a lawsuit against USP Big Sandy officials alleging emotional and physical abuse by prison staff.
In May 2021, news reports indicate that Thomson federal prison experienced critically low staffing levels. Over 60 non-correctional staff were placed in inmate housing units daily to work as correctional officers. The facility was staffed at 69 percent capacity due to 110 staff vacancies.
In March 2021, Thomson Illinois federal prison inmate Shay Paniry was found unresponsive, suffering from life-threatening injuries. He died from his injuries at the hospital. The FBI is currently investigating the incident.
In December 2020, Patrick Bacon, an inmate at United States Penitentiary Thomson, was found dead. According to media reports, Bacon was found unresponsive by staff. He was pronounced dead at a local hospital.
In November 2020, inmate Edsel Badoni was killed during a fight. While an ambulance was called, Badoni was pronounced dead following the initiation of life-saving measures.
In March 2020, Matthew Phillips, an inmate at USP Thomson IL prison, was killed following a "severe beating." While the Bureau of Prisons has not disclosed the underlying circumstances, news reports indicate that Phillips had been in a fight. He died from his injuries at a hospital.
In December 2021, fellow inmates Brandon "Whitey" Simonson and Kristopher "No Luck" Martin were indicted for the murder. According to court records, Simonson and Martin, members of the white supremacist group Valhalla Bound Skinheads, were indicted for second-degree murder and a hate crime. They had allegedly killed Phillips because he was Jewish.
More Information About United States Penitentiary Thomson
For a comprehensive look at life in federal prison, pick up a copy of Christopher Zoukis' Federal Prison Handbook: The Definitive Guide to Surviving the Federal Bureau of Prisons. For more detailed information about USP Thomson, please buy a copy of the Directory of Federal Prisons: The Unofficial Guide to Bureau of Prisons Institutions by Christopher Zoukis.
Your USP Thomson Federal Prison Experts
The Zoukis Consulting Group is here to help if you or a loved one are at USP Thomson federal prison. Our team of experts can assist with various in-prison matters and help secure an early release from federal prison.
Don't go through this challenging time alone. Contact us today to book a one-hour initial consultation. We're here to help you get through this tough time.
Published May 16, 2018 by Christopher Zoukis, JD, MBA | Last Updated by Christopher Zoukis, JD, MBA on Aug 6, 2023 at 1:13 pm