United States Penitentiary Tucson is a high-security federal prison located in Tucson, Arizona. It is also known as USP Tucson prison. USP Tucson Camp is adjacent to the central institution. Both facilities house male inmates.
If you or a loved one are incarcerated at USP Tucson, the Zoukis Consulting Group can help. Our experts have extensive experience resolving in-prison matters and securing an early release from prison.
Book a one-hour initial consultation with us today to see how we can help. Our team will work tirelessly to secure the best possible outcome for your case.
USP Tucson Contact Information
Facility Address & Contact Information
United States Penitentiary Tucson
9300 South Wilmot Road
Tucson, AZ 85756
Phone: 520-663-5000
Fax: 520-663-5024
Email: [email protected]
BOP Website: Bureau of Prisons Page
Wikipedia: Wikipedia Page
Inmate Correspondence Address
USP Tucson
Inmate Name and Registration Number
USP Tucson
United States Penitentiary
P.O. Box 24550
Tucson, AZ 85734
USP Tucson Camp
Inmate Name and Registration Number
USP Tucson Camp
Satellite Prison Camp
P.O. Box 24549
Tucson, AZ 85734
How to Send Money
Federal inmates may not receive funds directly. See our page on sending money to federal prisoners. This page discusses using Western Union, Money Gram, and the National Lockbox in Des Moines, Iowa.
United States Penitentiary Tucson Inmate Information
Inmate Gender
Male Inmates
Prison Security Level
Facility Location
USP Tucson is in southern Arizona, 10 miles southeast of Tucson, near I-10 and Wilmot Road.
BOP Region
BOP Institution Code
TCP for USP Tucson and the camp, TCX for Tucson Federal Correctional Complex (FCC)
Medical Care Level
Level 2/3. See our page on Medical Care Levels and Procedures for more information.
Mental Health Care Level
Level 3.
Judicial District
District of Arizona
Population Number
USP Tucson houses approximately 1,275 inmates. The camp houses around 100 inmates.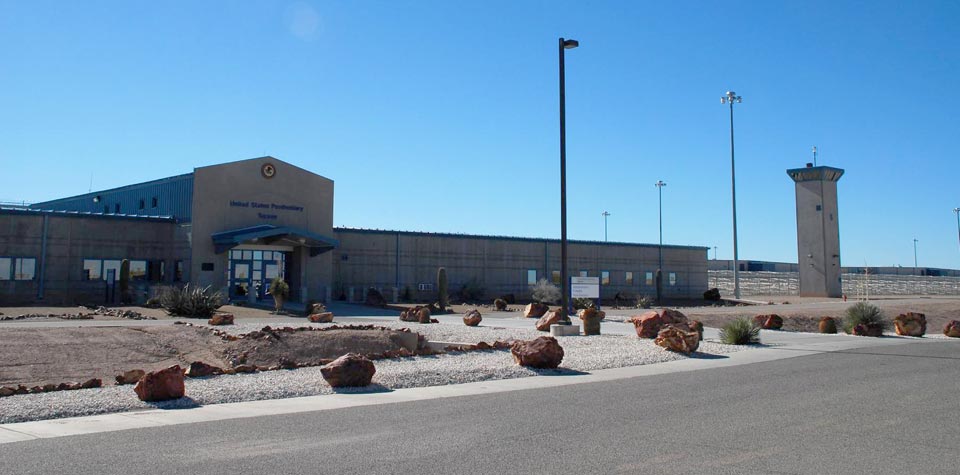 USP Tucson Prison Services Information
Background
United States Penitentiary Tucson is a high-security federal prison in Tucson, Arizona. It is part of the Tucson Federal Correctional Complex. USP Tucson Prison Camp is next to the main institution. Both facilities house male inmates and are operated by the Federal Bureau of Prisons (BOP).
USP Tucson is a Sex Offender Management Program (SOMP) facility. Approximately 40 percent of the inmate population is incarcerated for either a current or past sexual offense.
Notable inmates include former USA Gymnastics doctor Larry Nasser (serving 60 years for producing child pornography and other sexual offenses), James "Whitey" Bulger, and Elizabeth Smart's kidnapper.
Media reports indicate that Larry Nasser was assaulted in a coordinated attack while in prison. Inmates at the facility reported that the multi-person and multi-location assaults were designed to draw staff to one area of the prison while other inmates attempted to kill Nasser.
Inmate Housing
Inmates live in one and two-person cells. There is a total of 12 housing units. Inmates in the camp live in dormitories.
Health Services
The medical department offers the following health care services:
Sick Call
Dental Care
Physical Examinations
Chronic Care
Medication
HIV Testing
Eyeglasses
Emergency medical care is available 24 hours a day. Medical sick call is held at 12:30 p.m. on Monday, Wednesday, Thursday, and Friday. The dental sick call is held on Monday and Friday at 7:00 a.m. Medication refills can be collected on Monday, Wednesday, Thursday, and Friday during the noon meal.
Psychology Services
USP Tucson's staff psychologists offer the following prison psychology services:
Individual and Group Counseling
Psycho-Educational Classes (e.g., anger management, PTSD, etc.)
Self-Help and Supportive Services
Referral to Health Services for Medical Treatment of Mental Illness
Self-Help Lending Library
A Non-Residential Sex Offender Treatment Program (SOTP-NR) is available. The facility also has the Challenge Program for federal inmates prone to substance abuse, mental illness, and violence.
Residential Drug Abuse Program (RDAP)
The Residential Drug Abuse Program (RDAP) is not offered at USP Tucson or the adjacent Federal Prison Camp. Inmates interested in taking RDAP can request a referral through the Psychology department. Both facilities provide Drug Education classes and a Non-Residential Drug Abuse Program (NR-DAP).
USP Tucson Educational, Library, and Recreation Offerings
Education Services
USP Tucson Prison offers GED and English-as-a-Second Language (ESL). Inmates must participate in GED programming if they do not have a high school diploma or GED. Parenting and Adult Continuing Education (ACE) programs are also available. ACE classes are both classroom- and video-based.
INEA-Mexican High School Diploma Program students can have concurrent enrollment in GED literacy and INEA-Mexican High School Diploma Program. The Mexican Consulate offers primary and secondary education certificates through the Education Department. The Mexican curriculum is a voluntary program open to any student wishing to receive their diploma from the Mexican Government in either program.
The Education Department offers a variety of re-entry classes to help inmates make a productive reintegration into society. High school diplomas and post-secondary degrees are available through paid correspondence programs. Pima Community College also offers a business certificate program.
Advanced Occupational Education
United States Penitentiary Tucson and the camp provide advanced occupational education in Basic & Advanced Baking, Business Management, and ServSafe.
Vocational Training
USP Tucson does not offer any vocational training programs.
Apprenticeship
USP Tucson prison offers apprenticeships in Cooking, Custodial Maintenance, Electrician, HVAC, Plumbing, and Pastry Cook. The camp does not provide any apprenticeships.
Library Services
United States Penitentiary Tucson has both a leisure and law library for inmates. The leisure library offers magazines, newspapers, fiction, nonfiction, and reference books.
Inmates are provided access to legal materials and can prepare legal documents through the TRULINCS Electronic Law Library. Electric typewriters, NEO word processors, and a copy machine are also available for inmate use.
UNICOR
USP Tucson does not house a UNICOR facility.
Commissary
Inmates may use funds in their accounts to purchase items at the institution commissary. The monthly spending limit is $360.00. This is further restricted to $180 biweekly.
Popular items include:
Ice Cream
Sodas
Candy
Food
Clothing
Electronics
Shoes
Over-the-counter medications, copy cards, and postage stamps do not count against this limit. USP Tuscon prison commissary is open Monday through Thursday from 8:00 a.m. to 2:00 p.m. Shopping is permitted once per week on inmates' assigned shopping days.
Recreation Services
The USP Tucson prison provides a variety of leisure, wellness, and social programs to inmates. Leisure prison recreation activities include:
Intramural Sports
Physical Fitness Classes
Table Games
Hobby Crafts
Music Programs
Movies
Hobbycraft activities include:
Models
Crochet
Knitting
Mini Sticks
Beading
Origami
Painting
Wellness programs include screening, assessments, goal setting, fitness/nutrition plans, and counseling. USP Tucson prison inmates have access to both inside and outside recreation activities.
Inmates have access to the following indoor recreation activities:
Pool Tables
TV Viewing
Band Room
Art Room
Yoga Room
Piano Room
Barbershop
Ping Pong Tables
Darts
Basketball Court
Ellipticals
Treadmills
Stair Steppers
Stationary Bikes
Table Gaming Program
Outside recreation offers USP Tucson inmates these exercise activities:
Soccer
Basketball Courts
Bocce Ball Courts
Softball
Horseshoes
Football
Handball
Stationary Bikes
Walking/Running Track
Hours of operation are 8:00 to 10:00 a.m., 1:00 to 3:00 p.m., and 6:00 to 8:00 p.m. On the weekdays, both the North and South sides can participate in recreation together. On weekends, recreation times rotate between the two sides.
Visitation Information for USP Tucson
USP Tuscon visitation is offered on the following visitation hours schedule:
Saturday, Sunday, Monday: 8:15 a.m. to 3:00 p.m.
Friday: 5:00 to 8:00 p.m.
Federal Holidays: 8:15 a.m. to 3:00 p.m.
See our page on prisoner visitation rules for more information. This page explains how to visit an inmate and planning your visit.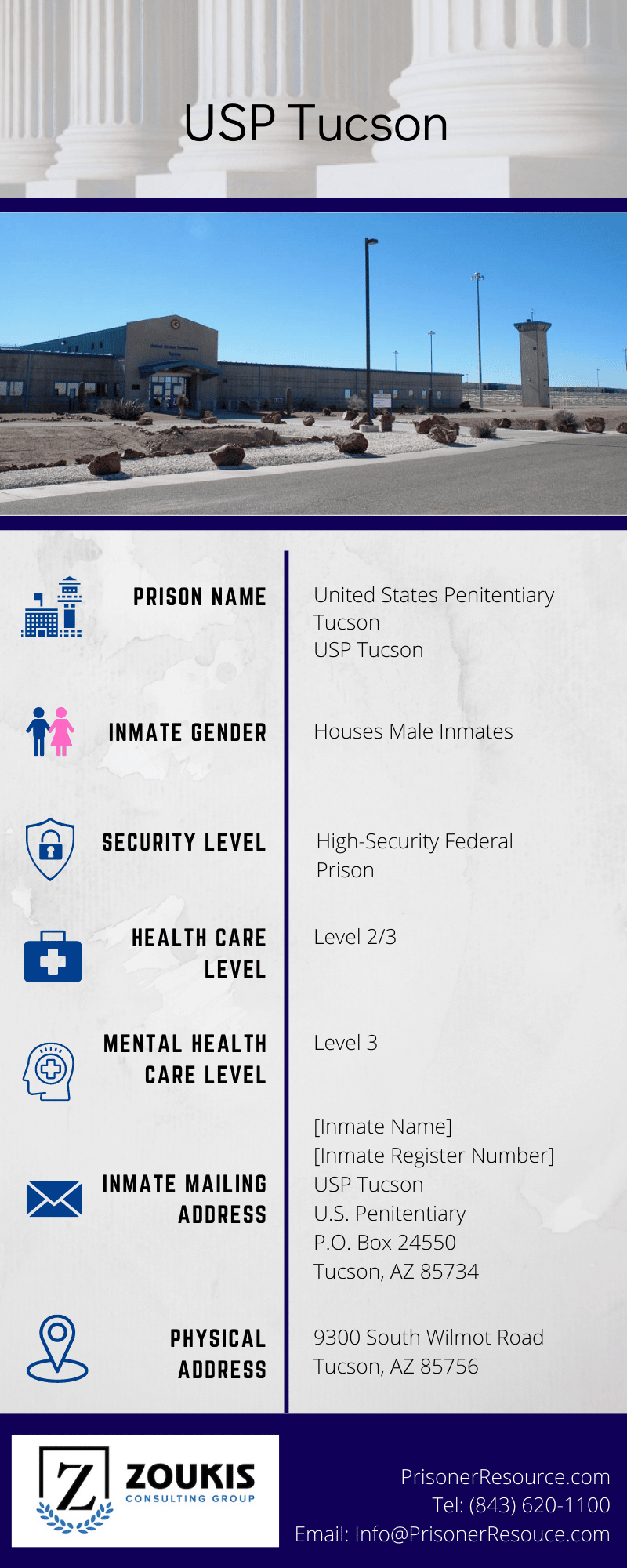 USP Tucson Prison Culture Information
Prison Politics at United States Penitentiary Tucson
Different inmates report that this is either a somewhat political yard or not political at all. There is a consensus that there are a lot of sex offenders and gang drop-outs.
As reported by one inmate, "This is only a political yard if you want it to be. There are no actual politics here." While there is no car requirement, this is still a USP, and cars are prevalent.
Level of Violence
Depending on the inmate response, there is either very little, moderate, or a high level of violence at this prison. This seems to be dependent on what group the inmate associates with.
Most respondents said that there was a low level of violence, especially considering that this is a USP. Of the reported violence, most was the result of "dope fiends not paying their bills" or "someone looking to check-in by hitting someone."
One inmate summed it up by saying that "there is no real violence here unless you click up and go out on dummy missions." One inmate did report that there were frequent fights, but fewer stabbings. This appears to be the minority opinion.
Vulnerable Populations
Sex offenders, informants, and LGBT inmates can walk the yard. Since the institution is a SOMP yard, there is a higher sex offender population.
Good at USP Tucson Prison
"The weather is so good that you can wear shorts year-round, people are respectful, and the food is good." "Non-political, nothing else good." "The food is not bad, and lockdowns are infrequent."
Bad at USP Tucson
"Hot and violent. The reason for the violence is often sex-oriented." "No grass, no green, and surrounded by a wall." "Everything, really hot weather, intolerant staff attitude, sexual assaults amongst inmates."
"SIS has so little to do that they write up a lot of petty and bullshit shots to fill their quotas." "People here go to the SHU for the most stupid things possible. If you use any pen pal site, you get a 200-series shot."
"The mailroom often loses your mail and it's otherwise always very late." "Many normal magazines are banned here." "The staff here do as little as possible to help anyone."
"Health care is awful and understaffed. A lot of inmates die from neglect and poor treatment." "There is no UNICOR so there is minimal money to be made here."
Other Inmate Comments
"While a USP, softer than some others. This depends in large part on who you associate with. Harder groups equate to harder time."
"Not the worst USP around, but still a USP. You don't have to roll with a car. Your time here will depend greatly on the group you affiliate with." "As far as USPs go, not a bad or violent place."
"Don't go unless you are a sex offender and have to be in a USP. Softer than other USPs." "There is more good than bad here, but it's very petty."
"This is a laid-back yard. There is no 'posting-up' for showers, rooms, or anything. We can walk in flip-flop shower shoes if we want. Many staff is here because they cannot 'walk' other yards."
USP Tucson in the News
In May 2018, former USA Gymnastics doctor Larry Nasser, who was sentenced to 60 years in prison for the production of child pornography, was assaulted by other prisoners at United States Penitentiary Tucson, a higher-security protective custody yard.
In early 2016, civil rights activist and revolutionary Jamil Al-Amin (formerly H. Rap Brown), serving a life sentence for killing a police officer, was moved to USP Tucson. Al-Amin was a federal political target for decades before his murder conviction and has been blocked from speaking to journalists for the past 17 years because the Bureau still considers him to be a "security risk." He spent seven years in solitary confinement at ADX Florence before being sent to Federal Medical Center Butner, United States Penitentiary Canaan, and finally USP Tucson.
Tucson Prison Camp in the News
In July 2018, Oscar Delgado and Oscar Estrada, both serving time at Federal Correctional Institution Tucson Camp for possession with intent to distribute drugs, were discovered missing.
In March 2018, Juan Carlos Dorado, who was being held at FCI Tucson Camp for money laundering and intent to distribute methamphetamines, went missing.
More Information About United States Penitentiary Tucson
For a comprehensive look at life in federal prison, pick up a copy of Christopher Zoukis' Federal Prison Handbook: The Definitive Guide to Surviving the Federal Bureau of Prisons. For more detailed information about USP Tucson, please buy a copy of the Directory of Federal Prisons: The Unofficial Guide to Bureau of Prisons Institutions by Christopher Zoukis.
Your USP Tucson Federal Prison Experts
If you or a loved one are incarcerated at United States Penitentiary Tucson, the Zoukis Consulting Group can help. Our prison experts have extensive experience resolving in-prison matters and securing our clients' early release from prison.
We understand that dealing with a loved one's incarceration can be overwhelming and stressful. We're here to help ease that burden and provide you with the support and guidance you need.
Contact us today for an initial consultation to learn more about how we can help you.
Published Jun 3, 2018 by Christopher Zoukis, JD, MBA | Last Updated by Christopher Zoukis, JD, MBA on May 12, 2023 at 4:26 pm