FCI Allenwood Medium is a medium-security federal prison in White Deer, Pennsylvania. The facility houses male inmates. The prison is also known as FCI Allenwood, Allenwood PA prison, Allenwood Correctional Facility, and Allenwood Medium Federal Correctional Institution.
Get in touch with the Zoukis Consulting Group if you have a loved one in FCI Allenwood Medium. Our Allenwood Correctional Facility experts can help resolve in-prison concerns, answer your questions, and review your loved one's case to determine if they qualify for early release from prison.
Schedule a one-hour initial consultation with an Allenwood Medium Federal Correctional Institution expert today!
FCI Allenwood Medium Contact Information
FCI Allenwood Medium
Route 15
White Dear, PA 17810
Phone: 570-547-7950
Fax: 570-547-7751
Email: ALX/[email protected]
BOP Website: Bureau of Prisons Page
Wikipedia: Wikipedia Page
Inmate Correspondence Address
Inmate Name and Registration Number
FCI Allenwood Medium
Federal Correctional Institution
P.O.Box 2000
White Deer, PA 17887
How to Send Money
Family and friends cannot send funds directly to federal inmates. See our page on sending money to federal prisoners for more information.
FCI Allenwood Medium Inmate Information
Inmate Gender
Male Inmates
Prison Security Level
Medium-Security Federal Prison
Facility Location
FCI Allenwood Medium is located 197 miles north of Washington, DC. It is 11 miles south of Williamsport, Pennsylvania, and two miles north of Allenwood, PA, on U.S. Route 15. The prison is in Union County, Pennsylvania.
BOP Region
BOP Institution Code
ALM for FCI Allenwood Medium. ALX for Allenwood Federal Correctional Complex.
Medical Care Level
Level 2/3. See our page on Medical Care Levels and Procedures for more information.
Mental Health Care Level
Level 3.
Judicial District
Middle District of Pennsylvania
Population Number
Allenwood PA prison houses approximately 1,200 inmates.
Allenwood Correctional Facility Prison Services Information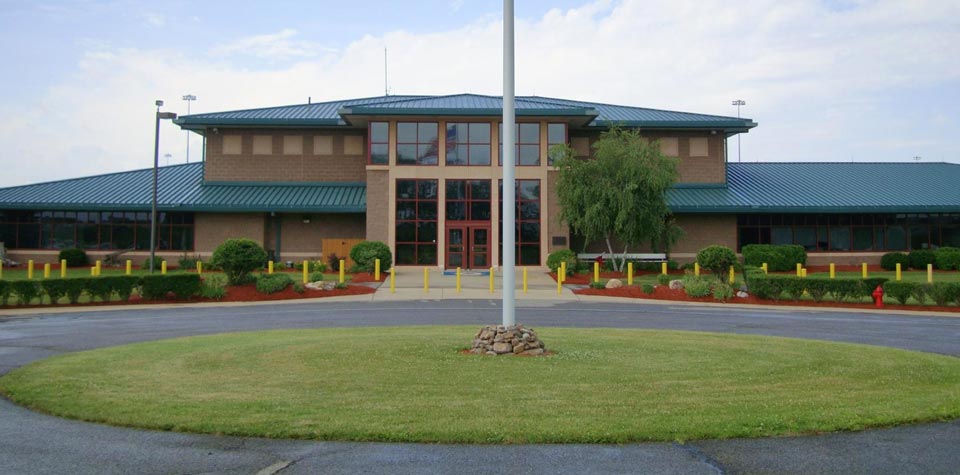 Background
Allenwood Medium Federal Correctional Institution is a medium-security federal prison in Allenwood, Pennsylvania. The institution houses male inmates confined to the Department of Justice. The facility opened in 1992. It is part of the Allenwood Federal Correctional Complex, which also includes FCI Allenwood Low and United States Penitentiary Allenwood.
The facility has housed several notable inmates, including:
Former NSA employee Ronald Pelton. He was released in 2015 after serving 30 years for espionage.
Terrorist Kifha Jayyousi, served 12 years for murder conspiracy and provided material support for terrorism.
James Cromitie, who is serving 25 years for attempted use of weapons of mass destruction and attempted murder. Cromitie orchestrated a plot to bomb Jewish synagogues and shoot down airplanes.
Kifano Jordan, the rapper better known as 6ix9ine and Shotti. He is serving 15 years for weapons violations. Jordan is scheduled for release in 2031.
Media reports indicate inmates have been charged with running an international drug-smuggling operation from inside FCI Allenwood Medium.
Inmate Housing
Inmates at FCI Allenwood Medium live in two-person cells.
Health Services
All inmates entering FCI Allenwood Medium have a mandatory, complete physical examination within 14 days of arrival. This examination may include laboratory studies, hearing and sight screening, and dental examination. The initial assessment also consists of a medical history review and a physical exam.
Inmates can access sick call, dental sick call, and physical examinations. Immunizations, screenings, health promotion, disease prevention, and medications are provided to inmates.
While emergency medical care is available 24 hours a day, inmates must submit a sick call form for non-emergency care. Health Services staff assist with scheduling appointments outside of regular sick call time when necessary.
Psychology Services
Allenwood PA prison provides individual therapy, group therapy, and intake evaluations. Educational groups and a self-help library are also available to inmates.
Residential Drug Abuse Program (RDAP)
FCI Allenwood Medium has the Residential Drug Abuse Program (RDAP). The Drug Abuse Education and Non-Residential Drug Abuse Program (NR-DAP) are also available. Inmates also have access to self-help groups such as Alcoholics Anonymous (AA) and Narcotics Anonymous (NA).
Allenwood PA Prison Educational, Library, and Recreation Offerings
Education Services
Allenwood Correctional Facility provides GED and English-as-a-Second Language (ESL) programs. Adult Continuing Education (ACE) and Employment Readiness classes are also available.
The Employment Resource Center provides resources for job search techniques. Additionally, inmates have access to the Breaking Barriers program. This program provides inmates with a video series to create awareness that change is possible through developing cognitive thinking skills. A parenting program is also available.
High school diplomas, career certificates, and college degrees are available through paid correspondence programs.
Learn more about educational opportunities in prison here.
Advanced Occupational Education
FCI Allenwood Medium does not offer any advanced occupational education programs.
Vocational Training
Allenwood PA prison offers vocational training in Aquaculture Science, Carpentry, Computers (IC3 Computing Core Certification), and Electric.
Apprenticeship
Federal Correctional Institution Allenwood Medium offers apprenticeships in Fishery Worker, Housekeeping, and QA Tech.
Library Services
The leisure library offers fiction and nonfiction books, magazines, and newspapers. The Education Department provides the TRULINCS Electronic Law Library for inmates researching federal caselaw. Typewriters and a copy machine are available for inmate use. The Education Department also has an interlibrary loan agreement with the Union County Public Library to expand its offerings.
UNICOR
The Allenwood PA prison's UNICOR facility produces office furniture.
Commissary
FCI Allenwood Medium inmates may spend up to $360.00 each month for regular purchases. Although, an additional amount is permissible for special purchase items. Inmates can purchase candy, snacks, food, clothing, shoes, electronics, and other items.
Each inmate is responsible for knowing the amount of money available in their commissary account. An Inmate's Unit Manager can approve withdrawals from this account to send funds to family members.
Recreation Services
Allenwood Correctional Facility's Recreation Department consists of both indoor and outdoor fitness areas.
Inmates can participate in these indoor activities:
Exercise in the Gymnasium
Make Ceramics
Play Board Games
Perform Hobby Crafts
Play Musical Instruments
Use Multi-Purpose Rooms
Utilize Fitness Equipment
Utilize the Wellness Resource Room
Watch TV
Outdoor activities include the following sports, activities, and areas:
Basketball
Bocce Ball
Circular Track
Courtyard
Fitness Stations
Flag Football
Handball
Handicapped Walking Track
Horseshoes
Sand Volleyball
Soccer
Softball
Pavilion Area
Racquetball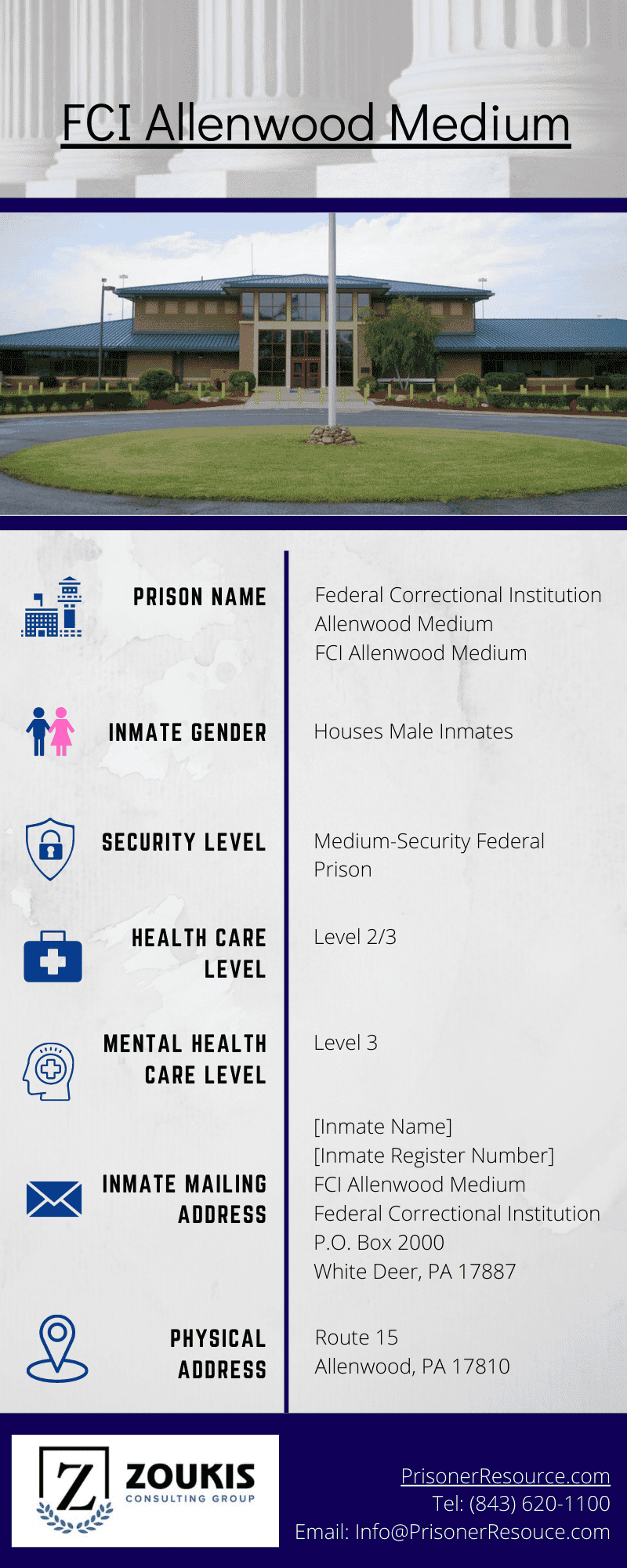 Visitation Information for FCI Allenwood Medium
Friends and family members can visit an inmate from 8:00 a.m. to 3:00 p.m. Sundays, Fridays, and Saturdays. Additionally, visiting hours are between 8:00 a.m. and 3:00 p.m on federal holidays. See our page on prisoner visitation rules for more information.
Allenwood Medium Federal Correctional Institution Prison Culture Information
Prison Politics at Allenwood PA Prison
Allenwood Correctional Facility has a medium level of prison politics.
Level of Violence
Allenwood Medium Federal Correctional Facility has a medium level of violence. Inmates stated there tend to be several fights each month. Conversely, news media reported several violent incidents at the facility more recently.
Vulnerable Populations
LGBT inmates are generally permitted to remain at the facility. But, Sex offenders and informants have difficulty staying at the facility.
Good at FCI FCI Allenwood
Surveyed inmates did not have much good to say about the facility.
Bad at FCI Allenwood Medium
Allenwood PA prison inmates interviewed cited violence and petty guards as facility negatives.
Other Inmate Comments
"The prison undergoes numerous lockdowns. This is especially the case since COVID-19 hit."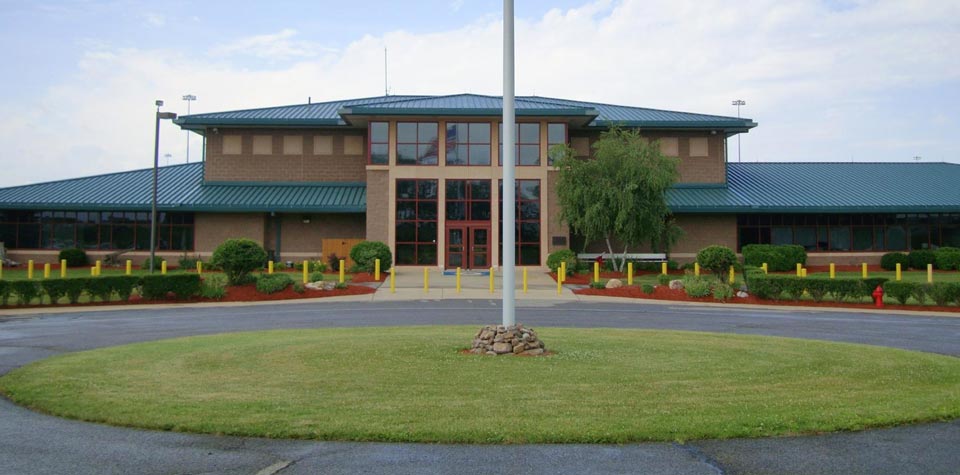 Allenwood Medium Federal Correctional Institution in the News
In May 2021, two inmates were transported to a local hospital following a fight. Prisoner Adrian Payne, one of the combatants, was pronounced dead at the hospital.
Also, in May 2021, inmates John Townsend and Geraldo Rodriguez Diaz were criminally charged after staff found them in possession of a cell phone.
In December 2020, prison guard Dale Franquet was stabbed in the eye by inmates. He was transported to a local hospital for emergency care.
In 2019, the Federal Aviation Administration issued a Special Security Instruction restricting the Allenwood, PA prison airspace. This order prohibits drone flights over the facility.
In 2005, Allenwood Medium Federal Correctional Institution inmates Jose Orejuela and Jorge Figueroa were indicted for supervising a drug-smuggling operation. This scheme included 20 other people and imported cocaine into the United States.
More Information About Allenwood PA Prison
For a comprehensive look at life in federal prison, pick up a copy of Christopher Zoukis's Federal Prison Handbook: The Definitive Guide to Surviving the Federal Bureau of Prisons. For more detailed information about FCI Allenwood Medium, please buy a copy of the Directory of Federal Prisons: The Unofficial Guide to Bureau of Prisons Institutions by Christopher Zoukis.
Your FCI Allenwood Medium Experts
Contact the Zoukis Consulting Group to speak with an FCI Allenwood Medium expert. Our team of experienced consultants can answer your questions, resolve any in-prison matters, and see if you qualify for early release.
Book an initial consultation with an Allenwood Correctional Facility expert today!
Published May 17, 2018 by Christopher Zoukis, JD, MBA | Last Updated by Christopher Zoukis, JD, MBA on Mar 26, 2023 at 11:46 am