Federal Correctional Institution Beaumont Low is a low-security federal prison located in Beaumont, Texas. It is also known as FCI Beaumont Low. The facility houses male inmates.
Please contact the Zoukis Consulting Group if you or a loved one is experiencing problems at the Beaumont, Texas prison. Our prison policy experts are here to help you in your time of need.
Book a one-hour initial consultation today.
FCI Beaumont Low Contact Information
Facility Address & Contact Information
Federal Correctional Institution Beaumont Low
5560 Knauth Road
Beaumont, TX 77705
Phone: 409-727-8172
Fax: 409-626-3500
Email: [email protected]
BOP Website: Bureau of Prisons Page
Wikipedia: Wikipedia Page
Inmate Correspondence Address
FCI Beaumont Low
Inmate Name and Registration Number
FCI Beaumont Low
Federal Correctional Institution
P.O. Box 2602
Beaumont, TX 77720
While members of the general public may write federal inmates without prior approval, all mail must be addressed to the inmate as listed above.
How to Send Money
Funds cannot be sent directly to inmates. See our page on sending money to federal prisoners.
Federal Correctional Institution Beaumont Low Inmate Information
Inmate Gender
Male Inmates
Prison Security Level
Facility Location
FCI Beaumont Low is located on the Texas Gulf coast, about 90 minutes from Houston.
BOP Region
BOP Institution Code
BMF for FCI Beaumont Low, BMX for Beaumont Federal Correctional Complex
Medical Care Level
Level 2. See our page on Medical Care Levels and Procedures for more information.
Mental Health Care Level
Level 2.
Judicial District
Population Number
The low-security Beaumont federal prison houses approximately 1,900 inmates.
FCI Beaumont Low Prison Services Information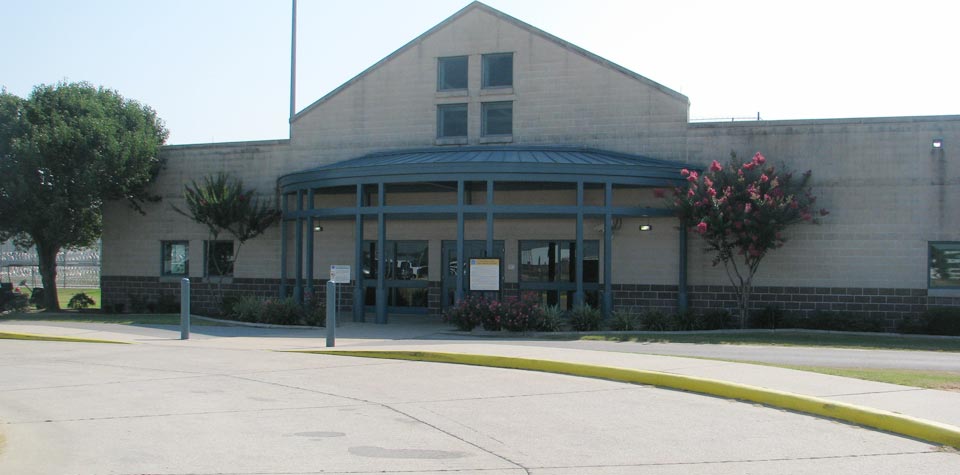 Background
Federal Correctional Institution Beaumont Low is a low-security federal prison in Beaumont, Texas. It houses male inmates. The prison opened in 1996 and is part of the Beaumont Federal Correctional Complex.
The low-security Beaumont Texas prison is located near USP Beaumont and FCI Beaumont Medium. It is a lower security facility than the other FCC Beaumont facilities. USP Beaumont inmates prompted the recent nationwide lockdown.
Media reports indicate that at least three corrections officers have been charged with accepting bribes to smuggle contraband into the institution. Additionally, a prison administrator was charged with operating an illicit fraud scheme in which she offered to reduce inmates' sentences for money. At least one inmate has escaped from the camp.
Inmate Housing
Inmates live in two- and three-person cubicles in dormitories. Each dorm houses approximately 150 inmates.
Health Services
FCI Beaumont Low offers the same health services as all FCC Beaumont institutions, including:
Sick Calls
Eyeglasses
Emergency Medical Treatment
Physical Examinations
Medications
Immunizations
Dental Care
Over-the-counter medications are available for purchase at the commissary. While emergency medical care is available 24 hours a day, inmates must attend sick calls for routine health care needs. Sick call is conducted Monday, Tuesday, Thursday, and Friday at 6:30 a.m. Pill and insulin lines are held during and after each meal.
Psychology Services
Intake screening is provided to inmates upon arrival. The psychology staff offers a variety of comprehensive treatment programs addressing a full range of clinical disorders, provides self-help options, assesses and treats behavioral or emotional problems, and facilitates overall adjustment. Anger management, Smart Recovery, and other programs, including a self-help lending library, are available.
Residential Drug Abuse Program (RDAP)
FCI Beaumont Low has the Residential Drug Abuse Program (RDAP). It also provides a Drug Abuse Education Course, the Non-Residential Drug Abuse Program (NR-DAP), Alcoholics Anonymous (AA), and Narcotics Anonymous (NA).
FCI Beaumont Low Educational, Library, and Recreation Offerings
Education Services
The Beaumont Texas prison Education Department is open from 7:40 to 10:30 a.m., 12:40 to 3:30 p.m., and 5:00 to 8:30 p.m. on weekdays. The department provides literacy, GED, and English-as-a-Second Language (ESL) programs.
Additional programs include parenting, Release Preparation Program (RPP), and Adult Continuing Education (ACE) courses. High school diplomas and post-secondary degrees are available through paid correspondence programs. The faculty also has a free college program through Lamar College, allowing inmates using this facility to earn an associate's degree.
Families and friends can learn about federal prison education programs here.
Advanced Occupational Education
FCI Beaumont Low offers advanced occupational education in Advanced Microcomputer Applications, Basic Diesel, Building Trades, Culinary Arts, HVAC, Industrial Sewing, Major Appliance, and Microcomputer Applications. These classes are taught by Lamar College and last four to six months.
Vocational Training
Beaumont prison does not offer vocational training besides advanced occupational education and apprenticeship programs.
Apprenticeship
FCI Beaumont Low offers Carpentry, Electrician, HVAC, Painting, Plumbing, and Teacher Aide apprenticeships.
Library Services
The Education Department houses the law library, which has a variety of legal reference materials available for use in preparing legal papers. Two inmate law clerks are available to help with legal research needs. A copier is available in the library to assist with making legal copies.
Inmates also have access to the TRULINCS Electronic Law Library and electronic typewriters. In the leisure library, inmates can check out fiction and nonfiction books, local and national newspapers, and approximately 20 different magazines. Inmates can walk amongst the stacks of books to make their selections.
UNICOR
The UNICOR at FCI Beaumont Low produces clothing and textiles. Specifically, inmates sew clothing for the U.S. government, the military, and the Afghan military.
Commissary
Beaumont low federal prison inmates can spend $360.00 monthly in the prison commissary. They may only shop on their housing unit's assigned shopping day. Shopping is conducted Monday through Thursday between 6:30 and 9:00 a.m. and between 12:00 and 3:00 p.m.
Inmates are only permitted to spend $180 biweekly. They use their commissary account to pay for these purchases.
Clothing, shoes, electronics, food, drink mixes, and other items are available for purchase. Quantity limits on certain items may apply. It is commonplace for inmates to carry their purchases back to their housing units in laundry bags.
Recreation Services
The FCI Beaumont Low Recreation Department consists of both indoor and outdoor fitness components.
A band program is active, with drums, guitars, and piano classes. Indoors, inmates can participate in various crafts:
Origami
Painting
Drawing
Leathercraft
Stationary bikes, ellipticals, treadmills, and a label printer are available in the indoor recreation area.
Outside, inmates can participate in intramural team sports such as softball, basketball, frisbee, soccer, handball, and volleyball. There is also a track for inmates to run and walk. Hours of operation are 8:30 to 9:15 a.m., 10:30 to 3:15 p.m., and 4:45 to 8:00 p.m.
Visitation Information for FCI Beaumont Low
Family members and friends can visit Beaumont, Texas, prison inmates during visiting hours. Before someone can visit an inmate, they must submit a visitation application and wait for the approval.
On Sunday, Monday, Thursday, Friday, and Saturday, visitation is held between 8:30 a.m. and 3:00 p.m. On federal holidays visitation is held between 8:30 a.m. and 3:00 p.m. See our page on prisoner visitation rules for more information.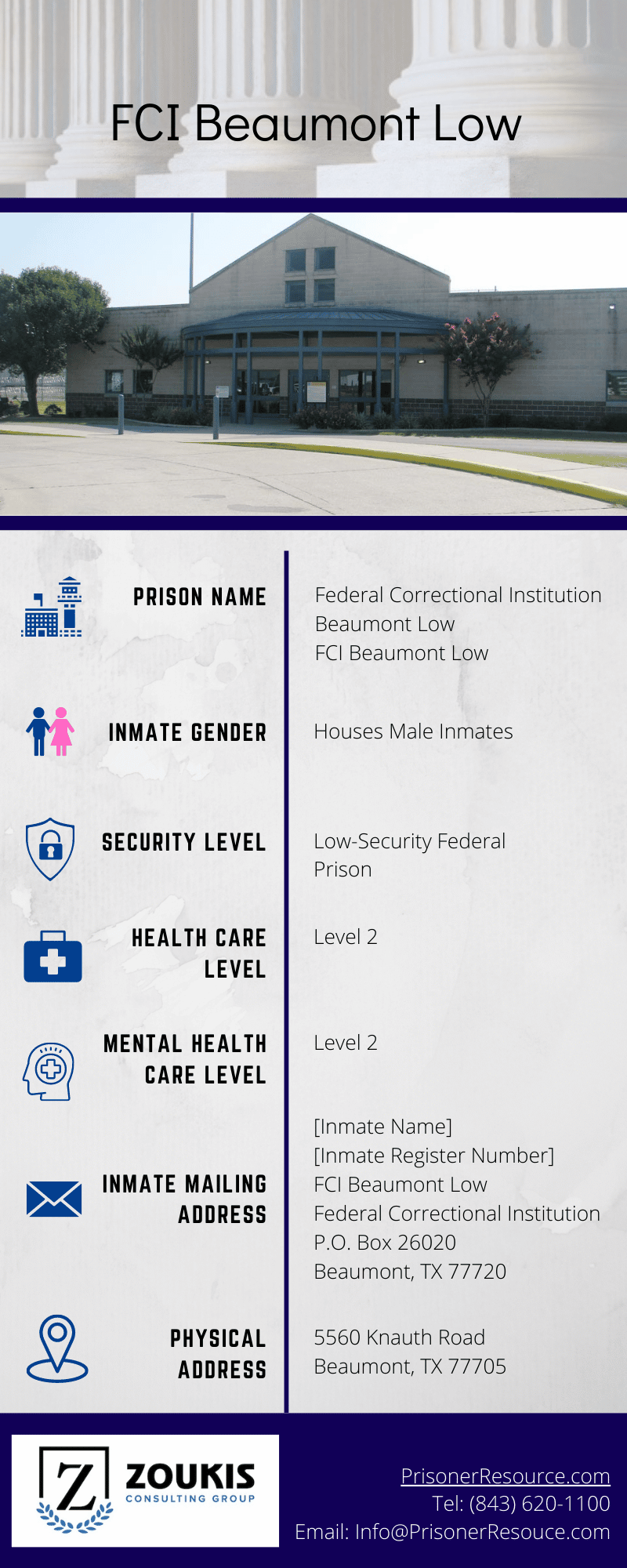 FCI Beaumont Low Prison Culture Information
Prison Politics at Federal Correctional Institution FCI Beaumont Low
This is a somewhat political yard. According to respondents, inmates don't have to be part of a car, but those who seek respect do have to join. Cars are often organized along racial lines. Independents are allowed, but inmates tend to segregate themselves along racial lines for celling and controlling certain TVs.
Level of Violence
Some violence, but not a lot. According to respondents, there are fights now and then and occasional political jumpings. One inmate pegged the safety as a 5 out of 10.
Vulnerable Populations
While sex offenders, informants, and LGBT inmates can stay, they are often excluded from cars and are ostracized. Some inmates felt that there wasn't much ostracization and that everyone generally got along.
Good at FCI Beaumont Low
"Not a whole lot stands out." "It's fairly safe as far as prisons go. It's not as strict or structured as some places. You don't have to work."
"RDAP dorm is clean, low population, and sex offenders can watch TVs and sit at the tables, whereas in some other dorms, they have to sit in chairs along the walls to watch TVs. Lots of available TVs in housing units."
Bad at FCI Beaumont Low
"Unnecessary politics. Mediocre food." "It's not as strict or structured as it should reasonably be. Petty guard policies and atmosphere. Arbitrary, asinine rules."
"The food isn't good or plentiful. No fried foods. Diet sodas only."
"It is really hot here." "No microwaves and the ice machines are locked up until after 4:00 p.m."
Other Inmate Comments
"Not a bad place, but there are better Lows." "No weights, average commissary." "I would rate FCI Beaumont Low a 7.5 and a 9 in the RDAP unit."
"Honestly, everything is a mess here. The administrative atmosphere/culture is bad, and because of it, the compound culture is bad. While there are worse places to be as far as Lows go, this place is run like a Medium."
FCI Beaumont Low in the News
In April 2018, Tanya L. Richard, an administrative employee at Federal Correctional Institution Beaumont Low, was indicted for running a $4 million fraud scheme where families were told they could reduce the sentence of their loved ones by paying money.
In August 2017, Anqunett Vernetta Lewis, a guard at FCI Beaumont Low, was sentenced to 18 months for bribery. Inmates allegedly paid her to smuggle watches with cellular capability into the prison.
In January 2016, Lakista Lashau Davis, a contract nurse at the low-security Beaumont federal prison, was sentenced to three years in federal prison for accepting $5,000 to smuggle heroin into the facility for a prisoner.
In 2003, Jamaal Landry, a guard at FCI Beaumont Low, was charged with bribery after being caught in a sting, agreeing to take $3,000 to smuggle four pounds of marijuana into the prison.
More Information About Federal Correctional Institution Beaumont
For a comprehensive look at life in federal prison, pick up a copy of Christopher Zoukis' Federal Prison Handbook: The Definitive Guide to Surviving the Federal Bureau of Prisons. For more detailed information about FCI Beaumont Low, please buy a copy of the Directory of Federal Prisons: The Unofficial Guide to Bureau of Prisons Institutions by Christopher Zoukis.
Your FCI Beaumont Low Experts
Contact the federal prison experts at the Zoukis Consulting Group if you or a loved one are serving time at FCI Beaumont. We can answer your questions, help resolve any problems, and get you out sooner.
Book a one-hour initial consultation with a Beaumont federal prison expert today!
Published Jun 2, 2018 by Christopher Zoukis, JD, MBA | Last Updated by Christopher Zoukis, JD, MBA on Jun 4, 2023 at 4:55 pm