United States Penitentiary Beaumont is a high-security federal prison in Beaumont, Texas. It is also known as USP Beaumont, FCC Beaumont, and Bloody Beaumont. The facility houses male inmates. USP Beaumont Camp is located adjacent to the main institution. It also houses male inmates.
USP Beaumont Contact Information
Facility Address & Contact Information
United States Penitentiary Beaumont
6200 Knauth Road
Beaumont, TX 77705
Phone: 409-727-8188
Fax: 409-626-3700
Email: [email protected]
BOP Website: Bureau of Prisons Page
Wikipedia: Wikipedia Page
Inmate Correspondence Address
USP Beaumont
Inmate Name and Registration Number
USP Beaumont
United States Penitentiary
P.O. Box 26030
Beaumont, TX 77720
USP Beaumont Camp
Inmate Name and Registration Number
USP Beaumont Camp
Satellite Prison Camp
P.O. Box 26010
Beaumont, TX 77720
How to Send Money
Do not send money to inmates directly at FCC Beaumont. See our page on sending money to federal prisoners.
United States Penitentiary Beaumont Inmate Information
Inmate Gender
The federal prison in Beaumont, TX, houses male inmates.
Prison Security Level
Facility Location
USP Beaumont is located on the Texas Gulf coast, about 90 minutes from Houston.
BOP Region
BOP Institution Code
BMP for USP Beaumont, BMX for Beaumont Federal Correctional Complex (FCC Beaumont)
Medical Care Level
Level 2. See our page on Medical Care Levels and Procedures for more information.
Mental Health Care Level
Level 2.
Judicial District
Population Number
USP Beaumont houses approximately 1,415 inmates. The camp houses around 405 inmates.
USP Beaumont Prison Services Information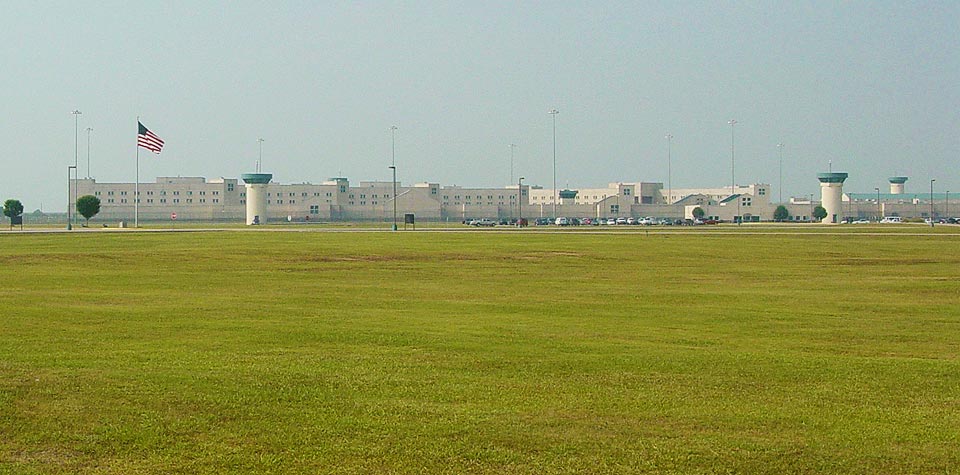 Background
United States Penitentiary Beaumont is a high-security federal prison in Beaumont, Texas, which houses male inmates. It was opened in 1997 and is part of the Beaumont Federal Correctional Complex (FCC Beaumont). United States Penitentiary Beaumont Camp, which also houses male inmates, is located adjacent to the main institution.
The facility is informally known as "Bloody Beaumont." There have been at least three inmate murders at the prison.
Media reports indicate that several guards have been convicted of smuggling contraband and obstruction of justice for covering up guards' assaults on inmates. Several guards have also been assaulted and stabbed by inmates. Three prisoners have been murdered by fellow inmates.
In 2016, The Richest named USP Beaumont one of the 15 most dangerous prisons in America.
Inmate Housing
Inmates at the federal prison in Beaumont, TX are housed in one- and two-person cells. There is a total of six housing units. Inmates at the camp are housed in two- or three-person cubicles in dormitory settings. There are approximately 150 inmates in each dorm.
Health Services
Sick call, eyeglasses, emergency medical treatment, physical examinations, medications, immunizations, and dental care are provided at USP Beaumont and the satellite camp. The camp has sick calls at 6:30 a.m. on Monday, Tuesday, Thursday, and Friday, and pill and insulin lines are conducted during meals. Over-the-counter medications are available at the commissary. Inmates can access health care services for a fee of $2.00 per visit, charged to the inmate's commissary account. Emergency medical care is available 24 hours a day at no fee.
Psychology Services
Inmates are provided with an intake screening upon arrival at Beaumont, Texas federal penitentiary and the camp. Psychology staff offer treatment programs addressing a full range of clinical disorders, provide self-help options, assess and treat behavioral and emotional problems, and facilitate overall adjustment. Crisis counseling, coping skills, suicide prevention, mental health counseling, and spiritual counseling are available. The Challenge Program is available for inmates who are prone to substance abuse, mental illness, and violence. Inmates can sign up for programs by submitting a cop-out or attending Psychology Services open house. Inmates can attend an open house on Wednesdays from 10:30 to 11:00 a.m.
Residential Drug Abuse Program (RDAP)
USP Beaumont and the camp have the Residential Drug Abuse Program (RDAP). Both facilities also provide a drug abuse program, a Drug Abuse Education Course, and the Non-Residential Drug Abuse Program (NR-DAP).
USP Beaumont Educational, Library, and Recreation Offerings
Education Services
USP Beaumont provides literacy, GED, and English-as-a-Second Language (ESL) programs. Adult Continuing Education (ACE) and parenting classes are also available. High school diplomas and post-secondary degrees are available through paid correspondence programs. While the camp generally has the same programs, availability and offerings are scaled back.
Advanced Occupational Education
Beaumont, Texas federal penitentiary offers advanced occupational education in Advanced Microcomputer Office and Administrative Applications, Culinary Arts, Microcomputer Applications, Small Business Management, and Welding. The camp offers Basic Diesel Repair, Commercial Driver License, and Culinary Arts.
Vocational Training
USP Beaumont does not offer vocational training aside from advanced occupational education and apprenticeship programs.
Apprenticeship
USP Beaumont offers apprenticeships in Carpentry and Electrician. Both the main prison and the camp offer apprenticeships in Electrician, HVAC, Painting, Plumbing, and Teacher Aide.
Library Services
A law library is located in the Education department and contains a variety of legal reference materials for use in preparing legal papers. The TRULINCS Electronic Law Library is available for inmate usage. Typewriters and a copier are also available in the library. The leisure library offers fiction and nonfiction books, magazines, and newspapers for the inmate population. While the camp has the same general offerings, they are much more limited. Survey respondents report mostly fiction books and no magazines.
UNICOR
The UNICOR at USP Beaumont produces clothing and textiles. The camp does not have a UNICOR facility.
Commissary
Inmates at the federal prison Beaumont, TX are given an activated account upon arrival, showing all deposits and withdrawals. Inmates are permitted to spend up to $90.00 weekly for commissary purchases and Special Purchase Orders (SPOs). Balances can be checked via the automated inquiry machine (AIM), through the Inmate Telephone System, or through the TRULINCS computers. Fingerprint identification is used for Commissary sales. The remaining spending limit at the end of the period cannot be carried over into the next period. At the camp, inmates are allowed to shop at 6:00 and 11:00 a.m. A $180 biweekly spending limitation is imposed. When shopping, camp inmates turn in their commissary form and wait for their order to be processed.
Recreation Services
The USP Beaumont Recreation Department includes both indoor and outdoor components. Activities range from individualized arts and crafts programs to intramural team sports such as softball, basketball, and volleyball. Outside, inmates can play soccer, softball, horseshoes, handball, basketball, and football. There is also a track, dip bars, stationary bikes, and treadmills. Hours of operation are 6:00 to 10:30 a.m., 11:30 a.m. to 3:30 p.m., and 4:45 to 8:30 p.m. At the camp, inmates have access to both indoor and outdoor recreation. Inside, inmates can play pool, run on treadmills, and engage in various hobby craft activities such as painting and leathercraft. There is also a band room where inmates have access to microphones, guitars, drums, and a piano.
Visitation Information for FCC Beaumont
On Sunday and Saturday visiting hours are between 8:30 a.m. and 3:00 p.m. On Friday visiting hours are between 5:00 and 8:00 p.m. On federal holidays visitation is held between 8:30 a.m. and 3:00 p.m. See our page on prisoner visitation rules for more information about how to visit an inmate.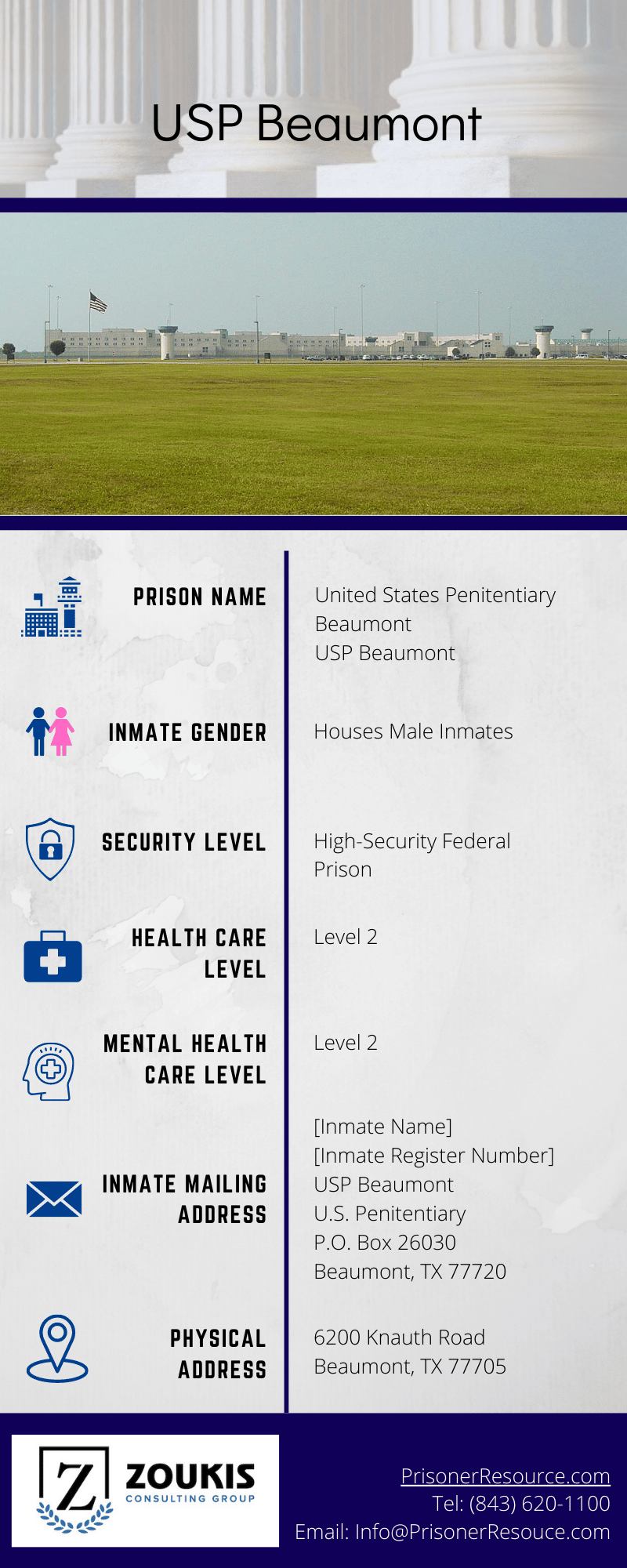 USP Beaumont Camp Prison Culture Information
Prison Politics at United States Penitentiary Beaumont Camp
Due to being a Camp, there are virtually no politics, though some of the Hispanic groups do reportedly act politically at times.
Level of Violence
There is virtually no violence. One inmate suggested that the safety was a "9". Another respondent stated that he "hasn't seen or known of any violence" at the facility.
Vulnerable Populations
Informants and LGBT inmates can stay, though sex offenders are precluded from Camp placement by Bureau of Prisons policy.
Good at USP Beaumont Camp
"It's laid back."
Bad at USP Beaumont Camp
"Staff is very rude, and they choose to solve problems by taking things away. They punish everyone for what one or a few do. It's a Camp with no fence, so people bring in contraband. When contraband is found in a common area, they take away the yard, commissary, visits, etc. They call it 'modified operations' and it's a huge bummer and will exacerbate your mental health issues if you have them." "Very bad medical through a private contractor." "Community service work details are no longer allowed to receive free world food, instead they have to bring their own bag lunch with them." "Poor education system and no furloughs for any reason. Even the death of a parent does not warrant a furlough even for those that would qualify at other camps." "The administration likes to punish everyone with communal sanctions when they find any contraband. This includes turning off the TVs." "Nothing that I know."
Other Inmate Comments
"Due to a recent escape which made national news, the administration has taken a tougher, more punitive stance on the inmate population."
FCC Beaumont in the News
USP Beaumont
In July 2018, Reginald Edward Green, a prisoner at Beaumont, Texas federal penitentiary was found guilty of assaulting a federal officer after punching a guard in the face.
In June 2018, Ricky Fackrell and Christopher Cramer, members of the white supremacist gang Soldiers of the Aryan Culture at USP Beaumont, were sentenced to death for the fatal 2014 stabbing of prisoner Leo Johns, a member of the same group.
In September 2017, in the wake of Hurricane Harvey, families and relatives of prisoners at USP Beaumont worried about the health of their loved ones after hearing rumors of deaths, lack of food, and unsanitary conditions despite reassurances from Bureau of Prisons officials that everything was fine. "People don't believe BOP because they have reason to distrust their claims already," said Azzurra Crispino, co-founder of Prison Abolition Prisoner Support.
In June 2017, Eric S. Patrick, a chaplain at USP Beaumont who was paid to smuggle tobacco and cigarettes into the prison, was sentenced to a year and a day in prison.
In May 2010, Edgar Balthazar Garcia and Mark Isaac Snarr, federal inmates at USP Beaumont, were sentenced to death for the 2007 stabbing of two corrections officers and the killing of another prisoner, Gabriel Rhone, who was stabbed more than 50 times.
In September 2001, Gerald Galloway, a guard the federal prison in Beaumont, TX, was sentenced to 122 years in prison for smuggling cocaine and heroin into the facility.
In March 2001, Lieutenant Bryan Small pleaded guilty to obstruction of justice for approving false reports to cover up guards' attacks on USP Beaumont prisoners.
In 1999, prisoner Darryl Brown was stabbed to death at USP Beaumont.
Beaumont Prison Camp
In January 2018, Joshua Hansen, a prisoner at Federal Correctional Institution Beaumont Camp, was captured after he left the facility to retrieve contraband, including alcohol, tobacco, and freshly prepared food, so he could bring it back to the prison.
More Information About FCC Beaumont
For a comprehensive look at life in federal prison, pick up a copy of Christopher Zoukis' Federal Prison Handbook: The Definitive Guide to Surviving the Federal Bureau of Prisons. For more detailed information about USP Beaumont federal prison in Beaumont, TX, please buy a copy of the Directory of Federal Prisons: The Unofficial Guide to Bureau of Prisons Institutions by Christopher Zoukis.
Published Jun 2, 2018 by Christopher Zoukis, JD, MBA | Last Updated by Christopher Zoukis, JD, MBA on Jun 4, 2023 at 4:56 pm