Federal Correctional Institution Ray Brook is a medium-security federal prison located in New York. It is also known as FCI Ray Brook and Ray Brook Correctional Facility. The facility houses male inmates.
FCI Ray Brook Contact Information
Facility Address & Contact Information
Federal Correctional Institution Ray Brook
128 Ray Brook Road
Ray Brook, NY 12977
Phone: 518-897-4000
Fax: 518-897-4216
Email: [email protected]
BOP Website: Bureau of Prisons Page
Wikipedia: Wikipedia Page
Inmate Correspondence Address
FCI Ray Brook
Inmate Name and Registration Number
FCI Ray Brook
Federal Correctional Institution
P.O. Box 900
Ray Brook, NY 12977
How to Send Money
Federal prisoners cannot receive funds directly. Instead, family and friends can send money to an inmate through Western Union, Money Gram, or the National Lockbox in Des Moines, Iowa.
There are a few aspects to keep in mind when sending money to an inmate:
Ensure that you have the inmate's full name and prisoner number.
Be aware that there is a fee for each Western Union and Money Gram transaction. The cost will vary depending on the provider you use.
Finally, remember that it may take a few days to process and deposit the money into the inmate's account.
Learn more about sending money to an inmate here.
Federal Correctional Institution Ray Brook Inmate Information
Inmate Gender
Male Inmates
Prison Security Level
Medium-Security Federal Prison
Facility Location
FCI Ray Brook federal prison is in upstate New York, midway between the villages of Lake Placid and Saranac Lake, off Route 86. The facility is located in Essex County.
BOP Region
BOP Institution Code
RBK for FCI Ray Brook
Medical Care Level
Level 1. See our page on Medical Care Levels and Procedures for more information.
Mental Health Care Level
Level 1.
Judicial District
Population Number
Ray Brook Correctional Facility houses approximately 845 inmates.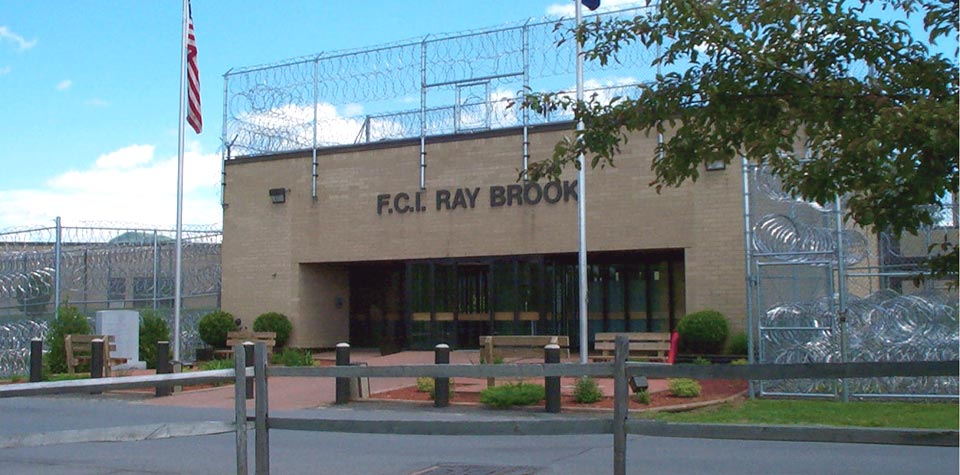 FCI Ray Brook Prison Services Information
Background
Federal Correctional Institution Ray Brook is a medium-security federal prison in Ray Brook, New York. It opened in 1981 and houses male federal inmates.
The site was formerly the Olympic Village for the 1980 Winter Olympic Games in Lake Placid. At the time, there was significant controversy concerning this planned transition from Olympic Village to federal prison.
The Department of Justice has received numerous complaints regarding conditions at the prison. The United States Court of Appeals for the Second Circuit reinstated a previously dismissed lawsuit filed against the Bureau of Prisons on behalf of six inmates who were allegedly housed in an extremely hot and cramped single room without adequate ventilation and cleaning supplies. The lawsuit is currently pending.
Media reports indicate that at least one correctional officer has been indicted for bribery and smuggling contraband into Ray Brook Correctional Facility. Additionally, it has been reported that at least one prison protest has taken place.
Inmate Housing
Inmates live in one of three types of cells: two-, four-, or six-person.
Two-person cells are the most common, and they provide each inmate with a bed, desk, and storage space.
Four-person cells are slightly larger, typically consisting of two bunk beds and a desk.
Six-person cells are the largest, and they usually have three bunk beds and multiple storage units.
Health Services
The prison offers various medical services to inmates, including:
Medical and Dental Sick Calls
Medical Emergency Care
Prescription Medications
Dental Care
Eyeglasses
Physical Examinations
Chronic Care Clinics
Preventive Health Care Services
Emergency medical care is available 24 hours a day. Inmates must submit a triage form to be evaluated for routine care needs.
Psychology Services
All inmates at FCI Ray Brook are screened by Psychology Services staff during the institution's Admission and Orientation Program. Screenings include individual interviews.
Psychologists are available for individual and group psychotherapy. Inmates interested in psychology services should submit an "Inmate Request to a Staff " ("Cop-Out") to Psychology Services requesting placement in a particular program or class.
Mental health services are offered for those suffering from behavioral or emotional problems. A self-help library is also available to the inmate population.
Residential Drug Abuse Program (RDAP)
FCI Ray Brook does not have the Residential Drug Abuse Program (RDAP), but referrals can be made to institutions that do provide RDAP. A Drug Abuse Education Course, the Non-Residential Drug Abuse Treatment Program (NR-DAP), Alcoholics Anonymous (AA), and Narcotics Anonymous (NA) are available.
FCI Ray Brook Educational, Library, and Recreation Offerings
Education Services
FCI Ray Brook's Education Department provides literacy, GED, and English-as-a-Second Language (ESL) programs. Parenting classes and Adult Continuing Education (ACE) classes are also available.
The prison offers a Literacy Volunteers of America program. High school diplomas and post-secondary degrees are available through paid correspondence programs.
Advanced Occupational Education
Ray Brook Correctional Facility offers advanced occupational education in:
Associate Certified Electronics
Business Math 1 & 2
Business Word 1 & 2
Credentialed Alcohol Substance Abuse Counselor
Customer Service Specialist
Introduction to Customer Service Specialist
Office Manager/Administrative Services
Vocational Training
FCI Ray Brook federal prison does not offer any vocational training besides advanced occupational education and apprenticeship programs.
Apprenticeship
Ray Brook prison offers apprenticeships in the following fields:
Building Maintenance Repair
Career Development Technician
Education and Training
Housekeeping
Recreation Assistant
Library Services
FCI Ray Brook offers both a law and leisure library. The law library is located in the Education Department and contains various legal reference materials for use in preparing legal papers. Most of these materials are available via the TRULINCS Electronic Law Library computers. Reference materials include:
United States Code Annotated
Federal Reporter
Supreme Court Reporter
Bureau of Prisons Program Statements
Institution Supplements
Institutional Indexes
Other Legal Materials
A leisure library is available in the Education Department. Inmates may check out books, magazines, reference materials, and newspapers. A DVD movie program is also available.
UNICOR
The FCI Ray Brook UNICOR facility produces clothing and textiles.
Commissary
Inmates can spend $360.00 monthly in the prison commissary on their assigned shopping days. In addition, inmates are authorized to have three (3) books of stamps in their possession.
Clothing, shoes, over-the-counter medications, food, drink mixes, and other items are available. Limits on certain items may apply.
Recreation Services
Recreation programs at FCI Ray Brook include indoor and outdoor activities. Intramural team sports are available, such as softball, soccer, basketball, and volleyball.
The leisure art and crafts programs offer:
Acrylic Painting
Pencil Art
Ceramic Craft
Oil Painting
Crochet and Knitting
Beadwork
In addition to these programs, a housing unit art and hobby craft program offers crochet, knitting, pencil art, beading, and paper art.
Inside, inmates have access to many offerings, including:
Band Room
Arts and Crafts Room
Basketball
Treadmills
Ellipticals
Stationary Bikes
TVs
DVDs
Rowing Machines
TRULINCS Mailing Label Printers
Pool Tables
Outside, inmates have access to other recreation offerings, including:
Walking and Running Track
Weights
Horseshoes
Softball
Basketball
Handball
Soccer
Tables
Visitation Information for FCI Ray Brook
Visitation hours at the prison are from 8:30 a.m. to 3:00 p.m. on Sundays and Saturdays. On federal holidays, visiting is from 8:30 a.m. to 3:00 p.m. See our page on prisoner visitation rules for additional information.
During these hours, you will be able to meet with your loved one in the designated visiting area. Please be aware that all visits are subject to search and may be monitored or recorded.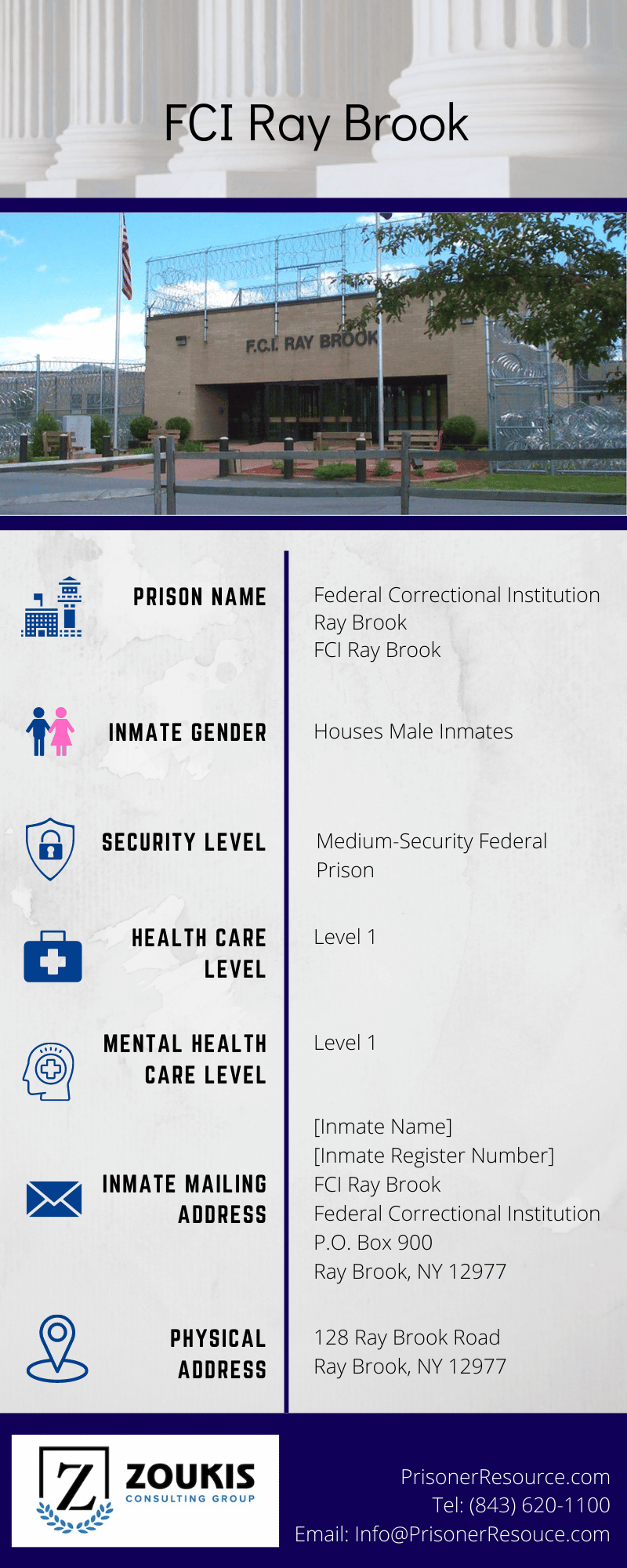 FCI Ray Brook Prison Culture Information
Prison Politics at Federal Correctional Institution Ray Brook
Ray Brook federal prison is very political. All inmates must be part of a gang or car.
Level of Violence
There is significant violence at this the Ray Brook Correctional Facility. According to inmate reports, two or three fights occur per month, and there are periodic stabbings.
Vulnerable Populations
Sex offenders, informants, and LGBT inmates are not allowed to walk the yard.
Good at FCI Ray Brook Federal Prison
"Warm jackets with hoods issued. Good cold-weather gear issued." "Nothing too great." "Level of respect amongst inmates, weights, food quality and quantity, and microwaves."
Bad at FCI Ray Brook Prison
"In the SHU, have to ask cops to flush toilets." "Politics, very cold, and lots of snow." "Politics and frequent two to four-day lockdowns in response to fights between inmates of different races."
Other Inmate Comments
"Don't go. The prison is not informant- or sex offender-friendly." "This tends to be a political yard, especially for those from New York and the surrounding areas. If from these areas, and you have clean paperwork, you might like it here."
"If your paperwork is good and you're not a sex offender and you like order, go. If your paperwork isn't clean, don't go. You won't be able to stay."
FCI Ray Brook in the News
In August 2018, Federal Correctional Institution Ray Brook guard Carlos Ochoa pleaded guilty to bribery and smuggling a cell phone and charger to prisoner Richard Coleman.
In January 2017, Tracey I. Coleman was arrested after she left a stun gun in the lobby of FCI Ray Brook and was charged with introducing contraband and possession of a weapon on prison grounds.
In March 2011, Ray Brook Correctional Facility was temporarily locked down after prison staff observed large groups of prisoners congregating in the recreation yard.
More Information About Federal Correctional Institution Ray Brook
If you're searching for an in-depth look at life in federal prison, Christopher Zoukis' Federal Prison Handbook: The Definitive Guide to Surviving the Federal Bureau of Prisons is a great place to start. For more specific information about FCI Ray Brook, Directory of Federal Prisons: The Unofficial Guide to Bureau of Prisons Institutions by Christopher Zoukis is also an excellent resource.
Both books provide a wealth of information on what to expect when serving time in federal prison, from the sentencing process to everyday life behind bars. Whether you're facing a federal sentence or are simply curious about what goes on in these institutions, these books will give you a comprehensive understanding of the federal prison system.
Published May 18, 2018 by Christopher Zoukis, JD, MBA | Last Updated by Christopher Zoukis, JD, MBA on Jun 4, 2023 at 6:22 pm