Federal Correctional Institution Tucson is a medium-security federal prison located in Tucson, Arizona. It is also known as FCI Tucson, FCC Tucson, and the federal prison in Tucson, AZ. The facility houses male inmates.
FCI Tucson Contact Information
Facility Address & Contact Information
Federal Correctional Institution Tucson
8901 S. Wilmont Road
Tucson, AZ 85756
Phone: 520-574-7100
Fax: 520-663-4406
Email: [email protected]
BOP Website: Bureau of Prisons Page
Wikipedia: Wikipedia Page
Inmate Correspondence Address
FCI Tucson
Inmate Name and Registration Number
FCI Tucson
Federal Correctional Institution
P.O. Box 23811
Tucson, AZ 85734
How to Send Money to FCI Tucson Inmates
Several options are available for sending money to inmates at the federal prison in Tucson, AZ. Perhaps the most convenient option is to use services like Western Union or Money Gram. These companies have locations nationwide, so it's easy to find a location near you.
You can also send money via the National Lockbox processing center in Des Moines, Iowa. This is a secure facility that the Federal Bureau of Prisons operates. Funds sent to the National Lockbox are processed and deposited into the inmate's account within two to three business days. If you are sending large sums of money, this may be the best option as it ensures that the funds will be promptly received and deposited into the inmate's account.
No matter which method you choose, ensure to include the Tucson federal prison inmate's name, inmate number, and your name and address so that the funds can be appropriately credited to their account.
Learn more about sending money to FCC Tucson federal offenders by reading our page.
Federal Correctional Institution Tucson Inmate Information
Inmate Gender
Male Inmates
Prison Security Level
Medium-Security Federal Prison
Facility Location
FCI Tucson is in southern Arizona, 10 miles southeast of Tucson, near I-10 and Wilmot Road.
BOP Region
BOP Institution Code
TCN for FCI Tucson, TCX for Tucson Federal Correctional Complex (FCC Tucson)
Medical Care Level
Level 2. See our page on Medical Care Levels and Procedures for more information.
Mental Health Care Level
Level 3.
Judicial District
District of Arizona
Population Number
The federal prison in Tucson, AZ, houses approximately 235 inmates.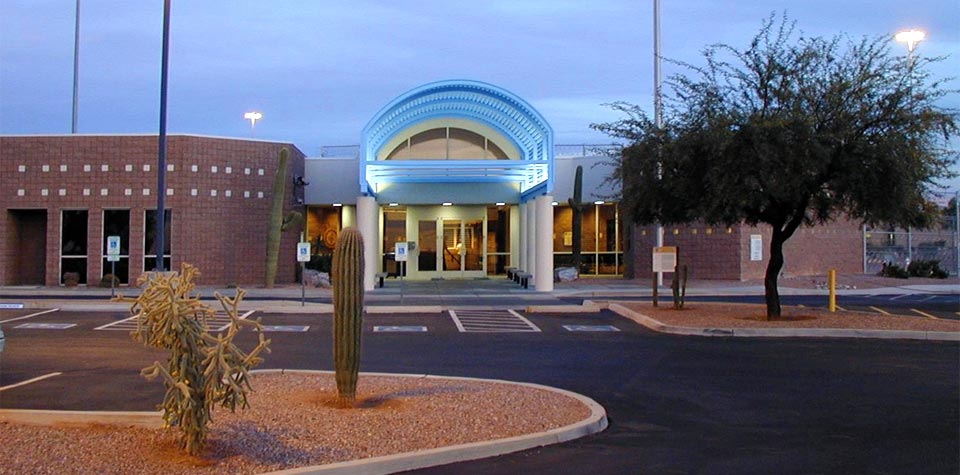 FCI Tucson Prison Services Information
Background
Federal Correctional Institution Tucson is a medium-security federal prison in Tucson, Arizona, housing male inmates. It opened in 1982 and is part of the Tucson Federal Correctional Complex (FCC Tucson). FCI Tucson includes a detention center that houses male and female detainees.
FCI Tucson is not associated with the Arizona state prison complex in Tucson, ASPC Tucson, or the Arizona Department of Corrections. The high-security USP Tucson is located next to FCI Tucson federal prison. It is operated by the Federal Bureau of Prisons, not an Arizona correctional agency.
Notable inmates include Charles Keating (served five years for bankruptcy and wire fraud), and Abu Khalid Abdul-Latif (serving 18 years for conspiracy to murder United States officers).
Media reports indicate that at least three inmates have escaped from the camp.
Inmate Housing
FCC Tucson inmates live in two and four-person cells.
Health Services
FCI Tucson offers inmates various medical and dental services, including:
Sick Call
Dental Care
Medication
Physical Examinations
Eyeglasses
Emergency Medical Care
Inmates are assigned to a specific health care provider who treats them for the duration of their stay. Inmates must submit a sick call form to be evaluated for routine health care needs. Emergency care is available 24 hours a day.
Psychology Services
The FCI Tucson Psychology Services Department provides various mental health services, including:
Screening, Assessment, and Treatment of Mental Health Conditions
Individual and Group Counseling
Psycho-Educational Classes
Self-Help and Supportive Services
Referrals to Health Services for Medical Treatment of Mental Illness
Available groups include anger management and stress management. Notices of upcoming treatment offerings are posted in inmate housing units.
Residential Drug Abuse Program (RDAP)
Tucson federal prison does not offer the Residential Drug Abuse Program (RDAP), but referrals are made to institutions that do provide RDAP. The facility offers other drug abuse programs, including a Drug Abuse Education Course, the Non-Residential Drug Abuse Program (NR-DAP), Alcoholics Anonymous (AA), and Narcotics Anonymous (NA).
FCI Tucson Educational, Library, and Recreation Offerings
Education Services
FCI Tucson offers GED and English-as-a-Second Language (ESL). Inmates who do not possess a GED or high school diploma must attend educational programming.
The inmate's level of education regulates inmate Performance Pay. Those not having a verified GED or High School Diploma are restricted to Grade 4 compensation for their inmate work assignment.
INEA-Mexican High School Diploma Program students can have concurrent enrollment in GED literacy and in INEA-Mexican High School Diploma Program. The Mexican Consulate offers primary and secondary education certificates through the Education Department. The Mexican curriculum is a voluntary program open to any student wishing to receive accreditation from the Mexican Government in either program.
The Education Department offers a variety of re-entry classes to assist inmates in making a productive reintegration into society. High school diplomas and post-secondary degrees are available through paid correspondence programs. Inmates can also earn a business certificate from Pima Community College.
Advanced Occupational Education
The Tucson federal prison offers advanced occupational education in:
Custodial Maintenance
Basic & Advanced Baking
Serve Safe
NRAEF
Business & Accounting
Vocational Training
FCI Tucson offers vocational training programs in Electrical, HVAC, Plumbing, and Cooking/Baking.
Apprenticeship
The federal prison in Tucson, AZ, offers apprenticeships in Cook, Electrician, HVAC, Pastry Cook, and Plumber.
Library Services
FCI Tucson provides leisure and law libraries to inmates at both facilities. The leisure library contains newspapers, magazines, reference materials, and general circulation books. Inmates may check out fiction or nonfiction books for 14 days.
The law library in the federal prison in Tucson, AZ, provides inmates with access to the TRULINCS Electronic Law Library, typewriters, and a copy machine.
UNICOR
The Federal Correctional Institution Tucson UNICOR facility handles recycling activities.
Commissary
Inmates at the Tucson federal prison can spend up to $360.00 per month in the federal prison commissary. Prisoners can purchase items, such as:
Snacks
Food
Ice Cream
AM/FM Radios
MP3 Players
Sodas
Inmates can shop once a week on their designated shopping day. Postage stamps, copy cards, and over-the-counter medications do not count against the spending limitation.
Recreation Services
FCI Tucson allows inmates to engage in both indoor and outdoor recreation.
Indoor activities include playing music, cards, and board games. Inmates can also paint, draw, and engage in other art and craft activities.
Outside, Tucson federal prison inmates can engage in many recreational activities, including:
Exercises
Running the Tracks
Playing Sports
Socializing
Popular sports include football, basketball, soccer, and softball. A weight pile is also available.
Visitation Information for FCI Tucson Federal Prison
Families and friends can visit Tucson Prison Complex inmates during authorized visitation hours. On Sunday and Saturday, visitation is held between 8:15 a.m. and 3:00 p.m. On federal holidays visitation is held between 8:15 a.m. and 3:00 p.m. See our page on prisoner visitation rules for more information.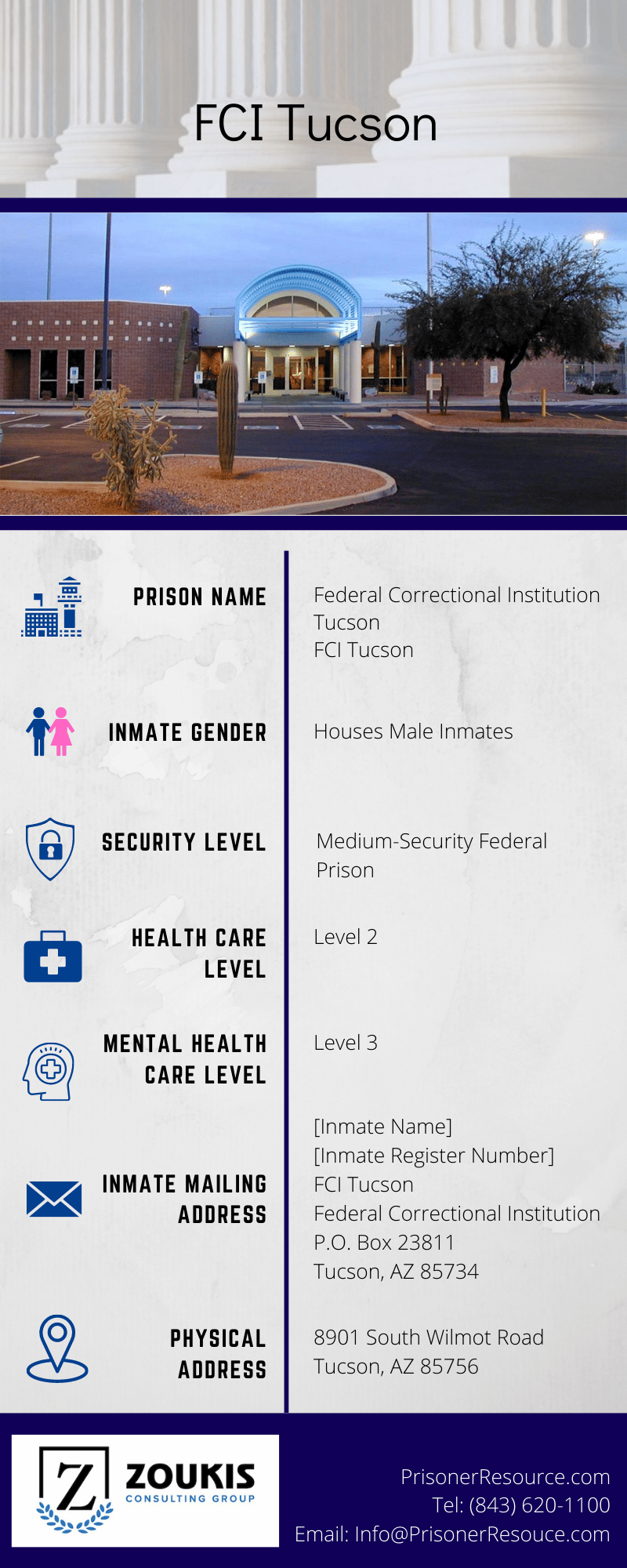 FCI Tucson in the News
In February 2019, the Federal Aviation Administration (FAA) issued a drone restriction over FCI Tucson. Per the order, drones may not be flown within 400 lateral feet of the facility.
In March 2004, USP Atwater UNICOR Safety Manager LeRoy Smith was transferred to FCC Tucson following going public about dangerous conditions in the facility's recycling plant. He subsequently filed a whistleblower retaliation complaint against the Bureau of Prisons.
More Information About Federal Correctional Institution Tucson
If you're looking for a comprehensive look at life in federal prison or FCI Tucson, Christopher Zoukis' Federal Prison Handbook: The Definitive Guide to Surviving the Federal Bureau of Prisons is an excellent choice.
For more detailed information about Federal Correctional Institution Tucson specifically, the Directory of Federal Prisons: The Unofficial Guide to Bureau of Prisons Institutions by Christopher Zoukis is an invaluable resource.
Both books are essential reading for anyone with a loved one incarcerated in federal prison. They provide crucial information on what to expect and how to navigate the often-complex world of the Bureau of Prisons.
Published Jun 3, 2018 by Christopher Zoukis, JD, MBA | Last Updated by Christopher Zoukis, JD, MBA on Jun 4, 2023 at 6:42 pm