Federal Medical Center Carswell is an administrative-security federal prison located in Fort Worth, Texas. It is also known as FMC Carswell. The facility houses female inmates. FMC Carswell Camp is located adjacent to the main institution. Female inmates are also housed at the camp.
FMC Carswell Contact Information
Facility Address & Contact Information
Federal Medical Center Carswell
Naval Air Station
J Street Building 3000
Fort Worth, TX 76127
Phone: 817-782-4000
Fax: 817-782-4875
Email: [email protected]
BOP Website: Bureau of Prisons Page
Wikipedia: Wikipedia Page
Inmate Correspondence Address
FMC Carswell
Inmate Name and Registration Number
FMC Carswell
Federal Medical Center
P.O. Box 27137
Fort Worth, TX 76127
FMC Carswell Prison Camp
Inmate Name and Registration Number
FMC Carswell Camp
Satellite Prison Camp
P.O. Box 27137
Fort Worth, TX 76127
How to Send Money
Funds cannot be sent directly to inmates. See our page on sending money to federal prisoners.
Federal Medical Center Carswell Inmate Information
Inmate Gender
Female Inmates
Prison Security Level
Facility Location
FMC Carswell is located in the northeast corner of the Naval Air Station, Joint Reserve Base, 1 mile from Highway 183 and 3 miles from I-30.
BOP Region
BOP Institution Code
CRW for FMC Carswell
Medical Care Level
Level 3/4. See our page on Medical Care Levels and Procedures for more information.
Mental Health Care Level
Level 3/4.
Judicial District
Population Number
FMC Carswell houses approximately 1,035 inmates. The camp houses around 270 inmates.
FMC Carswell Prison Services Information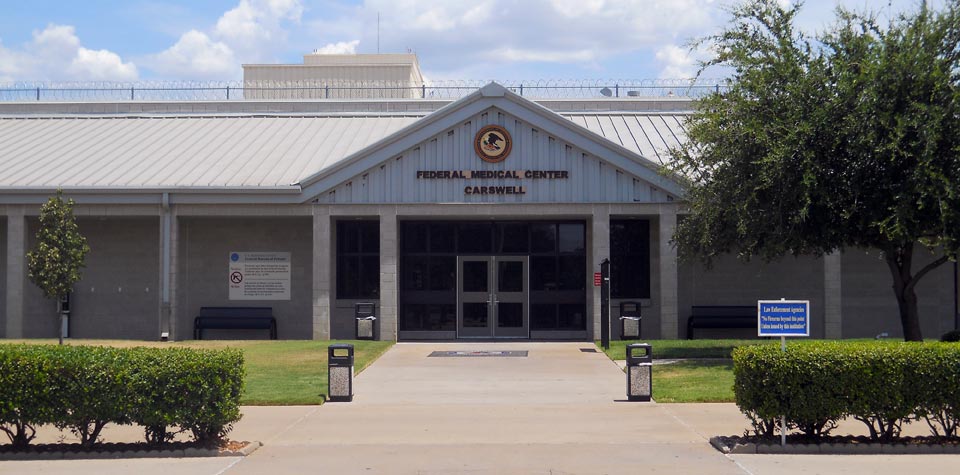 Background
Federal Medical Center Carswell is an administrative-security federal prison in Fort Worth, Texas, which houses female inmates. It was opened in 1994. Federal Medical Center Carswell Camp, which also houses female inmates, is located adjacent to the main institution.
FMC Carswell is the Federal Bureau of Prisons' medical and psychiatric center for female inmates and features the Bureau's only Administrative Unit for disruptive female federal prisoners. The Administrative Unit is a high-security unit for women classified with violence and/ or escape attempts who are referred to as "special management concerns." The prison is also a Sex Offender Management Program (SOMP) facility.
Notable inmates include gold and bronze medal-winning Olympian Marion Jones Thompson (convicted of fraud and use of performance-enhancing drugs), and Lisa M. Montgomery (sentenced to death after kidnapping and murdering a pregnant woman).
Media reports indicate that at least three guards have been indicted for sexually assaulting inmates, while a prison employee was convicted of accepting kickbacks from a private prison healthcare company in exchange for contract preference.
Inmate Housing
Inmates are housed in a variety of configurations, from one- and two-person medical cells to dorms with four-person rooms. Inmates at the camp are housed in dormitories divided into two-person pods.
Health Services
Medical and dental sick calls, medications, and medical and dental emergency services are available to inmates. Emergency medical care is available 24 hours a day. Inmates are assigned a healthcare provider who treats them for the duration of their stay. Sick call is held Monday, Tuesday, Thursday, and Friday at 6:00 a.m. Pill and insulin lines are conducted before each meal.
Psychology Services
Psychology Services at FMC Carswell offers a wide variety of therapeutic programming. Clinical psychologists or Drug Abuse Treatment Specialists are available for evaluation, crisis intervention, and counseling. Consultant support is provided by community and staff psychiatrists. Psychology Services has organized its program for female offenders into four tracks as a means of efficiently offering a wide variety of self-improvement and recovery opportunities. The four tracks are Abuse Recovery, Addictions, Values, and Wellness. Other group classes include trauma, anger management, and cognitive thinking. FMC Carswell also offers outpatient psychiatric services. Inmates may submit an Inmate Request to Staff addressed to Psychiatry Services to request outpatient care. A Non-Residential Sex Offender Treatment Program (SOTP-NR) is also available. The facility also offers the STAGES Program for inmates with serious mental illness and personality disorders. And through the Religious Services Department, the Life Connections Program is offered for inmates who desire to grow as responsible persons.
Residential Drug Abuse Program (RDAP)
FMC Carswell has the Residential Drug Abuse Program (RDAP). A Spanish RDAP program is also available. Drug abuse programs, the Non-Residential Drug Abuse Program (NR-DAP), a Drug Education class, Alcoholics Anonymous (AA), and nicotine dependence groups are offered.
FMC Carswell Educational, Library, and Recreation Offerings
Education Services
FMC Carswell provides literacy, GED, English-as-a-Second Language (ESL), and parenting programs. Also available are Adult Continuing Education (ACE) classes, which are taught by fellow inmates and on a variety of topics. High school diplomas and post-secondary degrees are available through paid correspondence programs. Hours of operation are 8:00 a.m. to 6:30 p.m., Monday through Friday. The Education Department is closed on the weekends.
Advanced Occupational Education
The main facility at FMC Carswell offers advanced occupational education in Cosmetology and Culinary Arts. The camp offers a Horticulture Master Gardener Program and a program for National Fitness Personal Trainers.
Vocational Training
FMC Carswell does not offer any vocational training aside from its advanced occupational education programs.
Apprenticeship
FMC Carswell does not currently offer any apprenticeship programs.
Library Services
The law library contains a collection of legal reference materials as required by the Federal Bureau of Prisons. Most of these reference materials, along with federal case law, are in the TRULINCS Electronic Law Library. In the leisure library, inmates can check out both fiction and nonfiction books, newspapers, and magazines.
UNICOR
FMC Carswell does not have a UNICOR.
Commissary
Inmates at FMC Carswell are allowed to spend up to $360.00 per month on items such as food, drinks, clothing, shoes, and electronics. The spending limitation is further allocated to $180 every two weeks. Inmates are allowed to shop once a week on their assigned day. The commissary is open Monday through Thursday from 6:00 to 11:00 a.m. Inmates are issued a Commissary/I.D. card with their register number and picture on it. This card is to be used for Commissary purchases and identification purposes and must be in the inmate's possession at all times.
Recreation Services
The FMC Carswell Recreation Department offers a variety of leisure activities such as bingo, board games, cards, organized and informal sports, social activities, arts and hobby crafts, physical fitness, and aerobic activities. Inmates also have access to a track.
Visitation Information for FMC Carswell
On Sunday and Saturday, visitation is held between 8:00 a.m. and 3:00 p.m. On federal holidays visitation is held between 8:00 a.m. and 3:00 p.m. See our page on prisoner visitation rules for more information.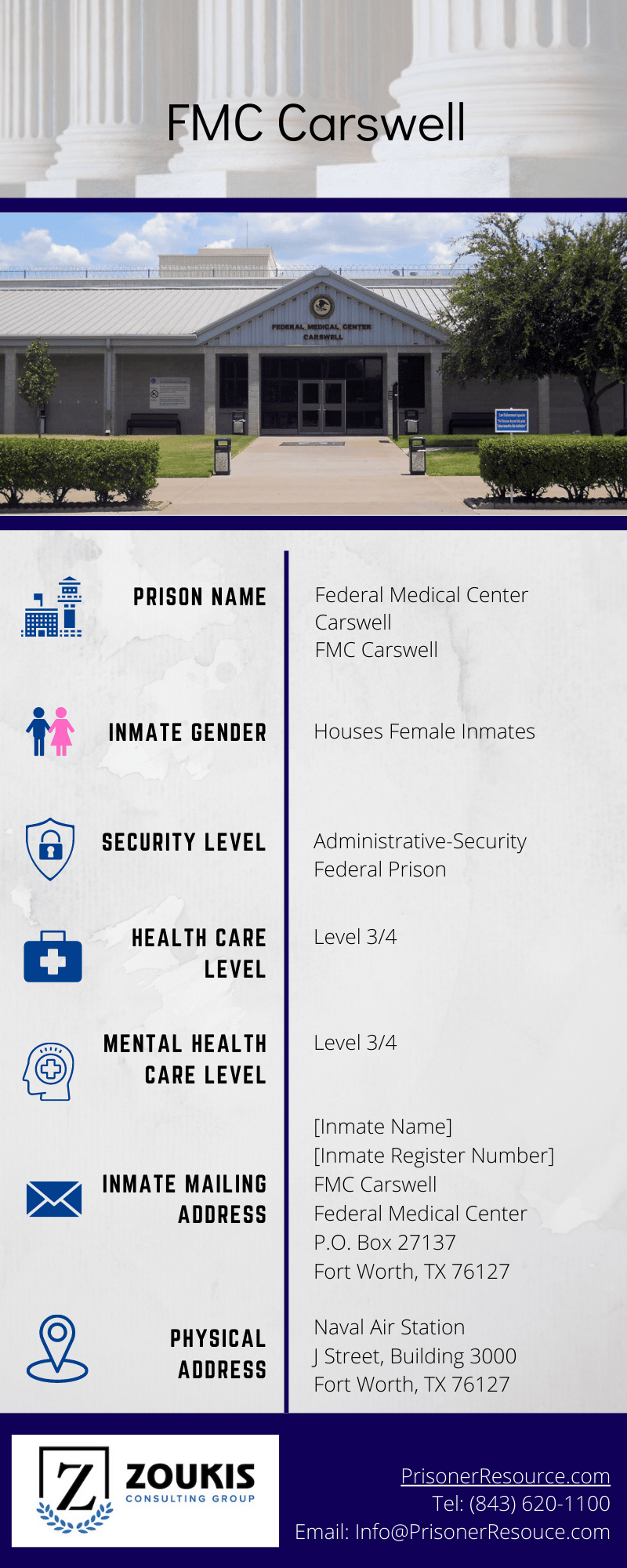 FMC Carswell Prison Culture Information
Prison Politics at Federal Medical Center Carswell
There are no politics at this prison due to being a medical center.
Level of Violence
There is a very low level of violence. According to one inmate, "Violence is sporadic at best and occurs mostly with younger inmates and/or new inmates trying to make themselves known." Another respondent agreed, stating, "Pretty safe overall."
Vulnerable Populations
Sex offenders, informants, and LGBT inmates can all walk the yard. According to one respondent, "There is even a residential sex offender treatment program." The same inmate also explained that "there are a lot of transgender and gay inmates here." Another inmate agreed, stating that transgender inmates and sex offenders are allowed in all of the housing units.
Good at FMC Carswell
"This place is ok overall. It's a medical facility, so the medical care is pretty good." "Psychology and recreation are both pretty good."
Bad at FMC Carswell
"They don't really offer much in the way of pre-release care or planning." "This is not a medical place. I have seen people die and families lied to about the cause. A lot gets covered up."
FMC Carswell in the News
In March 2018, a lawsuit was brought by the conservative Christian legal group Alliance Defending Freedom and Rhonda Fleming (convicted in 2009 of a multimillion-dollar fraud scheme), trying to force transgender women out of the all-female Federal Medical Center Carswell, failed to reach a negotiated settlement on time. The parties have asked the judge to set a new deadline.
In February 2018, the vice president of the American Federation of Government Workers (the federal prison guards' union) said that FMC Carswell would lose 71 positions because of the Trump Administration's policy to "rightsize" staffing levels in federal prisons.
In November 2017, Matthew McGaugh, a case manager at FMC Carswell, was sentenced to one year in prison for sexual abuse of a ward after forcing a female prisoner to perform multiple sex acts on him while she was under his supervisory authority. The conduct occurred in November 2016.
In October 2014, Cary Hudson, a financial administrator for the Bureau of Prisons at FMC Carswell, pleaded guilty to accepting kickbacks from Integrated Medical Solutions, Inc., in exchange for his assistance with federal contracts to provide health care to prisoners.
In 2014, Brady Michael Green, a guard at FMC Carswell, pleaded guilty to making a false statement — for lying about having sex with a prisoner — so he wouldn't have to register as a sex offender. Green was sentenced to three months in prison.
In 2012, Kraig D. Lavan, a guard at FMC Carswell, was indicted for and pleaded guilty to engaging in a "sexual act" with a female prisoner.
In 2007, Lisa M. Montgomery, who kidnapped and murdered a pregnant woman, then claimed the unborn baby as her own, was sentenced to death and is the only woman on federal death row.
More Information About Federal Medical Center Carswell
For a comprehensive look at life in federal prison, pick up a copy of Christopher Zoukis' Federal Prison Handbook: The Definitive Guide to Surviving the Federal Bureau of Prisons. For more detailed information about FMC Carswell, please buy a copy of the Directory of Federal Prisons: The Unofficial Guide to Bureau of Prisons Institutions by Christopher Zoukis.
Published May 18, 2018 by Christopher Zoukis, JD, MBA | Last Updated by Christopher Zoukis, JD, MBA on Jul 20, 2023 at 7:26 pm