Federal Prison Camp Montgomery is a minimum-security federal prison located in Montgomery, Alabama. It is also known as FPC Montgomery and Montgomery Correctional Facility. The facility houses male inmates.
FPC Montgomery Contact Information
Facility Address & Contact Information
Federal Prison Camp Montgomery
Maxwell Air Force Base
Montgomery, AL 36112
Phone: 334-293-2100
Fax: 334-293-2329
Email: [email protected]
BOP Website: Bureau of Prisons Page
Wikipedia: Wikipedia Page
Inmate Correspondence Address
FPC Montgomery
Inmate Name and Registration Number
FPC Montgomery
Federal Prison Camp
Maxwell Air Force Base
Montgomery, AL 36112
How to Send Money
Funds cannot be sent directly to inmates. See our page on sending money to federal prisoners.
Federal Prison Camp Montgomery Inmate Information
Inmate Gender
Male Inmates
Prison Security Level
Minimum-Security Federal Prison
Facility Location
FPC Montgomery is located on Maxwell Air Force Base, off I-65 and I-85.
BOP Region
BOP Institution Code
MON for FPC Montgomery
Medical Care Level
Level 2. See our page on Medical Care Levels and Procedures for more information.
Mental Health Care Level
Level 2.
Judicial District
Population Number
Montgomery Correctional Facility houses approximately 290 inmates.
FPC Montgomery Prison Services Information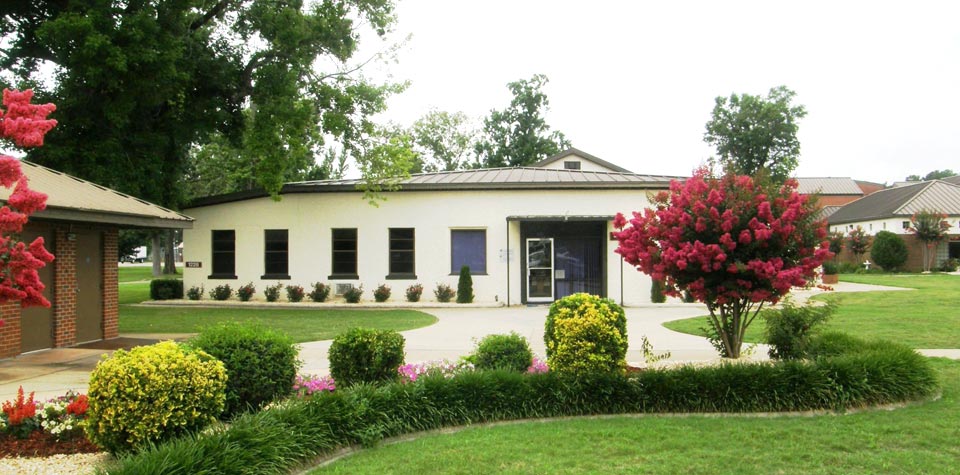 Background
Federal Prison Camp Montgomery is a minimum-security facility in Montgomery, Alabama, which houses male inmates. It was opened in 1930. Montgomery Alabama Federal Prison Camp is the oldest federal prison camp in operation. It was originally named Federal Prison Camp Maxwell Field.
Notable inmates include:
Jesse Jackson, Jr. (served 29 months for conspiracy to commit wire fraud, mail fraud, and making false statements)
Former Fifth Circuit Judge Robert Frederick Collins (served five years for bribery)
IndyCar driver John Paul, Jr. (served 28 months for racketeering)
Former New England Patriots receiver Reche Caldwell (sentenced to 27 months for drug possession with intent to distribute)
Former Enron Corporation CEO Jeff Skilling (sentenced to 24 years for conspiracy, insider trading, making false statements to auditors, and securities fraud)
U.S. Representative Richard Alvin Tonry (served six months for campaign finance violations)
Watergate co-conspirator Charles Colson (served seven months for obstruction of justice) Attorney General and Watergate co-conspirator John Mitchell (served 19 months for corruption)
Media reports indicate that at least one prisoner has been indicted for smuggling contraband and attempted vehicular assault, while another inmate was charged with possessing contraband.
In 2017, Insider Monkey named FPC Montgomery one of the ten easiest federal prisons to do time. In 2012, CNBC named the institution one of the 12 best federal prisons in which to do time. And in 2009, Forbes magazine named the facility one of the ten cushiest federal prisons in America.
Inmate Housing
FPC Montgomery, Alabama prison inmates are housed in dorms, divided into two-person cubicles. There is a total of three housing units.
Health Services
FPC Montgomery provides sick call, dental sick call, emergency medical services, and medications. Inmates must submit a sick call form to receive routine care. Emergency medical care is available 24 hours a day.
Psychology Services
Psychology services at FPC Montgomery include:
Screening
Assessment
Treatment of Mental Health Issues
Individual/Group Treatment Programs
Psycho-Educational Classes
Self-Help/Supportive Services
Regular treatment groups include anger management, HIV/AIDS awareness, stress management, and criminal thinking.
Residential Drug Abuse Program (RDAP)
FPC Montgomery offers the Residential Drug Abuse Program (RDAP). Drug abuse programming, a Drug Abuse Education course, and the Non-Residential Drug Abuse Program (NR-DAP) are also offered.
FPC Montgomery Educational, Library, and Recreation Offerings
Education Services
FPC Montgomery provides literacy, GED, and English-as-a-Second Language (ESL) programs. A parenting class is also available. High school diplomas and post-secondary degrees are available through paid correspondence programs.
Advanced Occupational Education
FPC Montgomery offers Building and Grounds Cleaning, Horticulture, Mechanics, Computer Applications, A+ Certification, WordPerfect, and Culinary Arts advanced occupational education programs.
Vocational Training
FPC Montgomery offers a Commercial Driver's License vocational training program.
Apprenticeship
FPC Montgomery offers apprenticeship programs in Electric Technician, Greens Keeper, Small Engine Repair, Plumber, Horticulture, Housekeeping, HVAC, and Landscaping.
Library Services
Both a leisure and law library are available to the inmate population. The leisure library offers nonfiction and fiction books, newspapers, and magazines. The law library primarily consists of the TRULINCS Electronic Law Library. Both libraries are open six days a week.
UNICOR
The FPC Montgomery UNICOR facility handles laundry services.
Commissary
Inmates at FPC Montgomery correctional facility can purchase items not to exceed the $360.00 monthly spending limitation. Over-the-counter medications and postage stamps do not count against the monthly spending limit. Popular commissary items include ice cream, drink mixes, food, electronics, clothing, and shoes.
Recreation Services
The FPC Montgomery Recreation Department provides activities and services, such as wellness classes, a music room, pool tables, and various fitness equipment.
FPC Montgomery also offers the Inmates Providing Animal Care and Training (IMPACT) Program, in which inmates raise puppies to become Service Dogs for Canine Companions for Independence, a non-profit service organization.
Visitation Information for FPC Montgomery
On Sunday and Saturday visiting hours are between 8:00 a.m. and 3:00 p.m. On federal holidays visiting hours are between 8:00 a.m. and 3:00 p.m. See our page on prisoner visitation rules for more information.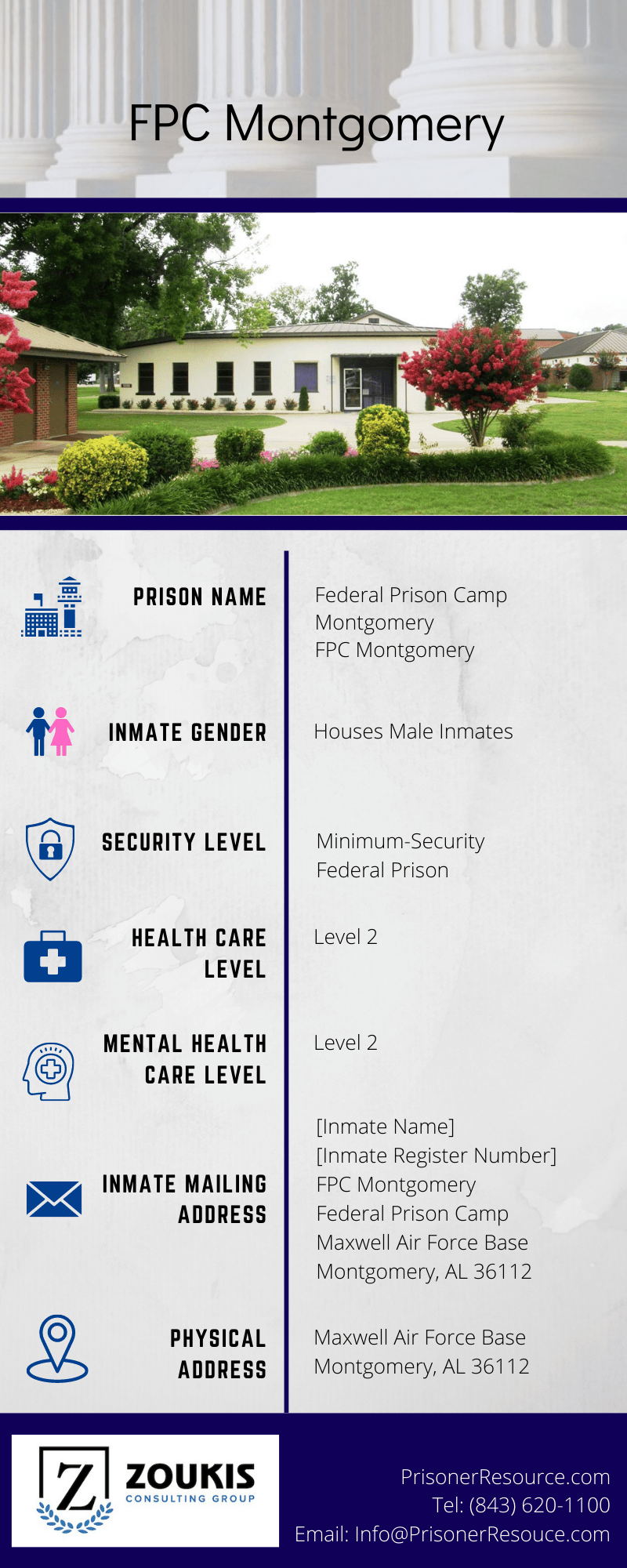 FPC Montgomery in the News
In August 2018, Elvis Mark Hartrick, a prisoner at Federal Prison Camp Montgomery, was sentenced to seven years in prison for trying to drive a work truck into a guard after he was spotted picking up packages of contraband, including cell phones, tobacco, and alcohol. His passenger, prisoner Marvin Nathaniel Mobley, was sentenced to two months for possession of contraband.
In September 2017, former winery owner Charles Banks, who was sentenced to four years in prison for fraud, reported to FPC Montgomery to begin serving his time.
In early 2015, former New England Patriots receiver Reche Caldwell served 27 months at FPC Montgomery for transporting drugs in interstate commerce.
In 2006, former ENRON CEO Jeffrey Skilling was convicted of insider trading and securities fraud and sent to Montgomery, Alabama federal correctional facility to serve out his sentence. He is scheduled for release in 2019.
More Information About Federal Prison Camp Montgomery
For a comprehensive look at life in federal prison, pick up a copy of Christopher Zoukis' Federal Prison Handbook: The Definitive Guide to Surviving the Federal Bureau of Prisons. For more detailed information about FPC Montgomery, please buy a copy of the Directory of Federal Prisons: The Unofficial Guide to Bureau of Prisons Institutions by Christopher Zoukis.
Published Jun 3, 2018 by Christopher Zoukis, JD, MBA | Last Updated by Christopher Zoukis, JD, MBA on May 5, 2022 at 10:01 pm