United States Penitentiary Atlanta is a medium-security federal prison located in Atlanta, Georgia. It is also known as USP Atlanta. USP Atlanta Camp is located adjacent to the main institution. Both institutions house male inmates.
USP Atlanta Contact Information
Facility Address & Contact Information
United States Penitentiary Atlanta
601 McDonough Boulevard SE
Atlanta, GA 30315
Phone: 404-635-5100
Fax: 404-331-2403
Email: [email protected]
BOP Website: Bureau of Prisons Page
Wikipedia: Wikipedia Page
Inmate Correspondence Address
USP Atlanta
Inmate Name and Registration Number
USP Atlanta
United States Penitentiary
P.O. Box 150160
Atlanta, GA 30315
USP Atlanta Camp
Inmate Name and Registration Number
USP Atlanta Camp
Satellite Prison Camp
P.O. Box 150160
Atlanta, GA 30315
How to Send Money
Do not send money to inmates directly. See our page on sending money to federal prisoners.
United States Penitentiary Atlanta Inmate Information
Inmate Gender
Male Inmates
Prison Security Level
Facility Location
USP Atlanta is located southeast of Atlanta, at the junction of Boulevard SE and McDonough Boulevard SE, off I-20 (south on Boulevard), off I-285 (north on Moreland Avenue, left on McDonough Boulevard).
BOP Region
BOP Institution Code
ATL for USP Atlanta
Medical Care Level
Level 2. See our page on Medical Care Levels and Procedures for more information.
Mental Health Care Level
Level 3.
Judicial District
Population Number
USP Atlanta houses approximately 946 inmates. The camp houses around 65 inmates.
USP Atlanta Prison Services Information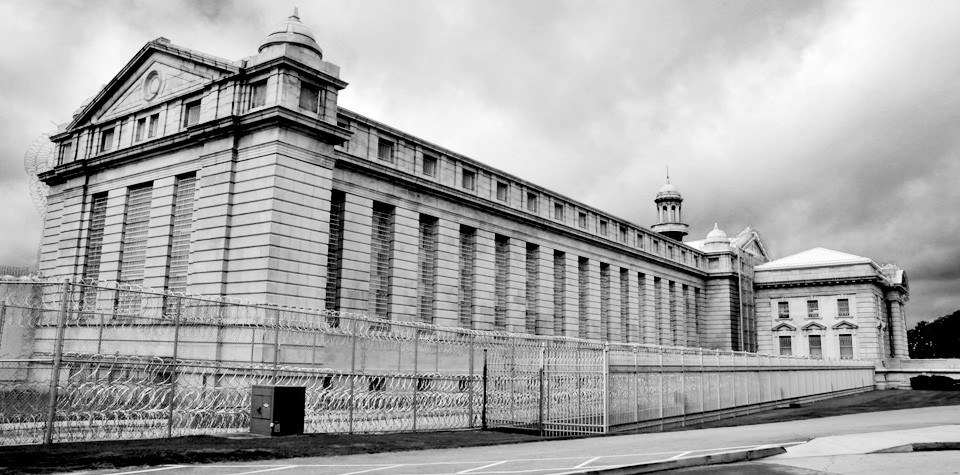 Background
United States Penitentiary Atlanta is a medium-security prison in Atlanta, Georgia, which houses male inmates. It opened in 1902. United States Penitentiary Atlanta Camp, which also houses male inmates, is located adjacent to the main institution.
Atlanta Federal Penitentiary was a high-security correctional facility and the largest prison in the country when it became operational, housing 3,000 inmates. Notable incidents include a 1987 bloody riot staged by Cuban detainees, who took dozens of hostages and set fire to the prison. Nearby hospitals reported that at least one inmate was killed, eight had gunshot wounds, and two guards were injured. The prison was rebuilt after the riot. In 1995, a new housing unit for pre-trial detainees was added.
Notable inmates include the leader of the Chicago Outfit, Al Capone (who smuggled and bootlegged liquor during the 1920s prohibition and was convicted of tax evasion in 1931). Capone stayed at USP Atlanta until being transferred to Alcatraz Federal Penitentiary in 1934.
Media reports indicate that guards and a lieutenant have been indicted for assaulting inmates, bribery, theft of government funds, and filing false reports. Also, news media have reported numerous instances of inmates assaulting staff at the institution as well as inmates at the camp escaping and leaving the institution only to return with duffle bags of contraband.
In 2011, News One named USP Atlanta one of the ten most notorious prisons in the United States.
Inmate Housing
USP: One- and Two-person cells and open dormitories.
Camp: Dormitories, divided into two-person cubicles.
Health Services
The USP Atlanta Health Services Department provides routine, urgent, and chronic care to inmates as needed. Services include sick calls, emergency medical treatment, medications, physical examinations, preventative health screening, HIV testing, treatment for on-the-job injuries, TB screening, and routine and emergency dental care. Emergency care is available 24 hours a day.
Psychology Services
USP Atlanta provides a psychological intake screening for all new inmates. General psychological services include individual and group psychotherapy. Regular groups include anger management, criminal thinking, and others. The Mental Health Step Down Program is also available for inmates with serious mental health issues who need to develop functional skills.
Residential Drug Abuse Program (RDAP)
USP Atlanta does not provide the Residential Drug Abuse Program. Staff may refer inmates to institutions that do. The facility offers a drug program, a Drug Education class, the Non-Residential Drug Abuse Program (NR-DAP), and Alcoholics Anonymous (AA).
USP Atlanta Educational, Library, and Recreation Offerings
Education Services
USP Atlanta offers literacy, GED, and English-as-a-Second language (ESL) programs. An Adult Continuing Education (ACE) and parenting program are also available to inmates. High school diplomas and post-secondary degrees are available through paid correspondence programs.
Advanced Occupational Education
USP Atlanta offers advanced occupational education in Custodial Maintenance.
Vocational Training
USP Atlanta offers vocational training in Basic Custodial Maintenance, Electrical, and HVAC. The camp also offers Custodial Maintenance. Some work experiences available include cook, baker, butcher, electrician, plumber, painter, and carpenter.
Apprenticeship
USP Atlanta does not offer any apprenticeships.
Library Services
Atlanta federal penitentiary offers both leisure and law libraries. In the leisure library, inmates can check out books, newspapers, and magazines. The law library primarily consists of the TRULINCS Electronic Law Library. Typewriters and a copy machine are also available. The law library is open Monday through Saturday.
UNICOR
The USP Atlanta UNICOR facility employs inmates as industry workers (mailbag, battle dress uniform, mattress), quality assurance workers, and clerk orderlies.
Commissary
The Commissary is located on the lower compound. Each inmate may spend a maximum of $360.00 per month on commissary items. Inmates may only shop once a week on their designated shopping day. It offers a variety of candies, beverages, toiletries, and other items for sale.
Recreation Services
USP Atlanta recreation services consist of both indoor and outdoor activities and range from individualized arts and crafts programs to intramural team sports such as softball, basketball, soccer, and volleyball. Musical instruments are also available in the recreation area.
Visitation Information for USP Atlanta
On Sunday, Friday, and Saturday, visiting hours are between 8:00 a.m. and 3:00 p.m. On federal holidays visiting hours are between 8:00 a.m. and 3:00 p.m. See our page on prisoner visitation rules for more information on visiting federal inmates.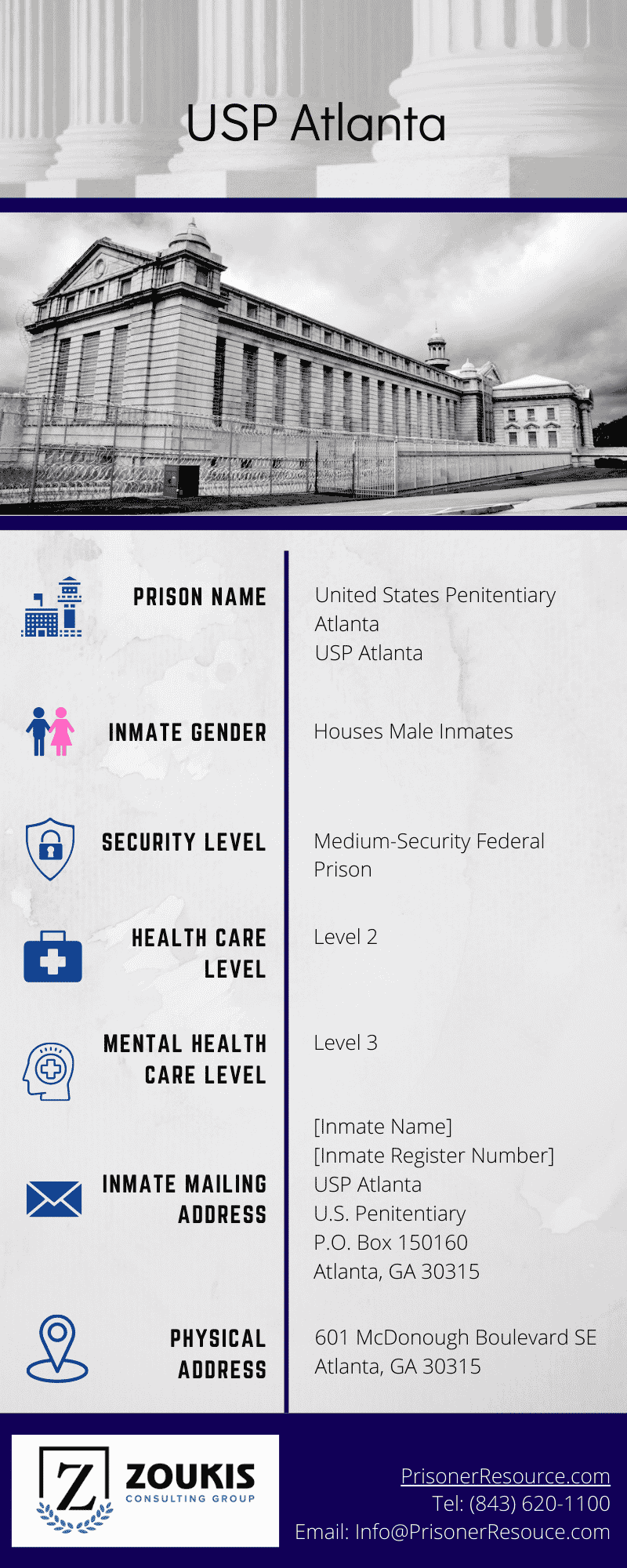 USP Atlanta in the News
In July 2018, Melvin Thomas, a guard at United States Penitentiary Atlanta, was sentenced to a year and a day in prison after pleading guilty to bribery for selling tobacco to a prisoner.
In March 2018, Gregory McLeod, a lieutenant at USP Atlanta who repeatedly punched a prisoner in the face and then obstructed justice by writing two false reports about the incident, was sentenced to 20 months in prison.
In February 2018, Joe Fletcher, who was serving seven months at USP Atlanta for a supervised release violation, used a contraband cell phone to record a video of himself bragging that he murdered LaDonte Smith in 2010 and got away with it.
In February 2017, two guards were punched in the face, and another was forcibly pushed in three separate incidents at USP Atlanta.
In October 2015, two prisoners in the pretrial/holdover housing unit at USP Atlanta assaulted two guards after getting into an argument with them.
In May 2014, a local news station reported that two prisoners at USP Atlanta, Cameron Braswell and Rex Whitlock, used a cell phone and social media to show off their shoes and tattoos.
In December 2010, Benjamin Montgomery, a guard at USP Atlanta, pleaded guilty to assaulting a prisoner and obstructing justice by writing a false report about the incident.
In May 2010, Michelle Dunmeyer, a contract specialist at USP Atlanta, pleaded guilty to using a government credit card to purchase more than $20,000 in electronics and gasoline for herself.
In April 2007, Christopher Holcomb, a guard at USP Atlanta, was sentenced to six months in jail for taking a bribe of $1,200 to smuggle a cell phone in for a prisoner.
In 1995, Gary Settle, Michael Rivers, and Charles Harrelson, the hitman father of actor Woody Harrelson, attempted to escape USP Atlanta by climbing one of the walls. They surrendered after a guard fired a warning shot.
In November 1987, after the U.S. and Cuba agreed that many illegal Cubans fleeing the Castro regime would be returned to Cuba, 1,400 Cubans in USP Atlanta rioted, holding 89 people hostage for 11 days.
Atlanta Prison Camp in the News
In February 2018, Deldrick D. Jackson, serving ten years at United States Penitentiary Atlanta Camp, and Kelly Bass were sentenced to 18 months and six months, respectively, on charges relating to escape: Jackson worked with Bass to pick up Jackson and other prisoners, drive them around to hotels and restaurants, then bring them back to the prison with alcohol, cigarettes, and other contraband to sell.
In September 2017, Jaye L. Thomas was indicted on three counts of escape for leaving the USP Atlanta Camp three times in 2016.
In February 2017, Justin Stinson left USP Atlanta Camp, retrieved a duffel bag containing a cell phone, alcohol, tobacco products, and other contraband, and was arrested on his way back into the camp. In June 2017, he was sentenced to an additional 15 months of incarceration. Atlanta Police have reportedly seen prisoners leaving the camp and returning with contraband since January 2013.
More Information About United States Penitentiary Atlanta
For a comprehensive look at life in federal prison, pick up a copy of Christopher Zoukis' Federal Prison Handbook: The Definitive Guide to Surviving the Federal Bureau of Prisons. For more detailed information about USP Atlanta, please buy a copy of the Directory of Federal Prisons: The Unofficial Guide to Bureau of Prisons Institutions by Christopher Zoukis.
Published Jun 3, 2018 by Christopher Zoukis, JD, MBA | Last Updated by Christopher Zoukis, JD, MBA on Jul 20, 2023 at 12:24 pm