United States Penitentiary Canaan is a high-security federal prison located in Waymart, Pennsylvania. It is also known as USP Canaan. The facility houses male inmates. USP Canaan Camp is located adjacent to the main institution. Male inmates are also housed at the camp.
USP Canaan Contact Information
Facility Address & Contact Information
United States Penitentiary Canaan
3057 Eric J. Williams Memorial Drive
Waymart, PA 18472
Phone: 570-488-8000
Fax: 570-488-8130
Email: [email protected]
BOP Website: Bureau of Prisons Page
Wikipedia: Wikipedia Page
Inmate Correspondence Address
USP Canaan
Inmate Name and Registration Number
USP Canaan
United States Penitentiary
P.O. Box 300
Waymart, PA 18472
USP Canaan Camp
Inmate Name and Registration Number
USP Canaan Camp
Satellite Prison Camp
P.O. Box 200
Waymart, PA 18472
How to Send Money
Do not send money to inmates directly. See our page on sending money to federal prisoners.
United States Penitentiary Canaan Inmate Information
Inmate Gender
Male federal Inmates
Prison Security Level
Facility Location
USP Canaan is located in northeast Pennsylvania, 20 miles east of Scranton and 134 miles north of Philadelphia.
BOP Region
BOP Institution Code
CAA for USP Canaan
Medical Care Level
Level 2. See our page on Medical Care Levels and Procedures for more information.
Mental Health Care Level
Level 2.
Judicial District
Middle District of Pennsylvania
Population Number
USP Canaan federal prison houses approximately 1,190 inmates. The camp houses around 65 inmates.
USP Canaan Prison Services Information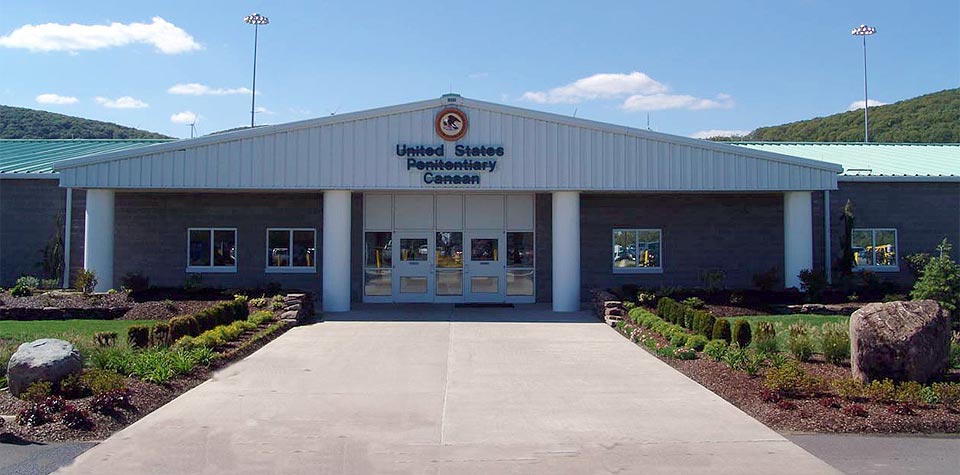 Background
United States Penitentiary Canaan is a high-security federal prison in Waymart, Pennsylvania. It was opened in 2005. United States Penitentiary Canaan Camp is located adjacent to the main institution. Both facilities house male inmates.
At least four murders have taken place at USP Canaan since its opening.
Pennsylvania lawmakers have called the facility "one of the most dangerous penitentiaries in the country." In June 2011, one of the largest ever institutional salmonella poisoning outbreaks occurred when 300 inmates and several staff members became ill after eating chicken in the prison dining room.
Notable inmates include father and son executives John Rigas and Timothy Rigas (convicted of bank fraud); drug kingpin Juan Matta-Ballesteros (serving a life sentence for drug offenses); Somali pirate leader Mohammad Shibin (serving a life sentence); and former Army Ranger Luke Sommer (serving a 44-year sentence for bank robbery and soliciting murder).
Media reports indicate that at least one guard has been killed, two guards stabbed, and one inmate murdered at the facility. In addition, at least one guard has been indicted for smuggling contraband into the institution.
Inmate Housing
Inmates live in six housing units consisting of one and two-person cells. Inmates at the camp are housed in dormitories.
Health Services
Health services include:
Preventative Care
Diagnosis
Treatment for chronic conditions
Mental Health Care
Substance Abuse Treatment
Annual Immunizations
Physical Examinations
Dental Care
To receive routine care inmates must submit a triage form. Emergency care is available 24 hours a day.
Psychology Services
Priority psychology services include intake screenings, treatment of major mental disorders, crisis intervention, and suicide prevention. Self-help, support, and lifestyle change programs are offered as resources and need dictate. Psycho-educational and process groups are also available.
Residential Drug Abuse Program (RDAP)
USP Canaan has the Residential Drug Abuse Program (RDAP). It also offers a Drug Education class, the Non-Residential Drug Abuse Program (NR-DAP), Alcoholics Anonymous (AA), and Narcotics Anonymous (NA). The Challenge Program, which assists inmates in successfully reintegrating into the community through the elimination of drug abuse and elimination/management of mental illness, is also available.
USP Canaan Educational, Library, and Recreation Offerings
Education Services
USP Canaan inmates have access to literacy, GED, and English-as-a-Second Language (ESL) programs. Adult Continuing Education (ACE) classes and a parenting program are also available. High school diplomas and post-secondary degrees are available through paid correspondence programs.
Advanced Occupational Education
USP Canaan offers advanced occupational education in Culinary Arts.
Vocational Training
USP Canaan and the satellite camp offer vocational training in Horticulture.
Apprenticeship
USP Canaan offers apprenticeships in Electrical, HVAC, and Plumbing. The camp offers an apprenticeship in Electrical.
Library Services
USP Canaan's Education Department provides a wide variety of reading material, including newspapers, magazines, and a broad selection of leisure reading books (westerns, fiction, nonfiction, biographies, reference, science, history, etc.).
The TRULINCS Electronic Law Library is located in four stations throughout the institution, one in each pod, and one in SHU. Printers are located in the main law library, Commissary, and SHU.
UNICOR
The USP Canaan UNICOR facility handles bindery operations. The camp does not house a UNICOR facility.
Commissary
The Commissary provides a bank-type account for inmate money and for the procurement of items not issued regularly as part of the institution administration. Money can be used for purchasing sale items in the institution commissary, sent home for family support, or used for other purposes. The commissary shopping schedule is rotated monthly.
Recreation Services
Leisure and recreation programs include indoor and outdoor activities and range from individualized arts and crafts programs to intramural team sports, such as softball, basketball, and soccer. Physical fitness and weight reduction programs are important activities for inmates and contribute to good mental health, healthy interpersonal relations, and stress reduction. Various leisure classes and hobby craft programs are also available for interested participants. Inmates in the Special Housing Unit (SHU) prisoners have limited access to recreation activities.
Visitation Information for USP Canaan
On Sunday, Friday, and Saturday visiting hours are between 8:00 a.m. and 3:00 p.m. On federal holidays visiting hours are between 8:00 a.m. and 3:00 p.m. See our page on prisoner visitation rules for more information.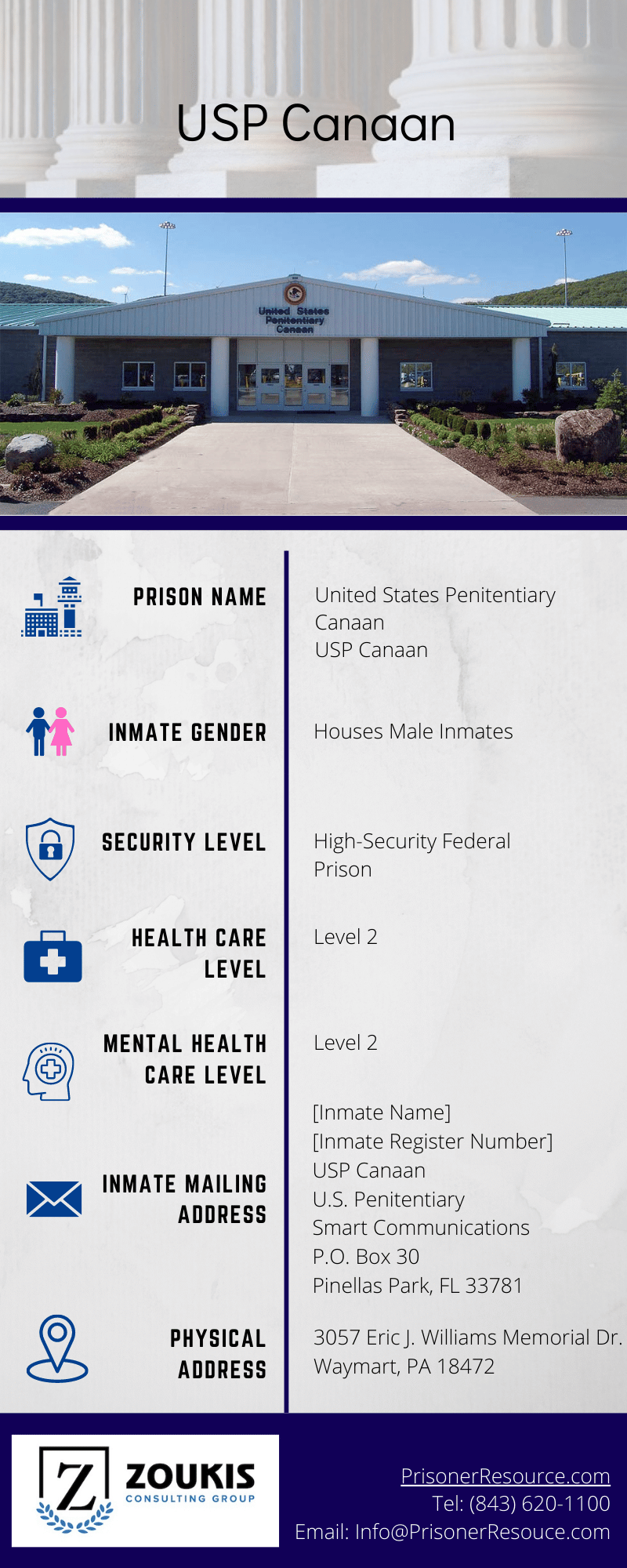 USP Canaan in the News
In March 2018, Pennsylvania lawmakers wrote to Attorney General Jeff Sessions and then-BOP Director Mark Inch decrying prison staffing cuts, saying that USP Canaan "is one of the most dangerous penitentiaries in the country," citing 256 reported acts of violence in the fiscal year 2017.
In August 2015, a prison employee and two guards were stabbed by a prisoner in the dining hall at USP Canaan.
In March 2015, Senator Bob Casey (D-PA), sponsored a bill in Congress as a result of the fatal 2013 stabbing of USP Canaan guard Eric Williams that would require Bureau of Prisons employees to carry pepper spray.
In December 2013, an unidentified guard at USP Canaan was quoted in the news as saying, "There are so many violent acts happening all the time, they run out of room in the SHU."
In February 2013, USP Canaan prisoner Jessie Con-Ui beat and stabbed prison guard Eric Williams to death. Con-Ui allegedly committed the attack because he felt disrespected after Williams allegedly ordered two guards to ransack his cell. Con-Ui received a second federal sentence of life in prison for the murder.
In March 2012, Donald E. Lykon, a guard at USP Canaan, was charged with smuggling cell phones, tobacco, and marijuana into the prison over a four-month period in 2011.
In April 2010, Allen Archie Hurley, a prisoner at USP Canaan who was serving time for bank robbery, killed Gambino crime family associate Joseph O'Kane, stabbing him 92 times.
More Information About United States Penitentiary Canaan
For a comprehensive look at life in federal prison, pick up a copy of Christopher Zoukis' Federal Prison Handbook: The Definitive Guide to Surviving the Federal Bureau of Prisons. For more detailed information about USP Canaan, please buy a copy of the Directory of Federal Prisons: The Unofficial Guide to Bureau of Prisons Institutions by Christopher Zoukis.
Published May 17, 2018 by Christopher Zoukis, JD, MBA | Last Updated by Christopher Zoukis, JD, MBA on Jun 4, 2023 at 5:07 pm