Federal Correctional Institution Miami is a low-security federal prison located in Miami, Florida. It is also known as FCI Miami and Miami Correctional Facility. FCI Miami Camp is adjacent to the main institution. Male inmates are also housed at both prisons.
FCI Miami Contact Information
Facility Address & Contact Information
Federal Correctional Institution Miami
15801 SW 137th Avenue
Miami, FL 33177
Phone: 305-259-2100
Fax: 305-259-2160
Email: [email protected]
BOP Website: Bureau of Prisons Page
Wikipedia: Wikipedia Page
Inmate Correspondence Address
FCI Miami
Inmate Name and Registration Number
FCI Miami
Federal Correctional Institution
P.O. Box 779800
Miami, FL 33177
FCI Miami Prison Camp
Inmate Name and Registration Number
FCI Miami Camp
Satellite Prison Camp
P.O. Box 779800
Miami, FL 33177
How to Send Money
Inmates in the federal prison system are not allowed to receive funds directly from friends or family. Instead, there are a few different options for sending money to an inmate, including:
Western Union
Money Gram
Postal Money Orders
While Western Union and Money Gram deposit funds within two to four hours, these services also incur additional fees.
Funds sent through the National Lockbox in Des Moines, Iowa, are not assessed an additional fee. They are also deposited to inmate accounts shortly following receipt.
For more information on how to send money to an offender, please see our page on sending money to federal inmates.
Federal Correctional Institution Miami Inmate Information
Inmate Gender
Male Inmates
Prison Security Level
Facility Location
FCI Miami is located in southwest Dade County, 30 miles from downtown Miami, off the Florida Turnpike (Homestead Extension, 152nd Street exit), 2.5 miles to 137th Street South.
BOP Region
BOP Institution Code
MIA for FCI Miami
Medical Care Level
Level 2. See our page on Medical Care Levels and Procedures for more information.
Mental Health Care Level
Level 2.
Judicial District
Population Number
Miami Correctional Facility houses approximately 790 inmates. The camp houses around 200 inmates.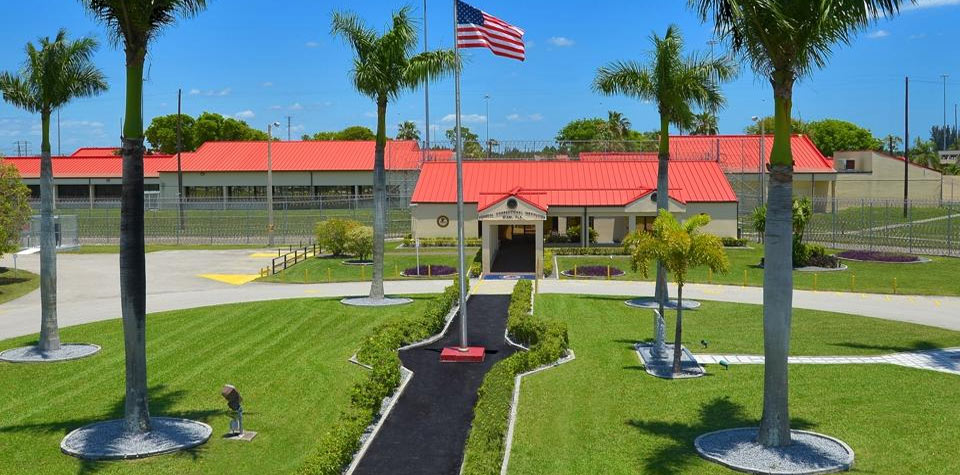 FCI Miami Prison Services Information
Background
Federal Correctional Institution Miami is a low-security federal prison in Miami, Florida. It opened in 1976. Federal Correctional Institution Miami Camp opened in 1992 next to the central institution. Both prisons house male federal inmates.
The prison initially housed refugees from Cuba, many of which had criminal records. In 1980, during the Mariel Boatlift, over 100,000 refugees were housed in FCI Miami. In 1992, Hurricane Andrew destroyed much of Miami federal prison. In 2018, OSHA issued a report detailing numerous safety and security violations at the prison.
Notable inmate Lou Pearlman, a well-known music producer and manager who made Backstreet Boys and N'SNYC famous, was sentenced to 25 years for orchestrating a Ponzi scheme that caused investors to lose $200 million. He died in 2016 while serving his sentence. Another notable inmate was NFL quarterback Shane Matthews who was sentenced to three months as part of a $20 million health care fraud conspiracy. He was housed at FCI Miami Camp.
Media reports indicate that inmates have assaulted at least two guards, and one guard has been indicted for sexually abusing an inmate.
Inmate Housing
Inmates live in two- and three-person cells. Inmates at the camp live in dormitories divided into two-person cubicles.
Health Services
FCI Miami provides various health care services, including:
Sick Calls
Physical Examinations
Prescription Medication
Dental Care
Eye Care
HIV, TB, and Hepatitis Testing
Inmates must attend sick call at 7:00 a.m. on Monday, Tuesday, Thursday, or Friday to evaluate routine care needs. Emergency care is available 24 hours a day.
Psychology Services
Miami Correctional Facility provides various psychology services to inmates, including:
Psychological Evaluations
Crisis Consultation
Referrals to Health Services
Individual and Group Counseling Services in English and Spanish
Psychology Services staff post notices of upcoming treatment offerings in inmate housing units. Inmates must submit a request to staff or visit the open house to request program placement.
Residential Drug Abuse Program (RDAP)
Both FCI Miami and the camp have the Residential Drug Abuse Program (RDAP). The RDAP program at FCI Miami federal prison is in Spanish. Drug abuse programming, including a Drug Abuse Education Course and the Non-Residential Drug Abuse Treatment Program (NR-DAP), is also available.
FCI Miami Educational, Library, and Recreation Offerings
Education Services
Federal Correctional Institution Miami provides literacy, GED, GED prep, and English-as-a-Second Language (ESL) programs. Inmates receive a $5 incentive when they complete the Test of Adult Basic Education (TABE). Twenty-five dollar awards are for inmates who pass the GED or ESL examinations.
Prison education courses are available in the following areas:
Parenting
Janitorial
Pre-Release Preparation
College
Correspondence Courses
High school diplomas and post-secondary degrees are available through paid correspondence programs.
Advanced Occupational Education
Miami Correctional Facility offers advanced occupational education in Custodial Maintenance and HVAC-1.
Vocational Training
FCI Miami federal prison offers vocational training in Drafting in the main building.
Apprenticeship
Miami Correctional Facility and the camp offer apprenticeships in Electrical and HVAC. The main building also offers a Plumbing apprenticeship.
Library Services
FCI Miami provides a leisure library and a media lab. Inmates can check out newspapers, magazines, and books.
Prisoners have access to legal materials and an opportunity to prepare legal documents through the TRULINCS Electronic Law Library. A copy machine is available to reproduce materials needed for research. Electric typewriters are also available for inmate use.
UNICOR
The FCI Miami UNICOR facility produces clothing and textiles.
Commissary
Inmates who have funds in their commissary account can spend up to $360.00 monthly for various commissary items. Stamps and over-the-counter (OTC) medical items are not counted against the monthly spending limit.
Each inmate must have an identification card to shop. Shopping is conducted during breakfast. Inmates must carry their I.D. cards at all times.
Inmates may check their account balance using the TRULINCS computers located in the housing units. PIN numbers are obtained in the Business Office, Inmate's Account Section, from 11:00 a.m. to noon on Tuesdays and Thursdays. Inmates may also check their account balance via the inmate telephone system.
Recreation Services
FCI Miami provides a recreation yard and structured and unstructured recreational activities. The yard allows for recreational and group exercises and sports. Inmates can also participate in various art and hobby craft activities. Chess, musical instruments, ceramic classes, and leathercraft are popular activities.
Visitation Information for FCI Miami
Visitation is between 8:00 a.m. and 3:00 p.m. on Sunday, Friday, and Saturday. On federal holidays, family and friends can visit an inmate during visiting hours between 8:00 a.m. and 3:00 p.m. See our page on prisoner visitation rules for more information.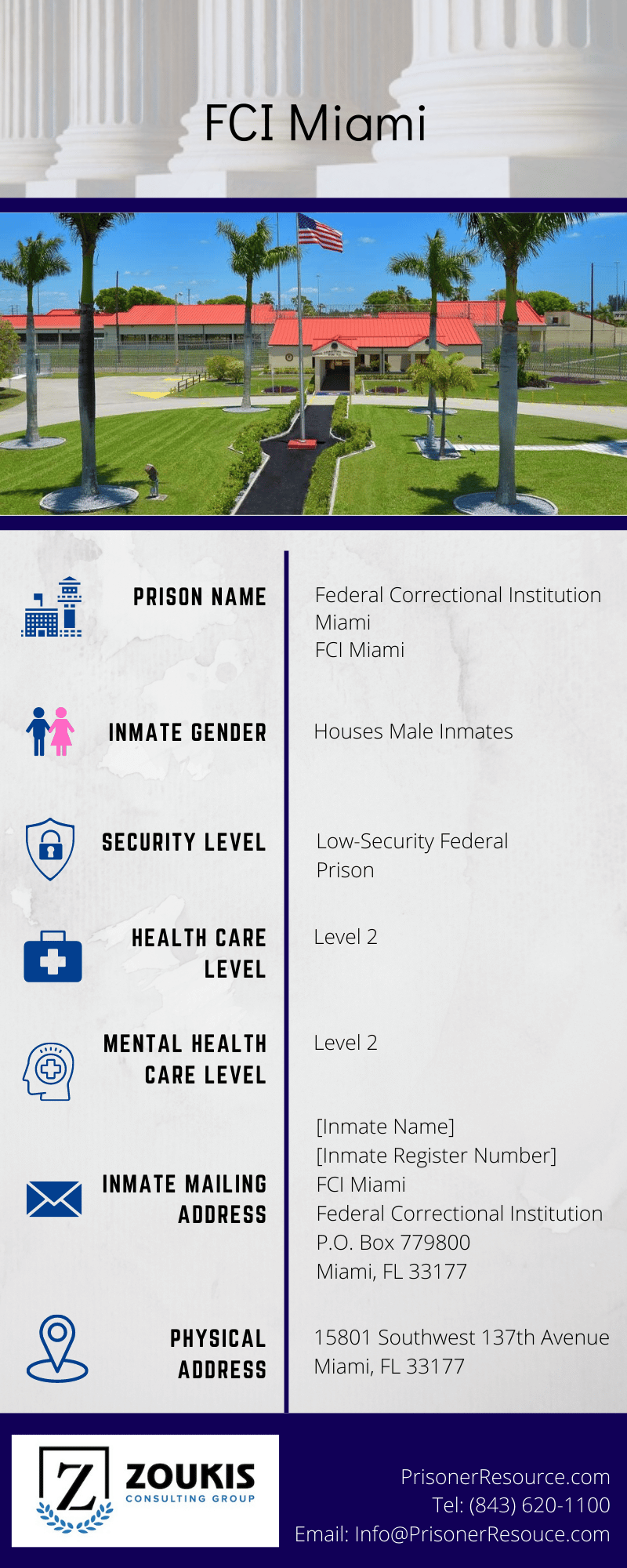 FCI Miami Prison Culture Information
Prison Politics at Federal Correctional Institution Miami
This prison has a low level of politics.
Level of Violence
Inmates report very little violence at this facility.
Vulnerable Populations
Sex offenders, informants, and LGBT inmates can walk the yard. One respondent said these groups "don't have many problems."
Bad at FCI Miami Federal Prison
"Lots of black mold." "The paper talks about the prison possibly closing due to health concerns." "Not the best, but not the worst place to serve time."
Other Inmate Comments
"Stay the hell away and pray that you don't come here." "To me, it is like paradise. I like it here a lot."
FCI Miami in the News
In June 2018, the Occupational Health and Safety Administration (OSHA) issued a report detailing numerous workplace violations at Federal Correctional Institution Miami that endangered prisoners and staff, including mold, water leakage, and a lack of basic security equipment. OSHA also warned that violent prisoners were being moved to FCI Miami, where guards were not sufficiently trained or equipped to deal with them.
In April 2018, the American Federation of Government Employees Local 506, a central Florida correctional officer's union, complained after guards from other federal prisons were sent to Miami Correctional Facility during Hurricane Irma. During the hurricane, the building flooded, and power was lost for several days. The Bureau of Prisons has pulled people out of FCI Miami before major storms in previous years.
In March 2018, one prisoner at Federal Correctional Institution Miami attacked a guard during a search for contraband. Another prisoner attacked a guard in the same month, pinning him to the ground.
In February 2018, NFL quarterback Shane Matthews was sentenced to three months for his unwitting role as a spokesperson in a $20 million health care fraud conspiracy. His teammate, Monty Grow, was sentenced in April 2018 to 22 years. Matthews was incarcerated at FCI Miami, and Grow was sent to Federal Detention Center Miami (FDC Miami).
In December 2011, Jack Chris Jackson, a guard at Miami Correctional Facility, pleaded guilty to the sexual abuse of a ward.
In 1992, Hurricane Andrew destroyed much of FCI Miami.
More Information About Federal Correctional Institution Miami
For a comprehensive look at life in federal prison, pick up a copy of Christopher Zoukis' Federal Prison Handbook: The Definitive Guide to Surviving the Federal Bureau of Prisons. For more detailed information about FCI Miami, please buy a copy of the Directory of Federal Prisons: The Unofficial Guide to Bureau of Prisons Institutions by Christopher Zoukis.
Published Jun 3, 2018 by Christopher Zoukis, JD, MBA | Last Updated by Christopher Zoukis, JD, MBA on May 20, 2022 at 4:50 pm