Federal Correctional Institution Seagoville is a low-security federal prison located in Seagoville, Texas. It is also known as FCI Seagoville and Seagoville TX federal prison. FCI Seagoville Camp is next to the main institution. Both federal prisons house male inmates.
FCI Seagoville Contact Information
Facility Address & Contact Information
Federal Correctional Institution Seagoville
2113 North Highway 175
Seagoville, TX 75159
Phone: 972-287-2911
Fax: 972-287-5466
Email: [email protected]
BOP Website: Bureau of Prisons Page
Wikipedia: Wikipedia Page
Inmate Correspondence Address
FCI Seagoville
Inmate Name and Registration Number
FCI Seagoville
Federal Correctional Institution
P.O. Box 9000
Seagoville, TX 75159
FCI Seagoville Prison Camp
Inmate Name and Registration Number
FCI Seagoville Camp
Satellite Prison Camp
P.O. Box 9000
Seagoville, TX 75159
How to Send Money to Inmates
Several options are available for sending funds to federal inmates at Seagoville, TX prison. Note that federal prisoners may not receive funds directly. Instead, family and friends send money through Western Union, Money Gram, or the National Lockbox in Des Moines, Iowa.
One option is to use Western Union or Money Gram. These services allow you to send money directly to an inmate's account. Another option is to use the National Lockbox in Des Moines, Iowa. This service will enable you to send a money order or cashier's check directly to the inmate's account.
Learn more about sending funds to federal inmates here.
Federal Correctional Institution Seagoville Inmate Information
Inmate Gender
Male Inmates
Prison Security Level
Facility Location
FCI Seagoville is located 11 miles southeast of Dallas, off Highway 175 (Hawn Freeway).
BOP Region
BOP Institution Code
SEA for FCI Seagoville
Medical Care Level
Level 2. See our page on Medical Care Levels and Procedures for more information.
Mental Health Care Level
Level 2.
Judicial District
Population Number
FCI Seagoville houses approximately 1,460 inmates. The camp houses around 95 inmates.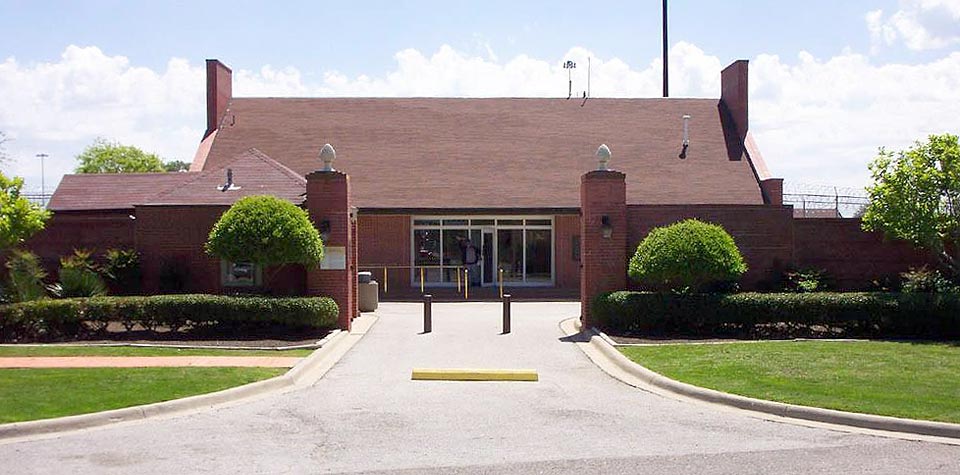 FCI Seagoville Prison Services Information
Background
Federal Correctional Institution Seagoville is a low-security federal prison in Seagoville, Texas, which houses male inmates. It opened in 1938. Federal Correctional Institution Seagoville Camp, which also houses male inmates, is adjacent to the central institution.
FCI Seagoville initially housed female inmates. During World War II, the prison housed Japanese, German, and Italian families considered national security risks. In 1945, it converted to the male federal prison it is today. The facility is a Sex Offender Management Program (SOMP) institution, which means that around 40 percent of the inmate population has a current or past sexual offense.
Media reports indicate that at least two guards have been indicted for smuggling contraband into the institution. Additionally, one inmate has escaped, and one inmate has been indicted for attacking a fellow prisoner he believed to be gay.
Inmate Housing
Inmates live in two-, three-, five-, and twelve-person rooms. B, D, and E housing units have air conditioning, while the others do not. There is a total of seven housing units.
Inmates at the detention center live in two-person cells, and those at the camp live in dormitories.
Health Services
Inmates at FCI Seagoville have access to a variety of medical and dental care services, including:
Sick Call
Dental Care
Dental Emergency Care
Emergency Medical Care
Eyeglasses
Medications
Chronic Care
Physical Examinations
The Health Services waiting room offers educational videos on various health-related concerns. Emergency medical care is available 24 hours a day.
A sick call is held between 6:30 and 7:00 a.m. on Monday, Tuesday, Thursday, and Friday. Insulin and pill lines are conducted at 6:30 a.m. and 5:30 p.m. on weekdays and 7:00 a.m. and 5:00 p.m. on weekends.
Psychology Services
Psychological services are available to the inmates in both facilities in both English and Spanish. Individual consultation, counseling, and crisis intervention are readily available for all inmates. A Non-Residential Sex Offender Treatment Program (SOTP-NR) is also available to prisoners at the Seagoville, TX federal prison. Other groups include:
Anger Management
Mindfulness
Basic Cognitive Skills
Stress Management
Grief Management
Emotional Self-Regulation
Residential Drug Abuse Program (RDAP)
FCI Seagoville has the Residential Drug Abuse Program (RDAP). The camp does not offer RDAP. Both institutions also offer the Drug Education Program and the Non-Residential Drug Abuse Program (NR-DAP).
FCI Seagoville Educational, Library, and Recreation Offerings
Education Services
FCI Seagoville's Education Department offers inmates literacy, GED, and English-as-a-Second Language (ESL) programs. Students receive certificates for achieving the eighth-grade functional literacy level. Students who complete the state standards for GED receive a State of Texas diploma and a cash award of up to $25 if funds are available.
A parenting program and Adult Continuing Education (ACE) classes are also available. Current ACE classes include:
Drafting Technology
African American History
Creative Writing
Introduction to the Law Library
Real Estate
American Civil War
Everyday Math
Science
Criminal Justice
Financial Self-Defense
Institution Release Preparation Program sessions of six core classes are also available. High school diplomas and post-secondary degrees are available through paid correspondence programs. Cedar Valley College offers limited college classes.
Hours of operation are:
Monday through Friday: 7:30 to 10:30 a.m., 11:30 a.m. to 2:50 p.m., and 5:00 to 7:50 p.m.
Saturday: 7:00 to 9:30 a.m., 11:00 a.m. to 2:50 p.m., and 5:00 to 7:50 p.m.
Advanced Occupational Education
Seagoville Federal Prison offers advanced occupational education in:
Auto Mechanic
Automotive Technician
Computer Graphics and Design
Construction Tech
Core Construction
HVAC
Landscape Design
Turfgrass
No advanced occupational education programs are available at the camp.
Vocational Training
Neither FCI Seagoville nor the camp offers any vocational training programs aside from the advanced occupational education programs.
Apprenticeship
Seagoville, TX prison does not offer any apprenticeship programs.
Library Services
Both leisure and law libraries are available to inmates at FCI Seagoville. The law library offers typewriters and a copy machine for legal work only. Typewriter ribbons are available from the commissary. Legal research is conducted through the TRULINCS Electronic Law Library computers.
In the leisure library, inmates have access to books and magazines. Current magazine subscriptions and newspapers are maintained for English and Spanish-speaking inmates. The leisure library also provides a variety of educational, entertainment, and self-help videos and books on tape for inmates interested in personal enrichment. An interlibrary loan program is also available.
UNICOR
The Seagoville, TX prison UNICOR facility produces clothing and textiles.
Commissary
Inmates can spend up to $360.00 per month in the prison commissary. This amount is increased during the Christmas holiday season.
Popular items include food, beverages, and clothing. Shoes, electronics, ice cream, and over-the-counter medications are also available. Special Purchase Orders for sports equipment, hobby craft items, etc., are limited each month.
Commissary shopping hours are based on the fourth and fifth digits of an inmate's registration number. The commissary is open Monday through Thursday, between 6:30 and 8:20 a.m. and 10:30 a.m. to 1:00 p.m. UNICOR inmates can shop on Wednesdays.
Recreation Services
Depending on weather conditions, both indoor and outdoor facilities are available at FCI Seagoville. Television viewing rooms are in each housing unit for inmate use. Seven televisions are also available in the Recreation Department.
There are a variety of organized sports, including:
Softball
Flag Football
Soccer
Frisbee
Volleyball
Pickleball
Handball
Racquetball
Basketball
Varsity sports teams are chosen from the inmate population to compete in contests against outside teams. A hobby shop offers inmates painting, beading, art, leather, and crochet.
The Seagoville, TX federal prison offers inmates a wellness program, track, and music room. A weightlifting and fitness area includes:
Dumbbells
Barbells
Flat and Decline Benches
Leg Press
Shoulder Rack
Hours of operation are 6:00 to 10:20 a.m., 11:00 a.m. to 3:15 p.m., and 5:00 to 7:30 p.m.
Visitation Information for FCI Seagoville
On Sundays and Saturdays, visiting hours are from 8:30 a.m. to 3:00 p.m. On federal holidays visitation is held between 8:30 a.m. and 3:00 p.m. See our page on prisoner visitation rules for more information.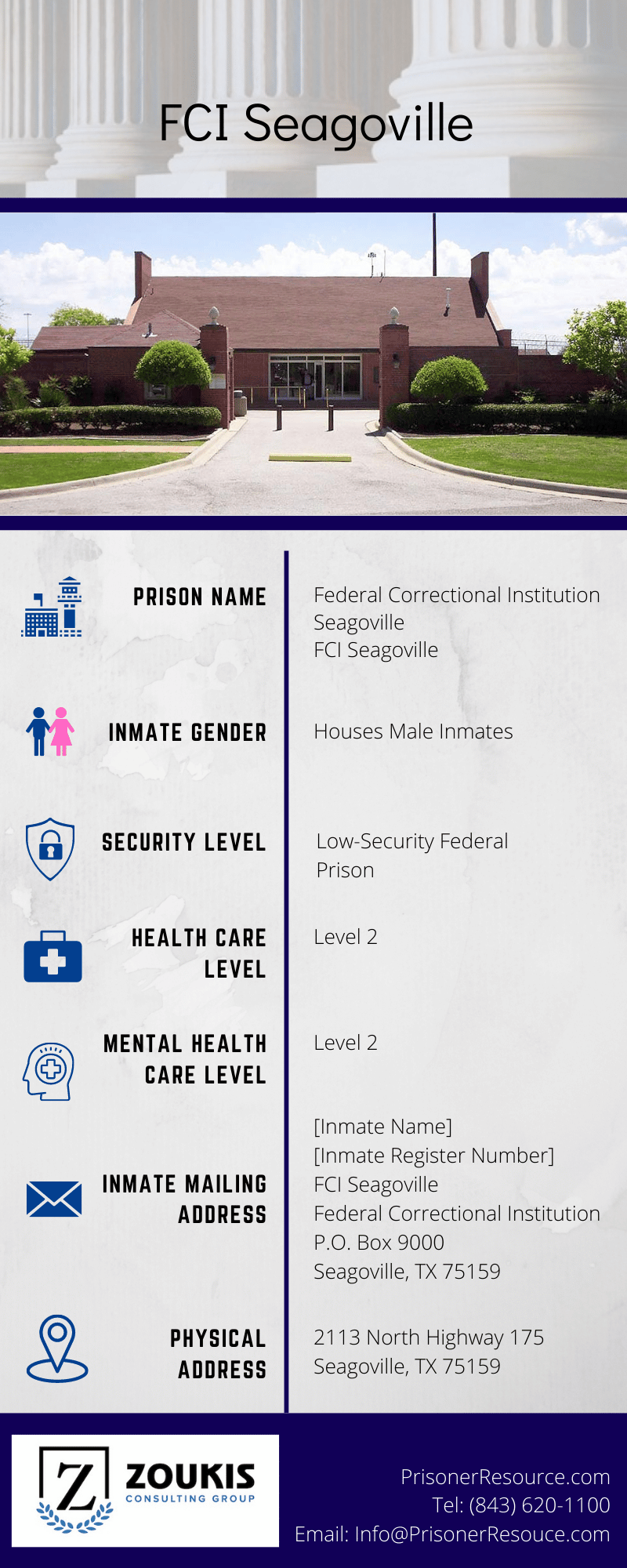 FCI Seagoville Prison Culture Information
Prison Politics at Federal Correctional Institution Seagoville
There is a low level of politics at this prison. According to respondents, some parts of the yard and other areas (e.g., some TV rooms and tables) are claimed by different races or cars, but this is somewhat rare.
According to one inmate, "the facility is extremely safe for all charges/groups." Another inmate stated, "Everyone talks to each other, but when it comes to watching TVs or eating in the chow hall, it is segregated by race and type of crime." Another inmate expressed, "We have some politics just to keep the peace, but it's a SOMP/PC Low."
Level of Violence
There is very little violence at this facility. One inmate explained that "it is a safe institution." Another rated it a 9 out of 10 for safety. Another respondent agreed, stating that there was a "low level of violence."
One respondent colored this discussion by stating, "Safety is moderate only because we are vastly understaffed." Another inmate said, "Violence is rare and serious injuries are almost unheard of. Fistfights happen, but most violence stops at pushing and shoving."
Vulnerable Populations
Sex offenders, informants, and LGBT inmates can walk the yard. One respondent referred to the yard as a "drop-out yard" where everyone can walk.
Another expressed that it is a "sex offender and protective custody yard." He also stated that "transgender inmates are allowed to walk." Another inmate explained, "This is a SOMP yard, so it's 65-70% sex offender right now. Almost everyone else is either an informant or got run out of somewhere else for some reason."
Good at FCI Seagoville TX Prison
"This prison is very nice looking. The outdoor areas look like a park with lots of grass, trees, flower beds, and hedges. The buildings are all red brick and architecturally pleasing. There is even a gazebo which the inmates can use when the compound is open to free movement, which doesn't happen very often."
"Very little theft or violence, just morons." "Beautiful campus, trees, shrubs, college-like campus." "Gazeboes and picnic tables on the compound." "There are a lot of trees and vegetation because of the VT Landscape department."
"Possibly the most laid-back prison in the BOP." "Food service is decent and is getting better." "The prison resembles a college campus with scores of mature live oak trees and dozens of flower beds and hedges."
Bad at FCI Seagoville Federal Prison
"The only bad thing about this prison is the COs who still want to use their authority to mistreat prisoners." "Not the best staff as far as individual problems are concerned." "Inmate-to-inmate respect level is very low compared to other places."
"Not a place for wheelchairs and walkers due to being too bumpy and narrow." "Staff are terrible as a whole." "It used to be an open compound until someone shut that down."
"There are a lot of bad things about this compound." "Huge drug problem here. K2 has inmates dropping like flies. It is so bad now that if an inmate is high, they don't even lock them up if they can walk and talk because there is no room in the SHU for them."
Other Inmate Comments
"Easy time." "Anyone can walk here no problem. Don't expect it to be very 'prison-like.' It's more like a college campus (in layout), full of middle school maturity-level grown men."
"Other than the heat, it's a great spot to do time." "If you can choose where to go, don't come here." "This is not a bad spot, but it's not Club Fed either."
FCI Seagoville in the News
In April 2020, FCI Seagoville was ravaged by the COVID-19 pandemic. During this period, both inmates and staff members tested positive for COVID-19.
In June 2018, William Laurence Stanley escaped from Federal Correctional Seagoville and was recaptured the next day.
In May 2018, U.S. Senator John Cornyn and Bureau of Prisons Director Mark Inch took a tour of FCI Seagoville in the lead-up to a federal criminal justice reform bill.
In April 2017, award-winning journalist Barrett Brown, released from Seagoville, TX prison to serve the remainder of his sentence on home confinement, was unexpectedly returned to FCI Seagoville because the Bureau of Prisons was unhappy that he was speaking to the media. Brown's attorney explained to the Bureau that BOP policy only requires prior authorization for in-person interviews at Bureau institutions, not interviews conducted via telephone, email, or postal mail.
In March 2013, John Hall, a prisoner at Seagoville, TX federal prison and Aryan Brotherhood gang member, was sentenced to an additional 71 months in prison after beating and kicking another prisoner in December 2011 because he believed the victim was gay.
In February 2012, Michael Hopper, a guard at FCI Seagoville, was sentenced to two years in federal prison for smuggling alcohol, tobacco, and nutritional supplements into the prison.
In 2009, Barry Kent Haatvedt, a guard at Seagoville, TX federal prison, received three-and-a-half years in prison for bribery after being paid approximately $10,000 to smuggle tobacco into the prison.
More Information About Federal Correctional Institution Seagoville
If you're looking for an up-close and personal look at federal prison life, you should read Christopher Zoukis' Federal Prison Handbook: The Definitive Guide to Surviving the Federal Bureau of Prisons. The Handbook provides a detailed and comprehensive look at what life is really like behind bars, from the moment of arrest through release.
You'll get an inside look at the day-to-day reality of federal prisons, including food, guards, inmates, and the bureaucracy. You'll also find helpful information on how to survive your time in prison, both mentally and physically.
For more specific information about FCI Seagoville, check out the Directory of Federal Prisons: The Unofficial Guide to Bureau of Prisons Institutions by Christopher Zoukis. This book provides a detailed overview of Seagoville, TX federal prison, from its history and culture to its inmate population and facilities. You'll get an inside look at what it's like to live in this unique federal prison, and you'll find valuable tips on how to make the most of your time there.
Published Jun 3, 2018 by Christopher Zoukis, JD, MBA | Last Updated by Christopher Zoukis, JD, MBA on May 12, 2023 at 11:37 am