United States Penitentiary Marion is a medium-security federal prison in Marion, Illinois. It is also known as USP Marion, Marion Correctional Institution, and Marion Correctional Facility. USP Marion Camp is adjacent to the main institution. Both federal prisons house male inmates.
If you or someone you love is incarcerated at the United States Penitentiary in Marion, Illinois, then you need the help of the Zoukis Consulting Group. Our team of federal prison experts can assist you in resolving in-prison matters and securing an early release from prison.
Contact us today to schedule an initial consultation. We will review your case and determine the best course of action to help you or your loved one obtain a release from the Marion, Illinois, federal prison. Don't go through this challenging time alone – let us help you navigate the complexities of the federal prison system.
USP Marion Contact Information
Facility Address & Contact Information
United States Penitentiary Marion
4500 Prison Road
Marion, IL 62959
Phone: 618-964-1441
Fax: 618-694-2058
Email: [email protected]
BOP Website: Bureau of Prisons Page
Wikipedia: Wikipedia Page
Inmate Correspondence Address
USP Marion Federal Prison
Inmate Name and Registration Number
USP Marion
United States Penitentiary
P.O. Box 1000
Marion, IL 62959
USP Marion Camp
Inmate Name and Registration Number
USP Marion Camp
Satellite Prison Camp
P.O. Box 1000
Marion, IL 62959
How to Send Money
Funds cannot be sent directly to federal inmates. See our page on sending money to federal prisoners.
United States Penitentiary Marion Inmate Information
Inmate Gender
Male Inmates
Prison Security Level
Facility Location
USP Marion is located 300 miles from Chicago, 120 miles from St. Louis, 9 miles south of Marion, off I-57 via Highway 148 North, east on Little Grassy Road.
BOP Region
BOP Institution Code
MAR for United States Penitentiary Marion Federal Prison
Medical Care Level
Level 2. See our page on Medical Care Levels and Procedures for more information.
Mental Health Care Level
Level 2.
Judicial District
Population Number
Marion Correctional Institution houses approximately 1,240 inmates. The camp houses around 160 inmates.
USP Marion Prison Services Information
Background
United States Penitentiary Marion is a medium-security federal prison in Marion, Illinois. It opened in 1963. United States Penitentiary Marion Camp opened in 1971 adjacent to the main institution. Both federal prisons incarcerate male inmates.
USP Marion Correctional Institution was designed to replace Alcatraz. It was once the Bureau of Prisons' control unit and housed high-profile offenders like John Gotti. In 2017 the prison was reduced to medium-security and is currently a Sex Offender Management Program (SOMP) facility.
Notable inmates include:
Leader of the Alaska Peacemakers Militia Francis Schaeffer Cox: serving 25 years for murder conspiracy.
Russian arms dealer Viktor Bout: serving a 25-year sentence for conspiring to kill Americans and supplying antiaircraft missiles
MLB player Pete Rose: served five months at the camp for filing false tax returns.
Media reports indicate that at least three guards have been assaulted, two guards killed, and two inmates murdered at the institution. At least one inmate was charged with weapons possession. In addition, at least one inmate has escaped from the camp.
In 2011, News One named USP Marion Illinois federal prison one of the ten most notorious prisons in the United States.
Inmate Housing
Marion Illinois prison inmates live in one-, two-, and three-person cells. Communication Management Unit (CMU) inmates are single-celled and on near-permanent lockdown.
Inmates in RDAP are housed in two-person cells, while those in the Residential Sex Offender Treatment Program (SOTP-R) are single-celled. Prisoners live in dormitories in the Marion Correctional Facility Camp, divided into two-person cubicles.
Health Services
Various services are available in the Marion, Illinois federal prison Health Services department:
Intake Screening
Medications
Physical Examinations
Chronic Care
Eye Care
Eyeglasses
Immunizations
Pre-Release Examinations
Routine care requires the submission of a sick call slip at 6:00 a.m. and 4:55 p.m.
Psychology Services
Psychology Services at USP Marion provides counseling and a variety of programs to assist inmates who are experiencing mental health issues, including:
Psychological Assessments
Crisis Counseling
Suicide Prevention
Non-Residential Sex Offender Treatment Program (SOTP-NR)
Residential Sex Offender Treatment Program SOTP-R)
Anger Management
Communication Skills
Criminal Thinking
Cognitive Behavioral Therapy
Individual and group counseling is available. A self-help library is also available with books, audio CDs, and DVDs. Psychology offerings in CMU are minimal and don't include any classes.
Residential Drug Abuse Program (RDAP)
Marion Correctional Facility has the Residential Drug Abuse Program (RDAP). The camp does not have an RDAP facility. Other drug programs include a Non-Residential Drug Abuse Program (NR-DAP) and a Drug Education Program.
USP Marion Educational, Library, and Recreation Offerings
Education Services
USP Marion, Illinois prison provides GED and English-as-a-Second-Language (ESL) programs. Adult Continuing Education (ACE) and parenting classes are also available. A robust computer lab, where inmates can learn Microsoft Excel, Word, and PowerPoint, is also available.
High school diplomas and post-secondary degrees are available through paid correspondence programs. CMU prisoners have highly restricted access to library and education services.
You can learn more about prison education programs here.
Advanced Occupational Education
Marion Illinois federal prison offers advanced occupational education in Building Trades, Certified Production Technician, and Information Processing. Advanced occupational education is not available to CMU inmates.
Vocational Training
Marion Correctional Institution and the satellite camp do not offer vocational training programs.
Apprenticeship
USP Marion federal prison offers Electrical, HVAC, Painting, and Residential and Commercial Plumbing apprenticeships. Apprenticeships are not available to CMU inmates. The camp provides Electrical, Waste Water Treatment, and Water Treatment apprenticeships.
Library Services
USP Marion has a leisure library containing educational books and leisure reading materials, including:
Magazines
Newspapers
Fiction and Nonfiction Books
Movies
Educational DVDs
Interlibrary Loan Program
The contents of the law library help inmates in basic research and document preparation. The law library contains hard copy legal materials and Trulincs Electronic Law Library computers. A copy machine and typewriters are available for use in the law library. While allowed access to the electronic law library, CMU inmates have limited access to other library offerings.
UNICOR
The Marion Correctional Institution UNICOR facility is an Electronics Cable Factory. The cable factory produces various electronic work, including cables, cable assemblies, etc. CMU inmates may not work in UNICOR. The camp does not have a UNICOR facility.
Commissary
A $360.00 per month spending limit is imposed. Commissary items vary at each institution. UNICOR and facilities inmates can shop at 6:15 a.m. on their designated days. All other inmates shop at 9:00 a.m. and 1:00 p.m. on their designated days. CMU inmates order their commissary on Friday and receive it in the housing unit on Monday.
Recreation Services
Scheduled inmate recreation activities at USP Marion Correctional Institution include:
Organized and Informal Games
Sports
Table Games
Hobby Crafts
Music Programs
Intramural Activities
Cultural Events
Movies
Talent and Stage Shows
Inmates can participate in hobby craft activities, including leather kits, wood crafts, and painting. In-cell hobby crafts include crocheting, knitting, drawing with pens and pencils, beadwork, and card making.
The Marion, Illinois prison's indoor recreation center gives inmates access to:
Stationary Bikes
Treadmills
Ellipticals
Four Pool Tables
11 TVs
Foosball
Ping Pong
Stair Steppers
Basketball
Handball
Music Room
The Marion Correctional Facility's outside recreation areas include:
Track
Basketball
Bocce Ball
Handball
Volleyball
Horseshoes
Softball
Frisbee
Soccer
Tables
Art activities, a wellness program, running events, and musical instruments are available. Outdoor entertainment includes concerts and inspirational and motivational speakers.
In the CMU, recreation is highly restrictive and separate from the general population. The most popular activities are movies and monthly tournaments in volleyball, ping pong, basketball, and darts.
Visitation Information for USP Marion
On Sundays and Saturdays, visiting hours are between 8:30 a.m. and 3:00 p.m. On federal holidays visitation is held between 8:30 a.m. and 3:00 p.m. See our page on prisoner visitation rules for more information.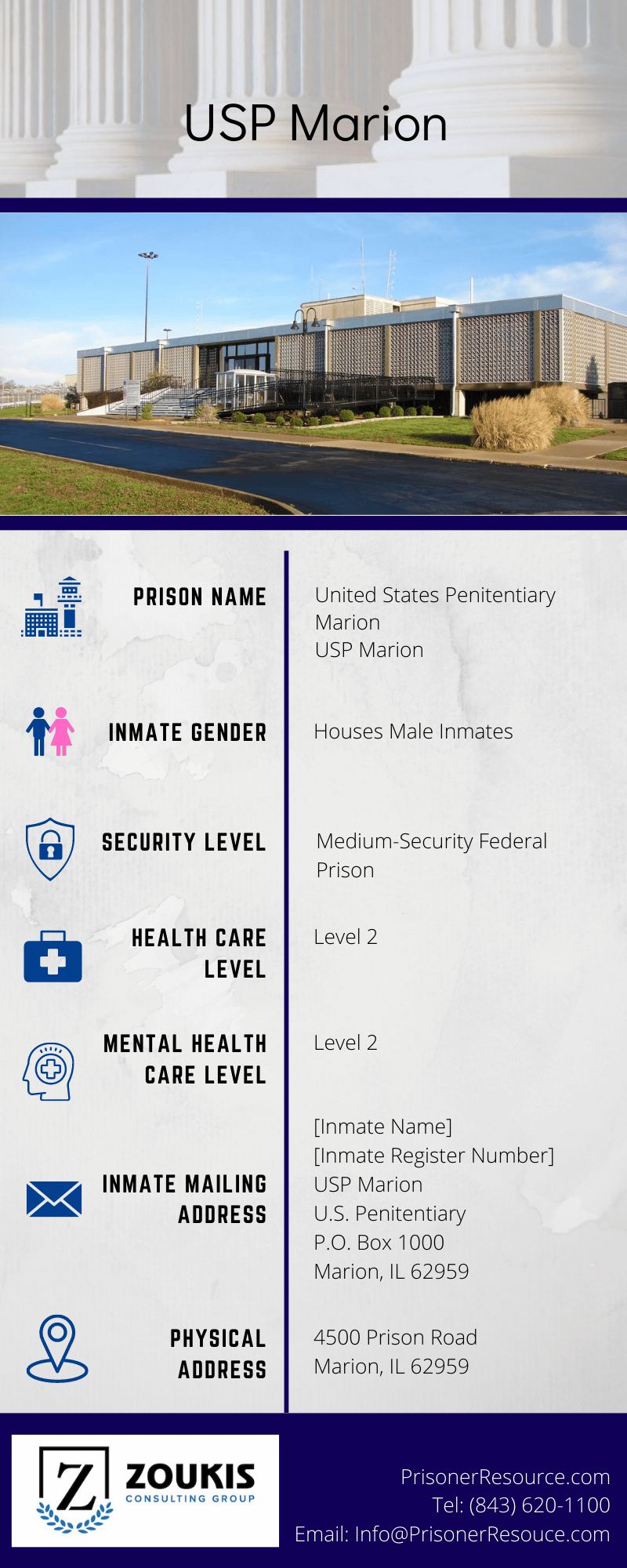 USP Marion Prison Culture Information
Prison Politics at United States Penitentiary Marion
The level of politics is very low at Marion Correctional Institution. According to one inmate, "The races mix somewhat." Another respondent explained, "This is the dumping ground of the BOP. It's a protective custody yard where all can walk."
Level of Violence
There is minimal to no violence at this facility. One inmate referred to the compound as "safe." Another explained, "Most fights result from personal problems and are few and far between. This institution is safe."
Vulnerable Populations
Sex offenders, informants, and LGBT inmates can stay in the yard. One respondent said, "Pretty open yard; sex offenders and transgender people walk easily here." Another agreed, stating "the sex offenders are not harassed" and that the inmate population is "indifferent to the gender and orientation of others."
Another Marion Correctional Facility prisoner explained, "This is a drop-out yard, so sex offenders and informants are basically all that is here. So, everyone is allowed to walk the yard." He continued, "In the past year, the number of gay and transgender inmates has increased."
Good at USP Marion
"Very respectful staff, great and caring psychology staff, soft yard, lots of grass, and well-maintained." "Some one-man cells are available." "The good thing about this prison is that it is safe." "Lots of things to keep you occupied (e.g., work, rec, etc.)."
Bad at USP Marion
"Quality and quantity of food; no air conditioning in single-man cells or SHU." "Food is terrible, and commissary is mediocre." "Nothing good in the Communications Management Unit (CMU)."
"Only two phone calls weekly and no contact visits in the CMU." "The prison is like 55 years old. The roof leaks and other parts are falling apart."
"The food keeps getting worse" "Some staff still want to treat the prison as a high-security prison." "The food could be better, and the guards could be more respectful."
Other Inmate Comments
"Go there 100%." "If I could transfer back, I would." "This yard is for every- one; it is very safe."
USP Marion Federal Prison in the News
In 2014, Erick Roman, a prisoner serving a 60-year sentence at the United States Penitentiary in Marion, assaulted three guards in three separate incidents.
In 2013, David J. Pederson was on his way to a halfway house upon nearing the end of his sentence at USP Marion correctional institution when he carjacked two motorists at gunpoint. He was sentenced to 40 years in prison.
In 2007, Marion federal prison was converted from the federal government's highest-security prison — a maximum-security lockdown prison that replaced Alcatraz in 1963 — to a medium-security prison.
In 2005, the Bureau of Prisons doubled the capacity of the Marion, Illinois, federal prison to 900 inmates.
In 2000, Marion Correctional Facility prisoner Joseph Tokash was convicted of possessing weapons in prison after x-ray exams detected knives hidden in his rectum on two occasions.
In October 1983, Aryan Brotherhood prison gang members Thomas Silverstein and Clayton Fountain killed guards Merle Clutts and Robert Hoffman at USP Marion, then the toughest penitentiary in the federal system, sending the prison into lockdown for 23 years.
In November 1981, Thomas Silverstein and Clayton Fountain, prisoners at USP Marion, strangled prisoner Robert Chappelle to death. Then, fearing retribution from Chappelle's friend Raymond Smith, Silverstein and Fountain stabbed him 67 times and dragged his body up and down the tier for everyone to see.
USP Marion in the News
In 2000, Donald E. Bruce, a 75-year-old Federal Correctional Institution Marion Camp prisoner, escaped and was caught in Oakland, California.
More Information About United States Penitentiary Marion
For a comprehensive look at life in federal prison, pick up a copy of Christopher Zoukis' Federal Prison Handbook: The Definitive Guide to Surviving the Federal Bureau of Prisons. For more detailed information about USP Marion, please buy a copy of the Directory of Federal Prisons: The Unofficial Guide to Bureau of Prisons Institutions by Christopher Zoukis.
Your USP Marion Federal Prison Experts
If you or a loved one are incarcerated at USP Marion, the Zoukis Consulting Group can help. Our team of federal prison experts will work with you to resolve in-prison matters and secure an early release from prison.
Book a one-hour initial consultation today to learn how we can help you or your loved one. We look forward to speaking with you soon.
Published Apr 26, 2018 by Christopher Zoukis, JD, MBA | Last Updated by Christopher Zoukis, JD, MBA on Aug 7, 2023 at 5:41 pm