Federal Correctional Institution Otisville is a medium-security federal prison located in Otisville, New York. It is also known as FCI Otisville, Otisville Correctional Facility, and Otisville NY prison. FCI Otisville Camp is located adjacent to the main institution. Both federal prisons house male inmates.
FCI Otisville Contact Information
Facility Address & Contact Information
Federal Correctional Institution Otisville
Two Mile Drive
Otisville, NY 10963
Phone: 845-386-6700
Fax: 845-386-6727
Email: [email protected]
BOP Website: Bureau of Prisons Page
Wikipedia: Wikipedia Page
Inmate Correspondence Address
FCI Otisville
Inmate Name and Registration Number
FCI Otisville
Federal Correctional Institution
P.O. Box 1000
Otisville, NY 10963
FCI Otisville Prison Camp
Inmate Name and Registration Number
FCI Otisville
Satellite Prison Camp
P.O. Box 1000
Otisville, NY 10963
How to Send Money
Federal inmates may not receive funds directly from friends or family. Instead, there are a few different ways to send money to an inmate.
One option is to use a service like Western Union or Money Gram. These services allow you to send money online or in-person at participating locations. Another option is to send money through the National Lockbox in Des Moines, Iowa. Checks and money orders be payable to the Bureau of Prisons and include the inmate's name, registration number, and mailing address.
For more information on how to send money to an inmate, please see our page on sending money to federal prisoners.
Federal Correctional Institution Otisville Inmate Information
Inmate Gender
Male Inmates
Prison Security Level
Facility Location
FCI Otisville is located in the southeastern part of New York, near the Pennsylvania and New Jersey borders, 70 miles northwest of New York City (NYC). It is in Orange County, New York.
BOP Region
BOP Institution Code
OTV for FCI Otisville
Medical Care Level
Level 2. See our page on Medical Care Levels and Procedures for more information.
Mental Health Care Level
Level 2.
Judicial District
Population Number
FCI Otisville houses approximately 590 inmates. The camp houses around 60 inmates.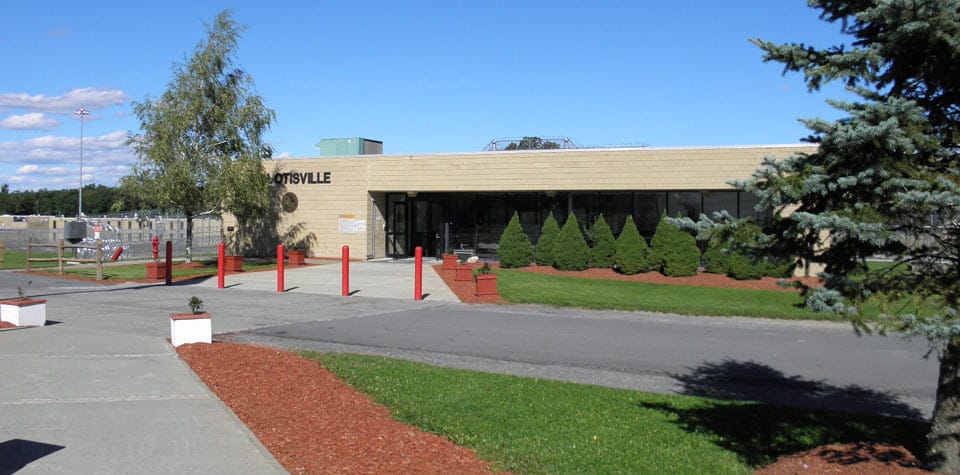 FCI Otisville Prison Services Information
Background
Federal Correctional Institution Otisville is a medium-security federal prison in Otisville, New York. It opened in 1980. Federal Correctional Institution Otisville Camp is adjacent to the central institution. Both federal prisons house male inmates.
FCI Otisville is based on an open campus-style layout. It is a United States federal prison, not a state prison facility.
Notable Otisville Correctional Facility inmates include:
Michael Cohen (sentenced to three years for campaign finance violations and lying to Congress)
Shalom Weiss (sentenced to 845 years for fraud, racketeering, and money laundering)
Sholom Rubashkin (serving 27 years for fraud)
Former financial advisor Kenneth Ira Starr (serving a seven-year sentence for fraud and money laundering)
Media reports indicate that at least one inmate has died from unknown causes. At least one guard has been indicted for sexually assaulting inmates and assisting them in escaping from the institution.
In 2012, CNBC named both Otisville NY prisons two of the 12 best federal prisons in which to do time. And in 2009, Forbes magazine named FCI Otisville one of the ten cushiest federal prisons in America.
Inmate Housing
Otisville Correctional Facility inmates live in two-person cells. Inmates in the camp live in cubes and dormitories, divided into two-person cubicles.
Health Services
Various health care services are available to FCI Otisville inmates, including:
Routine Health Care
Physical Examinations
Emergency Care
Medications
Eyeglasses
Dental Services
Sick call is on Monday, Tuesday, Thursday, and Friday at 7:00 a.m.
Pill line is held during meals, and the insulin line is conducted before breakfast and dinner. All inmates at the camp must report to the common area during designated hours for sick calls.
In emergencies, inmates can advise their unit officers, unit team, or other staff members for emergency care.
Psychology Services
FCI Otisville offers various psychology services, including:
Intake Screening for Designated Inmates
Evaluations Requested by Staff or Courts
Group and Individual Treatment
Crisis Intervention
Current treatment groups include:
Anger Management
Criminal Thinking
Victim Impact
Doing Time with the Right Mind
Some individuals may be evaluated due to court orders, parole commission requests, or Unit Team referrals. Psychology Services also conducts halfway house interviews.
In the camp, psychologists are available for individual and group psychotherapy. Inmates interested in services may submit an Inmate Request to Staff Member to Psychology Services. Mental health services are offered in areas of behavioral and emotional problems.
Residential Drug Abuse Program (RDAP)
FCI Otisville and the camp do not have the Residential Drug Abuse Program (RDAP), but referrals can be made to institutions that do provide RDAP. A Drug Education Program, the Non-Residential Treatment Program (NR-DAP), Alcoholics Anonymous (AA), and Narcotics Anonymous (NA) are available.
FCI Otisville Educational, Library, and Recreation Offerings
Education Services
FCI Otisville NY prison provides literacy, GED, Spanish GED, and English-as-a- Second Language (ESL) programs. Parenting and Adult Continuing Education (ACE) classes are also available.
Current ACE classes include:
Astronomy
Basic Math
Business Start-Up
Real Estate
Forklift Operation
High school diplomas and post-secondary degrees are available through paid correspondence programs.
Advanced Occupational Education
Otisville Correctional Facility offers advanced occupational education in:
Computer Skills
Floor Care Maintenance
Custodial Technician
Horticulture/Landscape
Textiles
Production
Vocational Training
FCI Otisville federal prison and the camp do not offer vocational training programs.
Apprenticeship
Otisville, NY prison and the camp do not offer any apprenticeship programs.
Library Services
FCI Otisville prison offers both a leisure and law library. The leisure library contains reference materials, encyclopedias in English and Spanish, newspapers, videotapes, and periodicals.
The law library provides access to legal materials and an opportunity to prepare legal documents through the TRULINCS Electronic Law Library. A copying machine is available to reproduce materials needed for research. Electric typewriters are also available for inmate use.
UNICOR
Otisville Correctional Facility and the satellite camp do not have UNICOR facilities.
Commissary
A spending limitation of $360.00 per month is enforced. The monthly limit excludes postage stamps, copy cards, over-the-counter medications, and TRUFONE credits.
Commissary purchases can be made once per week per the scheduled shopping days. Shopping is conducted Monday through Thursday from 6:30 to 8:30 a.m. and 11:00 a.m. to 12:30 p.m.
A wide variety of items are available for inmate purchase. Larger purchases, such as shoes and sweatsuits, are made on Fridays.
Recreation Services
Recreation and leisure activities at FCI Otisville include a variety of options, including:
Weights
Cardio Equipment
Bocce Ball
Soccer
Flag Football
Cards
Pool Tables
Movies
Horseshoes
Various sports areas are also available, including:
Softball Court
Handball Court
Tennis Area
Baseball Field
Running and Walking Track
A band room and TVs are also available. All recreation programs are posted on the Unit Bulletin Boards. Times and special events are also posted throughout the units and in the recreation/leisure times areas. Current hours of operation are 6:30 to 10:30 a.m., 12:30 to 3:30 p.m., and 4:30 to 8:30 p.m.
Visitation Information for FCI Otisville
On Sunday, Monday, Friday, and Saturday, visitation is held between 8:00 a.m. and 2:45 p.m. On federal holidays visiting hours are held between 8:00 a.m. and 2:45 p.m. See our page on prisoner visitation rules for more information.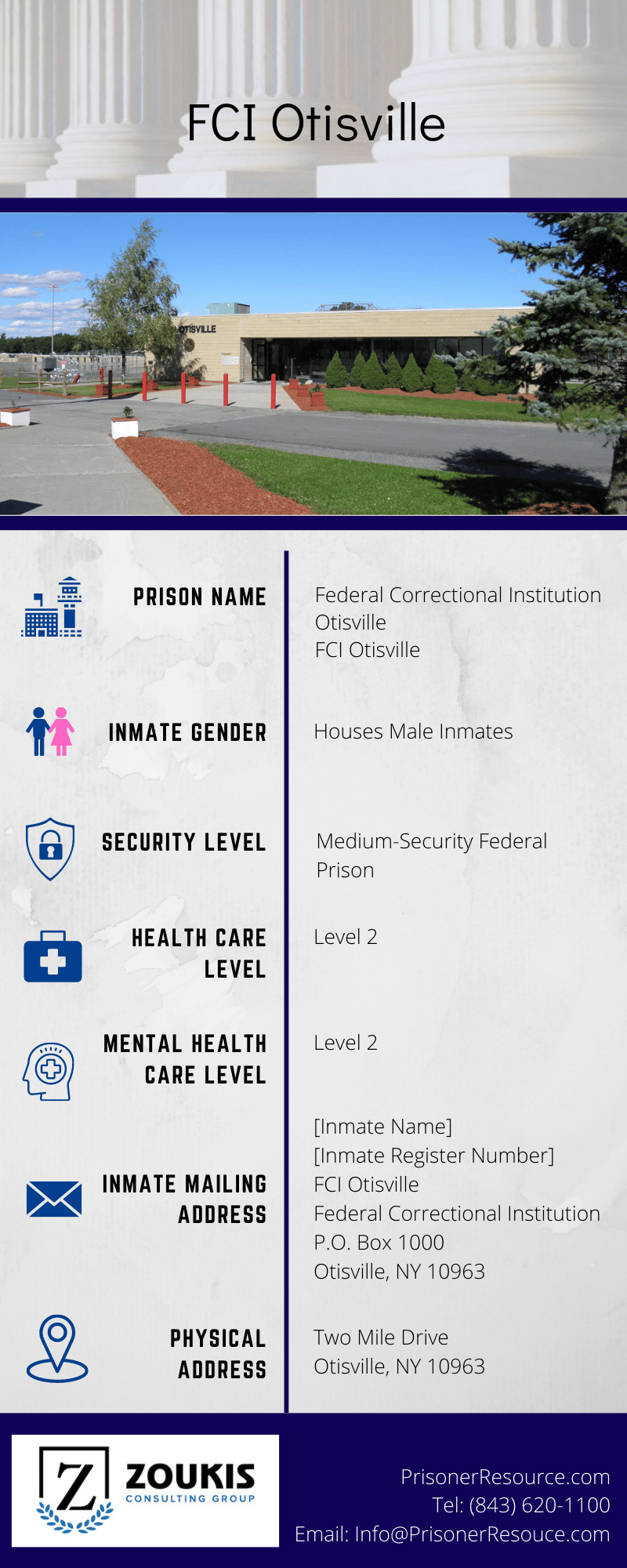 FCI Otisville Prison Culture Information
Prison Politics at Federal Correctional Institution Otisville
While some respondents felt that the Otisville Correctional Facility yard is somewhat political, others thought it was not political. One inmate referred to the prison as a "special needs yard" for gang drop-outs and other vulnerable populations.
Level of Violence
Inmates report a low level of violence at the Otisville, NY prison. One inmate referred to the yard as having "low violence" and being "safe."
Vulnerable Populations
Sex offenders, informants, and LGBT inmates can stay, but they are somewhat ostracized. According to one respondent, "Sex offenders, gays, and transgender people can walk the yard, but staff does openly discriminate against all three groups (but not against the rats)."
Good at FCI Otisville NY Prison
"Feels more like a college campus than a prison; windows that opened." "Safe and laid back."
"Very laid-back facility. Staff do not harass and are generally helpful. No politics or violence. Commissary is good. Lots of stuff to do in recreation."
Bad at FCI Otisville Federal Prison
"Staff put people with messed up paperwork out there to the inmate population." "Not enough jobs, low pay, and inadequate staffing lead to recreation and education being closed a lot." "No real programs or jobs." "Staff are openly hostile to sex offenders."
"Commissary is terrible, prices are inflated, and the selection is garbage." "Food is terrible." "Staff is lazy and unprofessional, there are no real programs to assist in the transition back to society, and staff go out of their way to harass sex offenders and LGBT inmates."
Other Inmate Comments
"It's a soft yard, but not the best for sex offenders, LGBTs, or informants." "If you are a sex offender, don't go. Ironically, the staff, not the inmates, make this the case."
"Overall, a very good facility, although it used to be better before many older staff retired. Population change, including an influx of sex offenders, has also had negative effects."
Otisville Prison Camp Culture Information
Prison Politics at Federal Prison Camp Otisville
There are virtually no politics at the Otisville Correctional Facility's prison camp. According to one respondent, "As a Camp, everyone pretty much minds their own business, at least in a traditional prison politics sense. There really aren't any gangs or anything."
Level of Violence
There is virtually no violence at this facility. According to one inmate, "When someone gets in a fight, they are transferred out to a Low."
Vulnerable Populations
While sex offenders are barred from a camp placement due to BOP policy, informants and LGBT inmates are allowed to stay.
Good at Otisville Prison Camp
"It is quiet and fairly relaxed here."
Bad at Otisville Prison Camp
"Very boring."
FCI Otisville in the News
In November 2016, Otisville Federal Correctional Institution prisoner Bertram Alexander was found unresponsive and pronounced dead at a local hospital.
In August 2009, Hope Spinato, a guard at the Otisville, NY prison, was sentenced to eight months in prison for aiding an escape. Spinato admitted to driving an unidentified prisoner to her home on several occasions to have sex before returning him to the prison.
Sholam Weiss, who was sentenced to 845 years for racketeering, wire fraud, and money laundering as the head of the National Heritage Life Insurance Company — bilking over $450 million from its elderly clients, is serving his sentence at FCI Otisville.
Otisville Prison Camp in the News
In May 2016, Sheldon Silver, New York Assembly speaker for more than 20 years, requested that he be sent to Federal Correctional Institution Otisville Camp after being convicted of corruption.
More Information About Federal Correctional Institution Otisville
For a comprehensive look at life in federal prison, pick up a copy of Christopher Zoukis' Federal Prison Handbook: The Definitive Guide to Surviving the Federal Bureau of Prisons. For more detailed information about FCI Otisville, please buy a copy of the Directory of Federal Prisons: The Unofficial Guide to Bureau of Prisons Institutions by Christopher Zoukis.
Published May 17, 2018 by Christopher Zoukis, JD, MBA | Last Updated by Christopher Zoukis, JD, MBA on Jun 4, 2023 at 6:13 pm