Federal Correctional Institution Pekin is a medium-security federal prison located in Pekin, Illinois. It is also known as FCI Pekin, Illinois. The facility houses male inmates. FCI Pekin Camp is located adjacent to the main institution. Female inmates are housed at the camp.
FCI Pekin Contact Information
Facility Address & Contact Information
Federal Correctional Institution Pekin
2600 S. Second Street
Pekin, IL 61554
Phone: 309-346-8588
Fax: 309-477-4670
Email: [email protected]
BOP Website: Bureau of Prisons Page
Wikipedia: Wikipedia Page
Inmate Correspondence Address
FCI Pekin
Inmate Name and Registration Number
FCI Pekin
Federal Correctional Institution
P.O. Box 5000
Pekin, IL 61555
FCI Pekin Prison Camp
Inmate Name and Registration Number
FCI Pekin
Satellite Prison Camp
P.O. Box 5000
Pekin, IL 61555
How to Send Money
Federal prisoners are not able to receive funds directly. Instead, their family and friends must send the money through Western Union, Money Gram, or the National Lockbox in Des Moines, Iowa. This applies to all United States federal prisoners and others housed within the U.S. Department of Justice.
Learn more about how to send money to an inmate here. We discuss setting up an account, adding money to an inmate's account, and sending money on this page. It also includes contact information for the three companies. In addition, the website provides links to the Western Union, Money Gram, and National Lockbox websites.
Federal Correctional Institution Pekin Inmate Information
Inmate Gender
Main: Male Federal Inmates
Camp: Female Offenders
Prison Security Level
Facility Location
FCI Pekin is located on Route 29 South in Pekin, about 10 miles south of Peoria, 170 miles southwest of Chicago, and 170 miles northeast of St. Louis.
BOP Region
BOP Institution Code
PEK for FCI Pekin Illinois prison
Medical Care Level
Level 2. See our page on Medical Care Levels and Procedures for more information.
Mental Health Care Level
Level 2.
Judicial District
Population Number
FCI Pekin federal prison houses approximately 990 inmates. The camp houses around 200 inmates.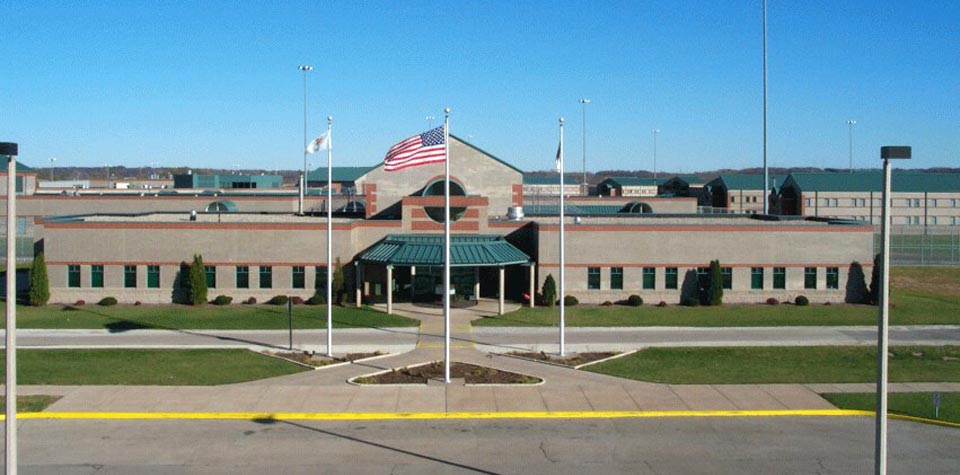 FCI Pekin Prison Services Information
Background
FCI Pekin is a medium-security federal prison located in Pekin, Illinois. It opened in 1994. Federal Correctional Institution Pekin Camp is adjacent to the central institution. Both Pekin, Illinois, federal prisons house male inmates.
Notable inmates include:
Former Chicago police officer Joseph Miedzianowski (serving a life sentence for conspiracy and racketeering)
Iowa machinist John Toimkins (serving 37 years for mailing threatening letters and two pipe bombs)
Former Petunia City Comptroller Rita Crundwell (sentenced to 20 years for embezzling $54 million)
Shon Hopwood (now a Georgetown University Law Center professor)
Media reports indicate that there has been one death at the institution in recent years, for which the cause of death was not released. Additionally, two guards have been charged with drug smuggling.
Inmate Housing
Pekin Illinois prison inmates live in two-, four-, and eight ten-person cells within the four housing units. Inmates at the camp live in dormitories containing two-person cubicles.
Health Services
FCI Pekin provides various healthcare and dental care services, including:
Medical and Dental Sick Calls
Emergency Care
Medications
Eyeglasses
Physical Examinations
Emergency and Routine Dental Care
Inmates are assigned to a Mid-Level Practitioner, who treats them for the duration of their stay. To be evaluated by Health Services staff, inmates must submit a written sick call request.
Psychology Services
The Psychology Department at FCI Pekin, Illinois, provides mental health services in these areas:
Evaluation
Counseling
Group Therapy Programs
Crisis Assistance
Drug Treatment
Self-Help Programs
Each new arrival is interviewed and provided a summary of current psychological programs available for enrollment. Treatment groups include anger management, criminal thinking, and Smart Recovery.
Residential Drug Abuse Program (RDAP)
Neither FCI Pekin prison nor the satellite camp offers the Residential Drug Abuse Treatment Program (RDAP). Both facilities provide a Drug Education Program, the Non-Residential Drug Abuse Program (NR-DAP), and Alcoholics Anonymous (AA).
FCI Pekin Educational, Library, and Recreation Offerings
Education Services
FCI Pekin provides GED and English-as-a-Second Language (ESL) programs. Other inmates teach an Adult Continuing Education (ACE) program. Various incentives are provided for completing Pre-GED, ACE, and parenting courses.
Topics such as Spanish, Real Estate, Public Speaking, and Drawing are offered. A parenting program is also available. High school diplomas and post-secondary degrees are available through paid correspondence programs.
Learn more about FCI Pekin prison's educational offerings here.
Advanced Occupational Education
Pekin Illinois federal prison offers advanced occupational education in Certified Production Technician and Computer Applications. The camp offers training in Computer Applications.
Vocational Training
Except for the advanced occupational education and apprenticeship programs, no vocational training is provided at FCI Pekin or the satellite camp.
Apprenticeship
Pekin Illinois prison offers Institutional Cook, Maintenance Electrician, Quality Control Technician, and Sheet Metal Worker apprenticeships. The camp does not offer any apprenticeship programs.
Library Services
The Education Department maintains a leisure and law library. The leisure library has numerous books and other reading materials available for circulation and reference. This includes fiction and nonfiction books, newspapers, and magazines.
The law library is in the Education Department. Electric typewriters and a copy machine are available for inmates' use. The TRULINCS Electronic Law Library is also available for inmate usage, allowing access to Bureau program statements, federal case law, and much more.
UNICOR
The FCI Pekin Illinois prison's UNICOR facility produces industrial products and handles fleet management and vehicular components. The camp does not house a UNICOR facility.
Commissary
Inmates can shop one day per week based on their housing unit or work assignments. The spending limit at FCI Pekin is $360.00 per month. The spending limit in the camp is also $360.00 per month. Inmates can purchase a wide variety of food and non-food items in the commissary.
Recreation Services
FCI Pekin federal prison provides inmates access to various recreation activities, including:
Sports
Athletics
Arts
Crafts
Music
Entertainment
The Pekin Illinois prison's recreation yard offers:
Walking and Running Track
Horseshoes
Bocce Ball
Basketball
Handball
Volleyball Courts
Softball Fields
Soccer and Flag Football Field
Weight Pile
Indoors, inmates have access to other recreation programs, including:
Billiard Tables
Bumper Pool Tables
Table Tennis
Art Room
Leather Room
Treadmills
Ellipticals
Tables
TVs
Weight Training Equipment
Visitation Information for FCI Pekin
On Sundays and Saturdays, visiting hours are from 8:15 a.m. to 3:00 p.m. On Monday, visitation is held between 1:00 and 8:00 p.m. On federal holidays visitation is held between 8:15 a.m. and 3:00 p.m. See our page on prisoner visitation rules for more information.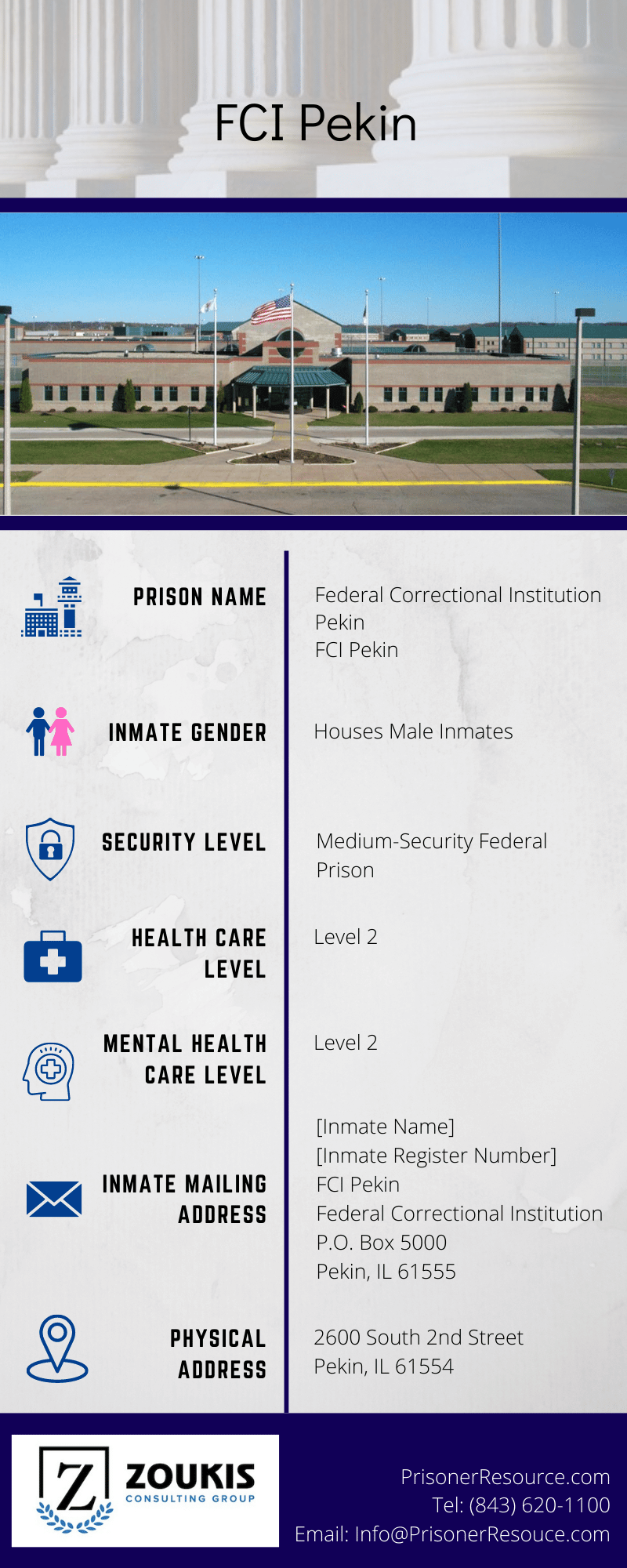 FCI Pekin Prison Culture Information
Prison Politics at Federal Correctional Institution Pekin
This is a very political yard. While most inmates belong to cars, independents are allowed.
Level of Violence
There is significant violence in this prison. Inmates report lots of fights and monthly stabbings.
Vulnerable Populations
Sex offenders and informants can't stay. LGBT inmates can remain, but it can be a challenging and unfriendly experience.
Bad at FCI Pekin Federal Prison
"Serious racial segregation. Inmates even have car-imposed color-coded chairs for their race."
Other Inmate Comments
"If not a rat or a sex offender, they'll be ok. Better for harder sorts."
FCI Pekin Illinois in the News
In April 2018, Rita Crundwell, the former city comptroller of Petunia City who embezzled $54 million to fund her lavish lifestyle for 20 years, was moved from Federal Correctional Institution Waseca to Federal Correctional Institution Pekin to serve out the remaining 14 years of her sentence closer to her family.
In December 2016, the death of a prisoner at FCI Pekin, who was not identified, was being investigated to determine the cause.
In 2003, Cassandra Cooper was charged with bringing cocaine, marijuana, and amphetamines to a prison staff member at Pekin, Illinois, federal prison. Over two years, she smuggled the drugs inside to prisoner Beau Hansen to distribute within the facility.
In 2002, Leann Serrano, a nurse at FCI Pekin, was caught in a sting, purchasing two ounces of cocaine from an undercover agent to smuggle into the prison.
More Information About Federal Correctional Institution Pekin
Christopher Zoukis' Federal Prison Handbook: The Definitive Guide to Surviving the Federal Bureau of Prisons is an essential read for anyone interested in learning about life in federal prison. The book provides a comprehensive overview of the federal prison system, from the application and intake process to life behind bars.
In addition, the Directory of Federal Prisons includes a detailed chapter on FCI Pekin, providing readers with valuable information on the facility and its programs. With its mix of practical advice and first-hand accounts, the Federal Prison Handbook and Directory of Federal Prisons are invaluable resources for anyone interested in learning more about federal prison life.
Published Apr 27, 2018 by Christopher Zoukis, JD, MBA | Last Updated by Christopher Zoukis, JD, MBA on Jun 4, 2023 at 6:15 pm